Best Budget Style Finds May 31st
Welcome to our Best Budget Style Finds for May 31st! This is where we share some of the great alternatives for Bond (or Craig or McQueen) style that either slipped through the cracks when I was writing the original dedicated posts or deserve a special mention. Sometimes the posts will be short. Sometimes there will be a ton of new options. A lot will depend on what we, as a community, find and share. So if you have any suggestions, let us know in the comments. On to the alternatives!
A RIDICULOUS Deal on the Covert!

SALE'S OVER!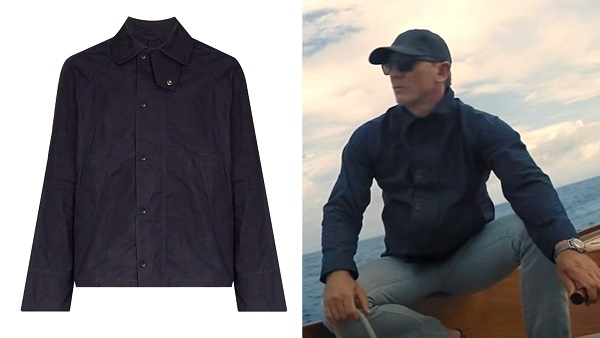 Update: Well, it was too good to last for very long. And the Covert is now back up to $321.00. Hope some of you managed to snag one!
Shout out to @_mildthing_ on Instagram for giving me the heads up on this! By now, most of us know that the Covert is Barbour's latest iteration of the Graham jacket Bond wore in No Time To Die. It normally retails for around $300. So this is a pretty insane price. The deal has been running for a few days now. But they still have sizes large to XXL in stock (although it looks like they're going fast). Be aware that there's a $24 shipping charge to the U.S. (£10.00 to the UK). However, even with that extra cost, I doubt we'll see the price get this low again any time soon.
Some More No Time To Die Style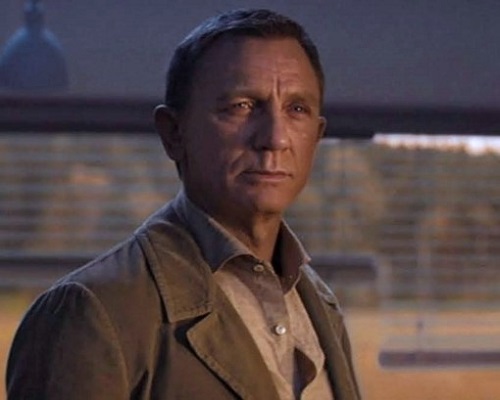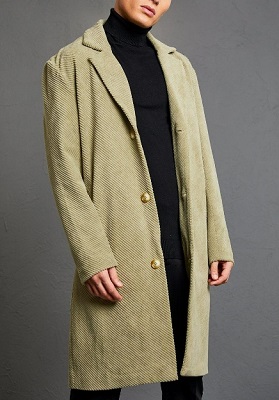 Even after seeing it in action, I'm still pretty "meh" about Bond's No Time To Die corduroy duster. But I know it has its fans. Obviously, BoohooMan's "chunky cord" won't be nearly as refind as the "baby cord" Massimo Alba used for the screen used coat. But if want an inexpensive alternative to top off your "Bond in Norway" look, this one comes closer than any other option I've come across. And it's hard to argue with that price.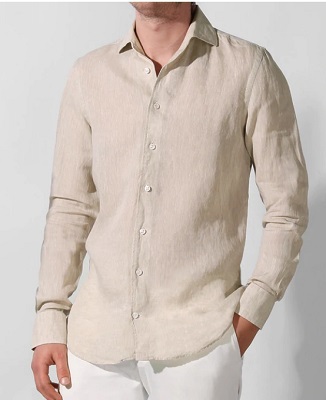 We recently focused on alternatives for Bond's long sleeve summer shirts in this post. But I forgot to include this option from "smart luxury" brand Aurélien. The price is definitely getting up there for a linen shirt. However, I can tell you from personal experience that Aurélien delivers a darn good product (I have two of their towelling polos and a pair of their suede Beach Loafers, which I review here). The Sand color is a little lighter than the Oatmeal of Bond's screen used shirt from Connolly. But the shape of the collar, while not exactly a cutaway, comes pretty close to the spread we want. And the shirt is finished with mother of pearl buttons, which is a nice touch. They have sizes small to XXXL on their website.
A few more Bond jackets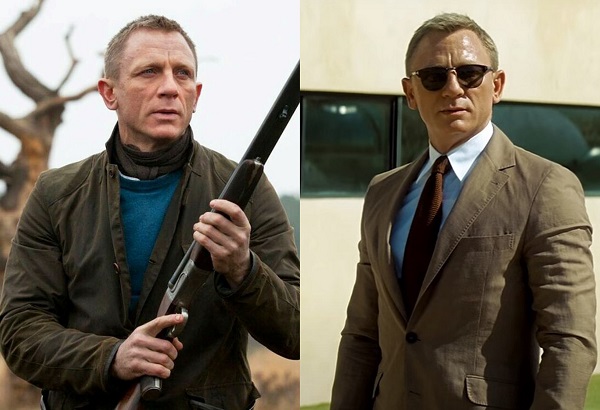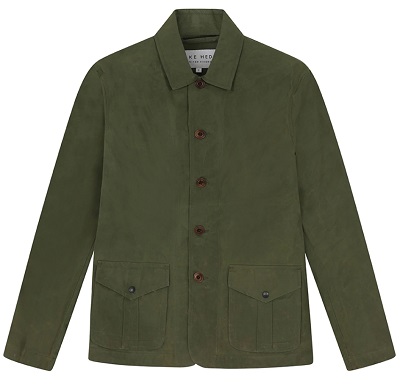 Even though it's missing the chest pocket and leather accents, this is easily one of the better alternatives for Bond's Skyfall Barbour that I've seen in a long time. And it's a pretty impressive jacket in its own right. UK based Blake Hedley has used a waxed cotton fabric from the renowned Halley Stevenson mill and Corozo buttons for the front. Plus the jacket is made in London, so it has that authentic British pedigree. Shipping is free in the UK, but will set you back about $32 if you're in the U.S. Sizes small to XL are in stock, and Blake Hedley has a detailed size chart to help you choose the right one.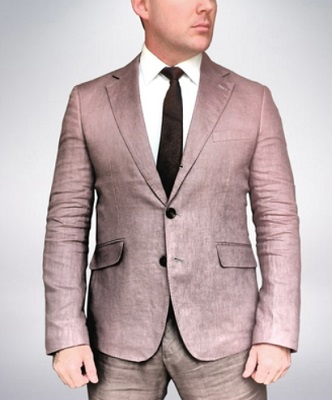 It's no secret we love ROYALE Filmwear owner Daniel Love's work around these parts. And we did a full review of his interpretation of Bond's Morocco blazer from SPECTRE in this post. To summarize: the quality of the fabric and construction and the attention to detail was impressive. But I had to recommend giving the jacket a pass due to the color. When I wrote the review, the blazer cost $189.00. Now that the price has dropped to under sixty bucks, I would say it's definitely worth picking up and investing a little more time and money in the dying process to get it to the correct shade of brown (I detail the process I used in the review). You'll find sizes XS to XXL on his website.
007 Style Long Sleeve Polos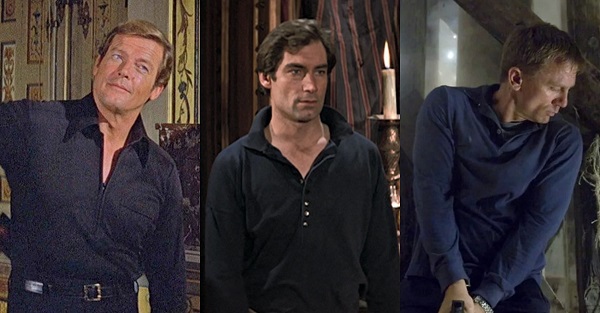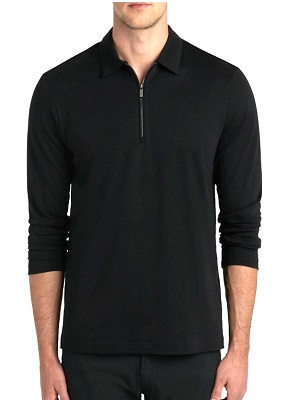 Trust Matt Spaiser at Bond Suits to bring up an obscure Bond shirt I never remember seeing. Of course, as Matt is quick to point out, Roger Moore's black number from Moonraker is a proper shirt in all aspects except for that zip neck. Made by Frank Foster from a jersey fabric, it featured a two piece collar with long points, button cuffs and a patch breast pocket. I've decided to go more casual with this alternative. The Bugatchi does have a self fabric collar, which makes it a little dressier. But the cuffs are a rib knit, it's missing the chest pocket and the neckline is a slightly higher quarter zip. Still, for an "inspired by" piece, it should look pretty sharp tucked into some black trousers for a "sneaky night out".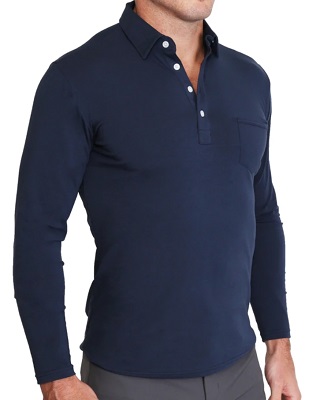 Now an alternative for the dark navy blue polo shirt Timothy Dalton wore in his first Bond film, The Living Daylights. Like Moore's Moonraker shirt, Dalton's polo is a pretty unique design. The most note-worthy feature is undoubtedly that nine button placket. Needless to say, there aren't many options around with that detail. But the neckline of the State & Liberty Newton does go lower than most other long sleeve polos, even if it does only have four buttons. And the cotton and spandex blend fabric will keep from getting too baggy with wear.
If you're looking for other alternatives, check out the Best Made Long Sleeve Merino Knit Popover in Obsidian for $104.50. It has a button down collar, but the 100% Merino wool fabric is a much darker blue. And if you have a little extra in the bank, the Orlebar Brown Caspian Linen Blend Pullover in Ink ($295.00) is definitely worth a look. For more on Dalton's polo style, these posts from Bond Suits and BAMF Style have all the details.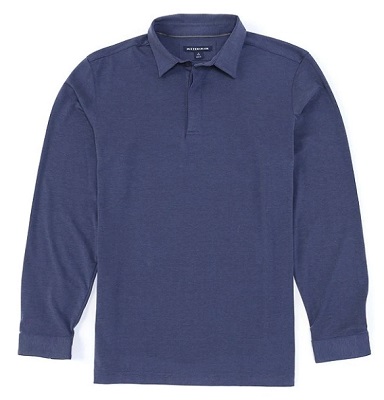 As an alternative for Bond's Casino Royale "Venice" polo, it checks a lot of the right boxes. The color is a good match, it has the self collar and (most importantly) the covered placket. However, this one is made with a techier polyester, Lyocell and Spandex blend fabric. That may sound like a negative. But if you're looking for a long sleeve polo to wear while running around in the summer heat, a quick drying, moisture wicking shirt with an UPF 50+ protection rating might not be a bad choice. Sizes small, large and XXL are available at Dillard's.
And just a reminder, you can always pick up the even more screen accurate Magnoli Clothiers' Royale Polo. Indy has the older version on sale for $45.00 (with limited sizing). For ten bucks more you can go with the new version that comes in a slightly darker blue and now has the correct half moon stitching below the back of the collar.
A couple of Summer Shirts I missed (and a little extra)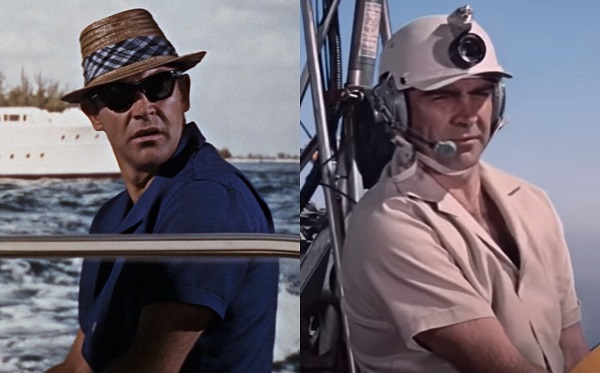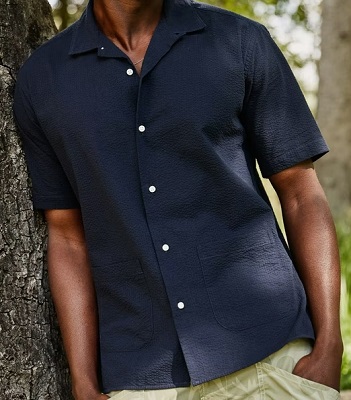 It's a darker blue than the one Bond wore in Thunderball. But it does have the camp collar and the twin patch pockets at the hips. So the design is very screen accurate. And that 100% cotton seersucker fabric is really going to help keep you cool in hotter temperatures. It ain't cheap. However Gitman is a heritage shirtmaker so they know their stuff. Plus the shirt is made in the U.S. if that matters to you. Sizes large to XXL are available at Huckberry.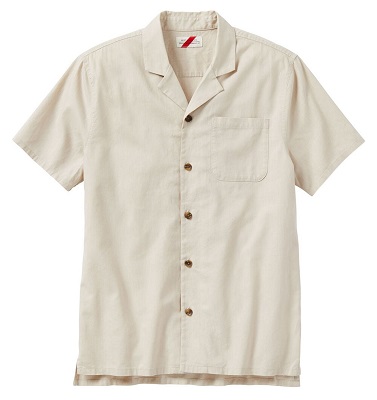 A simple cotton and linen blend option for your Bond "Little Nellie" look from You Only Live Twice. Just check the notes on the sizing on the product page!

We looked at my five favorite Bond sunglasses in this post. And these are another solid option for the ones Connery wore in Thunderball. The medium frame size should work for most faces. Plus the polarized lenses are very practical for those of you that expect to be in high glare situations this summer.
Daniel Craig Personal Style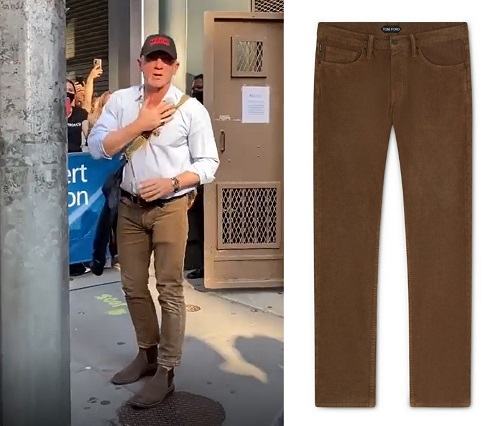 Most of us are probably thinking more about shorts than corduroy trousers at this time of the year. But as the great Instagram account @whatsdanielwearing has been documenting, Daniel Craig has frequently been seen wearing his pair of Tom Ford 5 pocket cords during his Macbeth stage door exits. You can still find the originals on the Tom Ford website ($720.00). And Luisaviaroma has a few smaller sizes on sale for $483.00. For us mere mortals on a tighter budget, there a some more afforable alternatives.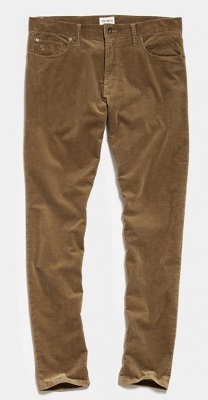 The available sizes are all over the place. But these Italian corduroy jeans from New York designer Todd Snyder are a great match. Just note that these are FINAL SALE!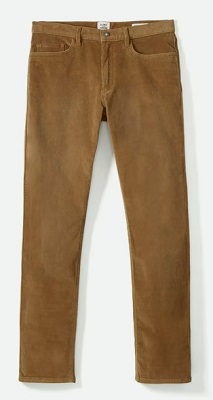 The color looks to be a touch more brown than bronze. But it's still pretty darn close. And Huckberry has plenty of sizes left in stock in Slim, Straight and Tapered cuts. Pro Tip: before you jump on that "deal" they're offering, do some quick math.
A Little McQueen To Round Things Up!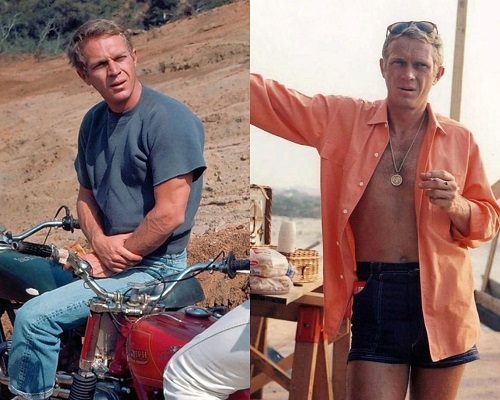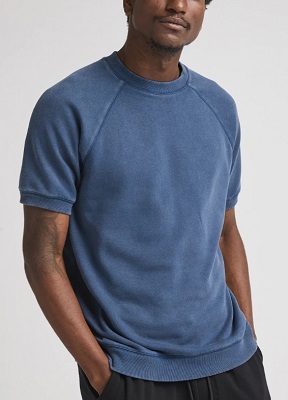 Something to help with your "King of Cool biking in the desert" (or The Great Escape) style. Richer Poorer has used a 60% cotton and 40% recycled polyester (which saves approximately 40 bottles from the landfills) fabric with a soft fleece back. It's then mineral washed to give it a faded vintage look. With a customer rating of 4.5 stars out of 5 after more than 50 reviews, it seems like this one will deliver both the style and the quality we want.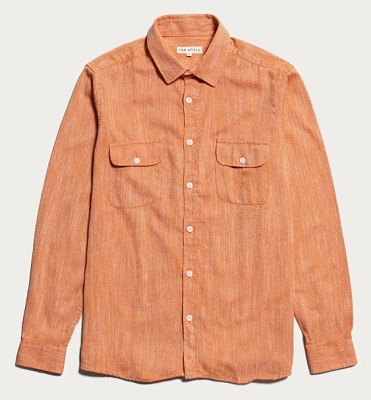 A great option to capture that "McQueen on the beach" look from The Thomas Crown Affair. It's made with a cotton chambray (so not as light as linen but style nice and airy) and has a unique texture that gives the fabric a distinctive striated appearance. You'll find sizes small to XL at Bombinate. For more on McQueen's look from the film, check out this article from BAMF Style.
Know of any alternatives we should feature in our next Best Budget Style Finds post? Or do you have another option for this post? Tell us about it in the comments! If you'd like to see our previous Best Budget Style Finds posts, you just need to click here. And you can always visit our Facebook page, our NEW Instagram account and Pinterest Boards for more Bond, Craig and McQueen style advice and inspiration.
Some of the images used in this post were sourced from Bond Suits and BAMF Style.