Casino Royale Ted Baker Linen Trousers
So those Casino Royale Ted Baker linen trousers are versatile AND tough! Daniel Craig's Bond wears them for winning a car at poker at the One & Only Ocean Club, romancing Solange, killing a bad guy at a creepy art exhibition, and stopping a terrorist bombing at the Miami Airport. Frankly, that's a lot to ask from one pair of pants!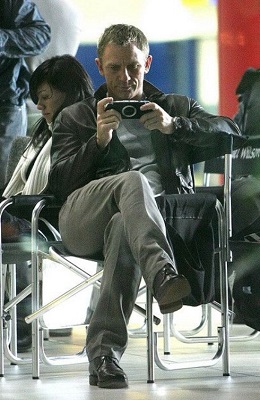 The actual linen trousers they used in the film are the Ted Baker Larked model in Mink. Bond first wore them with the black Alfani long sleeve shirt (options for that in this post) when playing poker in the Bahamas. He later used them with the Armani four pocket leather jacket and grey Sunspel t-shirt for his trip to Miami. To learn more about their use in the Bahamas scenes you can read this article from The Suits of James Bond. BAMF Style has an excellent article about Bond's Miami outfit from the film.
AJB007 forum member Welshboy78 has graciously shared a photo of his screen accurate Ted Bakers that gives us a nice close-up look at the fabric texture and color.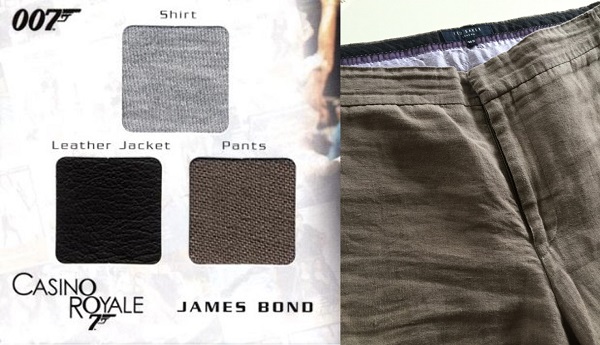 Features Wanted for the Casino Royale Ted Baker Linen Trousers
Flat front linen trousers
A darker taupe color
Hidden waist button (if possible)
Slanted front pockets and one rear pocket
In terms of style details, there really isn't anything that special about the Ted Baker trousers. The hidden waist button isn't that common. But other than that, they're a pretty standard pair of linen pants. And the looser 2006-era fit, while practical in hotter weather, may be considered a little baggy by today's standards. What really sets them apart is the darker taupe color. It seems most linen trousers today come in a lighter beige tone or navy.
Best Option for the Casino Royale Ted Baker Linen Trousers
I love it when the "Best Option" is also the least expensive option! We don't get the covered button. But the color is a great match. The fit is also a little more contemporary: still straight and loose, but not quite as baggy as the originals. The fabric is a 55% linen/45% viscose blend, which will work well in the hotter weather. The only downside? Sizes on the Marks & Spencer website are running low. If you want a pair of these, I'd act fast!
Under $100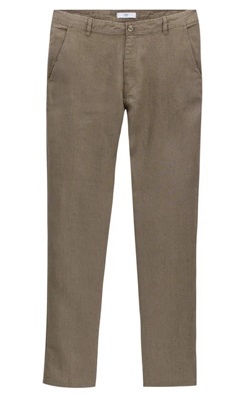 A 100% linen pair, also in a great color match. These are definitely more of a tapered slim fit. And note that they only come in a 31.5″ inseam. Which may not work for taller guys. Sizes are they're U.S. website are starting to get thin. But the UK site still has a good selection left. Honestly, if you're looking to update the whole One & Only Ocean Club look, I'd go with these ones.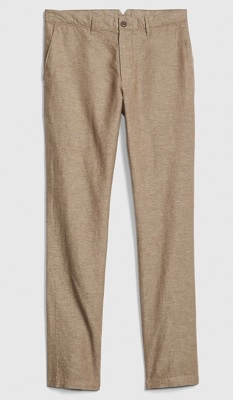 I've shared this option in a few other posts. And as I previously noted, the color isn't quite as dark as we'd like. The 63% cotton/37% linen blend also isn't "screen accurate". But it will help control the wrinkling and make washing them a little easier. GAP still has almost all sizes available in four different inseam lengths on both the U.S. and UK sites. They also come in a "Tall" option with a 36″ inseam. And if you want to go with a more streamlined look, check out the slim-fit version for the same price.
Under $200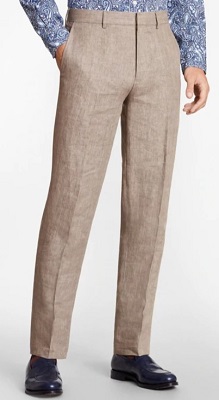 These trousers are actually part of a suit. So the styling leans more formal. But that does give us the covered button that we want. The color of the woven-in-Italy, 100% linen fabric is a little light. But their popular Regent fit strikes a nice balance between slim and classic cuts, which makes it pretty versatile. Brooks Brothers still has sizes 32 to 42 in stock. The trousers come with an unfinished hem, so getting them tailored is an extra cost. On a related note, the Regent Fit Linen Suit Jacket that these pair with isn't a bad match for Bond's Brunello Cucinelli SPECTRE Morocco jacket (more options for that here). Now that it's on sale for $298.80, it may be worth checking out.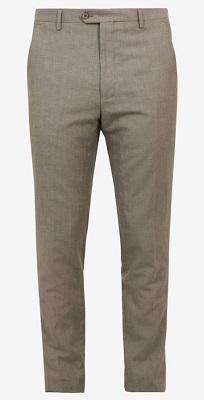 An investment to be sure. But they are coming from the maker of the screen-used pair. And considering they were originally going for $259.00, the sale price doesn't seem that bad. For this new model, Ted Baker has gone with a 54% wool/46% linen blend and a true slim fit. The trousers are also lined in polyester. So not that great at keeping you cool when things heat up. Still, they'd be a solid choice for those of you looking for dressier trousera.
Have some ideas about affordable alternatives for the Casino Royale Ted Baker linen trousers? Head down to the comments and share away! And remember you can always find more Bond style and inspiration on our Facebook Page, Instagram Account and Pinterest Boards! You can also now visit our official Amazon Store Page! We've used it organize by category all the different alternatives we've found on that massive online marketplace.