The James Bond SPECTRE Mock Neck Sweater
James Bond certainly doesn't mess around with his knitwear. And fan favorite brand N.Peal has been his go-to source for sweaters during the Craig-era. For SPECTRE, aside from their beautiful cable knit turtleneck, Bond also wears their Mock Neck in two colors: Dark Charcoal Grey and Lapis Blue. Made from a 70% cashmere and 30% silk yarn in a fine gauge knit, it's the very definition of a luxury layering piece.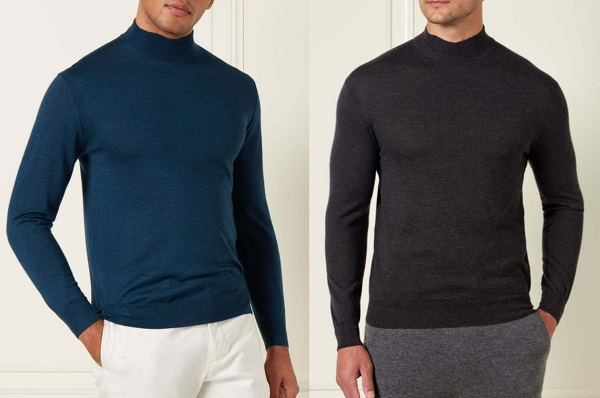 The Lapis Blue sweater is really only on display during Bond's interview with Dr. Madeleine Swann at the Höffler Klinik. The rest of the time it's covered under the zipped Tom Ford jacket.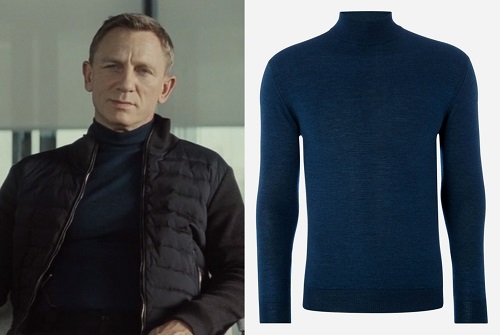 The Dark Charcoal Grey version received significantly more exposure. It was front and center in the film's marketing (Bond's wearing it in the now famous Roger-Moore inspired "Holster Poster"). During the London finale, Bond  wore the sweater with the John Varvatos dark navy suede racer jacket, the Neil Barrett puppytooth trousers and the dark brown suede Sanders Playboy chukkas (you'll find information on those in this post).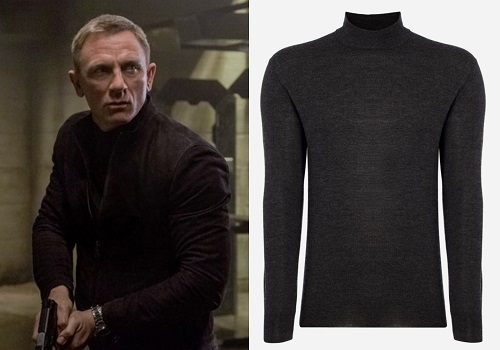 You can still get the original James Bond SPECTRE mock neck sweater in either color from N.Peal for $410.00/£295.00.
Features Wanted for the James Bond SPECTRE Mock Neck Sweater
Fine gauge knit sweater with higher cut mock turtleneck.
Ribbed cuffs and hem
Ideally cashmere, wool or a blend. But a knit cotton will also do if we're on a budget.
A couple of notes about our alternatives. I've tried to stick with knit fabrics so we get a screen accurate texture. But I have included some lower priced mock-neck tees that come close to giving us the look we want at prices most of us can afford. As far as colors, there's plenty of charcoal grey options out there. But that Lapis Blue a great example of N.Peal's mastery of shades and tones. It's definitely a unique color and most of the alternatives lean either too light or dark blue or too green. So our selection is much more limited.
Best Option for the James Bond SPECTRE Mock Neck Sweater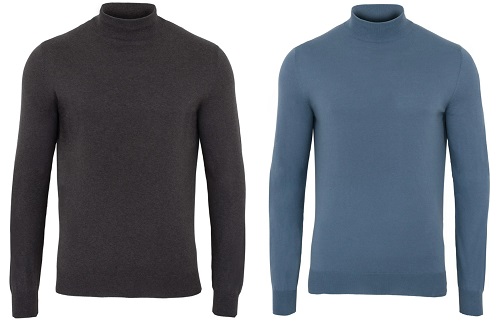 The yarn is a high quality cotton rather than cashmere and silk. But Paul James has used a fine gauge knit, tighter ribbing at the collar, cuffs and hem and an intricate French shoulder design that perfectly captures the elegant simplicity of Bond's sweaters. And they've gone with a trimmer fit to keep the styling sleek. The Bluestone may not be the best match in terms of color. However, that paler shade of blue grey will still work well with the other tones in Bond's Sölden outift. The charcoal on the other hand is about as close as we can get in an alternative. It's a lot of sweater for just over sixty dollars. Plus it has 4.7 out of 5 stars on their website after 66 reviews so we know most people have been happy with their purchase. Paul James has sizes XS to XXL available on their website.
Under $50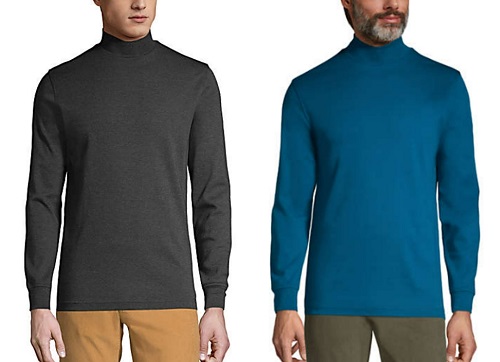 This is one of our t-shirt based options. Which means we're losing the knit texture and most of the ribbing. However, the fabric is a 100% Supima Cotton, a high quality long staple fiber with a soft hand that wears better (and a little heavier) than your standard cheap cotton. And the Baltic Teal is one of the closest matches I've found for the blue of Bond's Sölden sweater. Lands' End has also improved the fit, making it trimmer and more flattering. They've been making these shirts for years and they still have 4.5 stars out of 5 after 540 reviews. So if you need a true budget option, this is a solid choice. You'll find sizes small to XXL on their website.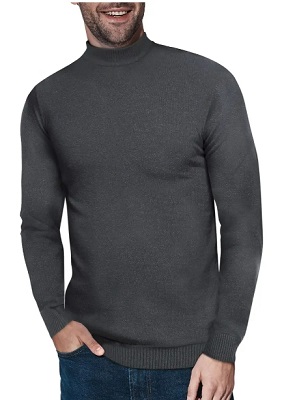 The grey might not be quite as dark as we'd like. But the other details are there: textured knit, ribbed collar, cuffs and hem, trimmer fit. The 50% nylon, 30% viscose and 20% polyester fabric isn't exactly "luxury", however it does help explain the lower cost. On the plus side, that blend actually makes it a pretty smart choice for more vigorous cool weather activities when you're expecting to work up a bit of a sweat. Nordstrom Rake has sizes small to XXL available.
Under $100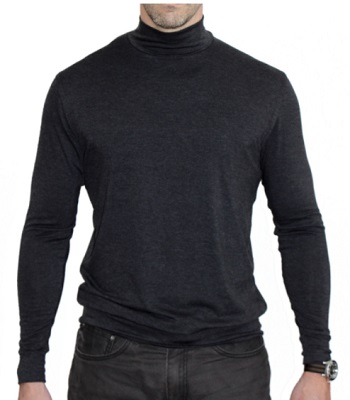 A 100% cotton option from well known repro-maker Indy Magnoli. Like the Lands' End option, this one looks to be more of a t-shirt style shirt, without the knit texture and ribbing. However, the reviews are very positive (especially about the fit). They have sizes small to XL in stock on their website. But they do recommend sizing down for a more screen-accurate look.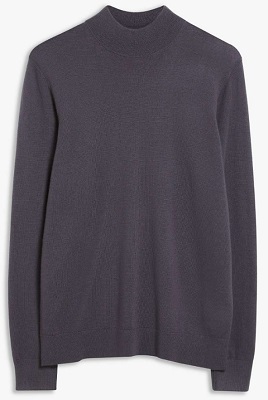 It's definitely a lighter grey than Bond's sweater. But we're back to getting a true, this time in 100% Merino wool. Which is very nice at this price point. And based on the model in the product photos, it also looks to be a trimmer fit. You'll find sizes small to XXL on the John Lewis website.
Under $200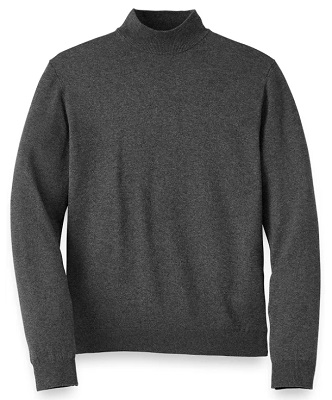 It's a big jump up in price. But if you like this style of sweater, it may be worth the investment. Made from a 55% silk, 40% cotton and 5% cashmere blend yarn, it has the fine gauge knit texture and small scale ribbing that we want. And it comes in sizes small to 4XL in a Classic Fit and Big & Tall Fit. So you bigger guys should be able to get a size that works best for your body shape.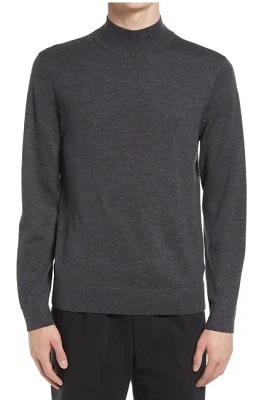 Another Merino wool option in a finer knit. This alternative also incorporates the French shoulder, which drops the seam to the back to keep the front of the sweater looking clean and sleek. Sizes are starting to run low at Nordstrom (they're down to medium to XL).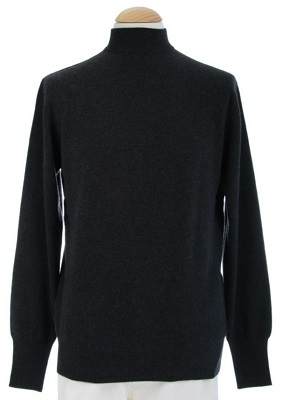 It's not often we find higher quality cashmere at Merino wool prices. And the styling details on this option certainly make it one of the more screen accurate alternatives. Made from a 2-ply Mongolian cashmere yarn, it comes in that dark shade of charcoal and has the finer ribbed knitting at the collar, cuffs and hem that tick all of our "Features Wanted" boxes. Cashmere Heartland has sizes small to XL available at that sale price (sizes XXL and XXXL are available for $10 to $15 more). But I think the fit may be a little on the generous side, so double check their size chart if you want a trimmer fit.
As always, I'll keep up the search for more options. In the meantime, if you have an alternative for the James Bond SPECTRE mock neck sweater, let us know about it in the comments below! And for more Bond-style inspiration, remember to visit us on Facebook, Instagram and Pinterest.