How To Travel Like Daniel Craig
It's road trip time! With summer right around the corner, many of us will be doing some kind of travelling in the months ahead. And whether you're taking a plane, train or automobile, stuffing your stuff into some cool luggage always helps make the trip more enjoyable. So in this post we're going to take some inspiration from one of our favorite actors to find affordable alternatives for his favorite pieces of travel gear. Ladies and gentlemen, it's time to learn how to travel like Daniel Craig!
The Modern Messenger Bag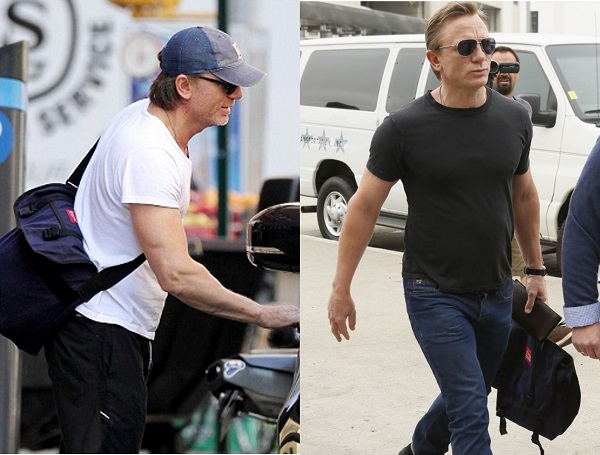 We recently took an indepth look at alternatives for what is undoubtedly Craig's favorite messenger bag: the Belstaff 554. But around 2013, we also saw Craig slinging a navy blue Manhattan Portage bag over his shoulder. Manhattan Portage is a pretty cool company. Started in 1983, their designs are clean and practical and focused on quality materials and construction over flash. They also fully embrace their New York City roots and the urban bike courier culture that inspired them.
Craig's Manhattan Portage bag was most likely their medium waxed canvas messenger bag. Made from Martexin Original waxed canvas, it measured 11.5″ at the bottom to 15″ at the top by 11.5″ high by 7″ deep. It's almost impossible to find one now in the navy color. But you can still get it in black, dark brown, field tan and red for $144.95 at Sportique.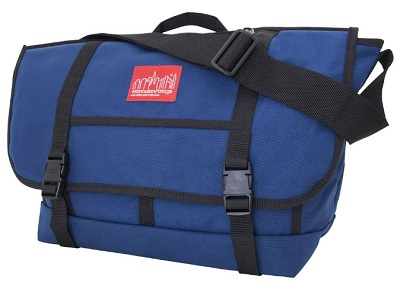 Might as well get one from the original brand! Manhattan Portage used a durable 1000D Cordura nylon instead of waxed cotton for their NY Messenger Bag. But the design details are very similar. It's currently only available in size Large in the Navy, which will give you an extra 550 cubic inches of space for your laptop, jacket or another book or two. If you have your heart set on something a little smaller, check out their Willoughby Messenger Bag for $119.00 or their medium Quick Release Messenger Bag for $109.00.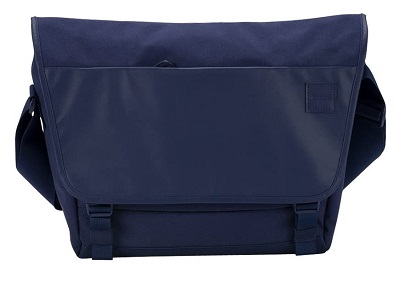 A low cost option from Amazon that has the right look. Just be aware this is a very minimalist design, with few pockets inside or out. They also fail to mention the measurements on the product page. But the photos seem to indicate it can easily hold a laptop, a few binders and a jacket or sweater. So I'm guessing it's not tiny.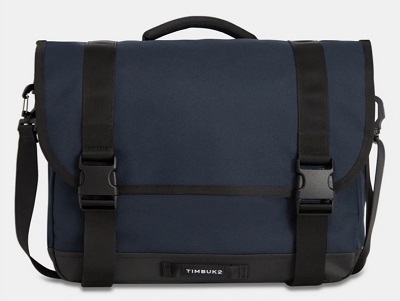 Like Manhattan Portage, Timbuk2 was born out of the bike courier culture of the 1980s, this time in San Francisco. And they're also known for creating well thought out and practical designs that are built to take a beating. The Commute 2.0 features a heavy duty outer made from recycled nylon with a reinforced, water resistant bottom. They've lined the interior with a TPU fabric, so cleaning up spills is easy. And they've added Velcro "silencers" around the metal zipper hardware to stop it rattling around. It's a little more expensive. But it's packing a lot of punch.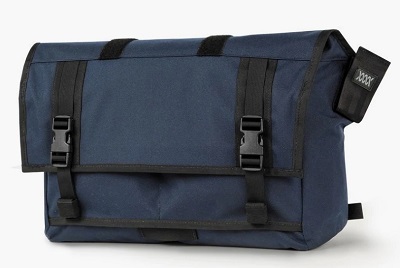 The price is creeping up there. But the Monty is made in the U.S.A. from 1000d nylon and milspec webbing and finished with heavy YKK zippers. It also features a unique roll-top closure to keep the rain away from your laptop and other valuables inside. And there's a detachable cross-body stabilizer strap so the bag will stay in place when you're weaving through heavy traffic on your bike. Great materials, great construction and a well thought out technical design definitely help justify the extra cost.
The Practical Day Pack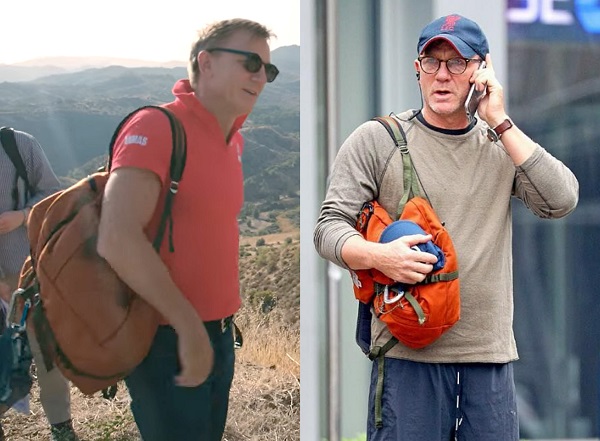 We haven't seen this bag get much play in Craig's rotation. We know he used it for his trip in October, 2015 to Cyprus in his role as a United Nations Global Advocate for the Elimination of Mines and Explosive Hazards. Then it showed up in some paparazzi street shots of Craig heading to the gym. As far as I can tell, that's about it. But its traditional ruck sack design and deep orange color certainly catch the eye. It's also an extremely practical piece for longer day trips and short weekend getaways. Thanks to the Instagram account @whatsdanielwearing, we know the bag is the Epperson Mountaineering Large Climb Pack in Clay. And it's still available ….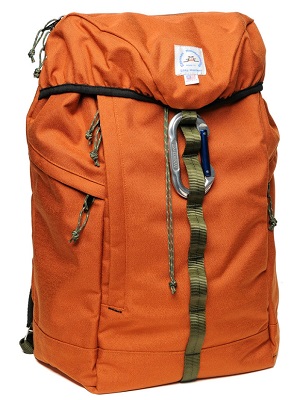 Here it is! And I have to say, the specs are pretty impressive. Epperson has used a 1000d Corduroy nylon for the shell and added four exterior zipper pockets, a military grade tubular webbing daisy chain and bartacked all the stress point.  Inside, the bottom is padded to protect whatever you're carrying and they've sealed the seams to keep things nice and dry. And then there's that unique carbiner closure system for the top lid. Plus it's made in the U.S.A. If you need a bag that can easily handle larger loads, this one is definitely investment worthy.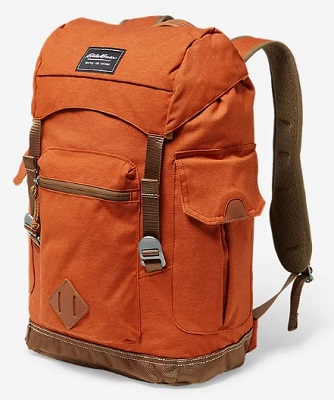 It has the right retro-rustic look. But the materials and construction are decidedly more lightweight, with a 490d nylon and polyester body. However, they've added strength where counts, with a 1680d ballistic nylon reinforced bottom. If you just want a pack for casual days out and about, it will definitely get the job done for a very reasonable price. This one is currently available for pre-order, with an expected delivery around July 1st.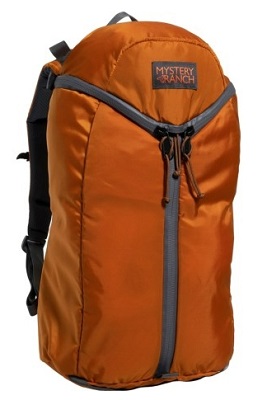 A more minimalist take on the orange day pack design from a brand known for supplying hardwearing gear to forest firefighters, medical teams, hunters and outdoor enthusiasts. Although the Urban Assault can be used for day trips on the trails, it also comes with a built-in laptap sleeve for work commutes. The zippered Y closure system is certainly unique and should allow easy access to the interior in theory. But some of the reviews claim the zippers can get sticky or be awkward to open, especially if the pack isn't fully loaded. If you want to give it a try, it's currently on sale at Sierra.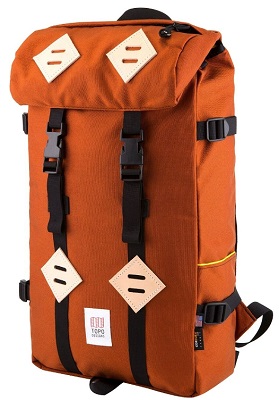 Topo Designs is another well respected name in the world of outdoor gear. And the specs for their Klettersack are certainly noteworthy for the price. They've used a durable 1000d Cordura nylon for the shell and trimmed it with thick Horween leather. Inside, the pack is lined with 420d nylon and includes a laptap sleeve and zippered security pocket. And it's made in the U.S. If you like the look of Craig's pack but aren't stuck on getting exactly the same model, you should definitely check out this one.
The Rugged Duffle Bag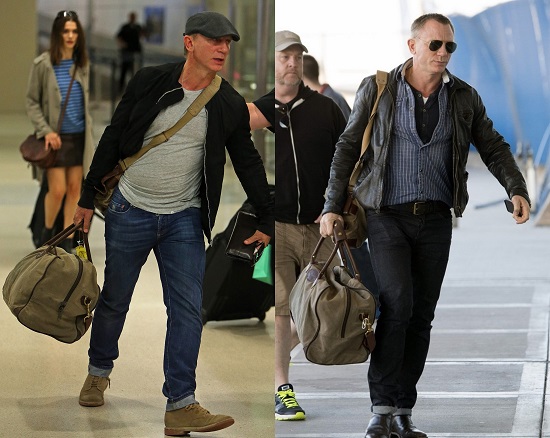 I'll come right out and say it: I like Frost River. I like that they make their products by hand in Duluth, Minnesota. I like their commitment to the environment. And, yes: I like their slightly over-earnest, "this is the way our forefathers made 'em" attitude. Because all those things combined help to create some truly beautiful, practical and bombproof pieces of luggage. From my personal experience with one of their products (a canoe pack), I can tell you that their products definitely walk the company's talk. I don't often say, "just buy the original" on this site. But honestly, two hundred bucks is not that much to spend on something that will last a lifetime. It's worth saving up for.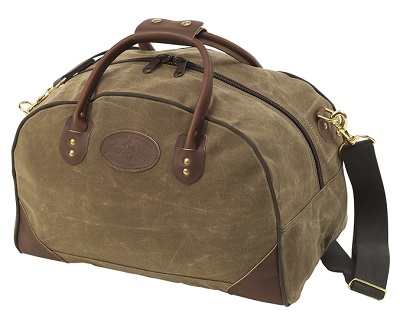 As Frost River says on the product page, "Nothing fancy here." A combination of durable and water resistant 18oz waxed canvas, thick full grain leather and solid brass hardware creates a bag that's simple in design and ready to take a beating. And it will just look better and better after some wear and tear.
I'll also note that Craig has been seen using another Frost River bag: an older version of their Nessmuk Day Pack ($295.00). Based on a design used by writer George Washington Sears in the 1880s, it has the same traditional, rugged good looks and durable construction as the Flight Bag but in a backpack design. If you need something a little smaller for your travels, I'd recommend checking it out.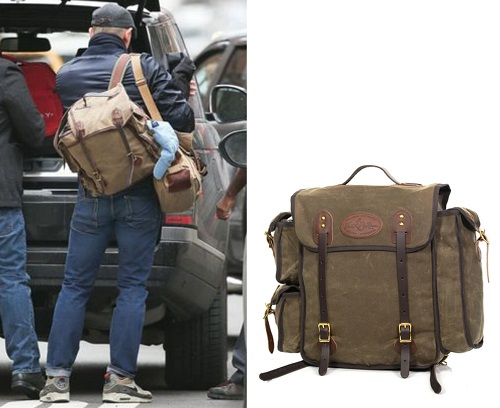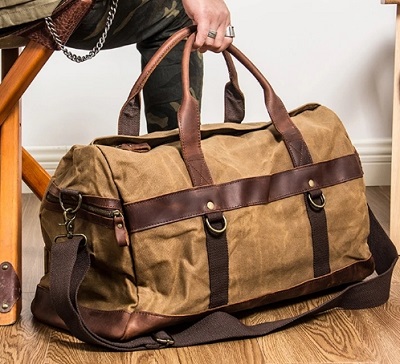 Of course not all of us have $200 to spend on luggage. This bag from Aliexpress offers a similar rugged style as the Frost River at a more budget friendly price. Of course we can't expect it to be nearly as durable as the original. But if you just need something for the gym or the odd weekend getaway, it should work just fine. The bag also comes in Army Green if you're not sold on the Khaki color.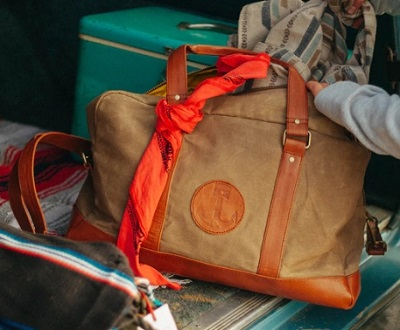 I'll say up front that that sale price makes this one a real steal! Iron and Resin have used a 15oz bee waxed cotton canvas for the body and heavy buffalo hide leather for the bottom, straps and handles. Then they finished it off with Japanese antique brass hardware. That checks off a lot of our "Features Wanted" for a bag like this! Iron and Resin offers The Getaway Bag in Field Tan (shown above) and Olive.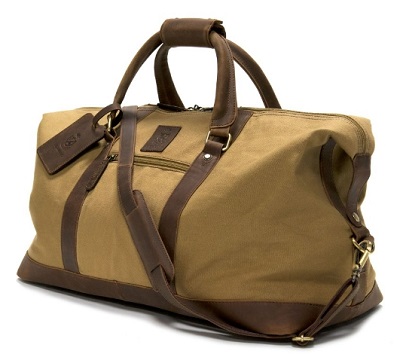 Herring Shoes delivers a slightly more elevated take on the rugged canvas duffle. Here we get a lighter weight cotton canvas exterior. But they've reinforced the bottom with heavier leather studded with five brass feet for extra durability. Inside, they've lined the bag with a monogramed nylon and included a large zippered pocket to store smaller items. It probably won't take a beating like some of the other options on this list. But it's a solid choice if you want a bag that adds some sophistication to the rustic style.
Also Try
The Black Leather Duffle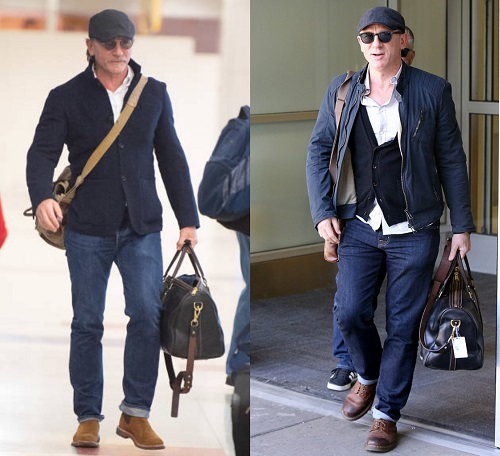 If you want a simple, stylish and versatile bag for carry-on, it's hard to go wrong with a classic black leather duffle. Thanks to @whatsdanielwearing, we know Craig chose one from the California based workshop of Coronado Leather. The solid brass hardware and the liner made from Japanese shirting fabric are nice features. But the real story is the black Horween CXL (Chromexcel®) leather. Horween uses a century old process involving 89 different steps to create this leather. And really does patina like nothing else out there. This means the Austin Duffle will develop a unique character for each owner and help tell the story of your various travels over the years.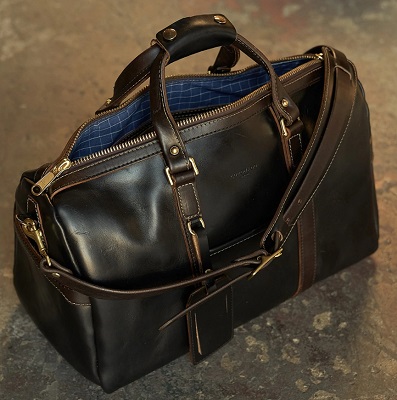 Coronado's latest version of the Austin is slightly different than the one Craig owns (the new design includes an additional exterior side pocket). But they still use the same black CXL leather for the body, brown CXL leather for the straps and solid brass hardware. They only made 20 of these bags this go around and currently they only have 3 left in stock. Since I have no idea if they'll be producing more of them, I strongly suggest grabbing one if you can!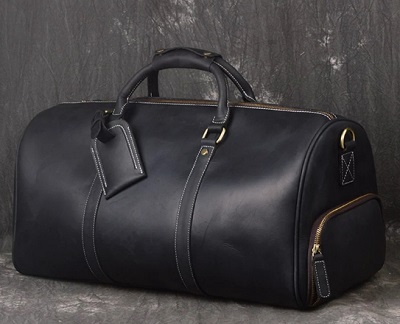 It's significantly less expensive than the Austin Duffle. So we need to ask what we're giving up. To start, the bag is made in Asia (this one comes to us via Aliexpress). And I have no doubt the quality of the construction and hardware won't be to the same standards as the Coronado bag. Then there's the leather, which is actually kind of interesting. They've used Crazy Horse leather, a thick waxed hide that's known for absorbing scuffs and scratches that add character. While not as respected as CXL, Crazy Horse is very popular in its own right, especially for making workwear inspired boots and gear where a more rugged appearance is appreciated. So you can expect this bag to develop its own personality with use and time (assuming the stitching can hold up that long).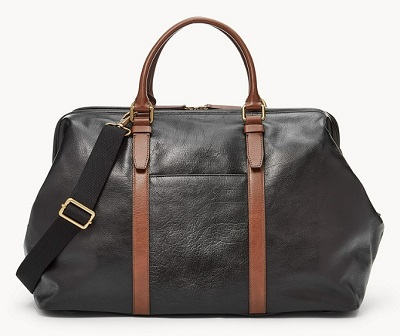 If you want something a little larger in a more basic leather, this option from Fossil is a heck of a great deal right now. Normally retailing $400, Fossil is slashing the already reduced $199.99 sale price by another 50%. Which means you can get one in your hands for about $99. And while I doubt the Evan is going to develop the same kind of character you'll see with the Ausin, Fossil usually delivers a pretty decent product.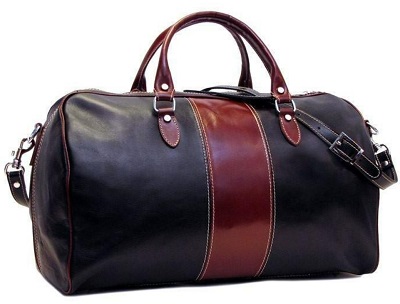 And now for some Italian luxury at a reasonable price. Floto is a relatively well known name in the world of soft leather luggage. They make their bags in Italy using a lighter weight vegetable tanned full grain leather that has a slight glossy finish. In other words, almost the exact opposite of CXL. But I'll add that I've had a Floto bag for years now and it's held up just fine (although I do tend to treat it with a little more TLC than some of my other more rugged leather luggage). If you're not totally sold on the black and brown leather combo, they also make the Grande Duffle ($391.20 on pre-order) and a very cool Garment Duffle ($351.75 on pre-order) in all black.
The Vintage Suitcase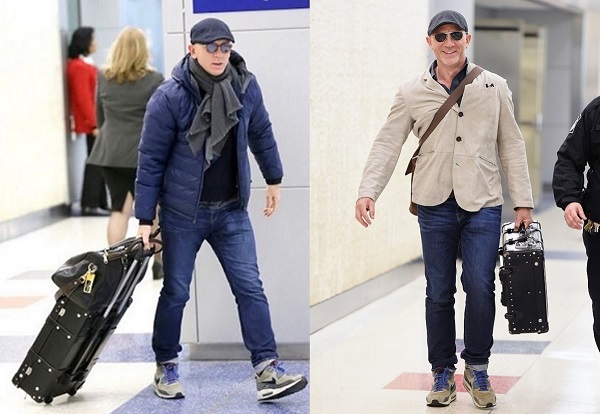 There are suitcases. Then there are QE2/Orient Express worthy suitcases. Globe-Trotter's Centenary Trolley Case is handcrafted in Hertfordshire, England from "Vulcan Fibre" using 113 year Victorian-era machinery. Add on the leather corner protectors and brass hardware and you have a piece of luggage that defines the word "iconic" and should just get better with age. Craig's model was the 21″ Centenary. However, it seems like the company has replaced that model with Centenary Carry-On (more on that below). It also looks like the actor has been adding to his Globe-Trotter collection over the last couple of years.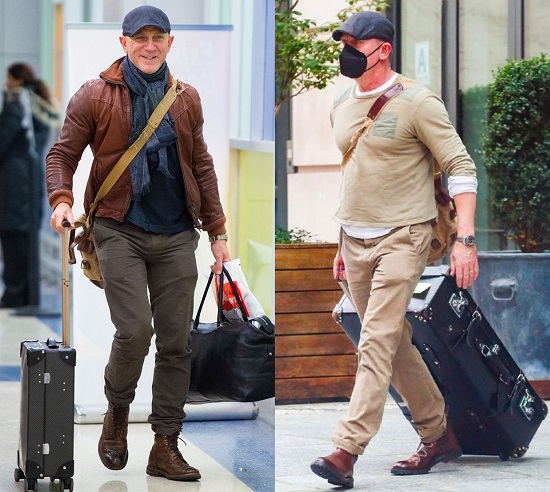 Finding an alternative that's going to match the quality for which Globe-Trotter has become famous is a challenge. But we've found a few alternatives that can work, depending on your travel needs.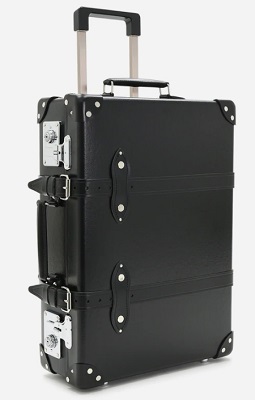 If I'm not mistaken, this is the new Centenary model which has replaced the older Trolley version that Craig owns. Like the Trolley, this one has the two inset wheels, the black leather corners and the silver hardware. The main difference is the size, which has increased slightly in this latest iteration. If your wallet is ready for it, I'd recommend ordering directly from Globe-Trotter.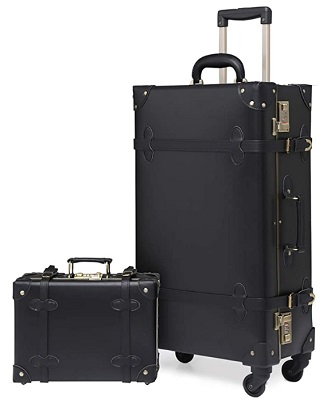 This set definitely has the look we want. But I'm very hesitant to recommend it for any of you frequent flyers. The outer shell is PU (snythetic) covered fiberboard. Which means the chances of it getting beaten up in the overhead compartment are pretty high. However I should also note that this particular set 4.5 stars out of 5 on Amazon after more than six hundred reviews. So maybe it's tougher than I think. The suitcase comes in various sizes, but they only have the 20″ and 26″ version in the black. That smaller case is only 12″, so I'm not really sure what I would use it for. If you want a cool looking carry-on for your one or two trips a year, this is worth checking out.
If you're only interested in the suitcase, there's a very similar model available on Aliexpress for a little less money. The Vintage 4 Wheel Suitcase in black comes in 20″, 22″ and 24″ sizes and is on sale for $128.88 to $158.88 with free shipping to the U.S. Estimated delivery time is near the end of August. So hopefully you'll get it in time for one last end-of-summer road trip.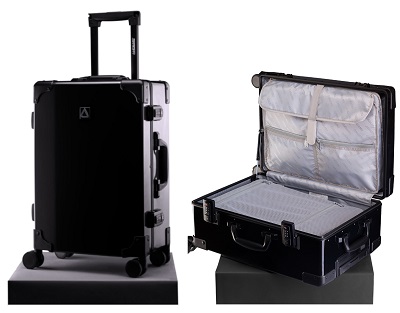 The Andiamo's retro-meets-techy design is a little hard to describe. But somehow it works (at least for me). They've used a 100% polycarbonite hard shell instead of fiberboard and reinforced it with a tough aluminum frame. It also comes with RFID-blocking pockets and a built-in USB port (you need to provide the battery) so you can charge your electronics on the go. If you feel that all this vintage-style luggage is just a little too "quaint" and want a suitcase that gives the whole look an edgy, modern twist, this could be a very interesting choice.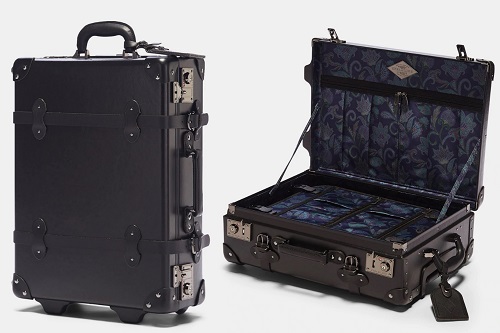 Designed by Steamline founder Sara Banks, The Industrialist is a modern piece of luggage with some serious old-world charm. The shell is a Japanese fiberboard, trimmed with genuine leather and chrome hardware. You'll also get TSA approved locks, an aluminum telescopic handle and silent-glide wheels. The interior is also beautifully finished in a deep navy and purple paisley fabric with plenty of pockets and storage. The Industrialist comes with a detachable door-hanger washbag and a ripstop nylon cover to protect the case when things get wet outside. $850 is still a lot to pay for a suitcase. But this one delivers a lot of bang for the buck.
Have some affordable alternatives to suggest for our post on how to travel like Daniel Craig? Share them in the comments below! I'd also like to give a special "Thank You" to @whatsdanielwearing for identifying many of the original pieces we shared here. Also remember you can find more style inspiration on Iconic Alternatives' Facebook Page, our NEW Instagram Account and Pinterest Boards!
Other images in this post were sourced from Just Jared, AJB007 and Huf Magazine.