Best Budget Style Finds August 29th
Welcome to our Best Budget Style Finds for August 29th! This is where we share some of the great alternatives for Bond (or Craig or McQueen) style that either slipped through the cracks when I was writing the original dedicated posts or deserve a special mention. Sometimes the posts will be short. Sometimes there will be a ton of new options. A lot will depend on what we, as a community, find and share. So if you have any suggestions, let us know in the comments. On to the alternatives!
Orlebar Brown's Big Sale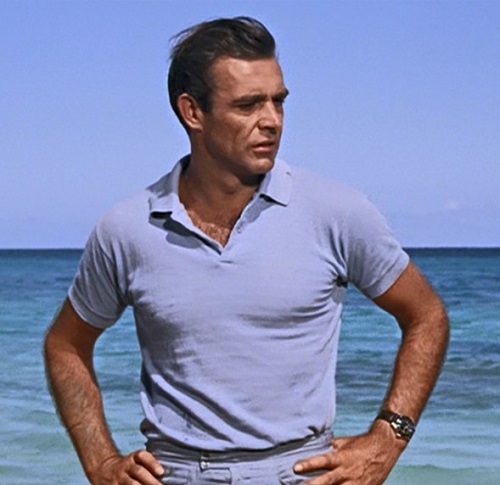 One of fandom's favorite Bond brands is having a darn good sale right now. And while it doesn't seem like they've included any pieces from their 007 collections (at least as far as I could see), there are some solid alternatives to be found. Couple of notes. Prices do seem higher for U.S. customers than for those of you in the UK. But the U.S. version of the Orlebar Brown website has a much better size selection. Off we go!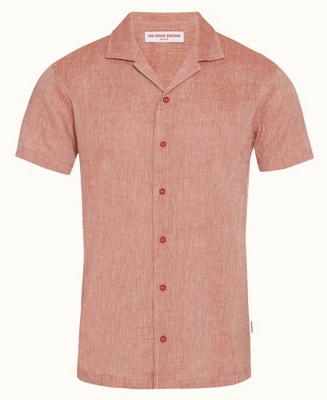 Looking to add some Thunderball inspired pink to your wardrobe? This will do nicely. Fabric is a 56% linen, 44% cotton chambray blend woven in France. So it won't wrinkle quite as much as an all linen shirt but should still wear light and airy. Regular price was $295, so this is getting a healthy discount and there's still a decent selection of sizes left.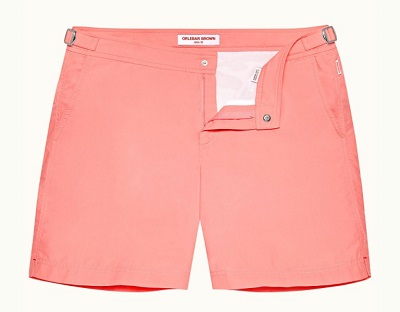 Thunderball pink again! The Sundown color is also available in the Setter ($95.00, shorter length) and Springer ($145.00, shortest length) models, but sizes are very limited. However, the longer Bulldog style still has plenty of size options in stock.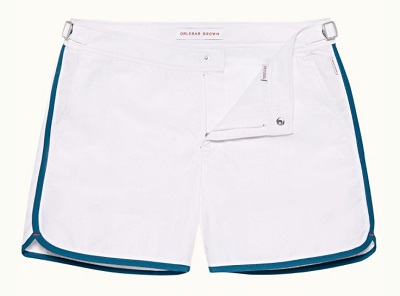 Not the most screen accurate alternative for Bond's white Thunderball shorts. But the blue piping adds some cool retro-style that I like. And they'd still work great with a navy polo shirt.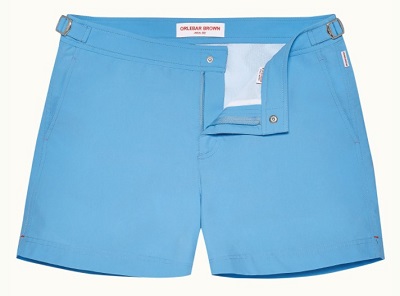 Jumping forward a few decades, the blue of these Setters is brighter than what Bond wore in Skyfall. But since the Sky colored shorts from their 007 collection go for $295, I'm willing to go with "close enough" for 50% off the price. They also come in a Bright Sky with the same discount. However sizing in both colors is getting really spotty.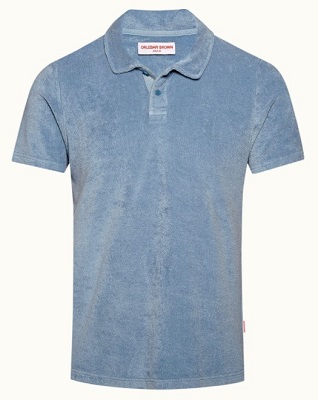 Have to say, I actually like this Dr. No inspired light blue towelling polo better than the one they created for the 007 collection with the ribbed collar. And it's $130 cheaper! Sizes XS to XXL are in stock on the U.S. and UK sites. It maybe one of the best deals in the sale.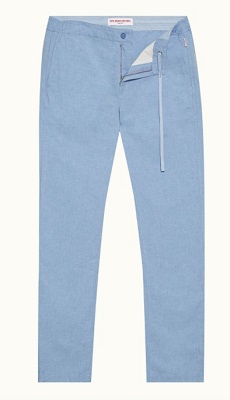 And some light blue trousers to go with your new polo to complete the Bond-on-the-beach Dr. No look. Fabric is an Italian 61% cotton, 39% linen blend. Lots of sizes left on the U.S. site, but inventory is getting low in the UK.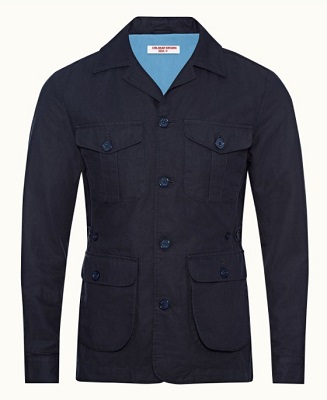 Some Sir Roger inspired safari jacket style. Fabric is a 74% cotton, 27% linen woven in Portugal. Even with the sale price, it's still expensive. But Orlebar Brown has included lots of nice details in the design and it's a classic style that you can wear for years. Plenty of sizes available.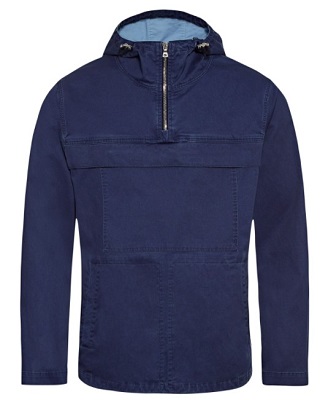 As I mentioned in our post on Bond Military Style, I'm always on the lookout for cool On Her Majesty's Secret Service inspired anoraks. This one isn't the most practical option since it's not even water resistant. But it should work great as a layering piece for those chillier late summer evenings down at the beach. And the healthy $420 discount certainly makes it more attractive! Sold out in the UK; U.S. site still has sizes small to XXL available.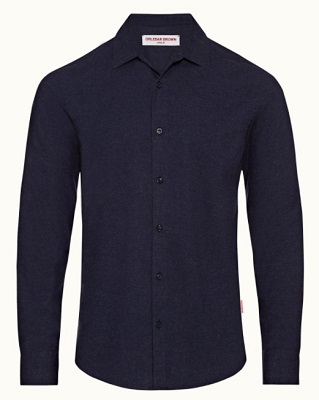 We discussed the Loro Piana navy cashmere shirt Daniel Craig wore on Saturday Night Live way back in our March 9th edition of the Best Budget Style Finds. This alternative from Orlebar Brown isn't quite as luxurious (the fabric is 95% cotton and only 5% cashmere). But the color and the styling are a good match. The $150 discount also helps. They have plenty of sizes in stock.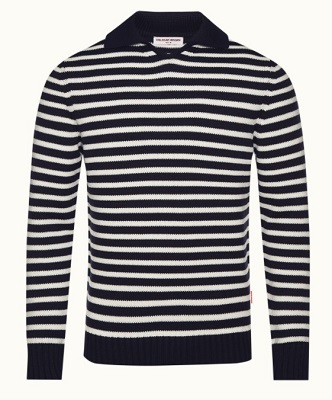 A little James Dean style to wrap things up. You can find plenty more options for Breton striped sweaters in our post on The Golden Age of Hollywood (as well as some good reasons why you need one in your closet). This made-in-Italy interpretation is 100% Merino wool and they a good selection of sizes available.
Bond Inspired Transition Jackets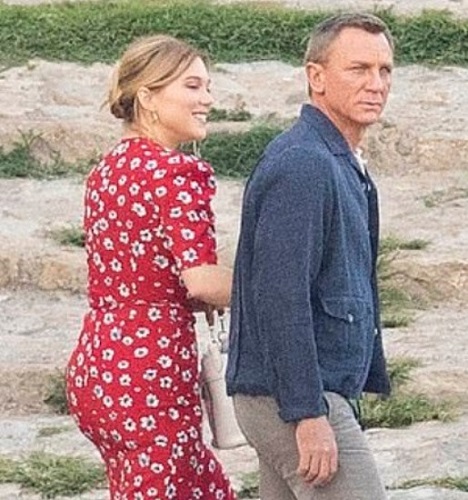 I don't know about you, but the recent streak of heat waves in my neck of the woods has me wondering if fall weather will ever show up. However, I'm an optimist (and a lover of outerwear), so I'm already planning ahead. We're starting with some alternatives for Bond's blue Matera jacket from No Time To Die (more options in this post, which we'll be updating soon). And there's a couple of other great jackets that will help us move from the heat of summer to the cooler days ahead.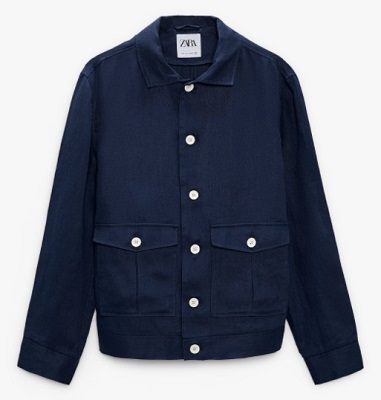 A great suggestion from Raphael in the comments for our dedicated post on the Matera jacket (GNB also recommended it in the comments on another post). And it looks pretty darn close to what we want! The darker color isn't exactly screen accurate. The white buttons will also have to go (but that's an easy fix). But the 100% linen fabric and boxier fit definitely have the right look. It also seems to be a longer cut, which should be good news for those of you who were struggling with the original's short length. Zara has sizes small to XL in stock.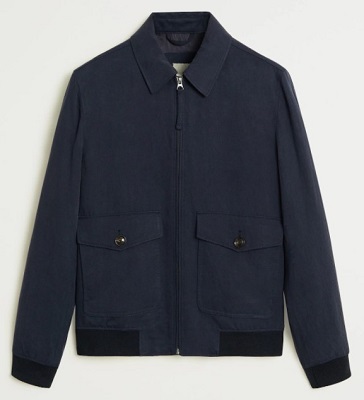 We've shared this option in the past. But AJB007 forum member Garyorange happened to point out that it also works as an alternative for Bond's navy Octopussy jacket. And that's a heck of good sale price! Fabric is 65% lyocell, 26% linen and 9% cotton. This one is lined so it will wear warmer than the original. Sizes small to XL are in stock.
I'll also mention that the Arlen Cotton Linen Patch Pocket Jacket is on sale at Thread for $98.00. This one is missing the button flaps on the hip pockets and is cut a little longer (more like a chore jacket length). But I still thought it was a great alternative for those of you looking for something with more a of workwear vibe.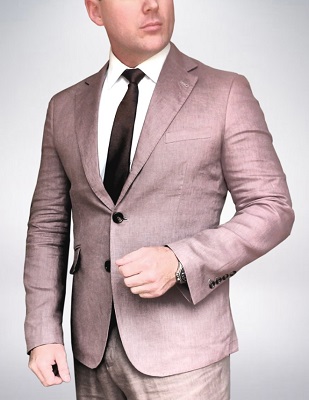 Many of us have been waiting a long time for Daniel Love to release his interpretation of Bond's Morocco blazer from SPECTRE. And it's finally here! Given the use of filters and de-saturation in the movie, the actual color of 007's jacket has always been tricky to nail down. Even in real life, it seems to change shades dramatically depending on the light. Just know that Mr. Love got his hands on an original Brunello Cucinelli to use as reference and color matched his fabric as close as possible. He offers more detail on this in the product description. After years of searching for good alternatives, we fans finally have the option we've always wanted at a price we can afford. Thank you again, Daniel!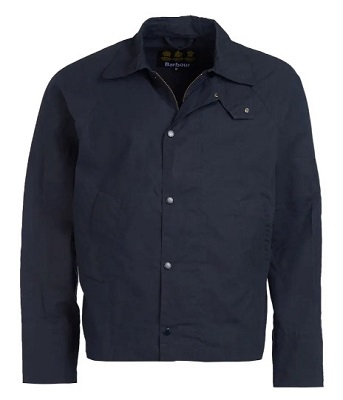 The new version of the Barbour X Engineered Garments Graham jacket Bond wears in the No Time To Die. And there has been more than a little confusion surrounding it. The Covert occasionally pops up in on-line stores. Then it disappears without warning or explanation. We'll be going into as much detail as possible about the jacket when we update our dedicated post in a couple of weeks. In the meantime, check out this Instagram post by @bondclothes007 for a comparison of the Graham and the Covert. And this thread on AJB007 also has some solid intel. Right now, the most important thing to know is that Nordstrom Rack is offering the Covert at a ridiculous sale price. Stock has definitely thinned out and they're down to XS and Large to XXL. Remember the Covert fits big, so you'll probably want to go down a size.
It's still hot out there!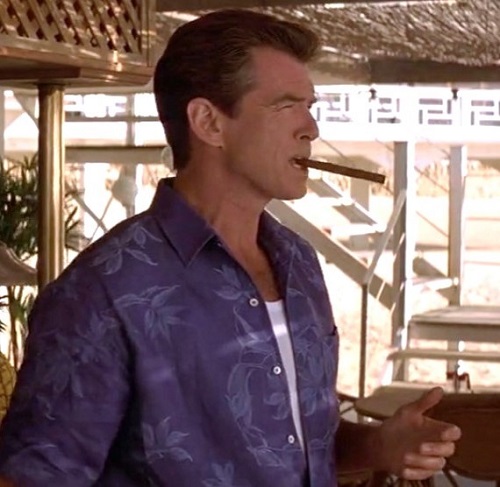 Summer will end eventually. But it sure is taking its time! While we're waiting for things to cool down, this is a great time to find super deals of warm weather clothing. And there's at least a few more weeks ahead for you to get some use out of them!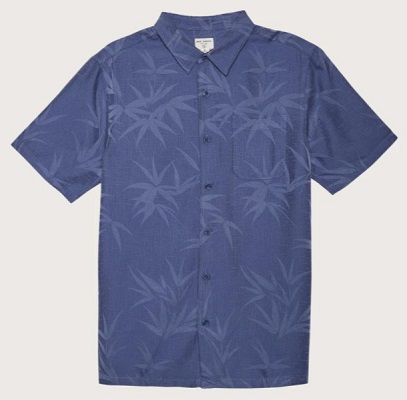 One of the best alternatives for Brosnan Bond's Die Another Day Cuba shirt that we've seen in a while. We originally shared it in our post on Bond's Casual Summer Shirts. But AJB007 forum member Westward_Drift shared the update that it's now on sale. The only bad news is they're down to size medium. If that's going to work for you, I'd strongly recommend grabbing one!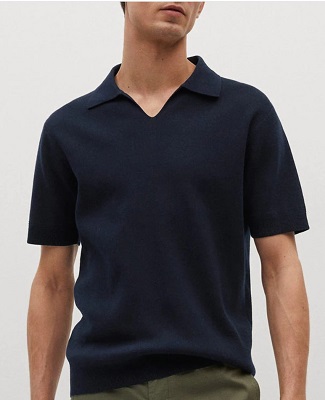 Another solid alternative from Mango, this time shared by AJB007 forum member RonBerry. This is definitely one of the better options we've found for Bond's Tom Ford SPECTRE polo. And they've given some nice texture to the fabric and added a little detail stitching around the cuffs. Still plenty of sizes left on both the Mango U.S. and UK sites.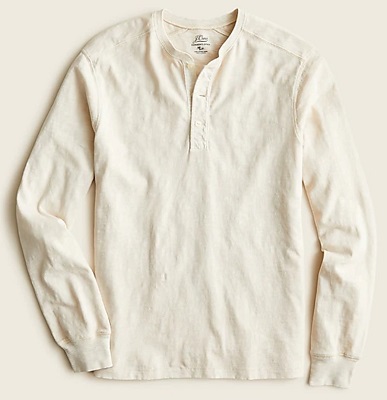 A basic to be sure. But it does a good job of capturing some of the Rag & Bone's style at about a fifth of the price. Available in Classic and Tall fits with plenty of sizes available.
The Knitwear is coming! The Knitwear is coming!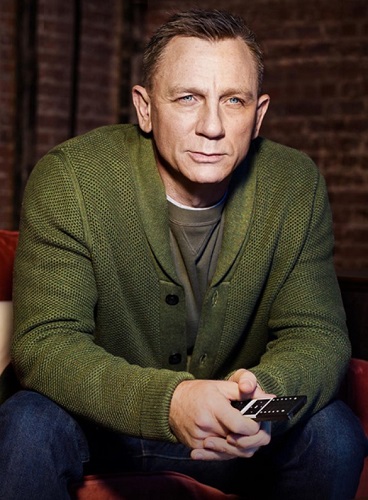 As I said above, the cooler weather will come eventually. And so, as with jackets, it's a good idea to stock up on some great sweaters and cardigans to get ready! We'll have plenty more options in the weeks and months ahead. Consider these a warm-up.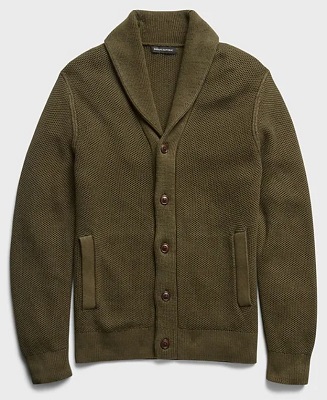 I'm not sure what changed. But I've definitely been drawn to olive green more and more over the last couple of years. So this new offering from Banana Republic has certainly caught my. Suggested by AJB007 forum member armenianmovieman, the 100% cotton honeycomb knit has the look of the Rag & Bone cardigan Daniel Craig wore in the Vodafone commercial a few years ago. This is new this season, so no discounts yet. But Banana Republic is almost always offering some kind of deal. So a little patience should pay off.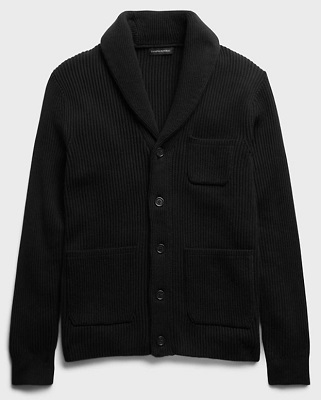 Another suggestion from armenianmovieman. And it's a solid "alternative with a twist" for Bond's Quantum of Solace cardigan. We get the ribbed knitting (made from 100% Supima cotton), the heavier collar and the patch hip pockets. The addition of the chest pocket, while not screen accurate, is a nice touch in my opinion and doesn't ruin the simple sophistication of the style. Again, this is a new item for this season. So consider waiting for a discount code to show up.
Some accessories to complete your Bond looks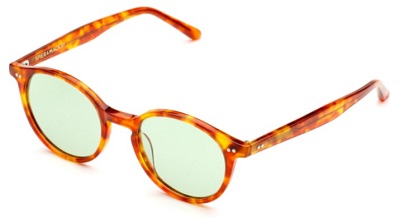 Spier & Mackay does a lot of things really well for reasonable prices. And the word on the men's style forums is that they've also done a solid job with their new sunglasses collection. As alternatives for Bond's Matera sunglasses, these ones have a lot to offer for the money. The 50mm X 20mm X 140mm frames are hand polished acetate with full core wire temples and riveted hinges. The poly-carbonate lenses are polarized. That green lens color looks a little light in the product photos. But it could also be a result of studio lighting.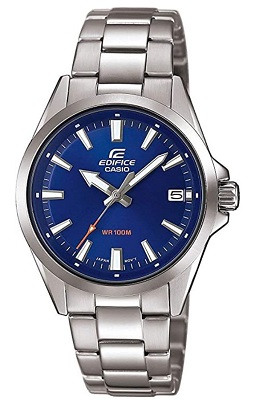 We recently took a deep dive into the Craig era Bond watches. And, as always happens, you fine folks found even more great alternatives to share! In this case, AJB007 forum member emtiem has suggested the Casio Edifice as an option for the Skyfall Aqua Terra. With its arrow hour hand and slightly tapered bar indices, it comes plenty darn close in the looks department. Inside, the watch is powered by a Japanese quartz movement. Measuring 37mm, the stainless steel case is on the smaller side. So it should work well for you guys with thinner wrists.
Something for the bar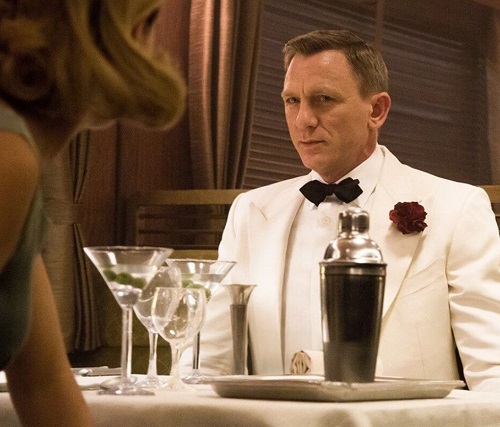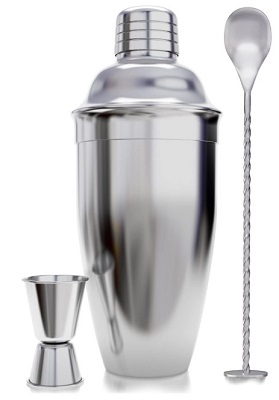 And to wrap things up, we have this recommendation from AJB007 forum member drum007. And it would make a fine (and inexpensive) 007 inspired addition to our home bars. The spoon and double jigger are nice, but nothing particularly special. What we really want is the shaker. The design is a great match for the one used in the train scene in SPECTRE, right down to the grooving on the cap! Great find, sir!
Drum007 also suggested this article on Bond barware over on The Gentleman's Journal. It's a fun read as well!
Know of any alternatives we should feature in our next Best Budget Style Finds post? Or do you have another option for this post? Tell us about it in the comments! If you'd like to see our previous Best Budget Style Finds posts, you just need to click here. And you can always visit our Facebook page, Instagram account and Pinterest Boards for more Bond, Craig and McQueen style advice and inspiration.