Best Budget Style Finds March 9th
Welcome to our Best Budget Style Finds for March 9th! This is where we share some of the great alternatives for Bond (or Craig or McQueen) style that either slipped through the cracks when I was writing the original dedicated posts or deserve a special mention. Today's post is filled with suggestions from the members of the great AJB007 James Bond Fan Forum. AJB007 recently re-launched after a major software upgrade (I can empathize) and now it's better than ever. If you're not already a part of one of the best Bond fan communities out there (and the place where Iconic Alternatives really started) then head over and create an account! Now on to our finds!
No Time To Die Affordable Style Updates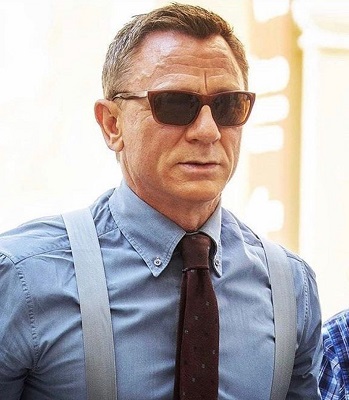 The outfits we've seen so far from No Time To Die continue to be a little divisive among fans of Bond style. But I have to say some of the looks are growing on me the more I see them. We'll have a review for an alternative for Bond's Matera corduroy suit coming soon. For now, here are some more options that will help you finish off a few of the key looks from the film.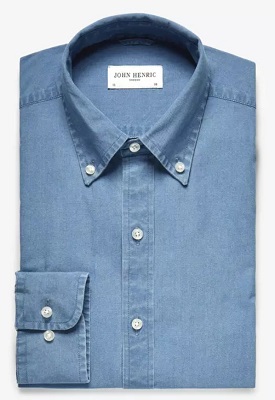 I first saw this option shared by AJB007 forum member Agent Eternal back in October, 2020. And it definitely looks like a great match for Bond's Brunelli Cucinelli shirt! Of course the buttons will need to be changed for the screen accurate look. But that's true of almost any alternative we've found (and, as we've mentioned before, even the costume department changed the buttons on the original shirt). What really makes me happy is the collar. It seems to have a decent roll to it, so that thicker wool/silk tie will fit comfortable underneath. Plenty of sizes available on the John Henric website. And if you sign up for their newsletter, they'll give you 20% off your first order.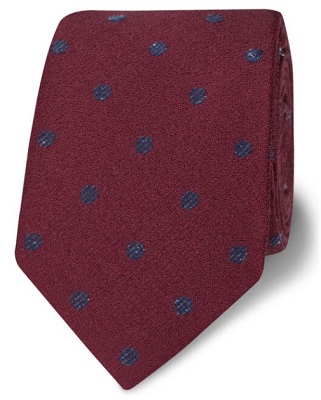 Not quite a perfect match for Bond's Matera tie. But man, does it come close! Suggested by AJB007 forum member Bodie, the T.M. Lewin tie is an 80% silk, 20% wool blend and the blade measures 7 cm (2.75″). So it's just a little wider than the screen used neckwear. And that price is very hard to beat!
As for the original "Avery" tie from Alexander Olch used in the film: the designer's website is currently going through an upgrade. But as soon as it's back up and running you should be able to buy it directly from him. If you can't wait that long, shoot them an email at hello@olch.com to place an order. In the meantime, check out this interview with Olch on Bond Suits to learn more about the designer and his neckwear.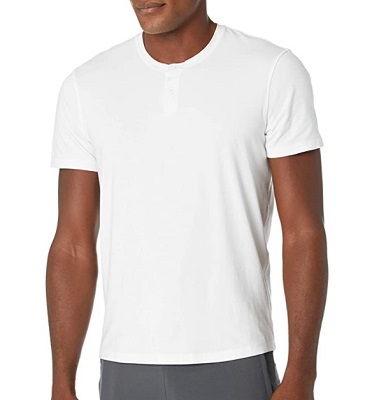 A quick update on this alternative for Bond's Matera short sleeve shirt. Since I published the post dedicated to the No Time To Die Henleys, I ordered a few options to try out using the Amazon Wardrobe service. In the original post I mentioned I was a little worried the cut on this one wouldn't be relaxed enough, seeing as it's coming from Amazon's athleisure line. But I'm happy to report that the fit is actually very comfortable and true to size. And the fabric isn't techy shiny but more matte with a very slight slub texture. However the color is absolutely, positively white. Which is fine since that's what Amazon is calling it. Just don't expect an "ivory" or "bone" or anything like that. The buttons also look and feel cheap. So those are getting replaced. Other than that, I was pretty happy with the shirt and bought it. With my old Mango jacket alternative, my Astorflex Dukeflex boots ($169) and the Banana Republic Traveler Cords in Stone (still on sale for $30!), I think I have one of my Matera looks complete. Amazon still has sizes small to XXL in stock.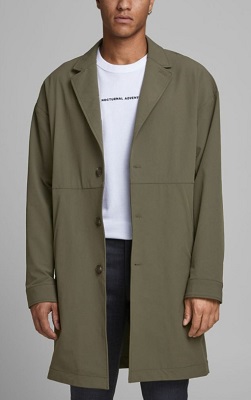 An interesting alternative for the No Time To Die duster coat suggested by AJB007 forum member RonBerry. Before anyone asks: yes, he is completely aware that this one is a 100% polyester shell rather than the cotton corduroy of the original. But he also raises an interesting point about the practicality of going with a water resistant mac. And the color, three button closure and welted side pockets give the coat a similar vibe. Or least enough that I thought it was worth sharing. Jack & Jones have sizes XS to XXL in stock. Unfortunately they don't have this model available in the U.S. and it doesn't turn up on any of the 3rd party vendors that normally carry their pieces.
Looks like "Vintage" is trending …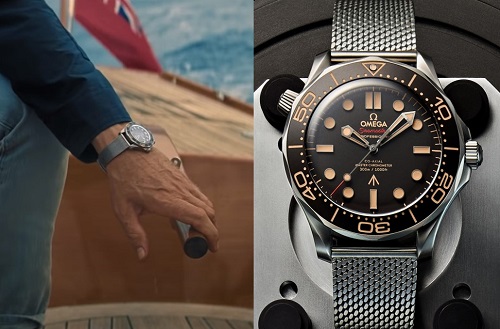 Lots of watch makers out there (both low and high end) seem to be embracing the whole "aged lumes" vintage look of Bond's No Time To Die Omega. It'll be interesting to see how long that trend lasts. We'll be updating our dedicated post on alternatives for the watch (and the Milanese bracelet) in a couple of weeks. But we have another option to share until then.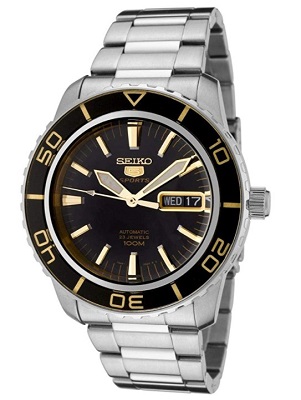 My feelings about Bond inspired timepieces are pretty simple. I'm against spending my hard earned money on a knock-off that will probably fall apart inside of a year. Instead, I'd rather buy a quality watch from a reputable brand that comes close to the look I want. And Seiko is a reputable brand that makes quality watches for a reasonable price. So no, the Seiko 5 isn't the best match out there for the Omega. But it does have a time tested 23 jewel Japanese movement, a Hardlex mineral crystal, a unidirectional bezel and is certified water resistant to 100m. And the gold tint on the bezel markers and baton style indices give it a bit of a vintage vibe. Install a mesh strap on it and I'd be quite happy with this as an alternative.
A couple of key Quantum of Solace pieces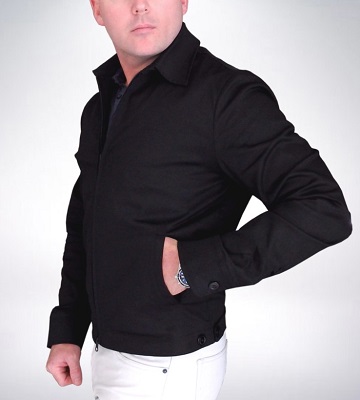 Yay! Daniel Love, the owner of the awesome ROYALE Filmwear, has just released his latest interpretation of the Y-3 jacket 007 stole from a  Mr. Edmund Slate in Haiti. I have one of the earlier versions from a few years ago and it exhibits all the attention to detail and craftsmanship many of us have come to love about Daniel's work. I expect this new version will be no different. ROYALE Filmwear tends to sell out of their most popular pieces pretty quickly. And the rumor is this is the last run of the Haiti Jacket he'll be doing. So if you want one, act fast! And while you're on his webstore, check out his upcoming version of the blue Matera jacket from No Time To Die. I'm very excited to see what he comes up with for that one!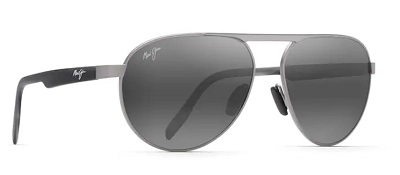 Not exactly the cheapest alternative for Bond's Tom Ford TF108 sunglasses. But I'm sure the quality is as good, if not better, than the originals. And I'm a firm believer in making the investment when it comes to protecting your eyes. Suggested by AJB007 forum member armenianmovieman, the Swinging Bridges obviously take their inspiration from the Oliver Peoples Airmans. But with their thicker temples and slightly more rounded frames, they're not quite the direct copy the TF108s were. The lens material is Maui Jim's SuperThin Glass in a neutral grey, which provides better scratch resistance than polycarbonate and sharp contrast. They're also 61mm so these will probably work best for you fellas with bigger faces. If you're on a tighter budget, check out Magnoli Clothiers's version for $80.00.
Update: I always want to give credit where it's due and Chris kindly reminded me in the comments below that he had suggested this Maui Jim model back in June 2019 in the comments for this post. Sorry about that, Chris! 
Keep that SPECTRE Style coming!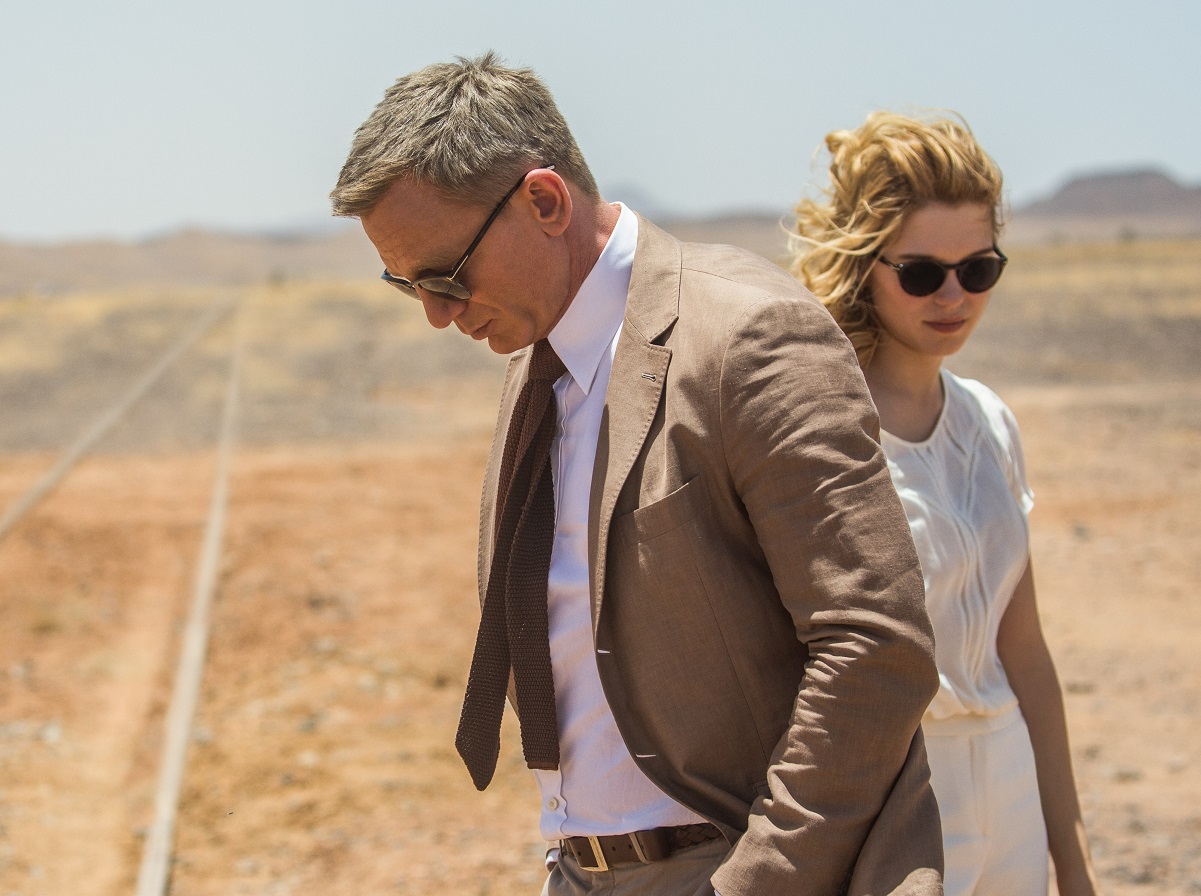 With spring on its way, it will soon be time to start exploring alternatives for some of Bond's fan favorite looks from SPECTRE. But we're going to get a head start in this post with affordable options for a few odds and ends.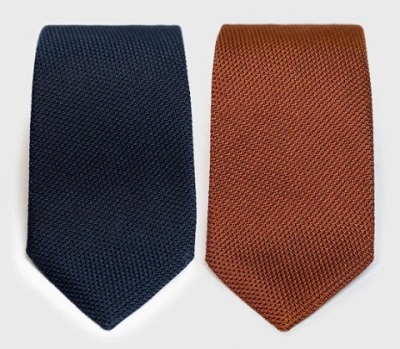 Some of you may remember that Aklasu was my partner for the Orbis Tie project back in 2018. Out of that little adventure came one of my favorite pieces of neckwear. And, after four years, their burnt orange grenadine is still one of my other favorite ties. The color is not only a good alternative for Bond's Morocco tie. It also seems to go with everything in my closet. And every time I've worn it, someone asks me about it. Now that Aklasu is offering a package deal with the burnt orange and a Bond-worthy navy gren, I'd strongly recommend taking the plunge. You can read my full review of both the navy and burnt orange ties in this post. But I will quickly note that these are grenadine garza fina rather than the silk knit of Bond's Tom Ford SPECTRE tie or the garza grossa Connery's Bond frequently wore. Personally I don't mind that since the texture of the garza fina is still very unique while being less prone to snagging and pulls. And they both definitely provide us with the right looks!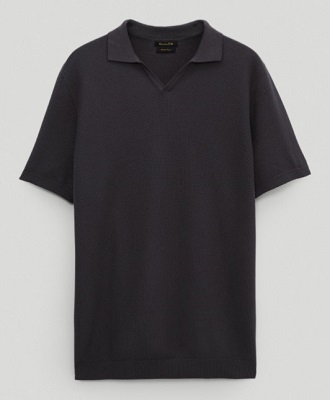 I just shared this alternative for the Tom Ford Morocco Polo in the post on my Favorite Brands for Affordable Bond Inspired Style. But I really like the style and the price is darn reasonable even at full retail, so it's getting an encore. Sizes small to XXL are available on the Massimo Dutti website.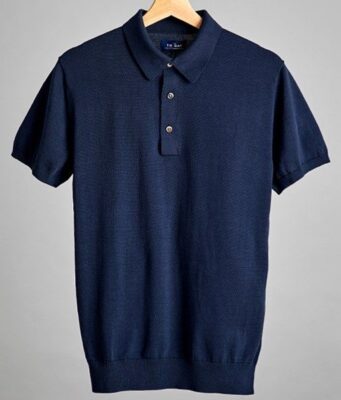 And a second alternative for the Tom Ford polo. With the button placket it might be a better choice if you happen to feel the plunging neckline of Johnny Collar is a little too risque. Tie Bar has used a 100% mercerized cotton fabric and the polo currently has five out five starts after ten reviews. So the customers seem to be happy! They have sizes XS to XL available on their website.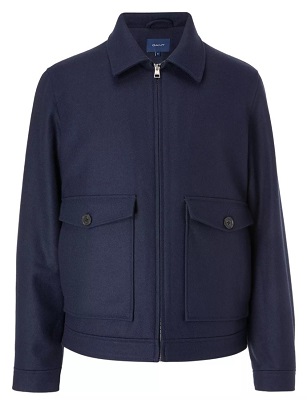 AJB007 forum member Garyorange suggested this jacket as an alternative for the Dior Homme Mr. White jacket. And I gotta say the man has a good eye! With button through flaps on the front pockets and button closures at the cuffs instead of zippers the styling of the Gant is a little more traditional than Bond's outerwear. However, the color of the 55% wool, 45% polyester material looks to be screen accurate. And the shirt collar and shorter bomber length (without an elasticized hem that plagues so many other alternatives!) give the jacket a very similar feel. Sizes small to XXL are available at Sports Direct. Funny to think this could be the last winter jacket I post about for a while ….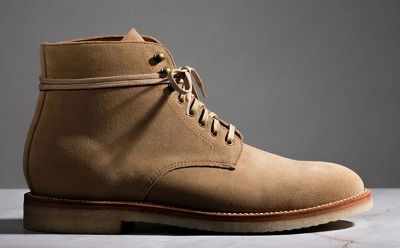 I'm still more than happy with my Golden Fox Boondockers as alternatives for Bond's J.Crew Kenton boots. But if I was in the market for an upgrade these would be very tempting! Grant Stone has a loyal fan base and their quality often gets compared favorably to brands like Alden while staying at a reasonable price. For the Edward Boots, they've used calf suede from Charles F. Stead, a full grain leather lining and a vegetable tanned leather for the insole, midsole and welt. But that natural crepe sole is the real eye catcher. It's attached with a Goodyear welt construction and stiffened with a steel shank. The pre-order window is closing soon, so if you want a pair you'll need to move fast. Just note that Grant Stone doesn't offer cancellations, refunds or exchanges on pre-orders, which can be pretty scary. So I'd contact them to make sure you get the size dialed in the first time.
Bond Beachwear Inspiration, Part 2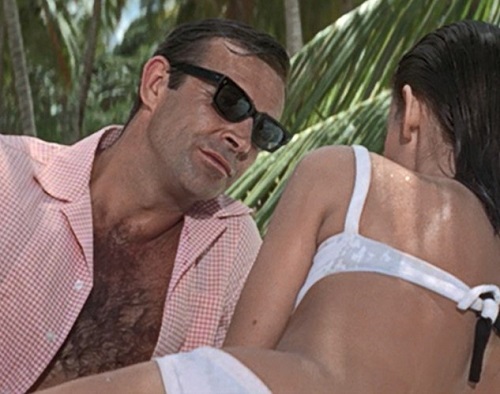 The weather in my neck of the woods has improved significantly since the freezing rain of last week. But that's only got me thinking even more about Bond's summer style. So let's keep this ball rolling!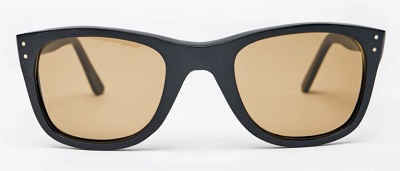 I could write paragraphs about what Industry of All Nations (IOAN) is, what they do and why you should seriously consider buying from them. But to save time I'll just direct you to their FAQ page and use these sunglasses as an example of their ethical business practices. To make the glasses, IOAN partnered with the Signum Vitae Co-operative in Addis Ababa, Ethiopia, an organization established in 1989 to offer vision services and work training in communities at risk in the country. But you're not just helping a good cause when you buy the sunglasses. They're also a pretty high quality pair of shades. The frames are hand polished cellulose acetate and the German mineral glass lenses are hand shaped to fit each frame. And their retro-cool design is a great match for Connery's Thunderball sunglasses. That makes a trifecta of a value for money, ethical manufacturing and the desired Bond style. That certainly makes them worth a share!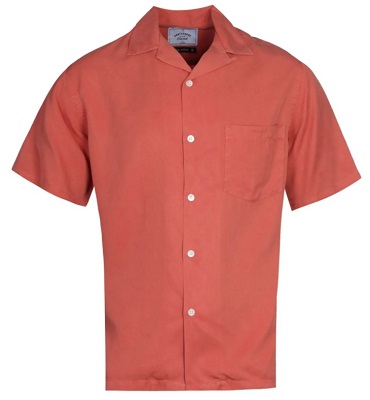 A very nice alternative for Bond's solid pink shirt suggested by AJB007 forum member Chriscoop. Portuguese Flannel is a really interesting brand that specializes in what I would call "refined workwear". None of their designs are particularly crazy (and some of them are quite conservative). But all their pieces seem to have a slight twist that adds a bit of fun. This particular shirt is made from 100% Lyocell, finished with mother of pearl buttons and has a trim but comfortable fit and a straight hem so it looks good untucked. Brown Bag has sizes small to XL available at the sale price.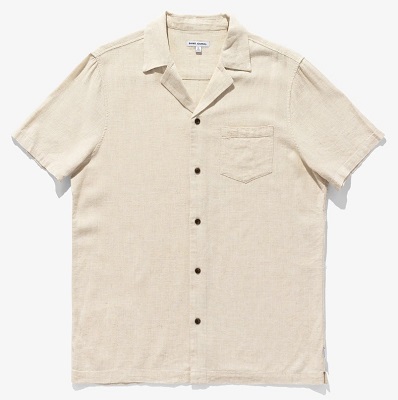 I honestly don't know much about Banks Journal other than their posts kept turning up on my Instagram feed. So I decided to trust the algorithm and check them out. I guess sponsored posts do work every once and while. Anyway, I found this shirt looking through their site and thought it made a pretty good match for Bond's You Only Live Twice camp collar short sleeve. They've used a 70% cotton, 30% linen fabric which has a very interesting slub texture and should keep you comfortable out in the sun. The darker buttons aren't screen accurate. But I actually like the contrast. You'll find sizes small to XXL on their website.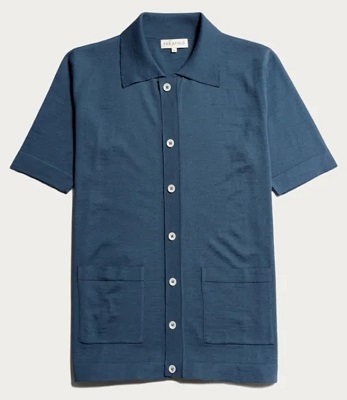 Here's another fun find from a less well known brand. I said in our last Budget Style Finds post that it would be next to impossible to get an alternative for Bond's blue Thunderball shirt with the screen accurate hip pockets. And I was kind of right. Because this piece from Far Afield is actually a cardigan! The material is a 50% Merino wool, 50% acrylic knit. Which may not sound like the best fabric for summer. But imagine yourself wearing this on one of those cooler early summer evenings when you head out for drinks with friends on an outdoor patio. Yes, we will be able to do that again. And you too can look super stylish when the time comes! Bombinate has sizes XS to XXL in stock.
And now our mandatory look at alternatives for Daniel Craig's knitwear collection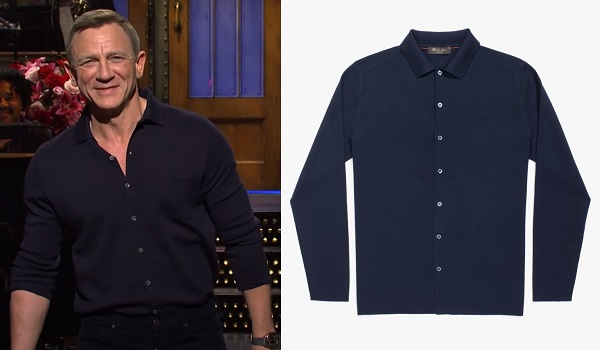 According to one of our favorite Instagram accounts What's Daniel Wearing, Craig wore a "gorgeous navy Loro Piana Empire Knit Shirt" for his March 7th, 2020 appearance on Saturday Night Live. You can still get the shirt, which is made from an ultra-fine virgin Merino "Wish" wool, for $1,850.00 from the Loro Piana website. But since I already own six Empire shirts myself*, I decided to take a look for some alternatives ….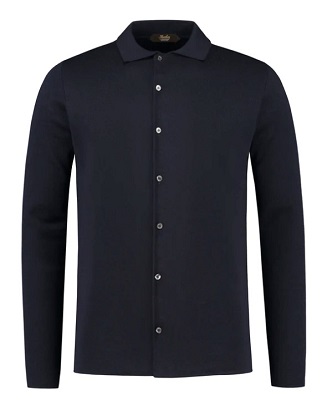 As I mentioned in the post on Brands for Affordable Bond Inspired Style, Aurélien is one of my go-to companies when I'm looking for alternatives that give us something extra special for the price. And this shirt doesn't disappoint. They've used their proprietary Cashwool for the material, an extra-fine Merino wool knit that's made in the Zegna Baruffa Lane Borgosesia plants, and finished it off with genuine mother of pearl buttons. From start to finish the entire shirt is produced in Italy. The design details are also spot on, from the straight hem to the buttonless cuffs to the polo style collar. All in all, it's a beautiful shirt. Especially when you consider that it costs about 12% of the price of the Loro Piana.
However, if you still feel that $200+ is a bit steep for a shirt, you can also check out the Brooks Brothers Merino Wool Polo Collar Cardigan for $148.00. It's also 100% Merino wool and looks very nice for the money. But I've noticed Brooks Brothers has been running a lot of promotions lately. So it might be worth waiting a bit to see if it gets a discount.
And if you're not 100% sold on the shirt style but want to give it a test run, there's the Selected Homme Knit Shirt Collar Cardigan in Dark Sapphire for £45.00. The fabric is 100% cotton and the buttons are white. But the overall style is very similar.
That Tom Ford Cardigan from the Greg Williams Photoshoot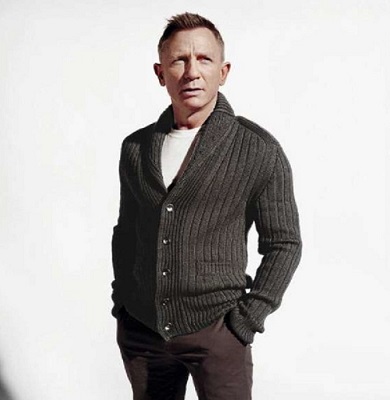 About a year ago, Craig did a photo shoot with Greg Williams and some of the pics ended up being featured in a couple of style magazines (InStyle Germany and Madame Figora Paris). Although the cardigan he was wearing was from Tom Ford, the more prominent ribbed knit and inset pockets differentiate it from the Quantum of Solace style cardigans we usually look for around here. So I thought it would be interesting to see what alternatives were available for this one. Because I'm obsessive like that ….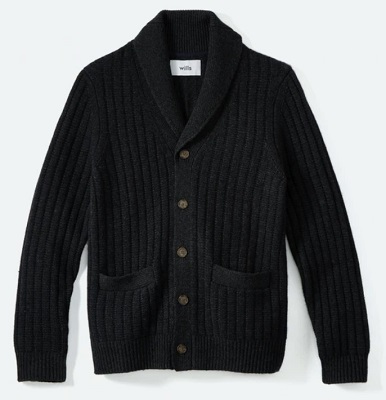 The photo of Craig from InStyle Germany has been lightened quite a bit. So the Tom Ford Cardigan doesn't appear quite as dark as it does IRL. Still, this option from Wills is a much deeper charcoal color than the original. But it totally nails the wider ribbing, the 5 button placket, the inset pockets and even the contrasting knit patterns on the collar. The yarn is a 70% wool, 30% cashmere, which is a nice blend at this price. Huckberry has sizes medium and large left in stock.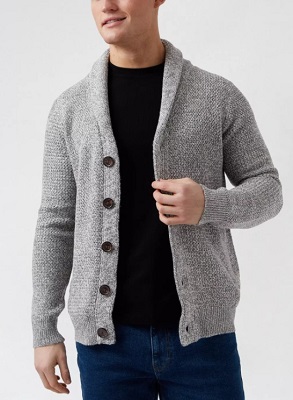 A very affordable option for Craig's grey Prada cardigan. The yarn is a 100% acrylic, which isn't a big surprise at this price point, and a little brighter than the original. But it is pocketless, which actually makes it a better match for the Prada. Burton has sizes XS to XL on their website. However it doesn't look like their shipping this one to the U.S. If you'd like to see more options for the Prada cardigan, you'll find them in this post.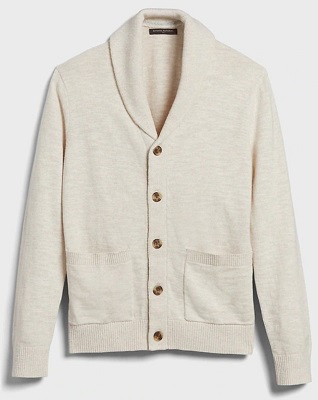 One more option for Craig's light beige Massimo Alba shawl collar cardigan. That was another piece of knitwear he seemed to be constantly wearing for a while. This alternative from Banana Republic is a slightly lighter color than the original and it has patch pockets. It's also 100% cotton instead of cashmere. But it is a lighter weight knit that makes it great for layering under a warmer jacket or for throwing on when you find yourself getting a wee bit chilly. To sweeten the pot, Banana Republic Factory is running a promo at the time writing that knocks another 50% off the price, bringing it down to around $32. Sizes small to XL are in stock.
Know of any alternatives we should feature in our next Best Budget Style Finds post? Or do you have another option for this post? Tell us about it in the comments! If you'd like to see our previous Best Budget Style Finds posts, you just need to click here. And you can always visit our Facebook page, Instagram account and Pinterest Boards for more Bond, Craig and McQueen style advice and inspiration.
*Joking. This was a joke.