Daniel Craig Prada Shawl Collar Cardigan
One of the very first posts I wrote for the site was on alternatives for the Daniel Craig Prada shawl collar cardigan. I first saw it in the August, 2011 issue of Esquire UK and it's a look that's stuck with me nearly ten years on. The combination of the cardigan with the white Henley, the dark jeans with the R.M.Williams plaited belt and the Crockett and Jones Skye boots won't be going out of style anytime soon. 
It also seems that Mr. Craig has been digging into the back of his closet and the Prada cardigan has once again become part of his regular knitwear rotation. There's been a couple of "man on the street" photos of him wearing it. But it also featured prominently in the monochrome look he wore at the BAFTA presentation for the 2019 film Knives Out.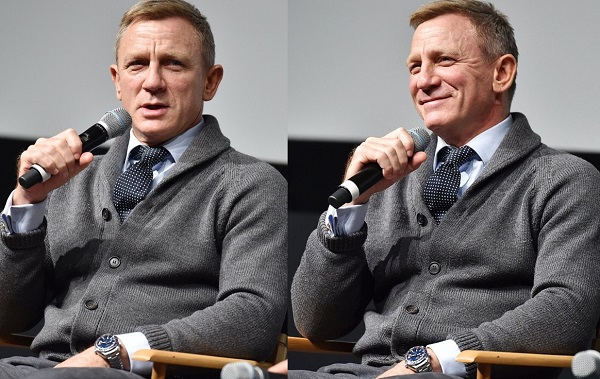 Features wanted for the Daniel Craig Prada Shawl Collar Cardigan
Mid-grey merino wool or cashmere
Subtle, finer gauge rib knit
Five button closure with dark grey buttons
Raglan sleeves
Best Option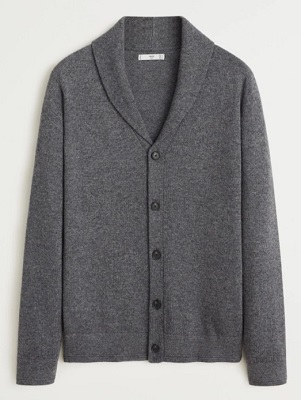 With the exception of the raglan sleeves, this is a near spot-on alternative at a great price. It's made from a wool blend yarn (and knowing Mango there's probably more synthetics in the mix than actual wool). But it's got the five buttons, subtle rib knit and pocket-free front. The bad news? They're down to sizes medium and large on the U.S. Mango Outlet website. And it's completely sold out on the UK site. So if this is a style you're looking for, move fast!
Under $100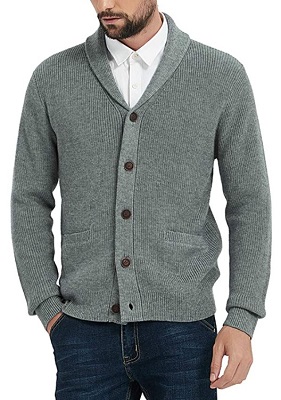 One of the better ones available on Amazon. We've already suggested the black version in our post on the Quantum of Solace cardigan. But this grey option will do a fine job as an alternative for the Prada. One point of confusion: on the Amazon U.S. site they list the yarn blend as having 20% Merino wool but on Amazon UK it's listed as having 40% Merino wool. Personally, at this price, I'd assume we're getting a lower percentage of natural fibers. Sizes medium to 3XL are available. 
A 100% cotton option coming to us from one of the big fast fashion players. That grey is a little lighter than ideal. But the five button, no pocket design is a pretty good match. They have sizes XS to XXL on the U.S. website. But unfortunately the grey option isn't available on H&M UK.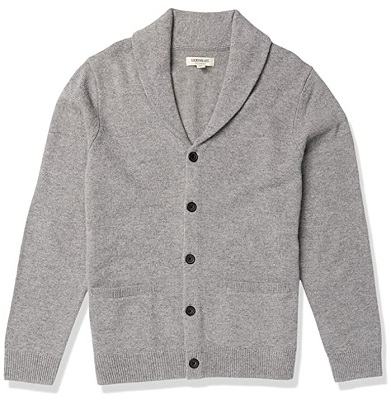 In my experience, some Goodthreads products can be winners for the price. And some are definite misses. This one could have potential. I'm not expecting it to be super thick or anything. But forty bucks for a 100% lambswool sweater ain't too bad. In terms of it being a match for the Prada, there's the lighter grey color and front pockets to consider. It also isn't really a "rib" knit. On the other hand, if you're one of those guys that runs warm or if you're looking for a lightweight cardigan for spring, this could do the trick. Plenty of sizes left on Amazon U.S.. However Amazon UK doesn't seem to carry the lambswool cardigan at all. Weird, considering it's a house brand.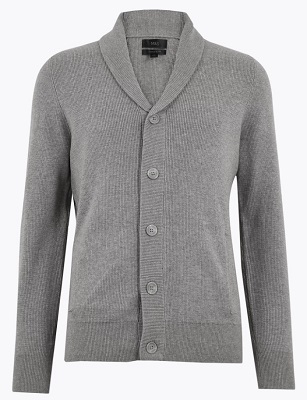 After disappointing you with the H&M and Amazon alternatives, here's one for you guys in the UK. Aside from the slightly lighter grey fabric and buttons, it hits a lot of the right style notes: low gauge ribbing, no patch pockets (they're jetted and on the side) and a slightly less dramatic shawl collar. The yarn is a 60% polyester, 40% cotton blend. But that sale price is tough to beat! M&S UK has sizes small to 3XL in stock. Unfortunately, you'll only find sizes medium and 3XL on the M&S U.S. website, where the price jumps up to $42.50.
The Investment Piece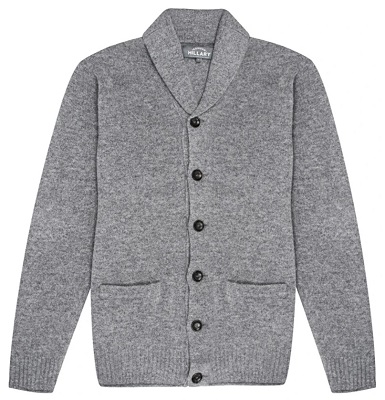 If you like your knitwear thick and cozy, this is a worthy investment. Edmund Hillary Clothing (named after the New Zealand adventurer who, with Tenzing Norgay, completed the first summit of Mount Everest in 1953) has gone with a 100% British Lambswool yarn, a low profile rib knit and genuine horn buttons. With the patch pockets and thicker collar, the design is a little more traditional than Craig's Prada. But this made in England beauty will last a lifetime. And a portion of each sale goes to environmental protection and educational projects supported by the Hillary Foundation. So that should also help warm your heart.
If you have any comments or suggestions for alternatives for the Daniel Craig Prada shawl collar cardigan, leave them in the comments below. And remember to visit our Facebook page, Instagram account, Twitter account and Pinterest Boards for more James Bond style advice and inspiration!
The photo of Daniel Craig at BAFTA used in the featured image for this post was sourced from What's Daniel Wearing.