Daniel Craig Cold Weather Style
The retail stores may be starting to launch their spring collections. But, for many of us, Mother Nature is sending a strong message that winter is still very much alive and kicking! So it seems like a good time to explore some Daniel Craig cold weather style inspiration that will keep us looking sharp when the next snow storm hits. And, if we're lucky, we can take advantage of those end of season sales while we're at it.
The Girl With The Dragon Tattoo Moncler Cezanne Jacket
Yeah, I know. This isn't technically a "Daniel Craig personal item". But it's now ten years old and it's still stylish as hell. So I'm going to include it. The original jacket worn by Craig's character Mikael Blomkvist in The Girl with the Dragon Tattoo was the Moncler Cezanne Jacket (with the logo on the chest pocket removed), which is now long out of production. Going by Moncler's current pricing for similar models, it probably retailed north of $1300.00.
Honestly, if all you want is a grey nylon shelled puffer jacket, there are hundreds of options around. Especially now that puffer jackets seem to be making a big fashion comeback. However, it's the shell fabric and chest pocket that make the Moncler style special. Finding alternatives that use a similar shell material wasn't that hard. But the chest pocket? Man, it seems like nobody wanted to make an insulated jacket with one of those these season.  But we still managed to dig up a few options.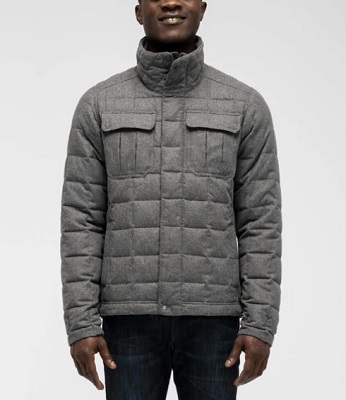 At that sale price, this alternative has a lot to offer. First the technical stuff. The outer shell is 70% recycled wool, 30% synthetic and they've used 700 fill power recycled down for the insulation. So it should keep you plenty warm. As for the style details, the grey color is obviously a little darker than the Moncler. And there're two chest pockets rather than the single on the original. The baffle construction is also different. But it still does a great job of capturing that Blomkvist vibe. Nau has sizes XS to XL for sale on their website.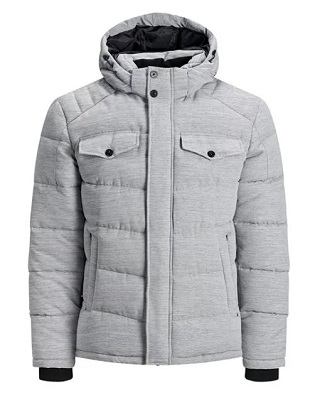 Pop off that hood, and we have a pretty good match for the Cezanne. Again we have two chest pockets. However, the matte fabric in that light grey color, the wider baffles and the jetted handwarmer pockets help give us the look we want. Obviously this is more of a "fashion" jacket than a true technical piece. But it should still do a decent job of keeping you warm unless things get really cold. Asos US has all sizes in stock. And you can use the code FINALSALE to get an additional 25% off the sale price. It's also on sale at Macy's for $107.40, just FYI. Unfortunately it looks to be sold out on the Asos UK site.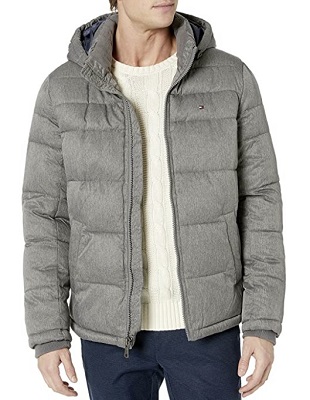 Coming to us from Amazon at that sale price, this Tommy Hilfiger alternative gives us a decent color match, the wider baffles and the tonal knit cuffs. But it's missing the chest pocket and the front zipper placket. They used a synthetic insulation and the outer shell is 100% nylon that keeps the sheen to a minimum. While there's nothing particularly special about the jacket, it should keep you warm and give us a bit of that Moncler vibe at a reasonable price. 
If you're looking to upgrade a little, you can check out the Tommy Hilfiger Snorkel Bomber Jacket in Heather Grey, on sale for $127.45 at City Jeans. Amazon and Macy's also have a limited number of sizes left at similar sale prices.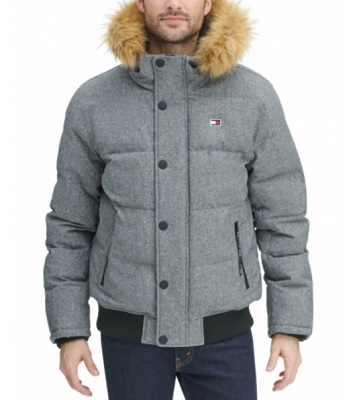 The shell fabric on this one is 85% polyester/15% cotton. So not as water resistant but a better match for the Moncler. With its wider baffles and snap-button front placket, it also captures some of the Cezanne's style details. Unfortunately the hood seems to be integrated but that faux fur trim can be removed. 
The Navy Rollneck Sweater
I'm a big fan of rollneck sweaters. Got more than a few in my closet. So that 100% cashmere Gieves & Hawkes navy number that Daniel Craig wore for a photoshoot with acclaimed photographer and director John Rankin Waddell is right up my alley. Shout out to the great Instagram account @whatsdanielwearing for the background story on the photos!
The original sweater retailed for around £795.00. Not exactly budget. And, needless to say, it's unavailable now. Yet still I want one ….
The McQueen Connection?
If we pick the right navy rollneck sweater, we can also score an essential component of Steve McQueen's classic look from Bullit! Here's the King of Cool wearing his in a promo photo from the film.
For a detailed analysis of Frank Bullitt's look from the film (yes, including the Mustang!), check out BAMFStyle's excellent article.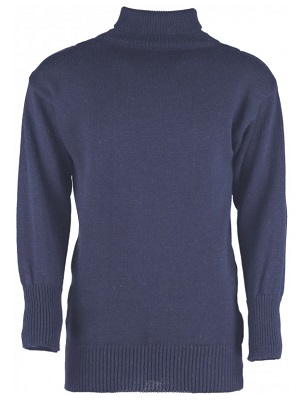 From the makers of our "Best Option" for the No Time To Die Commando Sweater. Made from 3-fold 100% British wool, this Submariner style sweater is about as classic (and authentic) as they come. Outdoor Knitwear actually manufactures these to MOD specifications for the British Royal Navy. That also means you can expect a somewhat different fit than your typical fashion sweater. It's longer in the body than you may be used to. And the styling includes drop shoulders, fuller sleeves and bigger cuffs that can be folded over. If "traditional" isn't really your thing, you may be better off looking at other alternatives. But if you want some heavy-weight knitwear designed to keep you warm out on the cold, cold ocean, this is a great choice at an affordable price.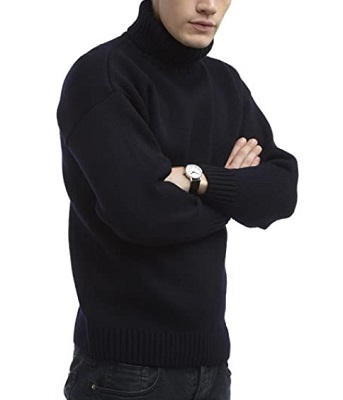 It has the traditional drop shoulders of the Outdoor Knitwear option above. But with it's shorter cuffs and hem, the made in England Montgomery version is a little more fashion conscious. That extra forty bucks also buys you 100% Merino wool, which is softer right out of the box. Something to consider when you've got the fabric wrapped around your neck. Amazon has sizes small to XL in stock. I did search for this one on Amazon UK and the Original Montgomery website, but sadly it was nowhere to be found.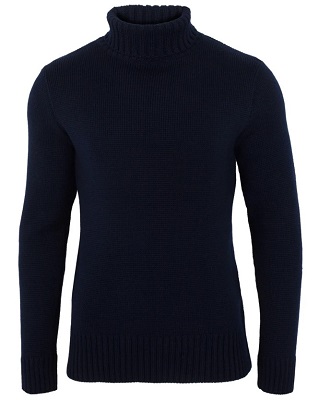 Speaking of more contemporary takes on the classic design: this alternative from Paul James is probably the best affordable match for the sweater Craig wore. Made in Leicestershire, England from 100% Merino wool using a heavy 5 gauge knit, it has all the traditional features you want. But the fit is slimmer through the body and arms and it incorporates a slightly shorter hem and cuffs for a more contemporary look. They currently only have size medium on their website. But they are expecting more stock to arrive by mid to late February. Should be worth the wait if you're not in a rush!
Canada Goose Lodge Hoody in Spirit Blue
If you're looking for something with more of a technical (or "GORPcore" if you like fashion trend slang terms) vibe, Daniel Craig's well loved Lodge Hoody from Canada Goose is great inspiration. We've recently updated our dedicated post on the jacket with lots of new alternatives (plus it has some info on what to look for in a down jacket). So I'll just highlight a couple of options here.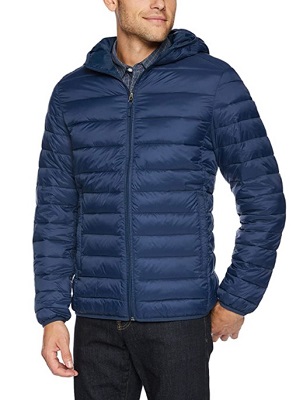 If you're looking to just play around with the whole "hooded puffer" style, this is good and economical place to start. Just don't expect anything super special for under fifty bucks. Amazon has used a lightweight nylon for the shell, a generic polyester fill for the insulation and probably gone with a sewn through construction (it doesn't say so in the product description, but at this price I can't see them using baffle boxes). So it's probably not especially warm. But it should do the trick for those slighter warmer days or as a layering piece. Amazon has sizes XS to XXL in stock.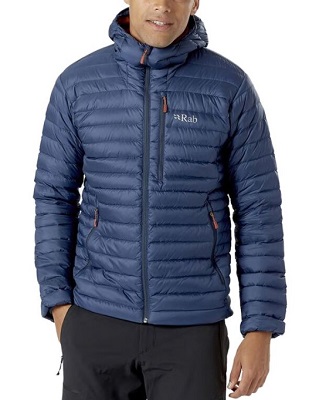 The "Deep Ink" color looks to be a decent match in the product photos. It has the tonal colored zippers and the integrated hood. And the chest pocket, which (as we mentioned earlier) is a little uncommon. On the technical side, the down is a 700 fill power sourced in Europe and RDS-certified (so it's the good stuff). Plus the ripstop nylon shell is treated with a water-resistant coating. Just in case you decide to take a roll in the snow. Actually, about the only strikes against the Rab are the brick-red color of the inner lining and the logo on the chest. If you can live with those, it seems like a heck of a jacket! Backcountry has sizes small to XXL in stock, but unfortunately size large is sold out. You can also try Moosejaw. They have XS and Large available at the same price.
Sorel Boots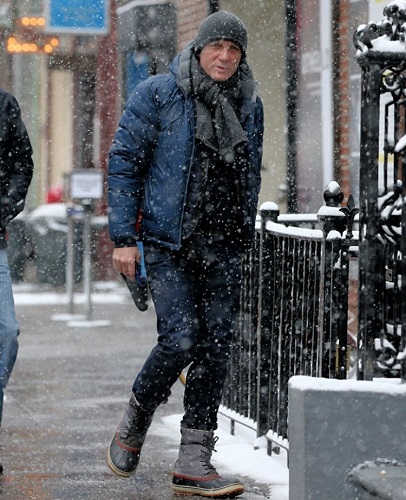 On a slushy winter's day in January, 2017, Craig was spotted in New York wearing his Canada Goose Lodge Hoody and a pair of insulated duck boots. Once again, the great Instagram account What's Daniel Wearing was on the case and identified his footwear as the Sorel 1964 Premium T Canvas boots in Charcoal/Black. That model is still available from Sorel. But the colorway, with the sail red trim around the top of the rubber, is long gone. 
Since I grew up in the snow belt of Canada, I've been wearing Sorels for as long as I can remember. In fact, I was sporting my 30 year old made in Canada Caribous during the snow storm last week. So, although I would have never considered them to be a "fashion" item, I do love what the boots offer. They keep your feet warm and dry and they're built to last. 
As for alternatives, actual Sorels aren't particularly expensive (and they can often be found on sale). You mainly just need to decide if you want to go with leather or canvas uppers. So I won't get into too much detail about each option below.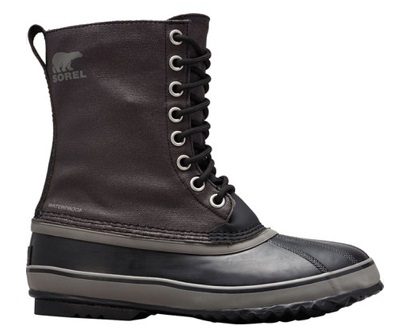 The same model as Craig wore with the canvas uppers, but in the new colorway. At the time of writing, Shoes.com had the best price I could find and the best selection of sizes.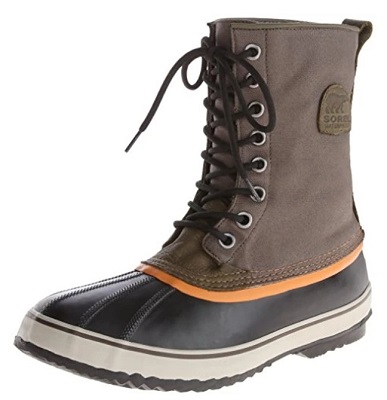 The canvas uppers again, but in a different colorway. These ones are a little harder to find out there. Most of the big name stores either don't carry them or are down to a limited number of sizes. So I had to search a little farther afield and found a retailer called Rugged Outfitters in New Jersey (they also do online sales, so no worries). The have the color misidentified as "Black/Sail Red" on the product page, but they're the same model and they have plenty of sizes in stock.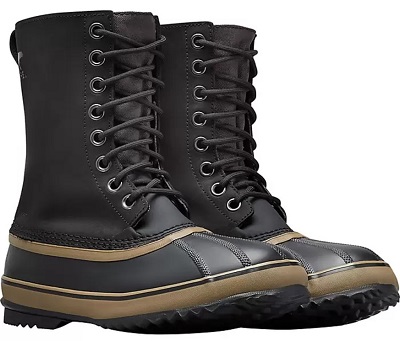 And the option with the leather uppers. Although the uppers are a darker leather, the natural color mid-sole comes a little closer to what Craig wore. Backcountry has these on sale for $127.46 and they still have a decent run of sizes. The same model is cheaper at Moosejaw ($119.99), but they're down to sizes 9 and 9.5.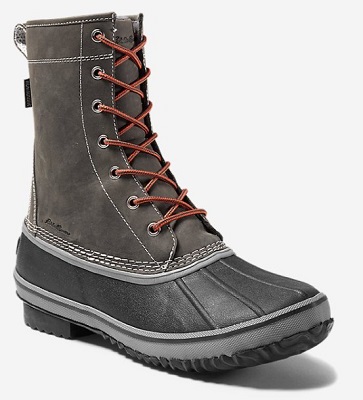 If you can't find your size in any of the Sorel models, these boots from heritage outfitter Eddie Bauer are worth a look. Actually, that "cinder" colored full grain leather upper is almost closer to what Craig was wearing than the current models from Sorel. And the red laces add a pop of color and act as a nice reference to the red trim on Craig's boots. They have sizes 8 to 14 in stock on their website. 
Daniel Craig Style Flat Caps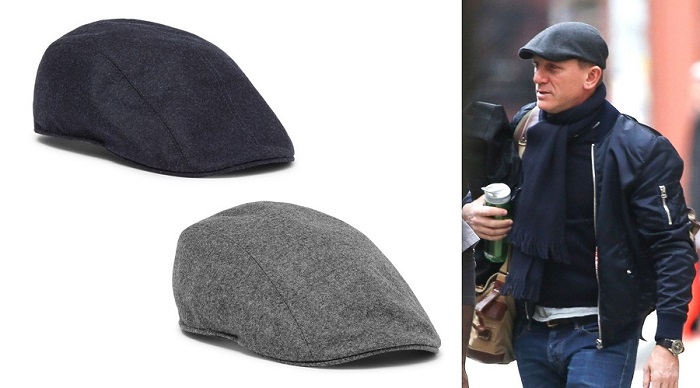 Easily Mr. Craig's favorite headwear, his flatcaps came from Brunello Cucinelli and probably sold for around $320. That particular model is also next to impossible to find now. Our dedicated post on Craig's flatcaps will be updated with new alternatives soon. So for this post I'll just focus on two of the options I particularly like.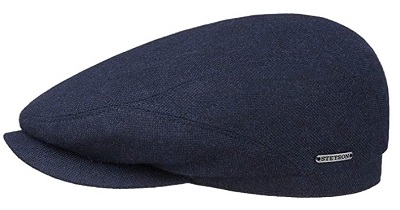 A blend of 71% Virgin Wool, 25% polyamide and 4% cashmere, this model from the world-famous Stetson brand has a brim that extends a little farther out than what we'd ideally want. But the multi-panel construction gives it a slimmer profile that looks good on a variety of face shapes. Amazon has a good selection of sizes still in stock. For an upgrade, you can check out the Cashmere and Silk Driver Cap (which is actually 50% virgin wool, 25% silk, and 25% cashmere) at the Stetson website for $152.50.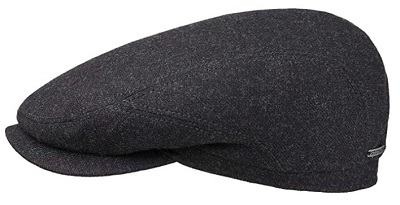 Basically the same model as above, but in a charcoal grey. The Stetson I wear (the wool/cashmere STW212, now sold out) really is a beautiful cap, so I feel good about recommending their products. Again, Amazon has a wide range of sizes available. 
Brunello Cucinelli Double Breasted Cashmere Overcoat
When it comes to cold weather outerwear, puffer jackets aren't the only style making a comeback. Longer, dressier overcoats have also become very popular. That means the military-inspired Brunello Cucinelli cashmere coat we frequently saw Craig wearing when the temperature dropped is a near perfect design for these times. And while I'm not really a fan of the metal buttons, I do think that medium brown color is pretty great. It's different while still being conservative and can work with a lot of different looks. On to the alternatives!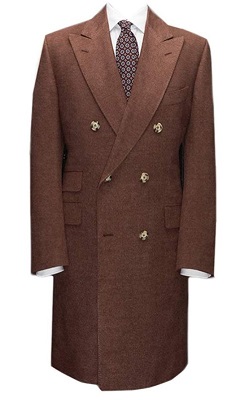 Coming to us from Amazon, this 30% wool/70% polyester coat from a brand I've never heard of has (so far) no customer reviews. And it seems very likely it's a cheap import shipping from somewhere in Asia. Not gonna lie: I ain't a hundred percent sure about this one. On the plus side, it's pretty inexpensive (and Amazon will offer you some buyer protection if it sucks). Aside from the 6 buttons, it also nails some of the style details we want. The "Brown" may be a little too dark and the peak lapels aren't accurate, but it does have the ticket pocket and a good length. So maybe it's worth a shot?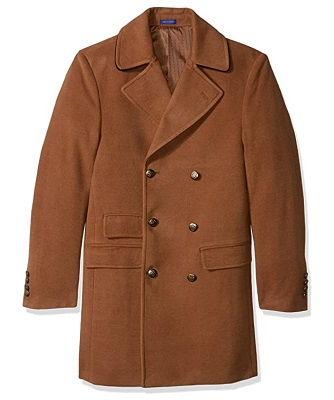 Not quite as long as we'd like. And I can't say that 92% synthetic, 8% wool tan fabric would be my first choice. But with it's metal buttons and dramatic lapels, it really does nail the military styling. It also has 3.9 stars out of 5 in the customer ratings. So most people seem happy with their purchase. Nice that also comes in the more accurate numerical sizing rather than the generic "small, medium, large". That should help us dial in the fit. Plenty of sizes are available on Amazon.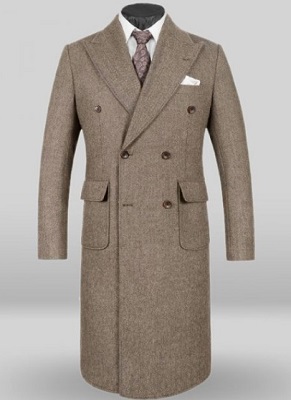 The first of our "Made-to-Measure" alternatives. Yes, the fabric is a herringbone tweed, rather than a solid brown. But it's not an aggressive pattern and it gives the coat a warm brown tone from a distance. Oddly enough, Studio Suits doesn't mention the actual makeup of the fabric on the product page. However, they are one of the more respected online MTM services out there and use suitings from Reda, Harris Tweed and Zegna. They also limit the amount of customization you can do on the website (for example, they don't give an option to swap those postbox pockets for flapped ones). Maybe with direct communication they can modify some additional features? Prices for the customized overcoat start at $210 and go up depending on the changes you make. 
On a side note: Studio Suits also offers a customizable Light Beige Corduroy Suit for $225 that could be a great alternative for Bond's No Time To Die Matera suit. I'll be updating our dedicated post on that particular look soon, so consider this a heads up for those of you that want something sooner!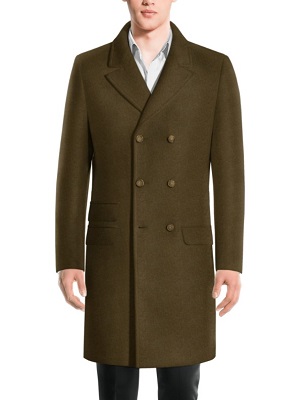 And our second Made-to-Measure option. I'm not sure about the color of the fabric (it's a 30% wool, 50% polyester, 15% viscose and 5% terylene blend from Tyson). Is that the real color or does it just read as a little "olive" on my screens? The nice thing is you can request a sample swatch from Hockerty before you invest in having the coat made. The also offer considerably more customization options, from the flap pockets (plus ticket pocket!) to the buttons on the cuff. The base price starts at $249. 
The Heavy Grey Shawl Collar Cardigan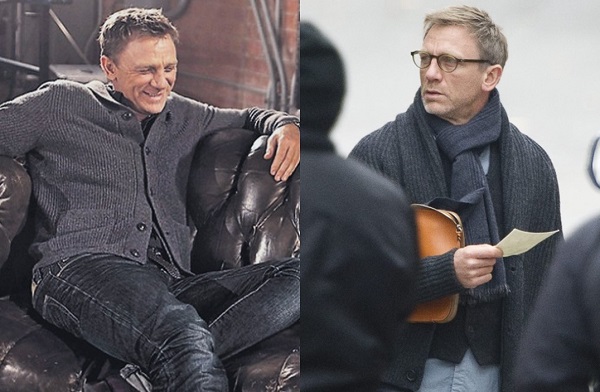 Come on, what would a post about Daniel Craig cold weather style be without a shawl collar cardigan? Especially on this website? We've already done deep dives into the QoS black cardigan, the ivory Tom Ford piece and the famous Steve McQueen blue one, And we'll soon have updates on alternatives for the lighter grey Prada, the beige Massimo Alba and the Casino Royale PTS cardigans. So let's use this opportunity to explore options for the lesser known charcoal grey version. 
Craig wore a Tom Ford cardigan for his group shot with John Favreau and Harrison Ford to promote the 2011 movie Cowboys vs. Aliens. But the charcoal cardigan will primarily work as an alternative for the Maison Margiela one he wore as Mikael Blomkvist in The Girl With The Dragon Tattoo. Like the Moncler jacket at the start of this post, this isn't technically a "Daniel Craig personal item". But I think we can be forgiven since it's still such a cool look.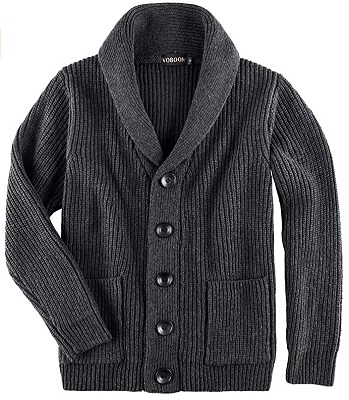 You're probably already familiar with this option from our post on the Quantum of Solace Black Cardigan. In fact, a number of alternatives in that post would work in the "Dark Grey" color most of them offer. But for this post I'll suggest the VOBOOM option. First, because I like the name.
"VOBOOM!!!"
It's just fun!
Second (and more importantly), it looks like a thicker cardigan and the yarn is 30% wool. Most of the cardigans in this price range are almost all synthetic fibers so it's nice to find something with some natural material worked into it. Amazon U.S. still has a good selection of sizes online.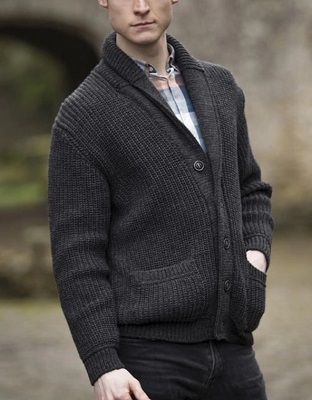 Here's the thing with that Margiela cardigan: it's a thick, cozy piece of knitwear. It's not designed to be sleek and sophisticated like the Tom Fords. It's meant to worn a little oversized and thrown over other layers, almost like a jacket. So, in this case, the boxy cut and drop shoulders of a traditional cardigan are a plus. Which brings us to this alternative from Aran Sweater Market. Made from 100% Merino Wool in Ireland, it offers exactly the kind of slouchy, casual look we want. They have sizes small to XXL in stock.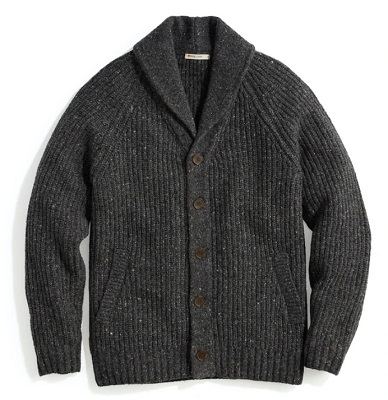 A very nice option at a good sale price. Marine Layer has used a 65% Merino wool, 30% nylon and 5% Alpaca yarn so it should be plenty soft. It's also has a slightly oversized fit and raglan sleeves which will make it easy to throw over other layers to keep you warm and cozy. Sizes Small to Large are available on the Marine Layer website.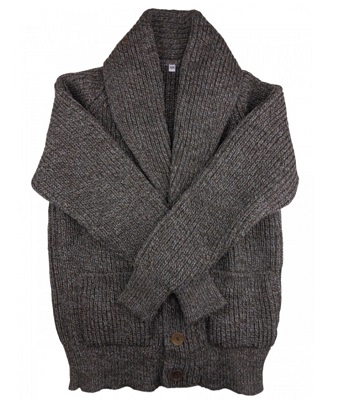 And last but not least we have this beast from Kent Wang. Personally, I think a great charcoal cardigan is one of the most versatile pieces of knitwear a man can own. So I don't mind recommending investing a little more to get the right one. And this one checks all the boxes. Made in Canada from 100% wool knitted on antique looms, it features classic patch pockets, real horn buttons and a thick collar that's all but guaranteed to keep you warm. Oh, and it's heavy! A size Large weighs in at just under two and half pounds. Now that's cozy! Just note that they fit a little on the small side (much slimmer than Brooks Brothers, J.Crew or Banana Republic and closer to H&M or Zara according to the product page). You definitely want to check out the sizing chart and probably size up to get a comfortable fit. Currently Kent Wang has sizes medium to XXL in stock. 
Can you think of something we missed in our Daniel Craig cold weather style round up? Tell us about it in the comments. You can also visit our Facebook page, Instagram account, Twitter account and Pinterest Boards for more Bond and McQueen style advice and inspiration.