The James Bond No Time To Die Commando Sweater
Well, here we are, almost exactly one year since the premiere of Daniel Craig's final outing as 007. And one piece of kit from his No Time To Die wardrobe that's still generating interest among fans is his James Bond commando sweater. It's actually not that surprising. It was based on the well known Woolly Pully, a classic design with some serious military credentials behind it. And Craig was front and center wearing the sweater in more posters, promo stills, teasers, trailers and commercials than I can count. It also received a significant amount of screen time in the film's finale, which is always a plus.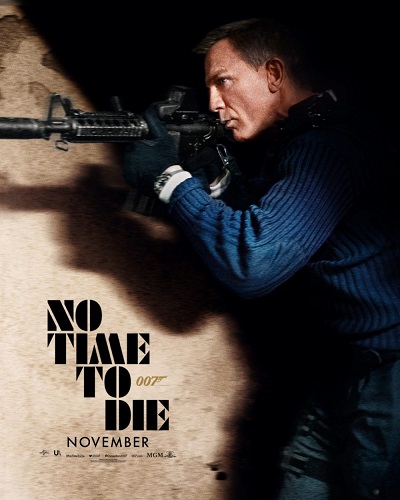 Designed specifically for Craig for the movie by N.Peal and the film's costume designer Suttirat Anne Larlarb, the 007 Army Sweater has had a short but interesting history. To put it simply, many fans weren't too happy with the way the original commercially available version came out back in February 2020. There were problems with screen accuracy, the size and positioning of the shoulder patches and few other issues here and there.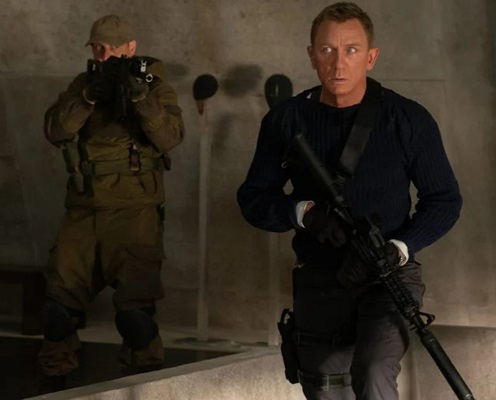 More than a few sweaters from the original run were sent back to the company. But, to their credit, N.Peal worked to solve most of the concerns raised. And now it looks like the latest version hits the nail on the head.
The Original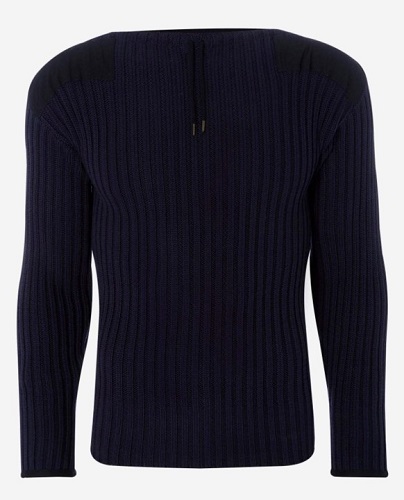 And here's N.Peal's 90% Merino wool, 10% cashmere "luxury" interpretation of the classic wooly pully. They currently have sizes XXS to XXL on their website, but recommend sizing down if you want that fitted Bond look. If you'd like a more indepth look at the sweater, check out these reviews by The Bond Experience and From Tailors With Love.
Best Options for the No Time To Die Commando Sweater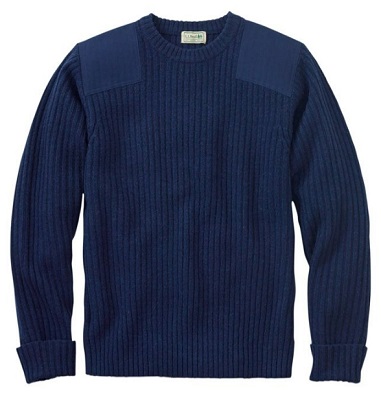 Before anyone asks: yes, I know about the Outdoor Knitwear sweater. It's included later in this post, where I explain why it's not our current "Best Option". Now, as for the L.L. Bean version: if you're okay with a regular crewneck rather than the more screen accurate boat neck, there's a lot to like about this option. Made from a 21 oz 100% Merino lambswool, the heavy ribbed knit and shoulder and elbow patches give it an authentic look. That brighter navy color is also a good match for what we see Bond wear on screen. Finally, the price is more than reasonable for what we're getting. Currently it's sitting with 4.6 stars out 5 after more than 850 reviews. But we do have to note that some reviewers claim that the sweater has more of slim fit, the sleeves are very long and the wool is stiffer than expected. Just some things to keep in mind. Sizes small to XXL are available on the L.L. Bean website.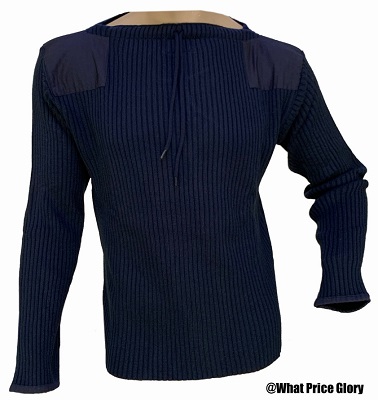 I can't believe I forgot this one! So a big "THANK YOU!" to Trent Dasen for reminding me in the comments below! With the Outdoor Knitwear option almost sold out, this is easily the most screen accurate affordable alternative. Although they don't give any exact info on the yarn they've used (they just say it's a "wool/poly blend"), What Price Glory has certainly nailed most of the other important details: chunky ribbed knit, extended shoulder patches, boat neck collar with the drawstring and a trimmer fit. They also have plenty of sizes in stock (XS to XXXL) at that very reasonable price! Thanks again, Trent!
Under $100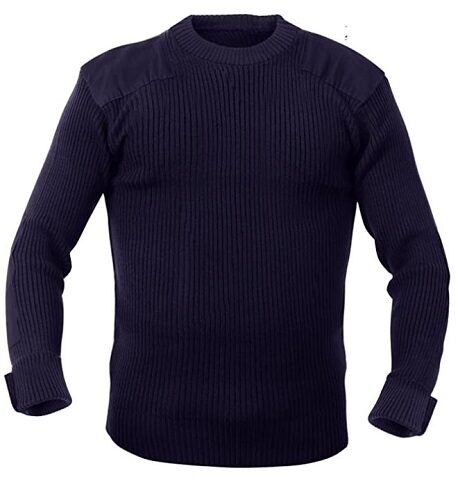 A no frills, 100% acrylic option for those of us looking to play around with the NTTD look without breaking the bank (or those of us who like to just throw our sweaters directly into the washing machine). Sizes small to 3XL are available on Amazon.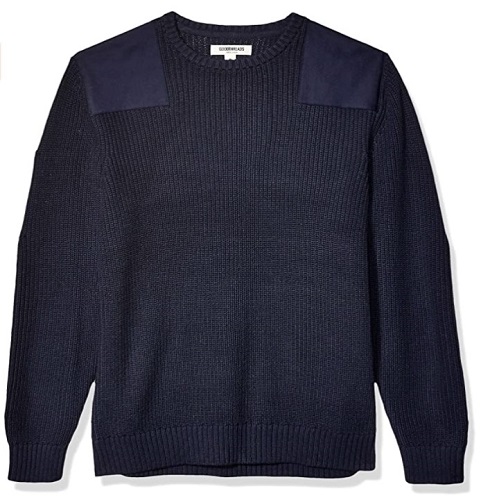 I ordered this one to try it out. And I'm sad to say, I wasn't all that impressed. It's not like I was expecting much for thirty bucks. But despite the fabric being 100% cotton, it still felt stiff, thin and just cheap. I also dropped down a size (as many of the reviewers recommended) and, although it fit great in the shoulders, it was still oddly long in the body with excess fabric around the chest. Long story short, since the other options on this list aren't crazy expensive, I think you'd be better off skipping this one and investing a little more to get a quality sweater.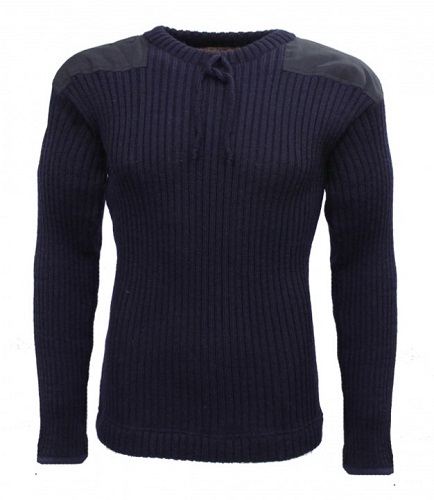 With its near screen accurate styling and reasonable price, this one quickly became a fan favorite. Made from 100% British wool, it captures many of the right design details: the wider "boat style" neck line with the drawcord, the shoulder patches that extend down the front of the shoulders, and the trim fit. Just don't expect it to be as soft as the N.Peal. So why isnt' it our "Best Option"? Because Outdoor Knitwear is sold out of sizes small, medium and large. And I have no idea when (or if) they'll be back in stock. Now, if you happen to be an XS or XL (or bigger), I'd say this is the one to grab. Just be aware that while shipping is free for those of you in the UK, those of you in the U.S. can expect to add about $40 in shipping costs. So make sure you order the right size the first time!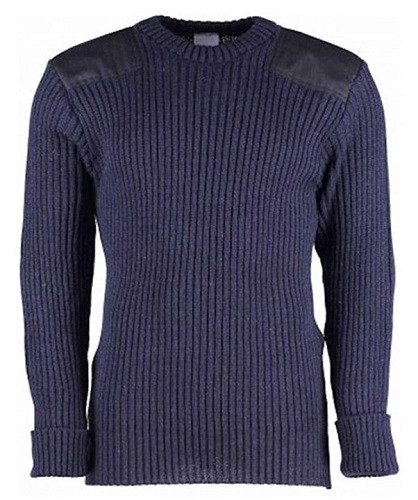 Another example of the original wooly pully design. With this one we're getting a 100% wool, made in the UK piece of knitwear made "to the Exacting Standards of the British M.O.D Specification UK/SC/3712". Apparently TW Kempton has been making this style for over 50 years, so they should know what they're doing. Ironically, given TW Kempton's British roots, I couldn't find this particular model available for sale on any UK sites.
I'll use this opportunity to mention that there are plenty of 100% wool Commando sweaters on other military supply websites as well as Ebay. Given that these are true "classic" designs, expect the fabric to be thick and itchy, the patch material to be stiff, and the fit in the shoulders to be wide. In other words, they take a bit of breaking in before they become comfortable.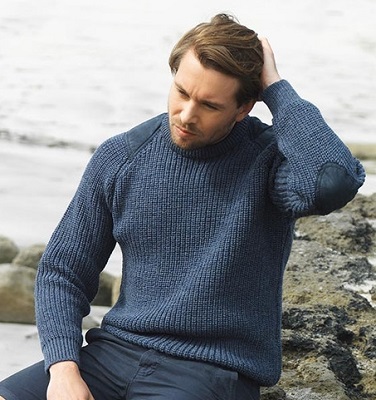 Throwing this one in here for those of you that would prefer more of a "sportsman" look. Aside from the differences with suede shoulder and elbow patches, what really sets this one apart is the fit. It's definitely a more relaxed cut (which means people are less likely to mistake you for a commando out in the wild). So I'd recommend going down a size if you want a more fitted look. The fabric is 100% wool and the sweater is made in Ireland.
Under $200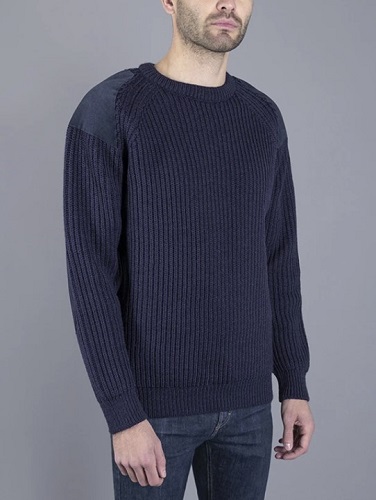 I think Paul James has done a nice job of balancing two styles with their Shooting Sweater. Made in Leicestershire, England from 100% British wool, the raglan sleeves and suede patches give it more of a country feel. But the trimmer fit keeps that streamlined military look we want. I did a review of the Paul James Fitted Submariner Sweater last year (you can read that here). To summarize: I was very impressed with the quality and fit for the price. Assuming their Shooting Jumper maintains those same standards, I have no problem recommending it. You can find sizes XS to XL on their website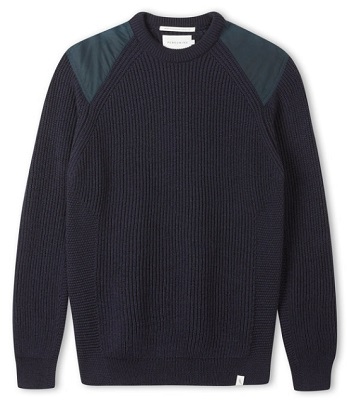 Another option that leans a little more "country estate" than "commando". But this option from the heritage British brand actually has some very nice features. Manchester, England from 100% British wool, Peregrine has used a moss stitch down the sides of the body and inside of the sleeves to help reduce pilling at the usual wear spots. They've also given the sweater a trimmer fit, unlike many of the more classic shooting jumpers out there. And some of us may appreciate that they've decided not to add cotton patches on the sleeves. It may not be screen accurate, but it does give the sweater a more relaxed feel. Sizes small to XXL are available on the Peregrine website.
Did we miss any great alternatives for the No Time To Die Commando sweater? Tell us about it in the comments! You can also visit our Facebook page, Instagram account and Pinterest Boards for more James Bond style advice and inspiration!