James Bond Blue Matera Jacket
Updated April 21st, 2022 – As far as I know, it was our sharp-eyed Instagram friend @trsmithy that first identified the maker of the James Bond blue Matera jacket. Thanks to him, we know that it's the "Giubbino" model from the British brand Connolly. However, the question of whether or not the jacket actually fits Bond's style has been debated since the first No Time To Die set photos from Italy appeared in the press way back in September, 2019. It seems to be another one of those "love it or hate it" pieces from the film.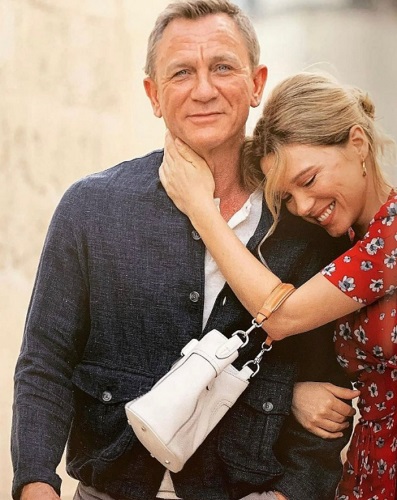 Connolly has been re-releasing the Giubbino jacket on a fairly regularly basis and currently has sizes XS to 3XL of the current version available on their website. It's interesting to note that the original £330.00 price tag has crept up to £490.00/$544.00 for the latest model.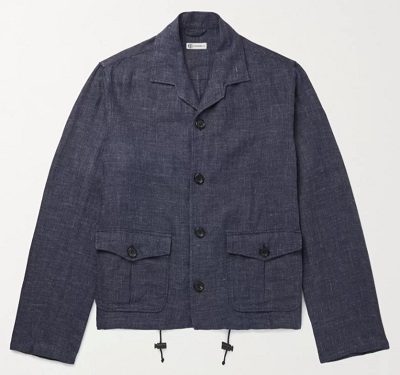 Features Wanted for the James Bond Blue Matera Jacket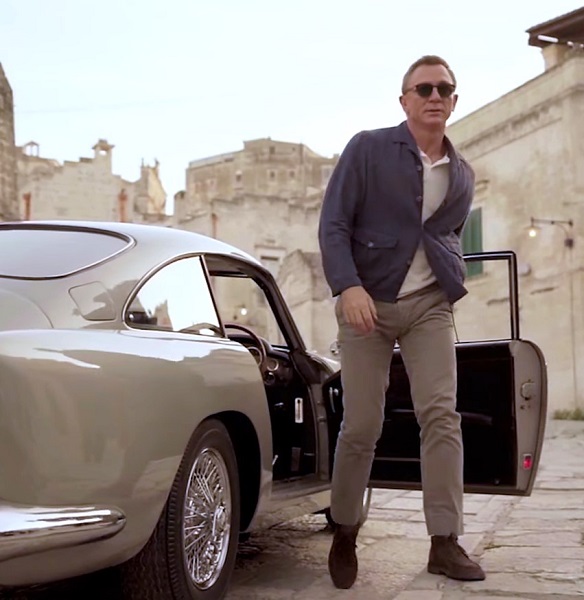 Lightweight navy blue linen or a linen/cotton blend outershell
Button front
Cuban, Revere or Shirt style collar
Drawstring at the hem
Gusseted patch hip pockets with button closure flaps
Loose, unstructured fit
I'm sad to say that this season doesn't include a near perfect affordable alternative like the Mango one from a couple of years ago. But there is one almost spot-on replica. And more than a few brands have released jackets inspired by the Giubbino design. So we have a pretty good selection of options at various price points.
The Replica of the James Bond Blue Matera Jacket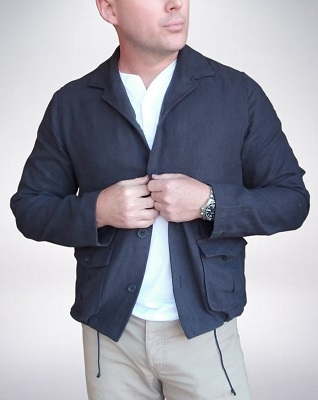 Royale Filmwear comes through for us again! Daniel Love's take on the Matera jacket comes as close to screen accurate as possible, with one important difference. Since the style of the original is very cropped, he decided to make his interpretation about an inch and half longer in the body. And that should be very good news for you taller guys who want a jacket that actually comes lower than your belt line. You'll find sizes medium to 3XL on their website.
Best Option for the James Bond Blue Matera Jacket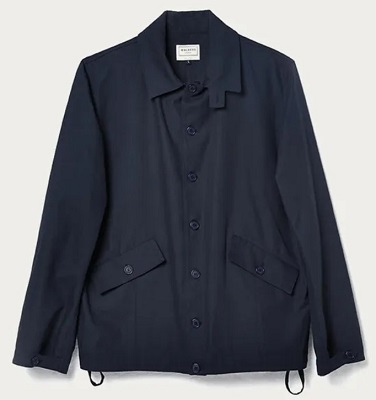 We've had this one on the list for a while now. I think it was a great option before. But now that the price has dropped from the original $275.00 to just north of two hundred, it's even better. In terms of general appearance, the Esteban comes very close to Bond's Matera jacket. And the subtle differences we can see give it a slightly cleaner and more refined look in my opinion. Walkers Appeal is a young brand (it was founded in 2016) that takes the design and quality of their products very seriously. For example, this particular jacket is made in partnership with a heritage factory in Spain and uses a lightweight cotton that will be perfect for warmer weather. You'll find the jacket at Bombinate, where they have sizes small to XL in stock. But I'd contact them first to check on the fit. Walkers Appeal tends to make their outerwear a little oversized, so you may want to size down for a more tailored fit.
Under $200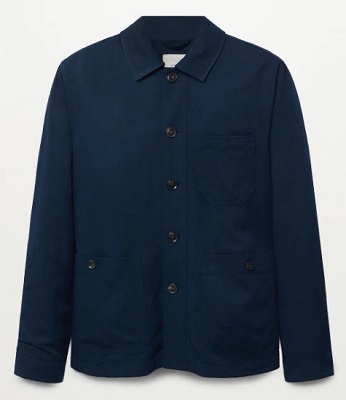 Here's this season's No Time To Die Matera jacket alternative from Mango. The fabric is a 65% lyocell, 26% linen, 9% cotton blend and the cut is a little longer with a half-back drawstring waist. So more of a short field jacket design rather than the cropped bomber style of the one from Connolly that Bond wears. But some some you may actually prefer to have it a little longer. The chest pocket and the no flap, button through patch pockets are also less than screen accurate. But it definitely does a good job of capturing that "Bond in Italy" vibe. Sizes small to XXL are available on their website.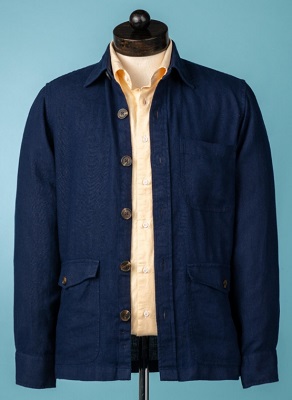 Combine the value for the money Spier & Mackay normally offers with their reputation for great fits and solid quality and this one could be a real winner. Obviously the cut is longer than Bond's Matera jacket. But we do get the button through flapped hip pockets. And the linen fabric should make it an ideal late spring layering piece. This one isn't available yet, so you'll need to sign up for an email notification for the launch.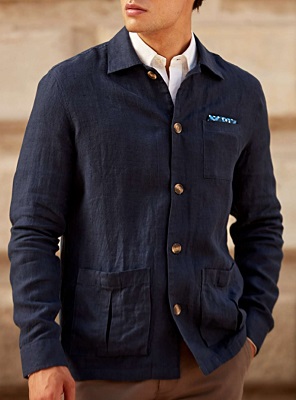 From the makers of one the best No Time To Die Matera denim shirt alternatives. The design is very similar to the Spier & Mackay above: more of an overshirt style, with a longer length, made with a linen fabric. But instead of the flapped pockets we're getting pleated patch hip pockets, which give the piece a sort of safari jacket look. And this one is also coming soon. So you'll need to contact John Henric to be notified when it launches.
If you don't want to wait and don't mind a slightly heavier fabric, their Blue Denim Overshirt is on sale for only $48.00 and has a very similar style. Sizes XS to large are available in that one.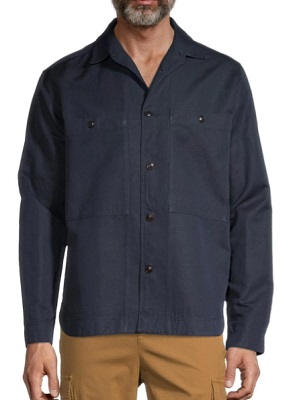 It's basically an overshirt. But I do like some of the twists Ted Baker has put on the standard design. A slightly short length and those large button closure patch pockets on the chest, plus the Cuban style collar, really help set it apart in my opinion. The 52% cotton and 48% linen fabric should also be comfortable for a nice spring evening out. Ted Baker has sizes medium to XXL in stock.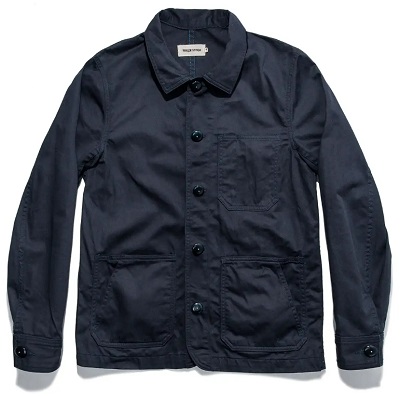 If you're personal style is more "workwear" then this definitely one to consider. Made with a mid-weight 8oz organic cotton sateen that's been pre-washed for softness, it's finished with unique buttons that are held in place with brass rings. The length is shorter than your typical chore coat or shirt jacket but longer than a bomber. And it's also unlined, so it wears light and airy. I have this jacket in olive and I've been very, very happy with it. The design is certainly different than what we saw Bond wearing. But it does have a pretty cool character all its own. Sizes XS to XL are available on the Taylor Stitch website. However, I would recommend going up one size if you want a roomier fit as I found the cut to be pretty slim.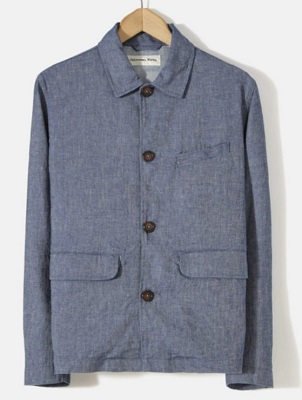 It was AJB007 forum member Obi Sean Kenobi that first suggested Universal Works to me. And I think his choice of their linen and cotton Warmus jacket (sizes small and medium are on sale at Garmentory) is a great one, even if the color is lighter than ideal. But the brand has other options with a similar style in darker shades of blue that are definitely worth considering. Their Cotton and Linen Blend Gabardine Chore Jacket is $265.00/£220.00 at Mr. Porter. The lightweight cotton seersucker Porto Jacket is £179.00. And their Japanese ripstop cordura nylon Field Jacket is £295.00.
The Investment Pieces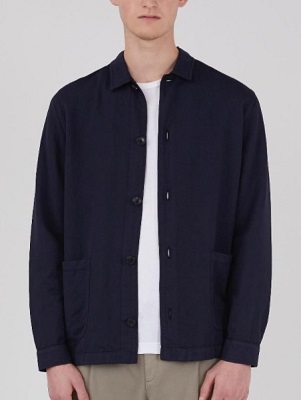 I would definitely call this more of a "shirt jacket" rather than a "blouson". But it's coming from a beloved Bond brand. And the unlined construction and 76% cotton, 24% linen fabric give it a relaxed and airy vibe that's similar to Bond's Matera outerwear. Sizes small to XL are on the Sunspel website.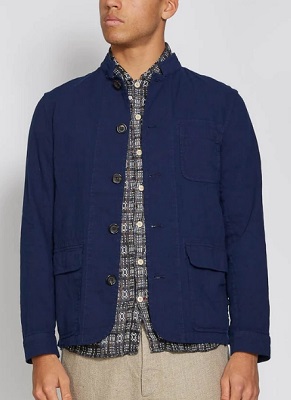 Now that we're getting up there in price, I think it's fair to ask why we shouldn't just save up and buy the original Connolly. However, there are a couple of things about this made in the UK Oliver Spencer model that really caught my eye. The brighter indigo blue color, shorter length, unstructured design and slubby cotton fabric are very similar to the Matera jacket. Plus it has the flapped hip pockets. But the Nehru style stand collar is an interesting way to go. Overall the jacket still gives us the right look for a romantic vacation in Italy. But it's different enough to keep your outfit "inspired by" rather than "directly copied from".
Oliver Spencer also has the Ilfracombe Jacket in Indigo for $529.00. Made in the UK with a 100% cotton seersucker, it's a shorter jacket with 4 patch pockets, a button front, drawstring hem and a neat Harrington style collar. Again, there are some clear differences between it and Bond's Matera jacket. But it has a very unique style I really like.
Do you have an alternative for the James Bond blue Matera jacket? Tell us about them in the comments! And if you're looking for more style inspiration, check out Iconic Alternatives on Facebook, our NEW Instagram account and Pinterest!
Iconic Alternatives uses affiliate links on our site. So clicking on one of the links above may result in us receiving a commission from the vendor. You can learn more about our use of affiliate links on this page.