Daniel Craig Jackets for Fall
We've already looked at the 7 Essential James Bond Jackets for Fall and taken some inspiration from the King of Cool for our post on Steve McQueen inspired fall style. Now it's time to explore the style of a man who really loves his outerwear and discuss alternatives for some Daniel Craig jackets to get us ready for the cooler months ahead.
The Type III Denim Trucker Jacket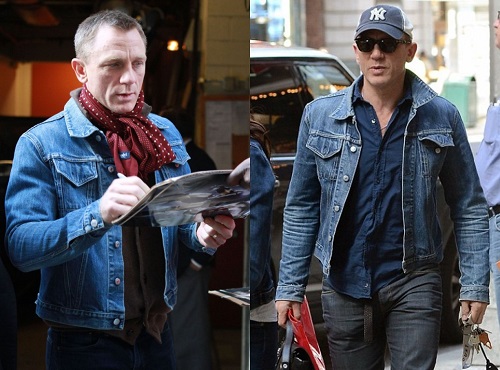 Let's start with what should be an easy one. It's pretty obvious by now that Craig's favorite denim jacket is the Helmut Lang one he's had for years. The design is based on the classic Levi's Type III Trucker Jacket, which is common enough. However, there's one small detail that sets it apart from the masses: no side pockets. And that's a feature 99% of the denim jackets out there come with.
If you don't care about the side pockets (and I'll admit, they can be useful), then feel free to choose an alternative from the hundreds of models available to you. Levi's classic Type III Trucker in Medium Wash Mayze for $98.00 is always a safe bet. As is Gap's Iconic Denim Jacket in Medium Indigo for $79.95, which even has the matching silver buttons.
But if you want a model that really matches Craig's Helmut Lang then you need to look a little harder. To start, you could get one from the original brand. Saks Fifth Avenue has the Helmut Lang Denim Trucker Jacket on sale right now for $195.75. Just note that it's a dark wash. So be prepared to be patient (and wear the hell out of it) until it breaks in and fades. If you don't want to wait that long, there are other options.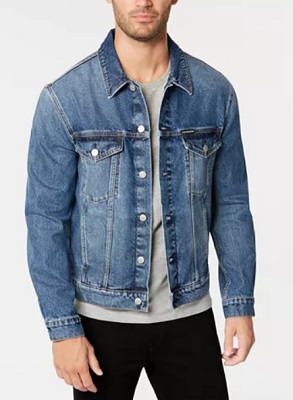 This one's a bit of a cheat. It does have the side pockets. But they're positioned along the front seams, so they're not that noticeable. Other than that, we're getting the sliver buttons and a factory fade that gives us the color we want. Macy's has sizes small to XXL in stock. And if you use the code "VIP", you'll get another 30% off, bringing the price down to $37.59.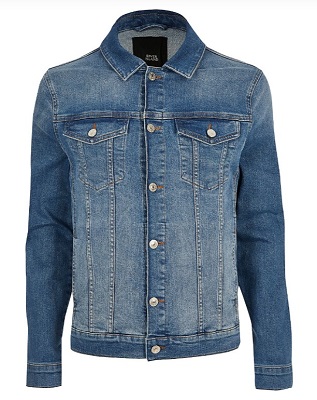 Another cheat. This model also has side pockets. But they're positioned along the side seam. The fabric is a 98% cotton/2% elastane blend, which will give it some stretch. And the silver buttons and color are a good match for the Helmut Lang. Sizes small to XL are in stock on the website.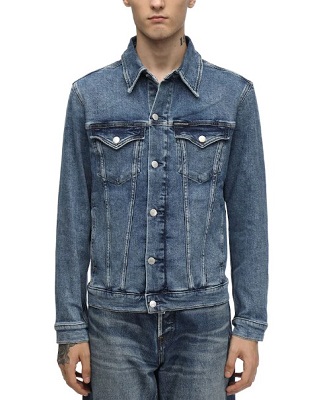 So what's the difference between this Calvin Klein and the one above? It's all about the design, baby! The fabric is a 99% cotton/1% elastane blend for a little stretch. It's also more of a slim fit. And there's no side pockets. Plus, the silver buttons, fade color and the angle of those front seams make it a great match for Craig's jacket. Luisa Viaroma has this one in stock, with sizes XS to XXL available.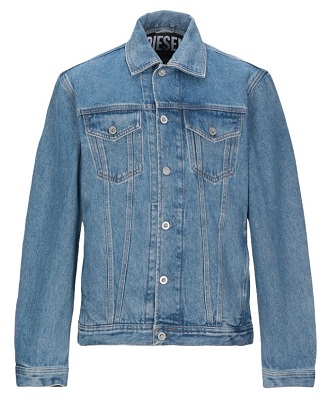 About as close as we're going to get to the original, if we're willing to pay up. With its silver buttons, sharply angled front seams, lack of side of pockets and faded shade of blue, the design and color are nearly spot-on. Yoox has sizes small to XXL in stock.
Belstaff K Racer Jacket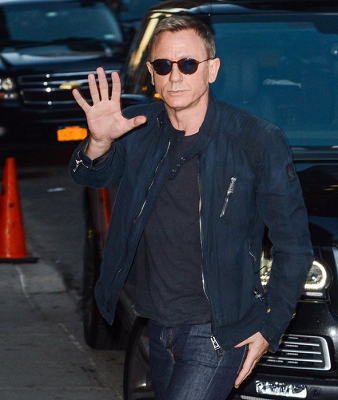 And moving onto a fan favorite. I'll be updating the dedicated post on the Belstaff K Racer in October. But be warned: there's not that many good alternatives out there right now. I'm hoping that changes as more fall inventory arrives in stores.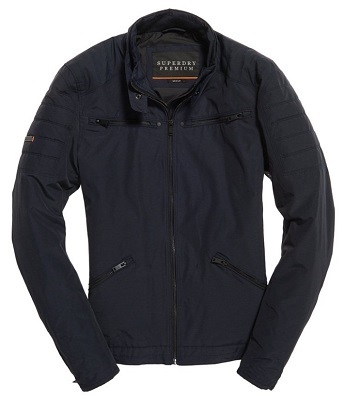 I already mentioned this alternative back in our Best Budget Style Finds for August. And it's truly the best match I can find right now. Aside from the "cafe racer" design details, the dark navy fabric is a 62% cotton/48% nylon blend, giving it a very similar color and the same matte finish as the Belstaff. I will say, based on my experience with the brand, their jackets fit small. So I'd recommend going up a size. For those of you in the UK, that shouldn't be a problem. They have sizes small to XXXL in stock. However, there's only size large left on the U.S. website. If you're normally a size medium and you've been looking for a solid K Racer alternative, I'd advise you to jump on this one fast!
Brunello Cucinelli Brown Suede Asymmetrical Zip Jacket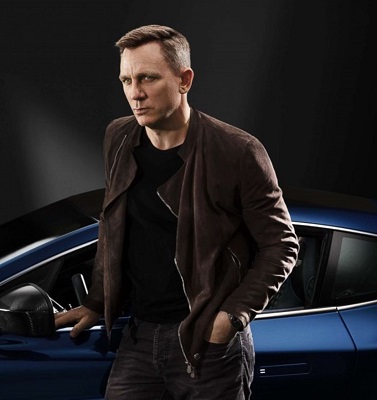 If you're a regular visitor to Iconic Alternatives, you'll know I've been on a personal quest to find a good alternative for this jacket. I really like the idea of a simple suede double rider. It's a classic design but executed in a more sophisticated style with a softer leather that doesn't make you look like a wanna-be member of the Ramones. My only complaint with the Brunello Cucinelli interpretation is it's too floppy. Personally, I like my jackets with more structure.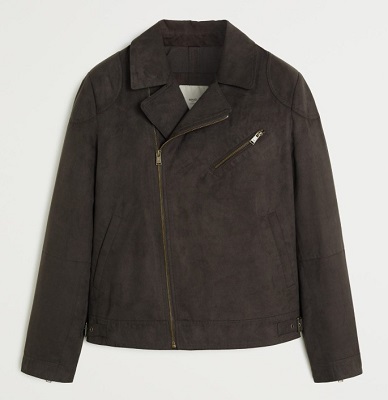 Looking for vegan suede? Then here's your alternative. Heck, even if you're not particularly worried about the use of leather in your outerwear, this is a great alternative. Mango has kept the minimalist design of the Cucinelli, forgoing the usual belts, buttons and zippered pockets you find on a typical biker jacket. And the color is a solid match. Will it last forever? Probably not. But it does give us the look we want at a price most of us can afford. Sizes XS to XL are in stock.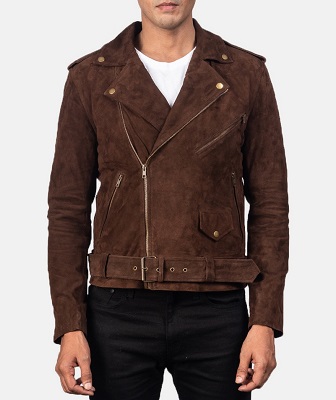 Speaking of minimalist jackets: this is not an example of one. Yet. Since the Allaric Alley is coming from The Jacket Maker, you can customize it to get it closer to the style of Cucinelli. That means the belt, coin pocket, epaulets and lapel snaps can all be removed. The base design and deep brown color of that goat suede are what matters here. That and the price, which include free worldwide shipping. You can also choose to go with standard sizing (XS to 4XL) or made to measure if you need to make some extra alterations to the fit.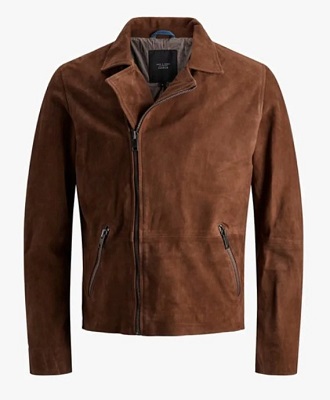 That brown is a little lighter than I'd like. But other than that, they totally nailed the vibe of the Cucinelli. Made from genuine goatskin, the Jason is exactly the kind of clean, minimalist design we're looking for. For those of you in the UK, I've linked to Zalando. But you can also get it directly from Jack & Jones. As can any of you living in most European countries. And if you're in the U.S.A.? Sorry, it seems you're out of luck. Jack & Jones won't ship directly to the States and I couldn't find the jacket with any of the U.S. retailers that carry the brand. Since the jacket is from this season, hopefully that'll change soon!
Brunello Cucinelli Double Breasted Cashmere Overcoat
And my fascination with finding ways to integrate longer coats into contemporary style continues! I've already discussed the navy overcoat in our 7 Essential Bond Jackets for Fall article. And we've explored some different looks with longer coats in this 4 Ways to Wear It post. This time I'm turning my attention to that military-inspired Brunello Cucinelli cashmere coat we frequently see Craig wearing when the temperature drops.
Truth be told, I'm not that crazy about the metal buttons. I just prefer something a little more toned down, like horn. But the double breasted style is something I could definitely see myself wearing – if it ever got cold enough where I live. I'm also a fan of that medium brown. It's different while still being conservative and can work with a lot of different looks.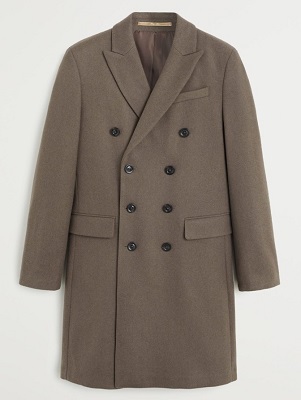 This one will give us the look without breaking the bank! The fabric is a 61% wool/36% polyester/3% polyamid blend. So not exactly top of the line, but it should resist pilling pretty well. The design does have peak lapels and a chest pocket. But we're also getting an eight button front, which comes closer to the style of the Cucinelli than most of the other options. And here's a little tip if you'd like to swap out those buttons for some metal ones: check out your local army/navy surplus store or thrift store. Often you'll find cheap, moth eaten overcoats with perfect vintage buttons that will do the trick. And the whole coat will probably cost you less than if you tried to buy new buttons separately!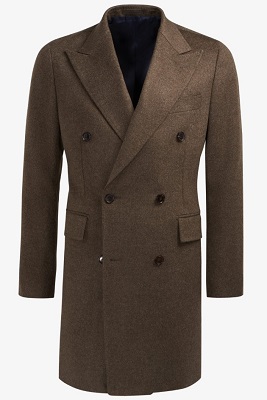 Those lapels look like they could take somebody's eye out! The brown color is darker than the one Craig wears. But the fabric is 100% wool. And, as with many SuitSuppy designs, this is a trimmer fit featuring softer tailoring and a more natural shoulder. So very much the same style as the Cucinelli. Sizes XS (34) to XXL (46) are in stock on their website.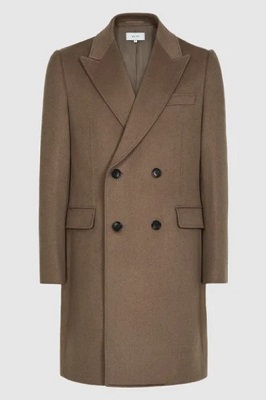 Only a button-four design. But it's still a sharp looking piece of outerwear in a very close color. Made with a 47% wool/53% synthetics blend fabric, we're once again getting the peak lapels and chest pocket. Unfortunately, those are common style details on most affordable double breasted coats. But, seeing as this is REISS, I'd expect the fit to be trim and contemporary. And the length looks almost perfect. Sizes XS to XL are in stock on their website.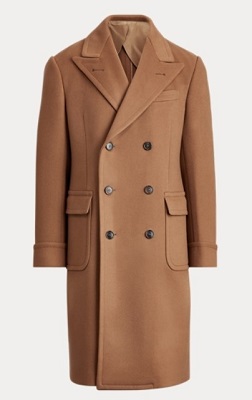 Just making sure you're still paying attention ….
Canada Goose Lodge Hoody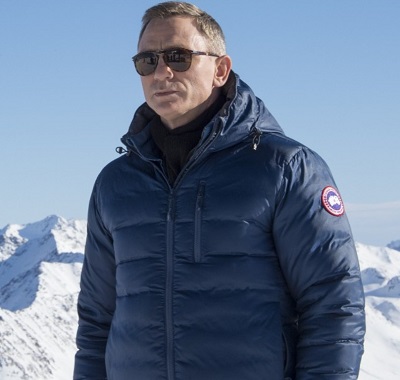 We all know colder weather is coming. So we might as well get ready for it. I'll be updating the dedicated post on alternatives for the Canada Goose "Spirit Blue" Lodge Hoody at the start of November. But I did go into some detail about what makes a good down jacket in that article. So if you'd like to learn more, check it out here.
For this post I've decided to focus on a couple of more technical pieces. Honestly, they're not that much more expensive than many of the "fashion" puffer jackets out there. And they're going to deliver a lot more bang for your buck.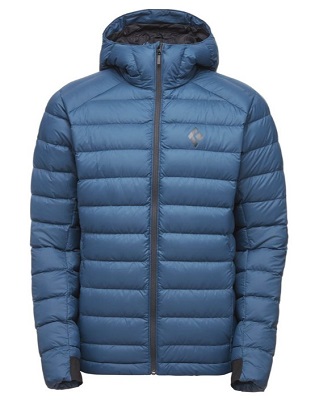 The color is a little more teal than "Spirit Blue". But the Cold Forge is a great example of how to get more for your money. Black Diamond has used a water resistant outer shell and a Primaloft "Gold Down Blend" insulation that combines 70% 700+ fill, RDS-certified goose down with 30% synthetic fibers. That gives us many of the benefits of down (lighter weight, packs smaller) while still providing some warmth if the jacket happens to get wet. Backcountry is currently offering it at this sale price. However, they only have sizes medium and large left in stock. If you need a small or XL, you can head over to REI. Unfortunately, the price jumps up to $223.73.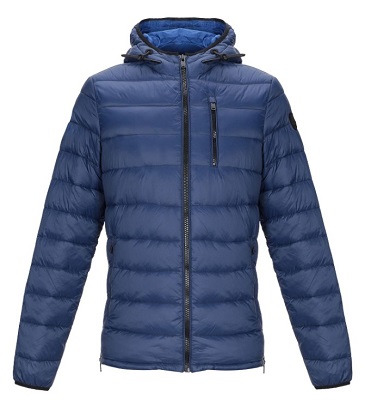 I probably would've included this jacket just for the brand name alone. Some of you will get the joke. Lucky for me this also happens to be a pretty nice jacket! Despite it's fun name and eccentric vibe, Moose Knuckles is serious about making high-quality outerwear. And most of their pieces are in the same price range as Canada Goose (or higher). I believe this particular jacket is an earlier version of the current Fullcrest Jacket. Just with a synthetic fill instead of down, which I know some of you will appreciate for various reasons. Yoox is stocking this one and they have sizes small to XL in stock.
Belstaff Patterson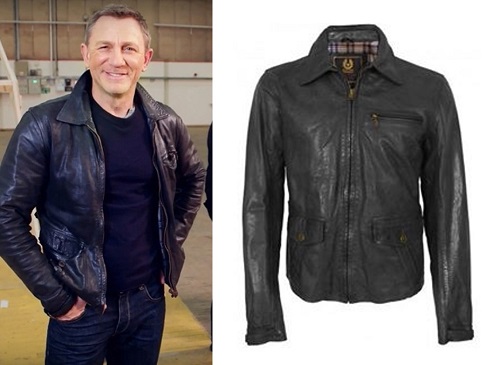 When it comes to Daniel Craig's personal style, what the Helmut Lang is to denim, the Belstaff Patterson is to leather. He's had this jacket forever and seems to enjoy it as much today as the day he got it. Which is exactly how we should feel about a good leather jacket.
The design is a cross between a Highwayman jacket (open hem and cuffs, side adjusters and half-belt) and an A-2 (large flap covered front pockets). The leather, in that unique Antique Black, came soft and broken in from the factory. Finding an affordable alternative with leather like that is almost impossible. However, there's a lot to be said for taking the time to break in your own jacket. Especially one made from good quality leather. It will slowly mold to your body and develop creases at your specific flex points until it fits like a second skin.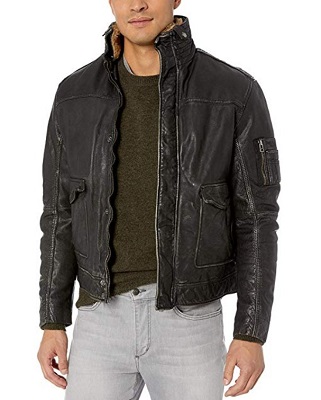 And that's about as budget as we're going to get. The description on Amazon says it's genuine leather. But at that price I wouldn't expect the best quality. Although it does come with that vintage, broken-in look we want. As for the style details, it has the open hem and cuffs, flapped front pockets and half-belt at the back. But they've gone with a standing collar rather than a shirt collar and the chest pocket has been replaced by one on the sleeve. Don't worry about that faux-shearling collar trim. It's removable. Sizes small to XXXL are available.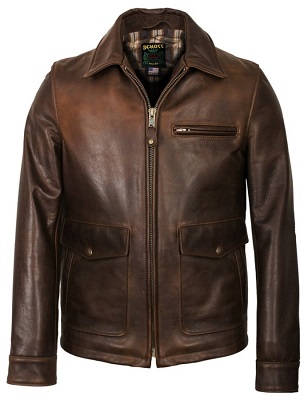 Yes, it's brown. But it's also an amazing deal from the heritage American leather jacket maker. Made in the USA from high quality leather, this is one of those "break it in and own it for life" jackets. Sitting with 5 out of 5 stars after five reviews, it has all the design details we want: flapped front pockets with welted hand warm pockets, zippered chest pocket, side adjusters and the half-belt back. Normally $900.00, it really is a steal at that sale price. Schott has sizes small to XXL in stock.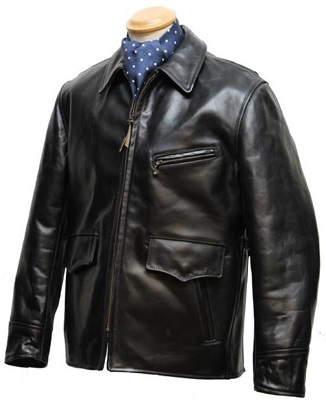 I already shared this Aero model in our 4 Ways to Wear a Grey T-shirt post back in July. And if you're looking for a jacket that's going to last decades, I still think this is a worthy investment. Aero custom makes each jacket. So you can choose the leather and hardware you prefer. The jacket shown above is the base model. But personally, I think the Antique/Tumbled Black Chromexcel Horsehide with antique brass zippers would look amazing. The jackets are also lined in soft Alpaca wool, with heavy cotton drill cloth through the sleeves to make it easier to slip the jacket on and off.
Did we miss one of your essential Daniel Craig jackets for fall? Have a better alternative than the ones we listed? Tell us about it in the comments! You can also visit our Facebook page, Instagram account and Pinterest Boards for more James Bond style advice and inspiration!