We're almost at the end of August. Which means it's time to start thinking about breaking out the clothes for the cooler months ahead. And when we're considering what to hang in our closets, trying to capture some of that Steve McQueen fall style is always a worthy goal.
We already have dedicated posts for McQueen's blue shawl collar cardigan, his Red Wing boots, waxed motorcycle jacket and Baracuta G9. And those posts will be getting updates in the coming weeks. For this post, I'd like to look at some of the King of Cool's lesser known pieces. The ones that don't get as much attention but can still be valuable additions to any man's wardrobe.
The Wrangler Denim Western Shirt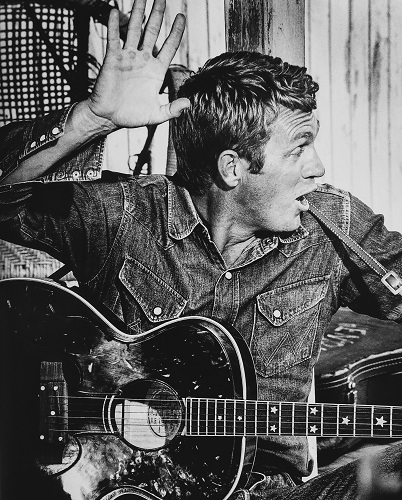 For the film Baby, The Rain Must Fall, McQueen wore a classic Wrangler denim western shirt with pearl snap buttons. There's a few interesting details on the shirt that set it apart. First are the flaps on the chest pockets. Rather than the typical center point or less common "sawtooth" style, Wrangler angles the pocket so the snaps are off center. Second are the longer cuffs, which have three pearl snap buttons. And third, we have the distinctive "W" stitching on pockets.
Western style denim shirts have been a staple in men's closets for decades. But they've recently seen a surge in popularity thanks to the whole workwear movement. The trick to wearing them is to not go "full cowboy" with the rest of your look. Unless you're, you know, an actual cowboy. Instead of wearing it with jeans, try using it with olive or khaki chinos, boots (like some McQueen inspired Red Wings) and a leather jacket.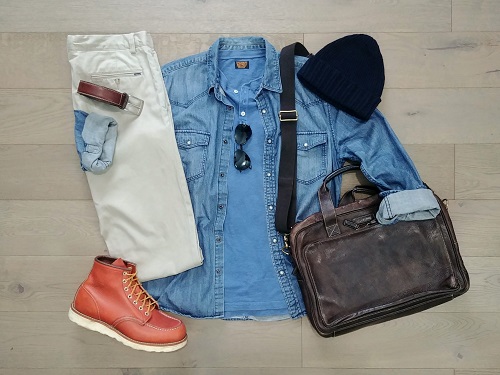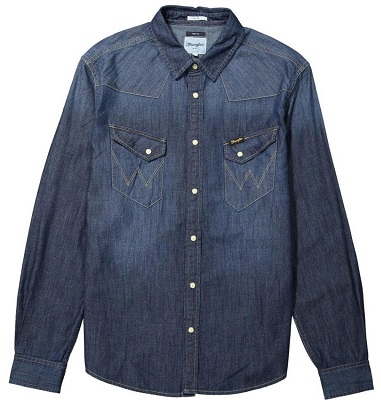 This one is about as close as we can get to the original as possible. It's the same brand with the same buttons and chest pockets with the correct flaps and "W" stitching. However, the denim has been washed to give it a fade effect. And we're missing the three pearl snaps on the cuffs. For those of you in the UK, Amazon seems to have the best price and they have sizes small to XXL in stock. For everyone else, the best deal I could find was from Dress Inn. They have sizes small to XXL available.
If you're not worried about getting the exact pockets, you pick up the Wrangler Snap-Front Western Shirt in Mid-Wash Indigo for $16.99 to $29.74 at Kohl's.
The Diamond Quilted Blouson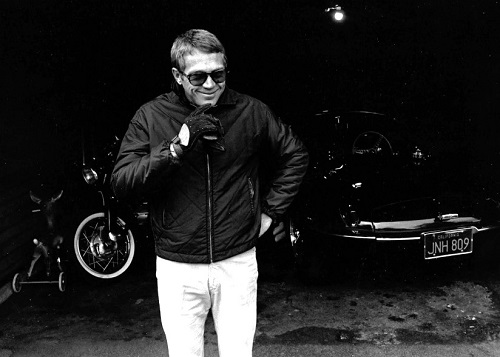 Just a simple photo by William Claxton of McQueen before he sets out for a drive in his custom Jaguar XKSS. And it's a photo that perfectly sums up everything that's "Cool" about the man. Awesome attitude, awesome style and awesome toys.
Since the photo is in black and white, I'm not sure if the quilted blouson he's wearing is black or a dark navy. So I've given options for both below. The other famous photo from this drive clearly shows that there's a zipper on the back of the collar, probably for a stowaway hood. I haven't been able to find that feature on an alternative yet, but I'll keep looking!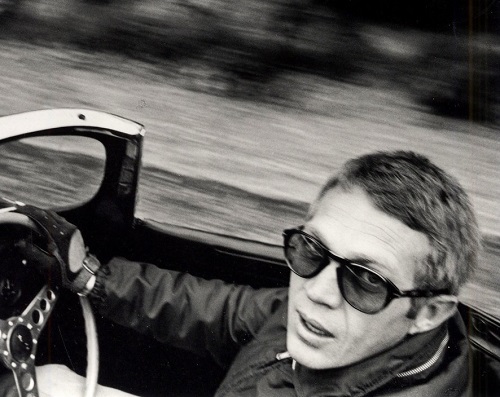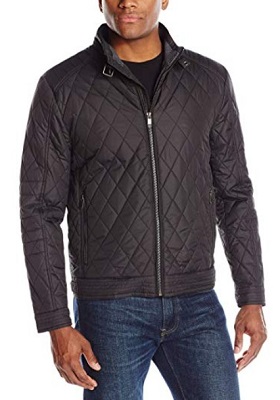 It doesn't have the elasticized cuffs. But it does have the clean design of the original with a couple of cafe racer style details added for good measure. Personally, I kind of like the contrasting quilting pattern at the elbows and buckle throat latch. They make the Marlon almost look like a cross between McQueen's jacket and Craig's popular Belstaff K Racer. Amazon has sizes small to XXL in stock.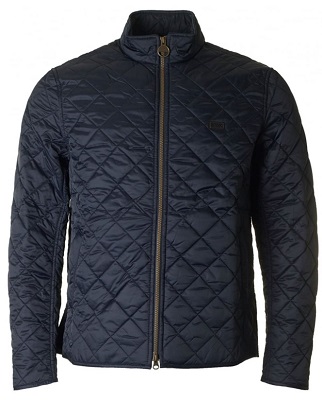 A solid alternative from the McQueen and Bond approved heritage brand. I've linked to ASOS above; they have sizes medium to XXL in stock. The same jacket is also available in black from NEXT for £129.00. Unfortunately, it doesn't look like either company is able to the ship this particular model to the U.S.A. However, Psyche also sells the Barbour Gear in navy. And since they show it in U.S. pricing on the product page, I'm hoping that means they're willing to deliver it to those of you stateside.
The Cincinatti Kid Shawl Collar Cardigan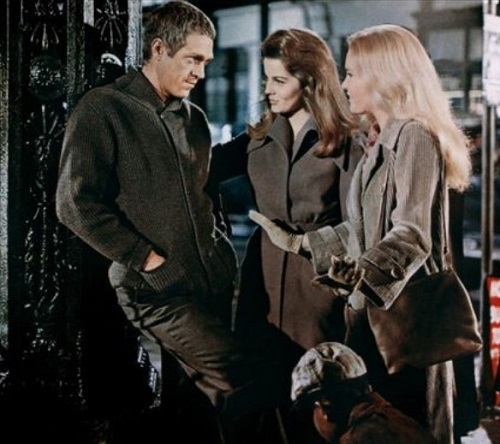 Would this be a McQueen Style post without a shawl collar cardigan? This time we're going with the brown one he wore as poker player Eric Stoner in the 1965 film The Cincinatti Kid.  And even though the film was set in the 1930s, the styling of his knitwear is timeless. For a full run-down of the complete outfit, check out this article on BAMF Style.
Some guys may be a little skeptical about the brown. But it's a great fall appropriate color to wear with warmer earth tones likes khaki, taupe, olive and rust. It would also look pretty cool with some faded denim. And since it's relatively neutral, it'll work well with a variety of skin colors.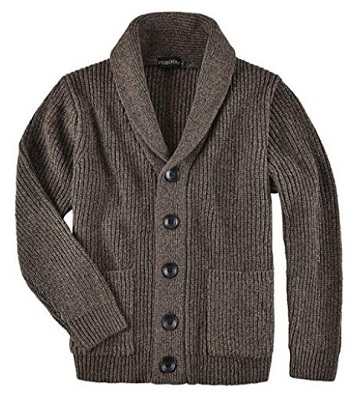 If you're still not sure brown is the right color for you, this could be an inexpensive way to give it a shot. VOBOOM (sorry, I gotta capitalize that name) uses a 30% wool/70% mix of synthetics yarn, a heavy rib knit and a wide shawl collar. Obviously those buttons are less than ideal, But that's a cheap and easy fix. It is nice to note that the cardigan is sitting with a rating of 4.5 out of 5 stars after 19 reviews. Amazon has sizes small to XXL in stock. But my gut (and a couple of the reviews) are telling me you should check the size chart.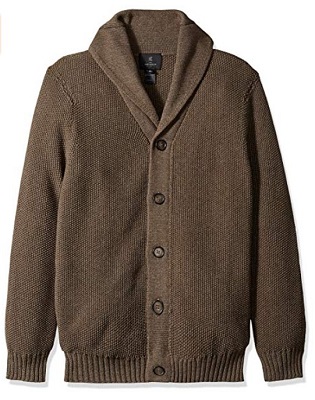 This one really has me curious. Mainly because I'd like to know what a sweater made with "3D Knitting Technology" and "Cotton Thermolite" feels like. One plus: Knitwear Lab makes the sweater in California. Amazon has sizes small to XXL in stock.
The Thomas Crown Affair Mock Turtleneck Sweater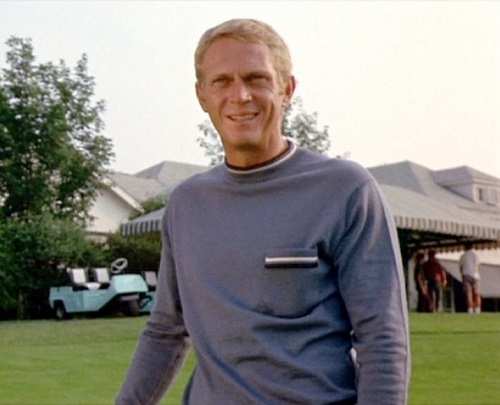 I'm the first to admit this could be a challenging look to pull off. McQueen's mock neck golf sweater from The Thomas Crown Affair screams 1960s. So I think you just have to embrace that whole vibe and run with it. McQueen wore it with some pale grey trousers with a subtle pattern and mid-brown golf shoes. That's one way to go. Or maybe try it with some off-white chinos, white minimalist sneakers and a navy bomber jacket? Any other thoughts?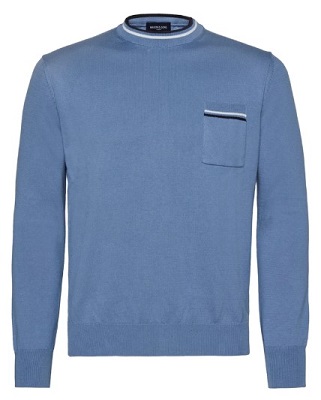 I've spoken before of my appreciation for Mason & Sons' reproduction passion projects. Well, here's another one. Based on McQueen's sweater, this interpretation is made from 100% cotton and nails pretty much all the style details. They currently have sizes XS to XXL available.
9 Hole Motorbike Boots

Another photo of McQueen being McQueen, this time taking his modified Triumph TR6 Scrambler for a spin. We're focusing on the footwear here. His boots look to be a lighter weight, relatively unstructured model with a smoother, low profile tread sole. You can see that better in the shot below of him jumping the bike. As for the material, in some photos they look like nubuck and in one they appear to be full grain leather. If anyone has any insights, let us know in the comments!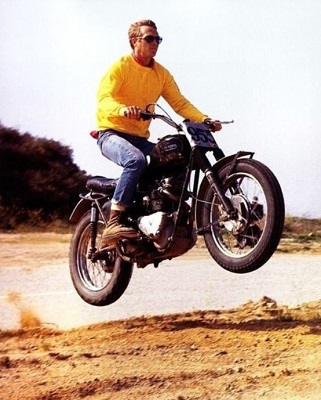 What I do know is that lighter weight boots are pretty much perfect for the fall. Your feet won't overheat if gets a little hotter during the day. But they still offer protection when the rain hits or if things cool down more than expected at night. The J.Crew Kentons Bond wore in SPECTRE are definitely one option. But it's always nice to look for others in case we want to mix things up.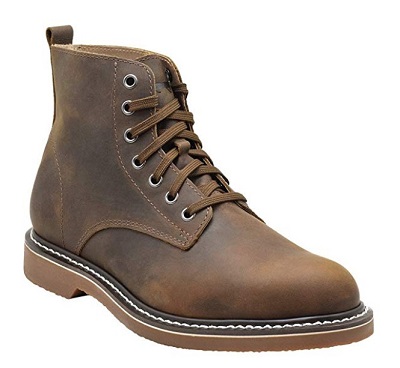 These are actually the same boots as the J.Crew Kenton alternatives we keep recommending, just in full grain leather. You can read my review of the suede versions in this post. To summarize, I've been very happy with them and still think they're excellent value for the money. The full grain version we're sharing here is also Goodyear welted (so they can be resoled) and has a pigskin lining around the collar. However, the forefoot is unlined for breathability. They're also a 7 hole boot, unlike McQueen's 9 hole model. But a slightly lower boot for casual wear isn't necessarily a bad thing. Especially when the other style details come so close. The link above goes to Amazon, where they have sizes 6 to 14 in stock. I found they run very true to size (my size 10 boots fit my size 10 feet spot on).
The Suede Le Mans Jacket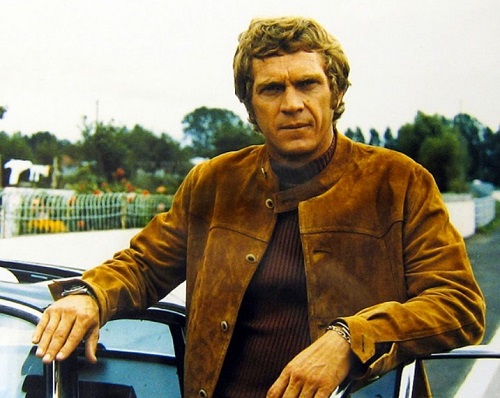 We see this jacket for about 2 minutes at the start of McQueen's classic 1971 racing movie Le Mans. And despite it's brief time on-screen, it certainly stuck in my mind. A cross between a Cossack style jacket and a cafe racer, the jacket has a sophisticated workwear vibe that's very popular right now.
In fact, Daniel Craig wore a similar jacket during a photoshoot with Harrison Ford to promote their 2011 film Cowboys vs. Aliens. His was full-grain leather and a true Cossack style (rounded collar instead of McQueen's throat latch). But both pieces share a shorter fit, button front closure and shirt-style cuffs that give them a real vintage feel.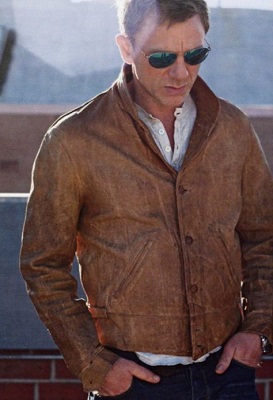 I'll admit up front that I wasn't able to find alternatives that exactly matched McQueen's jacket. The Harrington style throat latch is an especially difficult feature to turn up. So instead I focused on options that shared some of the other key details.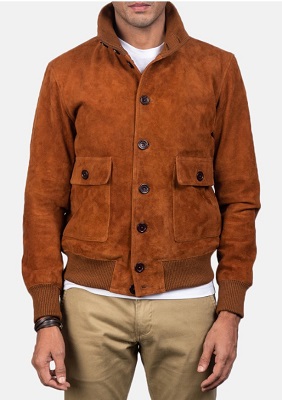 Before you jump to any negative conclusions, let me say this: the jacket can be customized. Which means we can keep what we like (button front closure, great suede color), remove what don't like (patch pockets) and make some other tweaks here and there (swap the knit hem for an open hem and go with shirt style cuffs). Heck, they may even be able to change the collar and add the seam across the chest! All those changes will cost extra. But with a very fair base cost, the final price shouldn't be unreasonable. You also have the option of going with The Jacket Maker's standard sizing or choosing the made-to-measure route.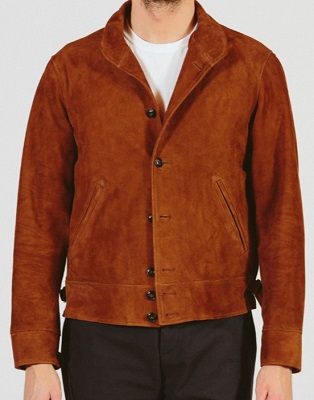 It's certainly getting up there in price. But this was the closest off-the-rack alternative I could find. The FORT07 is missing the chest seam and throat latch. But the color is a solid match. And it has the button front, shirt style cuffs and side tab adjusters like the original. Plus it's made in Italy from beautiful goat suede by a company that's generally respected by leather jacket aficionados. Sizes small to XXL are available on the Fortela website.
Cincinatti Kid Olive Green Corduroy Sport Coat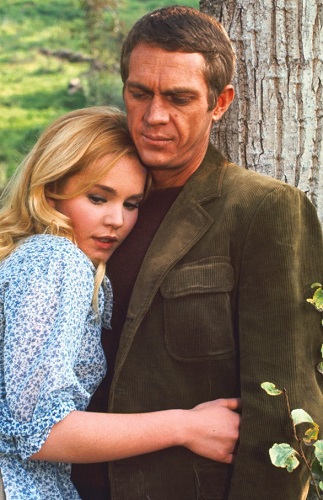 Another stylish jacket from The Cincinnati Kid. And again, our good friends BAMF Style take a closer look at complete outfit in this post. Like the brown shawl collar cardigan from the film, a dark olive green sport coat may seem like an odd choice. But it's also a very versatile color that works well with variety of warmer shades from brown to khaki to deep reds. And corduroy is one of those staple fall fabrics that goes perfectly with heavier materials like denim, tweed and flannel.
Then there's the jackets unique styling. It's almost like a hybrid sport coat-field jacket. It has the traditional notch lapels and three button closure you'd expect. But it also also has four flap covered patch pockets, two on the chest and two at the hips. It's a design that fits in perfectly with today's trend of mixing of tailoring and heritage workwear.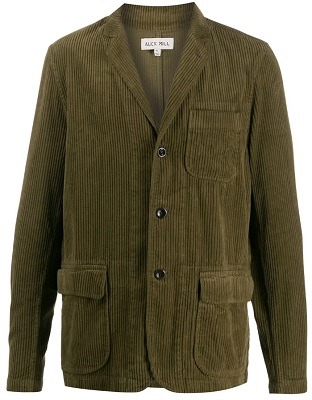 This option from Alex Mill definitely has the right feel. Unlike McQueen's sport coat, it only has one patch chest pocket without a flap. And the design is more unstructured, using a wider wale corduroy that gives it more casual style. But if you were to ask a current designer to update McQueen's jacket for today's market, I think the result would look very much like this. Farfetch has sizes XS to XL in stock, but stock is running really low. So if you've decides you want to give this look a shot, act fast!
The Le Mans Heuer Monaco Chronograph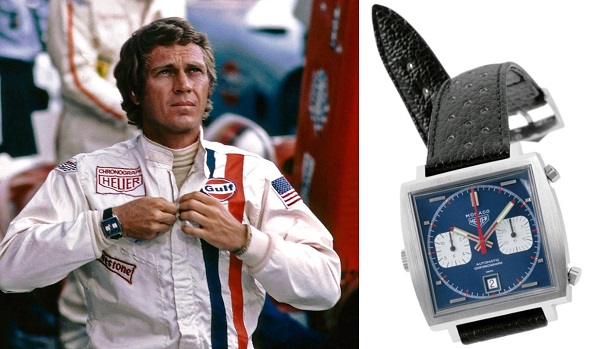 We give Bond's Rolexes and Omegas a lot of love here. But can we take a moment to appreciate McQueen's Heuer Monaco from Le Mans? Especially since 2019 is the watch's 50th anniversary? Rumor has it that McQueen selected the Ref. 1133B personally for the film. And it was a fine choice. First released in 1969, the Monaco's square, water resistant case housed the revolutionary Calibre 11 movement, the very first automatic chronograph in the history of Swiss watch making. One of McQueen's original "Michael Delaney" 1133Bs sold for close to $800,000 at auction in 2012. And of course the Monaco remains an incredibly popular model for TAG Heuer today.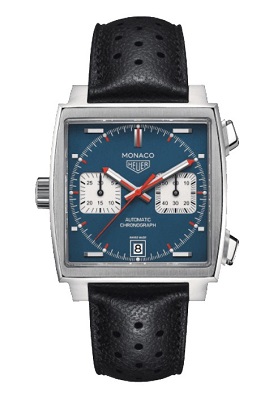 TAG Heuer has released a few 1133B reproductions over the years. To celebrate the model's 50th anniversary, the company released its most recent version at the Monaco Grand Prix in May. It's a relatively faithful rendition of the original, although the changes to the case, pushers, crown and sub-dials are definitely noticeable. But the biggest change would be inside, with the shift to the modern Calibre 11 movement. Measuring 39mm by 39mm, it may sound like a small watch by today's standards. But it wears bigger thanks to the square shape.
I've linked directly to the Tag Heuer product page above. But if want one for less, you can go down the rabbit hole that is Chrono24. You'll find several there selling in the $4000 to $5000 range. As I always, buyer beware when you're purchasing from third party vendors! Monochrome also did a great side-by-side comparison of the 2015 "McQueen" Monaco (which is very similar to this 2019 model) and the original 1133B, if you're interested in seeing the differences in more detail.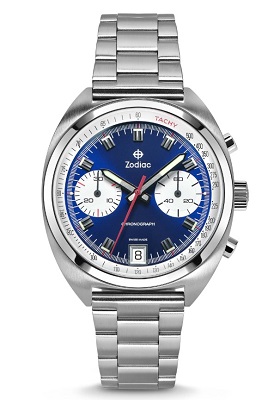 Look, there's really only one Monaco. So unless you're looking to pick up a knock-off (and there's plenty out there), we're going to have to settle for an alternative that just has the same feel as the original. After hunting around for a while now, I feel the Zodiac Grandrally does the best job. It has a cushion case and round sub-dials instead of the square ones. But the colorway is a good match and it certainly has the speedway vibe. Zodiac has used a Swiss quartz movement and a 41.5 mm stainless steel case to house it, topped with a sapphire crystal. The watch is made in Switzerland and comes with a 2 year international warranty.
I've linked above to Amazon, where there's one left in stock. But you can also get the Grandrally for the same price from Watches.com, Timeless, Watch Station, or directly from Zodiac.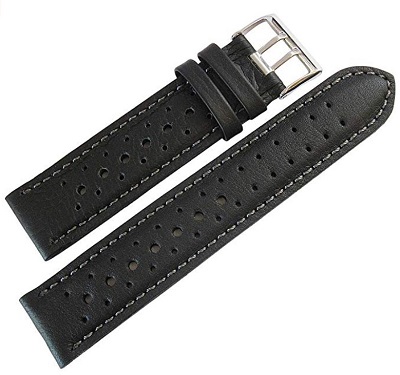 And of course we're going to need the Monaco's black leather rally-style strap. There's lots of options out there are different price points. I decided the share this one from Fluco because it's made in Germany, reasonably priced and I think the hole pattern comes close to the original.
Have some other ideas for pieces that help us capture some Steve McQueen fall style? Tell us about them in the comments below!
Photo from the Thomas Crown Affair sourced from GlamAmor.