James Bond Holiday Party Style Guide Part 2
Updated for December, 2022 – We've already drawn some inspiration from the Bonds of Connery, Lazenby and Moore in our first post in this series (you can read it here). Now we turn to Timothy Dalton, Pierce Brosnan and Daniel Craig for part two of our James Bond Holiday Party Style Guide!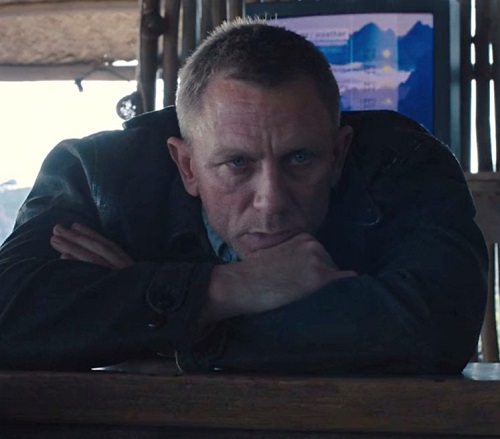 Timothy Dalton
Is it safe to say very few people would expect Dalton's Bond to be the life of the party? The actor crafted his characterization to align closely with Fleming's original creation. And the literary Bond wasn't exactly known for his gregarious, fun loving nature. So if you're looking for cold weather style tips from The Living Daylights or License to Kill, my advice is keep it simple and practical. And dark. It may not be the most lively get up, but you will stay warm, dry and ready for action. A fact you'll truly appreciate when you leave the party early to take a drive alone in the Aston Martin. No doubt you'll need to do something to decompress after two hours of making pointless small talk with strangers.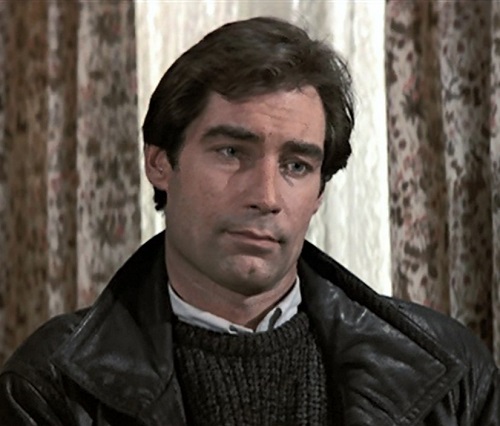 One other thing about Dalton's Bond I think we can agree on: his style is just a little dated. Much of that comes down to fit more than anything else. However the designs of his outerwear in particular are clearly a product of the 1980s. There's absolutely nothing wrong with a longer black leather coat. But an oversized black leather coat with drop shoulders, a huge collar and drawstring waist probably shouldn't be our first choice. This is a great opportunity to take inspiration from Dalton's Bond. Stay true to his minimalist, tone-on-tone aesthetic, but update some of the key pieces with alternatives that are classic but will work better in a more contemporary wardrobe.
The Outfit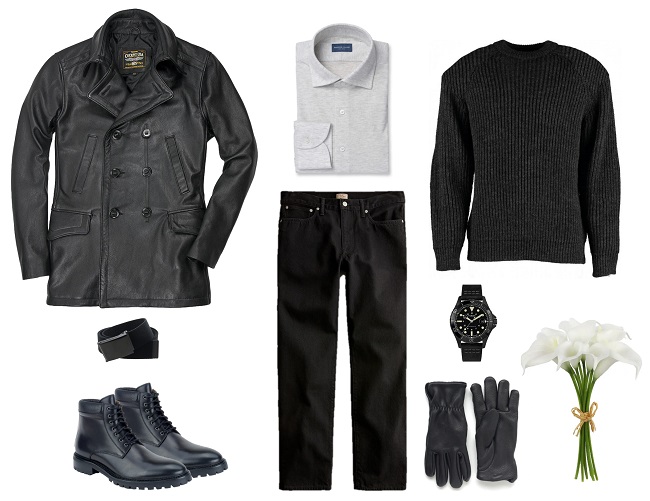 What to wear
Jacket: Cockpit USA Vintage Leather Naval Officer's Coat in Black, $880.00 (also try Boutique England Leather Car Coat in Black for £160.00 or Schott Leather Overcoat in Black for $1020.00)
Sweater: Outdoor Knitwear Carlton Classic Country Sweater in Charcoal, £86.00 (also try Pacas Crewneck Sweater in Gray on sale for $75.00, The Nautical Company Fisherman's Sweater in Charcoal Grey for £69.00 or Asket Heavy Wool Sweater in Charcoal Melange for $150.00)
Shirt: Proper Cloth Carmel Melange Tencel and Cotton Knit Shirt in Light Grey, $130.00
Jeans: J.Crew Classic Straight Fit Jeans in Black Wash, $128.00 (also try Gap Straight Fit Jeans in Black on sale for $33.58, Banana Republic Straight Organic Cotton Jean in Black for $100.00 or Flint and Tinder Deadstock Stretch Selvedge Denim Jeans in Black for $188.00)
Boots: Warfield & Grand Wheaton Boots in Black, $219.00
Watch: Timex Navi XL Automatic 41mm Watch in Black Stainless Steel, $269.00
Belt: Canvas Web Belt, $9.99
Gloves: Sullivan Glove Co. Lined Deerskin Roper Gloves in Black, $75.00
Gift for host(ess): Lilies
Pierce Brosnan
If there's one Bond that's going to get dressed to the nines and head out for a black tie holiday party, it's Brosnan's 007. Sure he stooped to wearing some less formal attire once and a while. But he always looked significantly more comfortable in a suit and tie. Seriously, this is a man who decided an ascot was appropriate neckwear for a nice drive in the mountains.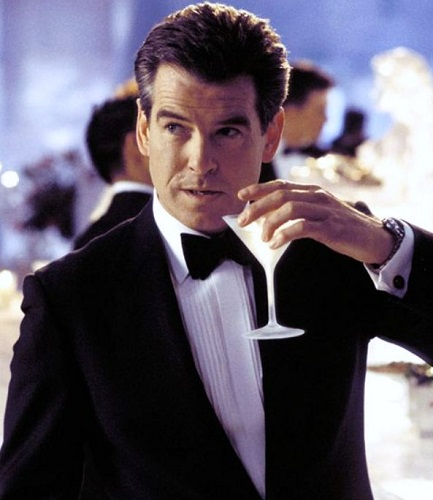 Now about the options below. Yes, we've gone with some more expensive choices for Brosnan's look. But they're all classic styles that should last a long time. So they could be worth the investment if you see many a formal event in your future. As for the gift for the host: this Bond will bring the makings for a good vodka martini. Because everyone should drink vodka martinis.
The Outfit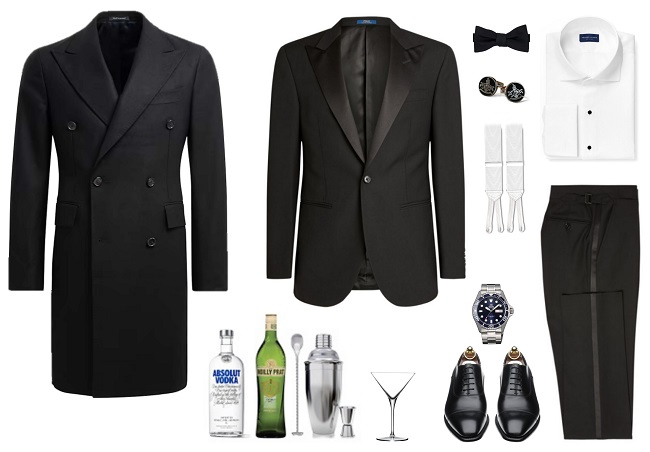 What to wear
Coat: Suit Supply Wool Cashmere Black Double Breasted Overcoat in Black, $649.00 (lots more options in this post)
Dinner Suit: Polo Ralph Lauren Wool Peak Lapel Tuxedo in Black, $1215.00 (also try Charles Tyrwhitt Peak Lapel Tuxedo for $599.00 or Spier & Macky Classic Tuxedo in Black for $598.00)
Shirt: Proper Cloth White Pique Tuxedo Shirt, $100.00 (also try Hawes & Curtis White Pleat Front Evening Shirt with French Cuffs for $119.00)
Shoes: Herring Shoes Churchill III Oxfords in Black Calf, $349.00/£350.00
Tie: The Tie Bar Solid Satin Bowtie, $22.00
Braces: Albert Thurston White Moiré Braces, $149.95
Watch: Orient Ray 2 FAA02005D9 Automatic Diver, on sale for $147.87
Cufflinks: Magnoli Clothiers "Orbis Non Sufficit" Cufflinks, $50.00
Gift for host: Absolut Vodka, Noilly Prat vermouth, and Cresimo Cocktail Shaker Set, $17.95
Daniel Craig
This is a tough one. When it comes to socializing at this time of year, Craig's Bond was already a hard one to pin down before No Time To Die. On the one hand, he clearly stated that he's always hated his ancestral home, the name of which causes him obvious discomfort. Could holiday gatherings, with their emphasis on hearth and home, create a similar emotional reaction? On the other hand, this 007 seems more at ease with his co-workers in Skyfall and SPECTRE than any other Bond since Connery. It could easily be argued that Craig's Bond, driven by loyalty, duty and tradition for so much of his career, saw MI6 as his home, the one place where he really could find a quantum of solace.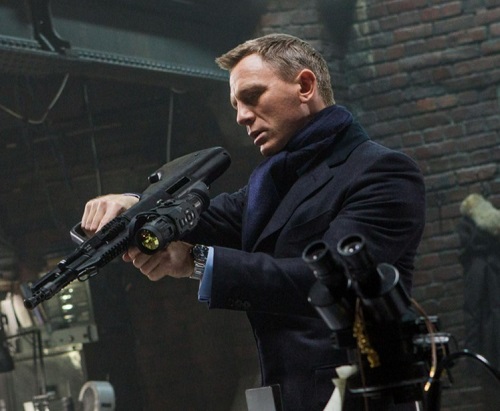 Of course the events of the latest film have thrown a wrench into our attempts to psychoanalyze this Bond. And forced us to get a little imaginative when it comes to hypothesizing on his Christmas plans after his last mission. So I'm basing the following style scenario on one simple premise: Craig's Bond has a new understanding and appreciation of what a real "home" could be, but he also knows that it will never be a life he can have.
In this alternate Bond universe, I imagine Bond living in London in much the same style as he lived in Jamaica, interacting with society but maintaining an emotional distance and spending most of his time in solitude. For the holidays, he dresses comfortably but stylishly to browse some of London's finer stores, picking up gifts for the MI6 crew and loved ones. These will be delivered by courier, of course. Dropping them off in person is too sentimental (or too deadly). Then back to the apartment for a quiet night alone with a bottle of his favorite single malt and his thoughts.
The Outfit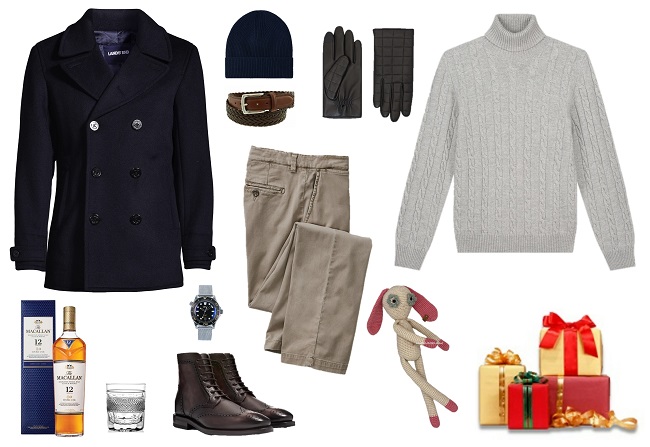 What to wear
Jacket: Lands' End Insulated Peacoat in True Navy, on sale for $182.97 (more options in this post)
Sweater: Aurelien Dolce Vita Cable Knit Turtleneck Sweater in Light Grey, $298.00/£225.00 (also try Spier & Mackay Cableknit Turtleneck in Light Heather Gray for $128.00)
Pants: Johnston & Murphy Washed Chinos in Taupe, $99.50 (also try Taylor Stitch Democratic Foundation Pant in Organic Espresso on sale for $100.00)
Boots: Thursday Boot Co. Wingtip Boots in Dark Oak, $235.00 (more options in this post)
Belt: Sherman Brothers Maxwell Braided Belt in Waxy Briar, $115.00 (also try Danbury Comfort Stretch Bonded Leather Belt in Brown for $33.95 or T.B. Phelps Maxwell Braided Leather Belt in Dark Tan for $95.00)
Watch: Heimdallr Titanium Sea Ghost, on sale for $219.00 (more options in this post)
Hat: Gobi Cashmere 8 Ply Cashmere Beanie in Navy, on sale for $69.30 (also try Fishers Finery 100% Cashmere Ribbed Cuff Hat in Navy for $48.00)
Gloves: Agnelle James Gloves in Black, $148.00
Gifts for co-workers: an Gift Certificate from Swatch for Q, Dents leather gloves for Tanner, and perfume from Floris of London for Moneypenny. M will get nothing; giving a gift to one's superior is not done. And a stuffed toy for someone special.
Gift for self: The Macallan 12 Year Old ($79.99; retirement means no more MI6 expense account) and a new Cumbria Crystal Grasmere Double Old Fashioned Whisky Tumbler (£92.50)
To check out our holiday styles inspired by Connery, Lazenby and Moore, click here! And you can always find Iconic Alternatives on Facebook, Pinterest, and Instagram for more Bond related fun!
The inspiration for this post actually came from AJB007 member hcantrell who started this thread on the forum. Thanks!
Iconic Alternatives uses affiliate links to generate revenue. If you choose to purchase a product after clicking a link, I may receive a commission from the merchant at no extra cost to you. You can learn more about our use of affiliate links here.