The Best Bond Style Alternatives of 2021
Compared to the disaster that was 2020, this past year felt like we were at least starting to slowly crawl our way back to normal. But 2021 still had its fair share of ups and downs for many of us. The good news is the last 365 days gave us 007 fans some awesome affordable options for our favorite screen looks. From jackets to boots to accessories, brands delivered more quality pieces at budget friendly prices than I've seen in long time. Today we're rounding up our favorites from the year that was in our Best Bond Style Alternatives of 2021 post!
The Coats and Jackets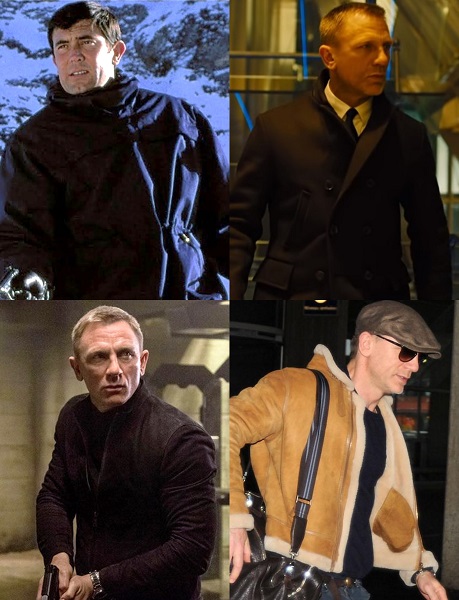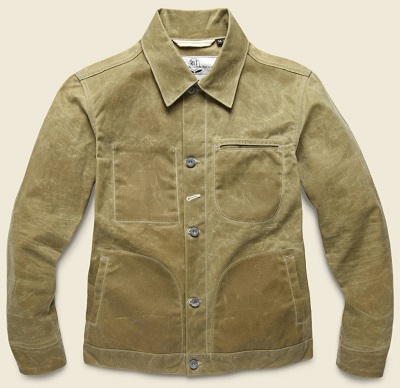 It was the one piece of No Time To Die outerwear every fan could agree on. Affectionately known as the "Garage Jacket", the Rogue Territory Supply Jacket had a big impact despite its brief amount of screen time. And it seemed like every follower of 007 style bought one. Made in Los Angeles from 10oz Martexin waxed canvas and finished with custom metal hardware, the few negative comments about the jacket tend to focus on how stiff it is when new. But that's actually part of the beauty of a piece like this. It's going to feel like cardboard at the start. However regular wear will soften it up and the waxed finish will darken and develop a unique patina that adds more and more character over time. It takes a little work and patience. But it's worth it!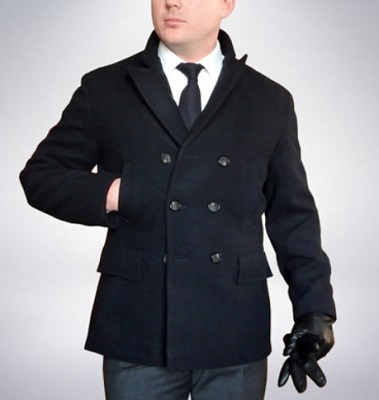 When ROYALE Filmwear owner Daniel Love launches a new run of his extremely well made Shanghai Pea Coat, it's literally the best alternative on the market for Bond's Skyfall coat. Made from a 70% wool and 30% polyester blend Melton, it nails just about every detail you could ask for. And now that the price of the actual Billy Reid Bond Peacoat has crept up to close to $700, the ROYALE also offers great value for the money. There are still some sizes available on their website and you can read my review of the 2016 model here. For more alternatives, check out this post.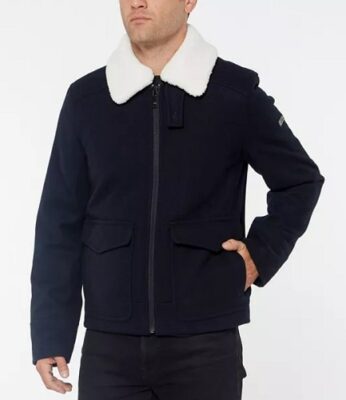 If you can find a ROYALE Filmwear Altaussee Jacket in your size, it's easily the best alternative for Bond's Dior Homme "Mr. White" jacket from SPECTRE. But those sell out fast! So this option from Vince Camuto is getting another mention. And it does a pretty good job of capturing the features we want at a reasonable price. It has the open cuffs (but no zips, unfortunately), open hem, clean and simple flapped patch pockets and that faux shearling hood is removeable. Sizes small to XXL are available at Macy's. Use the code JOY at checkout to get the discount off its normal $475.00 price. More options for the Mr White jacket can be found in this post.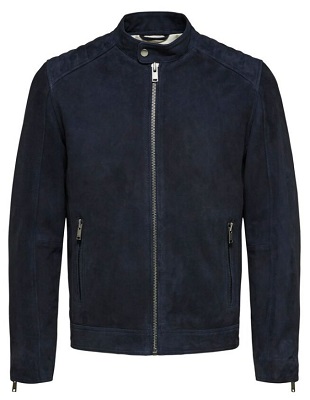 One specifically for you folks in the UK. I shared this alternative for Bond's John Varvatos suede jacket from SPECTRE in a couple of Best Budget Style Finds posts. But now that the price has dropped from the original £235.00 to an incredibly low £117.50, it definitely deserves another mention. Selected has used goat suede for the outer and this one does have the zippered cuffs. But the quilted shoulders, zippered pockets and throat latch aren't exactly screen accurate. They still have sizes medium to XL in stock. Sadly, it looks like Selected doesn't ship to the U.S.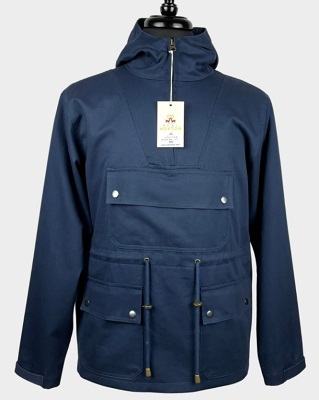 Some Lazenby Bond On Her Majesty's Secret Service style for those of you searching for a good anorak. Although it's not exactly screen accurate, it really captures the retro-cool mountaineering vibe of the original. I wouldn't expect the 100% cotton shell to offer much water resistancy. But you'll definitely look good the next time you raid a villain's mountain top lair!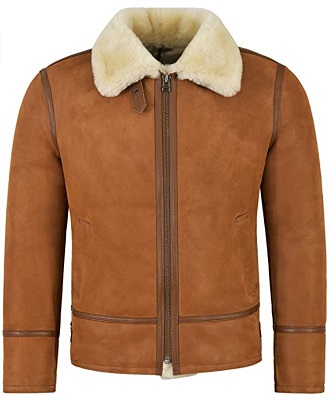 I thought I'd throw a little non-Bond, Daniel Craig style into the mix. In the past when I've shared alternatives for Craig's shearling bomber jacket, I've almost always started with this option from Smart Range. To put it simply, it's a great match at a very reasonable price. Now Smart Range has opened its own retail operation called Boutique England, which has already earned a very impressive Trustpilot score of 4.8 stars out 5 after 67 reviews. You can still order the jacket from Amazon if you're in the U.S., where you'll pay an additional $35.00 for shipping. But I think ordering directly from the company is a more economical strategy. There's still a £24.99 shipping fee, but that should be offset if VAT is deducted from the price. Shipping for those of you in the UK is free.
Sweaters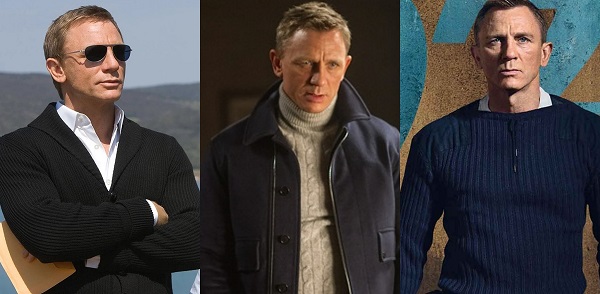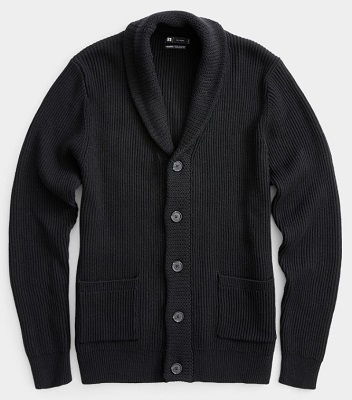 This was our "Best Option" for Bond's Quantum of Solace cardigan multiple times. Coming to us from the venerable Canadian retailer, it uses a 100% organic cotton yarn and includes contrasting knit around the collar and placket to give it some visual interest. And the price is certainly reasonable. You'll need to replace the buttons for a screen accurate look, but that's true of almost all the options out there. And it also comes in light cream, grey, olive green, and sapphire blue to complete multiple Craig and McQueen looks!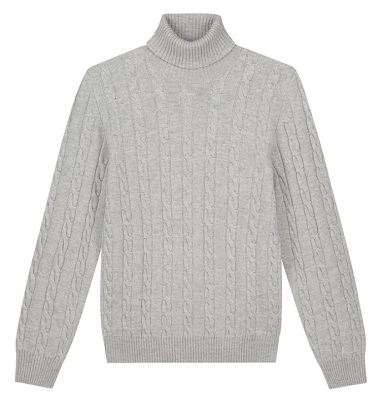 It's one of the more expensive alternatives on our list. But it's still about $150.00 less than Bond's N.Peal sweater from SPECTRE. And it's such a timeless design that you'll be wearing it for years to come. So it could be worth the investment. Handmade in Italy from a 90% extra-fine Merino wool and 10% cashmere yarn, the Aurélien has the thinner cable pattern and light grey color we want and a trimmer fit that makes it perfect for layering.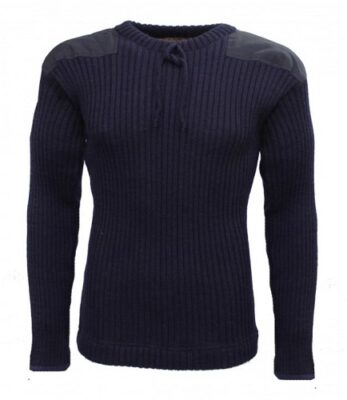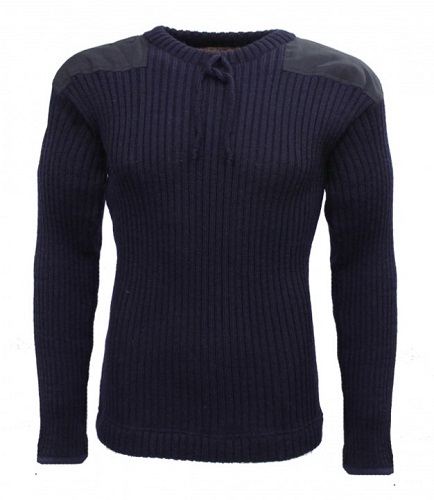 Since we first shared this alternative for Bond's No Time To Die commando sweater, the link to the Outdoor Knitwear product page has been clicked on more than 3000 times. So obviously some of you like it! Made from 100% British wool, it captures many of the right design details of the screen used sweater: the wider "boat style" neck line with the drawcord, the shoulder patches that extend down the front of the shoulders, and the trim fit. Just don't expect it to be as soft as the original N.Peal. And be aware that while shipping is free for those of you in the UK, those of you in the U.S. can expect to add about $40 to the price for delivery. So make sure you order the right size the first time!
The Suit and Shirt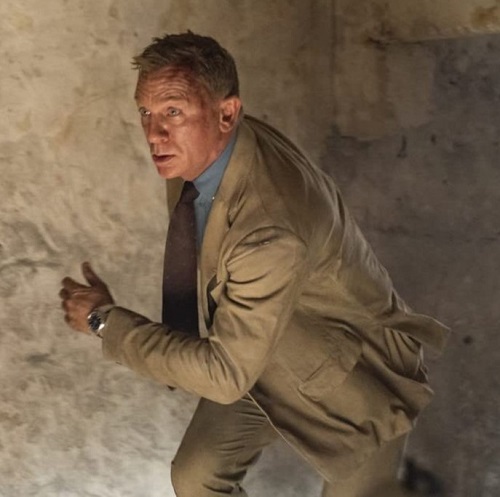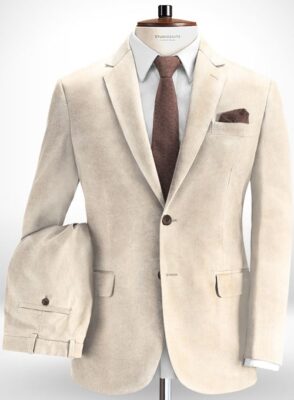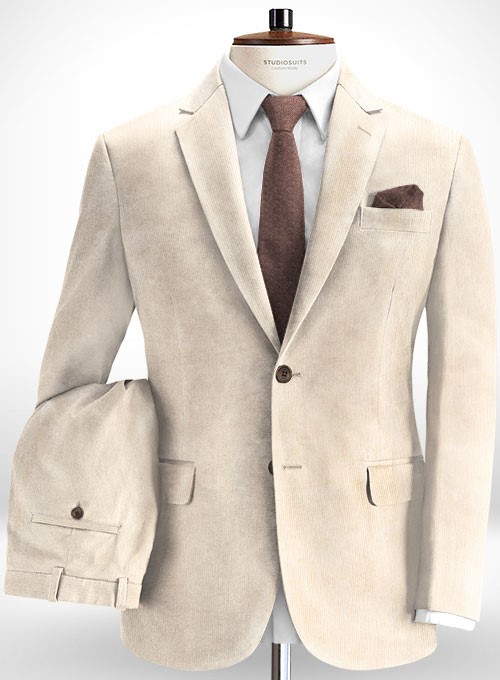 It was easily the best alternative for Bond's No Time To Die Matera suit this year. The only hiccup? It's made to order, which means you'll need to send in your measurements. But that also means you can make tweaks to the design so it's even more screen accurate. Our fellow Bond community member Jeremy A. wrote a great review of his Studio Suits experience for us that provides a ton of details. Definitely a "must read" if you're considering this alternative!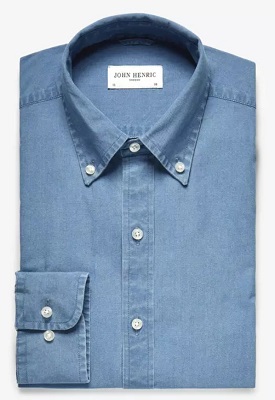 Throughout the year it remained one of the best matches for Bond's Brunelli Cucinelli shirt from No Time To Die. Of course the buttons will need to be changed for the screen accurate look. But that's true of almost any alternative we found (and, as we've mentioned before, even the film's costume department changed the buttons on the original shirt). What really makes me happy is the collar. It seems to have a decent roll to it, so a thicker silk tie will fit comfortable underneath. Plenty of sizes available on the John Henric website. And if you sign up for their newsletter, they'll give you 10% off your first order.
The Boots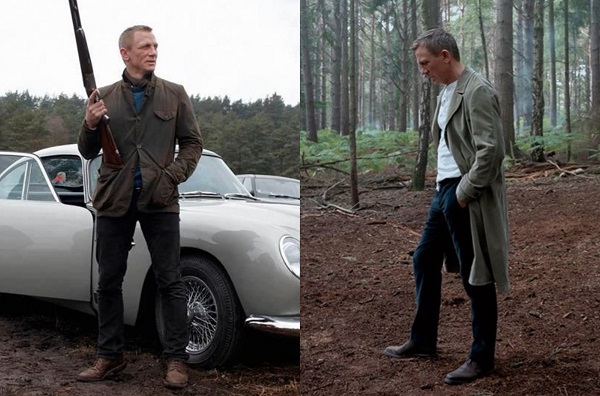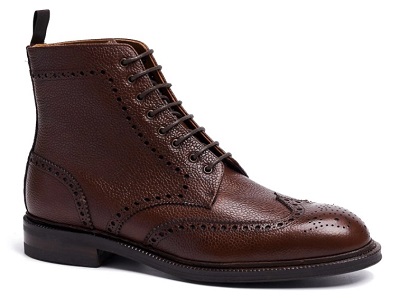 Grained French calf leather, a double rubber Dainite-like sole and Goodyear welt construction. What's not to like? Well, I've heard from Meermin owners that breaking in their footwear can take a bit of work (and a touch of suffering). But Meermin has a lot of fans out there in the #menswear community that really appreciate the value for the money the company offers. Sizes are getting spotty on their website, but there's still a decent selection of smaller options left in stock. Just remember that they use UK sizes and order accordingly. You can find plenty of other Bond boot alternatives in this post.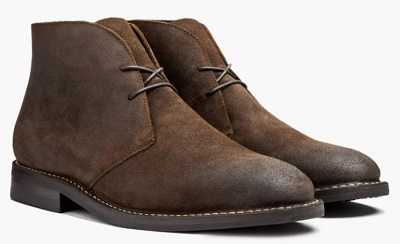 An affordable alternative for Bond's No Time To Die Crockett & Jones Moltons that we've shared plenty of times over the last year. Thursday Boot Co. has used what they call "WeatherSafe" suede, which gives the uppers that waxy finish that comes very close to the look of the Moltons' rough out suede. And the burnishing on the toe box isn't too bad, although I still could have done without it. They've also gone with a full glove leather lining, a studded rubber Dainite-like sole and a stitched out construction so the boots can be re-crafted. You'll find sizes 6 to 14 on Amazon. If you're in the UK, you can also find them on the Thursday Boot Co. website for the same price, with international shipping available for a very reasonable fee. More options for the chukkas over here.
The Sunglasses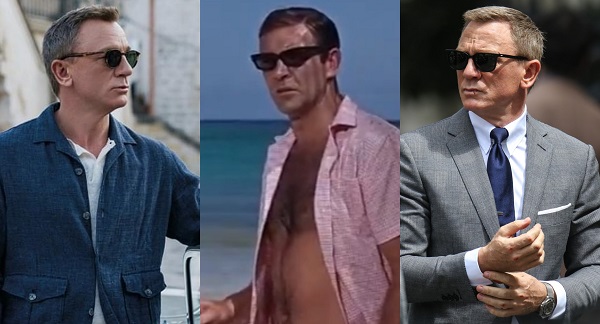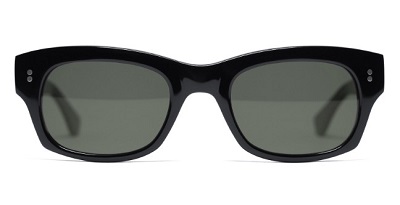 Directly modeled on the sunglasses Bond wore in Thunderball, the Seans use a high quality Italian Mazzucchelli cellulose frame that has a black gloss coating over a Tortoise shell base to give them some character. Five barrel hinges and green lenses finish off the package. They used to be a heck of a lot more affordable at Mason & Sons, but it looks like they're no longer carrying them. Still, if you want screen accurate (and to add some retro-60s cool to your personal style), these are the ones to get.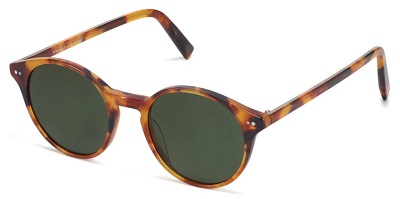 Warby Parker has a good reputation in the eyewear industry and their home try-on program makes ordering from them pretty risk free. The frame color, green lenses and key-hole bridge of their Morgan sunglasses come very close to what we see Bond wearing in Matera in No Time To Die. But with their 48mm lens width and 19mm bridge, these are definitely better suited for smaller faces.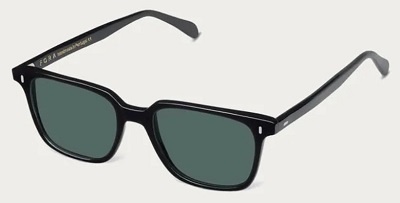 FORA isn't what I'd call a "well known" name in the world of eyewear. But the Portuguese boutique brand does makes a killer option for Bond's No Time To Die sunglasses. Like the screen used pair, they have a slightly thinner rim. But because they've kept the top of the frames relatively straight and the curves elsewhere more gradual, the look stays strong. Overall, it's a sophisticated but structured, no nonsense style. And these are handmade in Portugal using Italian acetate and Zeiss Sunlens lenses. So they deliver the quality. With their 50-20-140 measurements, I'd expect these to work best for small to medium size faces.
The Watches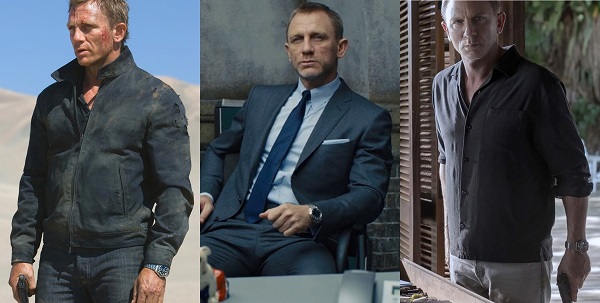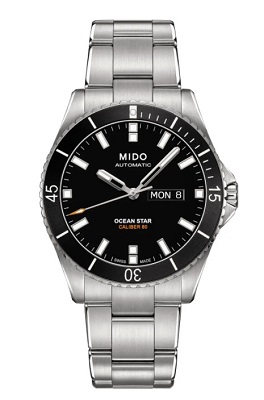 I shared this alternative for Bond's Casino Royale and Quantum of Solace Planet Oceans back in August in this post. But I recently found out on Dappered.com that it's gone on sale at Jared, bringing the normal $930.00 price down into the sub-$500 range. Which makes it a heck of a great deal. Although it's not a perfect match for 007's watch, I think Mido really hit it out of the park with the style of their Ocean Star series. These watches look clean without being boring. They're powered by Mido's calibre 80 automatic movement which has an 80-hour power reserve. The 42.5mm case is water resistant rated to 200 meters and has a sapphire crystal, uni-directional aluminum bezel and screw-down crown. All in all, an elegant and fairly complete package, especially for that sale price.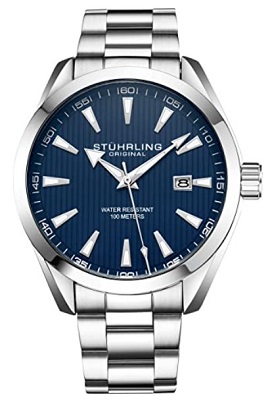 As far as looks go, it's about as close as you can get to the Skyfall, SPECTRE and No Time To Die Aqua Terra without crossing the line into "knock-off" territory. And that price is going to be pretty hard to beat. Obviously, this isn't a high performance watch. They've used a basic Miyota quartz movement housed in a 42mm case. And I'd be a little hesitant to test that 100M water resistance rating. But if you're looking for an inexpensive watch with all the right style details, you won't find much better.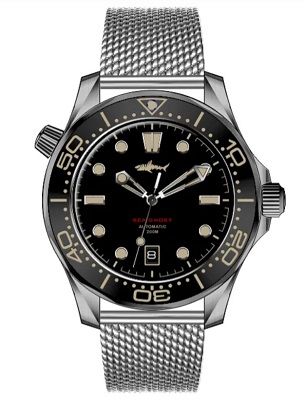 Another timepiece that's received plenty of mentions on this website. I first learned about this one in a thread on WatchUSeek. And it seemed like some folks over there were pretty enthusiastic about it. Admittedly, the Heimdallr comes really close to crossing the line between being an "homage" and a straight-up knock off of Bond's No Time To Die Omega. But it does offer some nice features for the price. Most of the specs are what you'd expect: Seiko II NH35A automatic movement, water resistance rating of 200m. However, what sets the Heimdallr apart is that they've used actual titanium for the 42mm case and a domed sapphire crystal. We've also had some good friends sing the Heimdallr's praises, which certainly contributed to it making our "Best Of" list. We have more alternatives for the No Time To Die watch in this post.
The Swim Shorts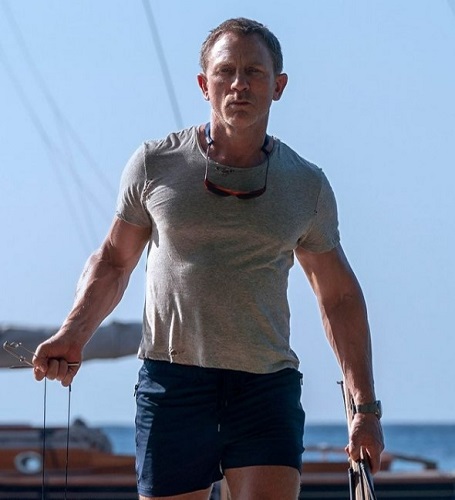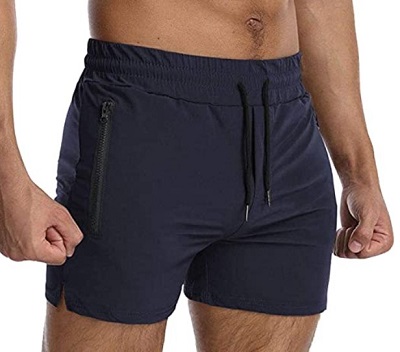 It felt like it took forever to finally identify the maker of Bond's No Time To Die navy blue Jamaica swim shorts. And when the brand was finally revealed it wasn't Orlebar Brown or Tom Ford or Sunspel. It was Jed North, a manufacturer of gym workout clothing. The good news was the shorts were extremely affordable, with a price of only $30. The bad news? The film's costume department had modified the shorts, removing the logo on left leg and changing the neon yellow drawstring with a dark blue one. And if we fans wanted a screen accurate pair for ourselves we were going to have to do the same. My suggestion? Pick up these very inexpensive ones from Everworth and save yourself the trouble. They already come looking pretty darn close to screen accurate and most sizes only cost about $16. I grabbed a pair for myself and found them to be decent quality for the price. If you're in the UK, check out the Vanvene Running Shorts on Amazon for £14.66 to £15.66.
And that's our wrap-up of the best Bond style alternatives of 2021! Did we miss one of your favorite affordable alternatives? Tell us about it in the comments! And remember to visit our Facebook page, Instagram account and Pinterest Boards for more James Bond style advice and inspiration! Until next year, my friends!