The Paul Newman Butch Cassidy Jacket
Back in August, we took a look at Hollywood cowboy and rebel style in our Summer Style Icons series. While I was doing my research for that article, I came to a conclusion: the Paul Newman Butch Cassidy jacket is pretty damn cool! And so, as often happens when I stumble across unusual pieces of menswear, I became a little obsessed with finding a modern day alternative. But this time I decided not to go it alone and reached out to our friend Nick of BAMF Style for assistance.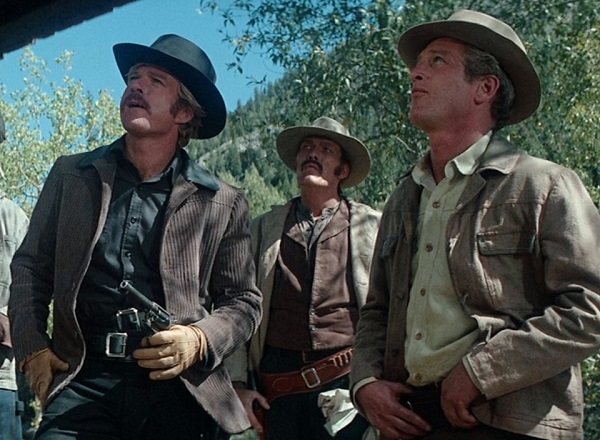 Seeing as Butch Cassidy and the Sundance Kid first premiered on this date (September 23rd) in 1969, BAMF Style has written a great companion piece for this post. In it he describes Newman's complete look in the film, from the hat to the boots to the sidearms. And Nick also provides plenty of details on the jacket. Needless to say, it's well worth the read!
As BAMF Style points out, the jacket was the creation of renowned costume designer Edith Head. Her limitless imagination mashed together a chore coat, a field blazer and a stockade jacket to create a piece of outerwear that perfectly balances Old West character with a bit of 1960s counter culture spirit.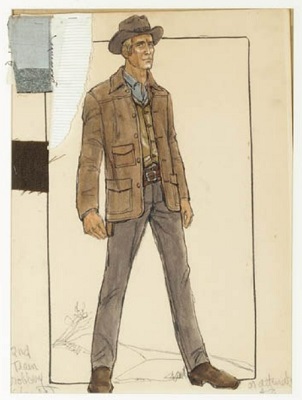 With a few subtle tweaks, it's also a jacket style that would work perfectly with today's workwear inspired fits. Throw it on over a denim shirt or a Henley, pair it with some broken-in jeans or 5 pocket cords and a pair heavier boots and you've got a great look for a relaxed fall weekend!
Features Wanted for the Paul Newman Butch Cassidy Chore Coat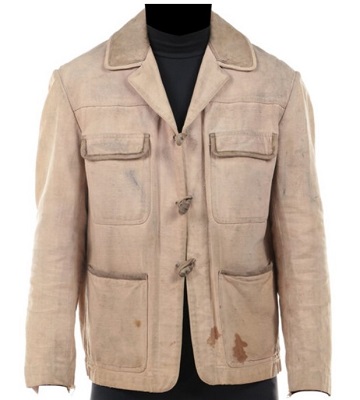 Light tan cotton fabric
Unlined construction
Revere style collar with leather facing on the upper part
Patch pockets on chest with leather trimmed flaps
Patch hip pockets with leather trim
Three leather "barrel" toggle closure with matching leather loops
Mid-hip length
Since this was a custom piece created specifically for the film, there really isn't anything out there that's an exact match. Some modern options have the leather accents on the collar and pockets. Unfortunately the overall designs don't really match Butch's jacket. And the toggle button closure is almost impossible to find on an alternative.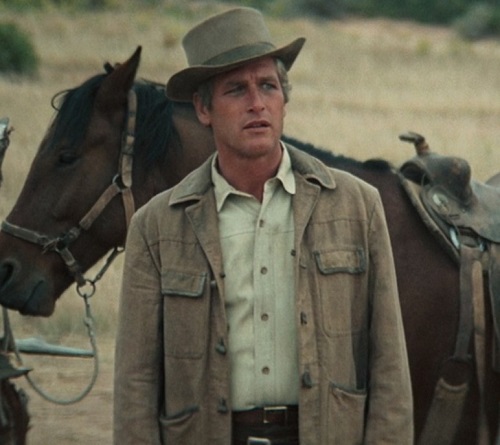 So for our alternatives, I've tried to stay true to the spirit of Edith Head's design. But I've also been pragmatic and accepted that sacrifices will need to be made. That means some of our options will lean more toward the style of a chore coat and others will have more of a trucker jacket look. The nice thing is you can choose the one that's going to fill a gap in your closet and work best with your personal style.
Best option for the Paul Newman Butch Cassidy Jacket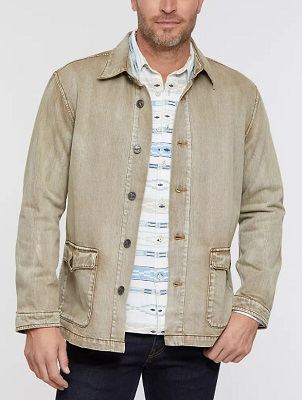 Given the design differences between the Silver Creek and Butch's jacket, I'll call this the "inspired by" alternative. But I think Overland has done a great job with distressing the 100% cotton fabric to give it that broken-in, "I've had this thing for years" look. The Earth color is also spot-on. And although they're not rolled leather toggles, the nickel buttons with the stamped bison motif add some Old West character without going full cowboy. They have sizes small, medium and XXL still available on their website and it look like it fits pretty true to size.
Best Option if you're willing to put in some effort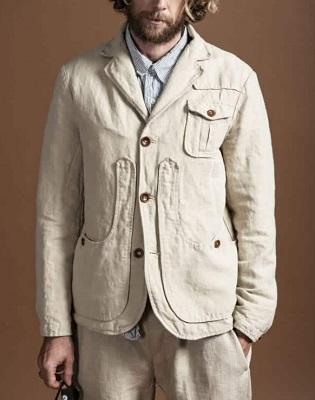 This one could be tricky to get your hands on. Capalbio is a small tailoring shop in their namesake town in the Tuscany region of Italy. They take great pride in calling themselves "boutique", specializing in luxury knitwear and unique jackets that put a modern twist on traditional designs. And boy, do they have some cool designs! The Iconic Jacket above is just one example of what they do. There are some obvious differences between it and Butch's jacket. But I think it does a great job of capturing that combination of Old World style with contemporary aesthetics that we want. If you like the cowboy workwear look but want something that will stand out in a crowd, this is what I'd invest in. I'd just suggest contacting Capalbio before ordering to get the shipping and sizing details nailed down.
Under $100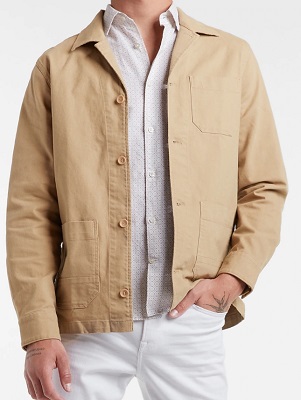 A pretty basic chore coat design at a great price. Two things make it worth sharing: that revere collar and the color. The fabric is a cotton and Spandex blend and it's unlined. So it should make an ideal layering piece for these early fall days. And for what it costs, you could probably afford to add some leather trim here and there to give it a bit of character. Sizes XS to XXL are available in the regular length and sizes medium to XL are also available in Tall.
Under $200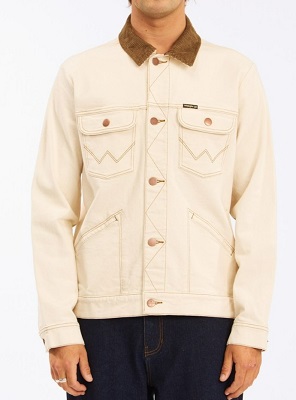 Clearly this is more of trucker style jacket. But I think it does a good job of blending the spirit of Butch's jacket with a more modern take on Western workwear. There's no leather on it. However, the contrasting corduroy collar and stitching add some visual interest. Plus it's one of the few options with two flap pockets on the chest and open hip pockets down below. Sizes small to XL are available at Nordstrom. Or you could order it directly from Billabong.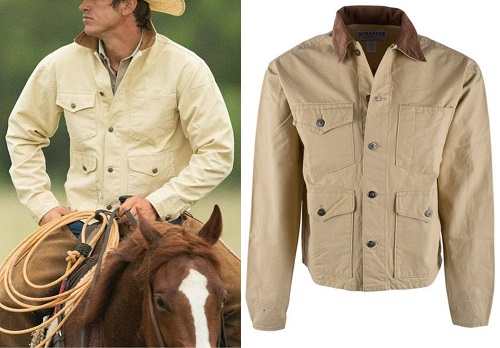 The practical interpretation of Butch's jacket, built for real-life cowboys. Made in the U.S.A. from 10.10 Army duck canvas and finished with brass hardware, it's unlined and lightweight but can definitely take a beating. Schaefer has sizes small to XL available in the Natural. But the Chamois color is another option if you'd prefer something a little darker. And for something that's more water resistant (and would also make a good alternative for Bond's No Time To Die waxed jacket) check out their Rangewax Mesquite Brush Jacket for $190.00.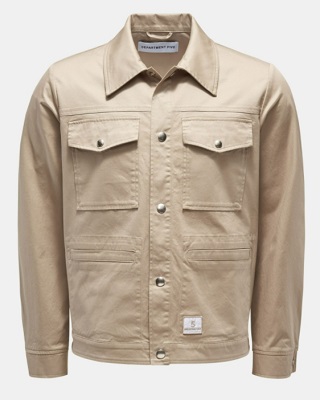 Another option that's more trucker jacket than blazer. But like the Billabong X Wrangler option above, this one has the two flapped chest pockets and the two hip pockets (although these ones are jetted instead of patch). The color is also a solid match for Butch's jacket (or will be once you beat it up a little). This one is available at Braun, a German company that services most of Europe. They also ship to the U.S. and Canada, but be aware they charge an additional £45.00 to send it to you!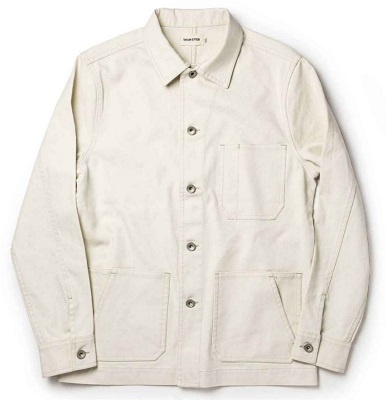 The design is classic chore coat. But the fabric is the real story. Taylor Stitch has used a proprietary 12oz duck canvas made from a blend of 54% hemp, 30% recycled polyester, 14% organic cotton and 2% spandex. It's soft but durable and has a unique texture that really stands out. Combine that with some subtle contrast stitching, vintage inspired buttons and a more tailored fit than you typically find in a chore coat and you've got a rugged yet sophisticated piece of outerwear that can work with a variety of outfits. You'll find sizes small to XXL on their website.
Interested in learning more about the Paul Newman Butch Cassidy jacket? Make sure to head over to BAMF Style and read Nick's in-depth look at the entire outfit! If you have some alternatives you'd suggest, let us know about them in the comments. And remember to visit our Facebook page, Instagram account and Pinterest Boards for more style icon inspiration!