The Billie Todd George Beanie Review
Hello, my friends and welcome to our review of the Billie Todd George Beanie! Yes, we're about to do an indepth review of a knit cap. But what a cap it is!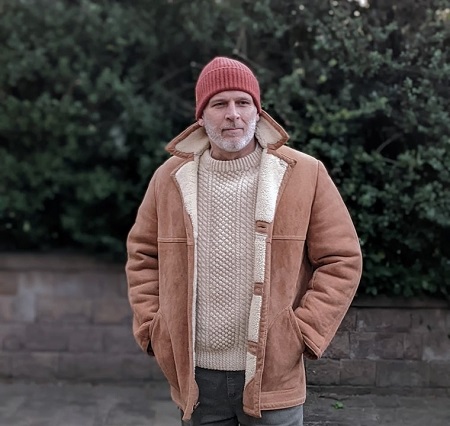 Made from a wonderfully soft 100% cashmere yarn in a rich reddish orange color, the $150 Beanie has …
WAIT! What did you say the price was?
One hundred and fifty U.S. dollars. Anyway, the color is an amazing shade of red with hints of orange that …
Yeah, yeah, that's nice. But why is it so expensive?!?!
Alright, if you want to talk about the price, let's talk about the price. Why would you pay $150 for a knit cap? Let's break it down before we continue with our review.
What's so great about cashmere?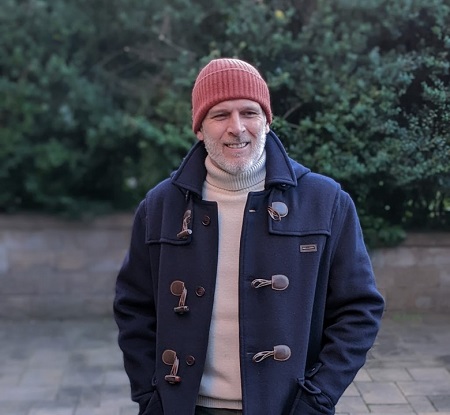 To start, we need to understand a little bit about where cashmere comes from. Cashmere is actually the fine hairs from the undercoat of a special breed of goat. Most of these goats are herded in areas of Central Asia,  but they're also raised in parts of Europe and New Zealand. What makes the fine hair from these animals so desirable is its warmth to weight ratio (3 times better than wool) and, above all, its incredible softness.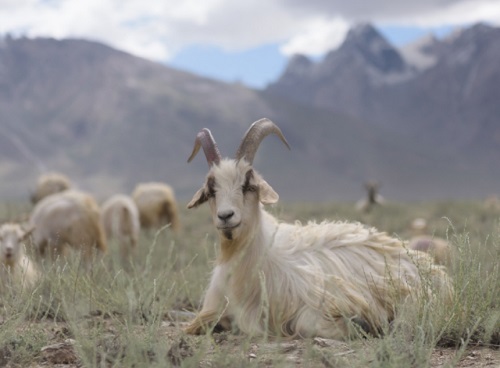 But not all cashmere is equal. There are actually three grades. Lower grade cashmere is usually a shorter, stiffer fiber that comes in around 30 microns wide. The best quality cashmere, Grade A, is sourced from the undercoats of the most prized goats with the finest hairs, usually those from the famed Kashmir region of northern India and Inner Mongolia. Those fibers are longer (35mm or 1.5″), thinner (14 to 16 microns) and more flexible, but keep all the great insulating qualities.
Since the standards for Grade A cashmere are so high and it's so difficult and labor intensive to harvest, it's rarer and more expensive. But those are the only fibers the world's best cashmere houses use for their yarns and products. Which brings us to Todd & Duncan.
A little about Todd & Duncan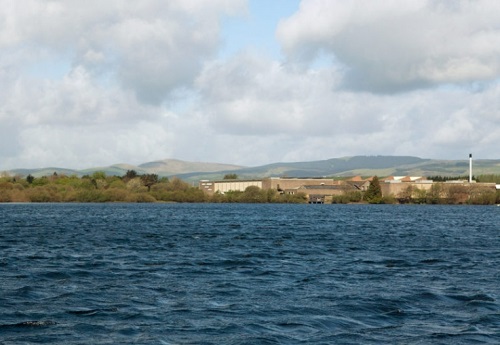 Ask any industry expert to name the makers of the best cashmere yarn, and the name Todd & Duncan will undoubtedly be one that's quickly shared. Founded in 1867, their mill is now based in Kinross, Scotland on the shores of Loch Leven. It's here where they triple check the finest Grade A raw cashmere fibers they can find, and then wash the best of the best in soft water drawn from the lake, a practice they say gives their yarn its superior feel and color retention.
Because Todd & Duncan dye their cashmere fibers before they're spun into yarn, they have precise control over the colors they produce. From dark, rich melanges and marls to vibrant primary reds, blues and yellows, the broad selection and consistency allows the companies that use Todd & Duncan yarns to create knitwear that has both quality and character.
So is top quality cashmere worth the money?
From both ethical and practical perspectives, the answer is "yes". I won't go into the ethical reasons here. But if you would like to learn more about those, this article from Die, Workwear! provides an excellent overview. As for the practical reasons, it really comes down to this: high quality cashmere is worth the initial high investment because it will look better and last significantly longer (like, decades longer) than cheap cashmere.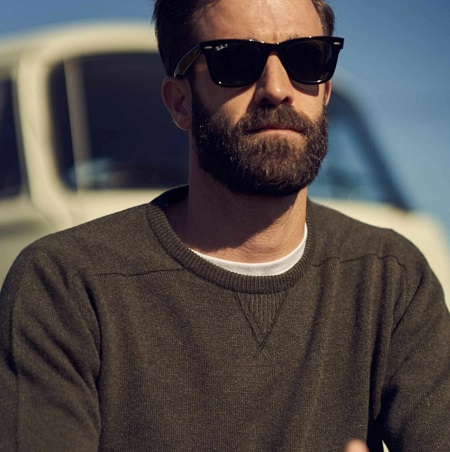 Because the yarn used in cheap cashmere knitwear is made with those short, stiff fibers we discussed earlier, you're more likely to get pilling and wear spots more quickly. But high quality cashmere yarn, made with those long, thin fibers with lots of elasticity, produces knitwear that is more resistant to pilling, wear and stretching. With proper care, your best cashmere knitwear will look, feel and wear like it's new for years.
And now back to Billie Todd …
So why are the pieces in Billie Todd's carefully curated collection expensive (relatively speaking)? One of the main reasons is the fact that they only use the best cashmere yarn from Todd & Duncan. But it doesn't end there. They also produce their knitwear (including this beanie we're reviewing) in Hawick, Scotland, working with partners that have over 50 years of experience crafting high quality cashmere garments. So from design to sourcing to manufacturing, Billie Todd has committed itself to creating hierloom-level sweaters, scarves and hats that can meet the highest standards.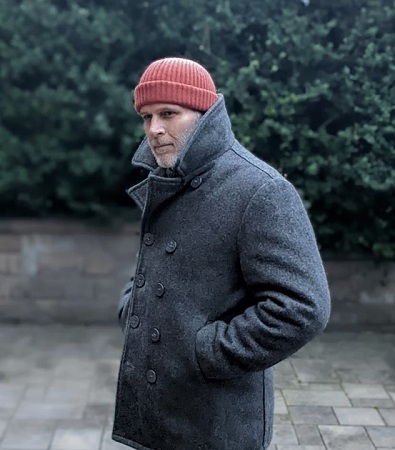 And that's why the George Beanie costs $150. Now on with our review!
The Details
Now that we've done a deep dive into the cashmere, let's talk about the George Beanie itself. Billie Todd has used an 8-ply 100% cashmere yarn and a tight 12 gauge knit to produce a cap with a medium ribbed texure. As simple as that sounds, it's really a versatile design: fine enough to pair with more formal wool overcoats, but still rugged enough to work with heavier, coarser fabrics like denim and canvas.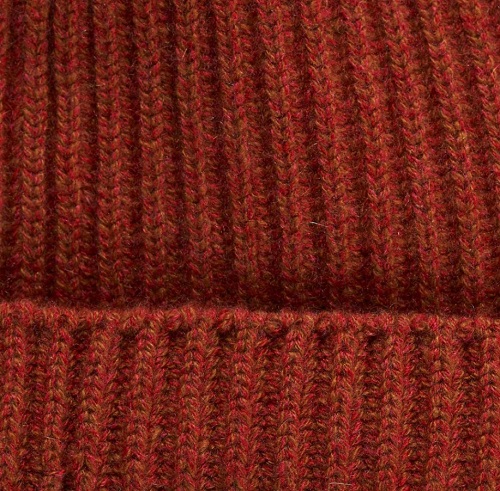 The construction is also beautiful. Each stitch is clean and even. And the four short seams radiating out from the crown are so neatly finished that you could wear the cap inside out and it would still look great!
One of the main things I appreciate about the George Beanie's design is how long the cap is. Measuring 11″ from top to bottom, the extra length gives you plenty of different ways to style it. Single fold, double fold or no fold at all, they all work. And those variations can affect how formal or casual you want the cap to look. Again, it's a deceptively simple design. But after a few wears, you'll be able to tell that some serious thought has gone into it.
The Fabric and Color
What would you expect from the highest quality cashmere? Is it super soft? Absolutely! And it comes as close to being completely itch-free as any knit cap I've ever worn (including some very good quality ones from other well known brands). The fabric also has a great hand. The knit feels almost bouncy or spongy and hugs your head without feeling tight or restrictive. Even though the yarn is 100% cashmere, the cap also has some natural stretch thanks to the elasticity of the fibers and the style of knit. With a 23″ circumference at the bottom, the George should fit most head sizes very comfortably.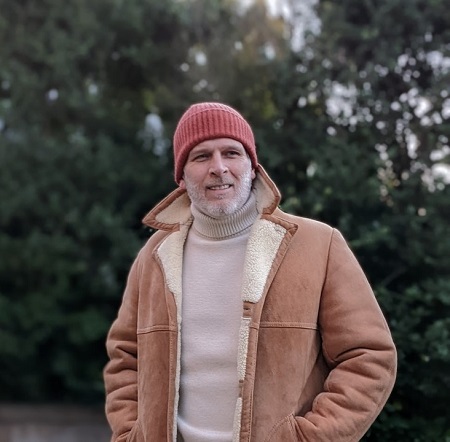 So about the color I chose. First, in case red ain't your thing, the George Beanie is available in 3 other slightly more conservative colors: a light grey they call Flannel, a deep black, and a great shade of olive green. And they all look awesome.

But I already own a fair number of heather grey and dark navy knit caps. Which is why I decided to mix things up a little and go with Billie Todd's Red Burns. It was a chance to try something different. And I'm very happy I took it! This isn't an ultra-bright fire engine crimson or shocking blaze orange. In hand, it's a very rich shade of medium red highlighted with flecks of orange and gold that add depth and complexity to the yarn. Apologies for sounding overly poetic, but it's like Billie Todd has somehow managed to capture the colors of fall leaves at their peak and knit them into a cap. That's honestly the best way I can describe it.
What would I change?
In case you're thinking this whole review is just going to be a George Beanie lovefest, there's actually one element of the design I have mixed feelings about: the gold square. Billie Todd integrates the square into all their knitwear as a sort of logo. And on their sweaters, where it's placed at the hem, I think it works. But on the cap, a 1.5″ by 1.5″ block of gold looks pretty big and definitely stands out.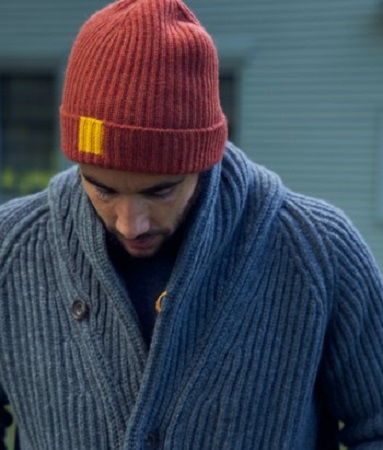 It's not like this is a major issue. When I wore the cap with just one fold, I simply kept the gold square to the back and forgot about it. When I used two folds it was completely hidden. The irony is that I really like the idea of the gold square and what it stands for. So my suggestion to Billie Todd is this: on future versions of the George Beanie, make your symbol a half-inch gold square and position it on the "side" of the cap. It will still be noticeable since it contrasts so boldly with the main fabric color. But it won't be as distracting.
Final Thoughts about the George Beanie
Let's wrap up our review with a little straight talk. We can discuss the amazing softness of the yarn, the quality of the construction and the ultimate practicality of investing in knitwear that's been crafted with thought and care. But at the end of the day, it's still a $150 knit cap. That's a lot of money. And I'm not going to pretend I can convince you it's worth it based on the technical merits and logic alone.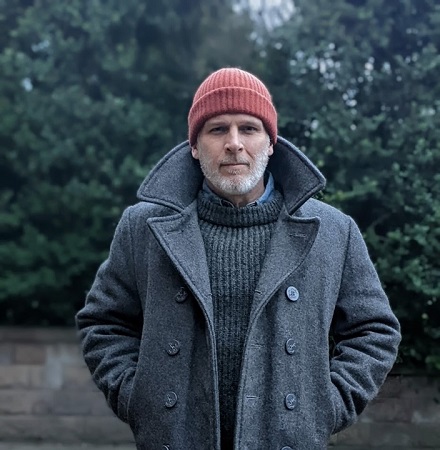 But this isn't about wanting a cashmere knit cap because it'll keep your head warm. It's about feeling like you deserve a cashmere knit cap because you've earned it. It's a treat, a luxurious reward for all your hard work. And the George Beanie is truly luxurious. When you bring to together best-in-class materials, the heritage of Scottish craftsmanship and a philosophy focused on creating the finest knitwear you can, you're bound to end up with something really special. The fact that you're going to feel great wearing it for years to come is what really makes it worth the investment.
The George 8 Ply Cashmere Beanie is available on the Billie Todd website. Billie Todd provided the author with a sample of the Beanie at no charge for this review. If you're interested in learning more about the coats used in this article, check out our post on shearling jackets here and our post on peacoats here.