Pierce Brosnan Style: Late Night with Seth Meyers
Back on October 12th, Pierce Brosnan made an appearance on Late Night with Seth Meyers to promote his latest film, Black Adam. He dressed in what first appears to be a simple combo of a black long sleeve shirt, black t-shirt, black jeans and brown suede boots. However, when we take a closer look at Brosnan's outfit, we quickly realize two things. First, as always, the devil is in the details. And second, when done right, casual monochrome style can work for men of any age.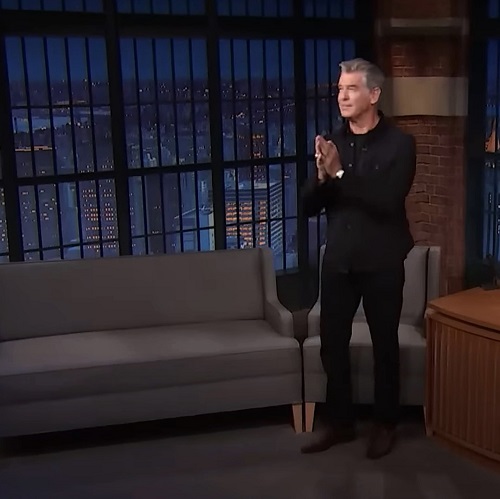 Brosnan's look that night was a great example of the power of elevated basics. Going full-on "Man in Black" isn't exactly a complicated exercise in dressing. But when we select the individual pieces carefully, we can really take the look to the next level. So today we're going to discuss the components of Brosnan's style and why they work.
Pierce Brosnan Style on Late Night with Seth Meyers
The Suede Shirt Jacket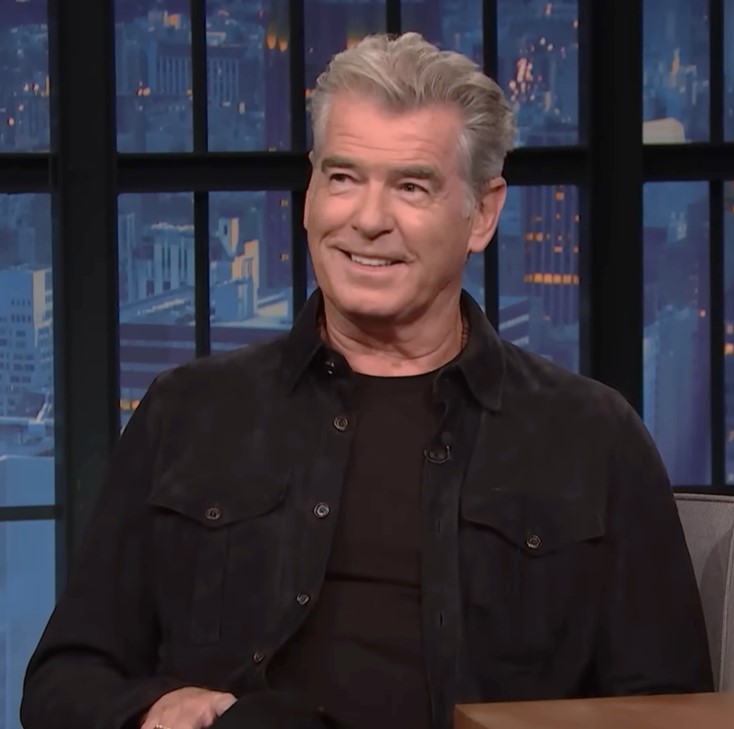 Of course we have to start with the star of Brosnan's look, that amazing suede overshirt. I believe it's the Ralph Lauren Purple Label Barron Suede Shirt Jacket, which originally retailed for around $2500.00. There are few tell-tale details that help us identify the piece. But it's the branding on the buttons that really gives it away.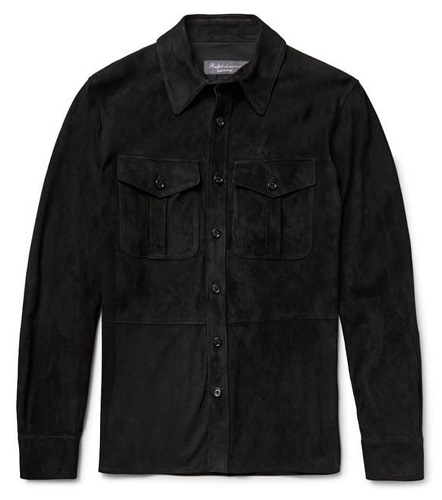 Unfortunately, the Barron model is now sold out. However, Ralph Lauren does make two very similar designs for his Purple Label line. First is the Otis Suede Shirt Jacket in Black ($2495.00). The main difference with this one the 3-point flap design on the chest pockets, which gives it a bit more of Western feel. The second option is the Suede Overshirt (also $2495.00). The details on this one are nearly identical to the shirt Brosnan is wearing. But it currently only comes in Navy or Dark Grey.
In truth, Brosnan's monochrome look would work just fine with another style of black shirt in a heavier fabric, something like a moleskin or wool CPO. But the combintation of the suede's soft yet rugged texture with the shirt's utilitarian design gives it a real "luxury workwear" feel. It's a great choice for both a successful older gentleman having some fun with his personal style and a younger guy who wants to stay casual yet still look put together.
The Shoes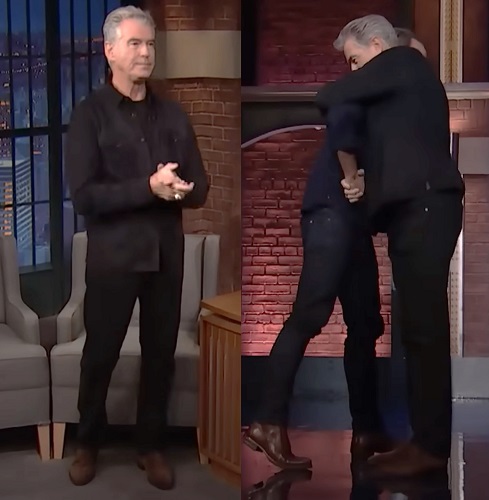 I have to admit,  Brosnan's shoes threw me a little at first. I just assumed they were dark brown suede Chelsea boots. And honestly, I was kind of relieved that finding good alternatives might actually be a relatively easy process for once. But then he sat down and I got a better look at his footwear …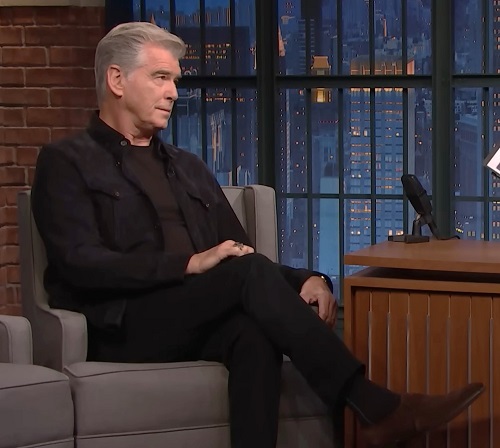 Turns out, Brosnan is wearing a pair of plain toe slip-on shoes in a dark brown suede. There's a fun Bond connection to this footwear style (although I doubt Brosnan wore them for this reason). In Fleming's novels, 007 was a fan of wearing slip-on shoes with his suits. And on film, Sean Connery wore a similar design in black leather in Thunderball and You Only Live Twice while Lazenby sported a pair with his wedding attire in On Her Majesty's Secret Service. Matt Spaiser does great work exploring this particular style on his website Bond Suits.
As for Brosnan's shoes, the John Lobb Edward in suede ($2090.00) and the George Cleverley Hugo in Dark Brown Suede (£450.00) both come close. But personally, I believe he's wearing the Edward Green Ewhurst in Expresso Suede (£1050.00). To my eye, the color and details just seem to line up.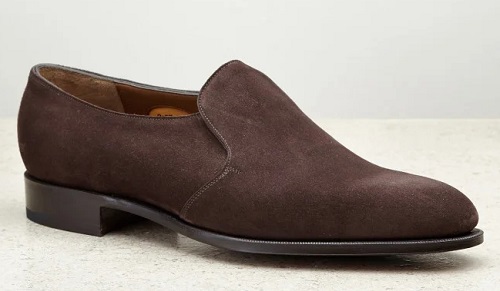 Needless to say, this isn't exactly a common shoe style today. So digging up affordable options was a bit of a challenge (although I did find a couple). And, to be honest, I think a good pair of suede Chelseas would still do the trick just fine and would probably be a more versatile choice for most of us.
The Accessories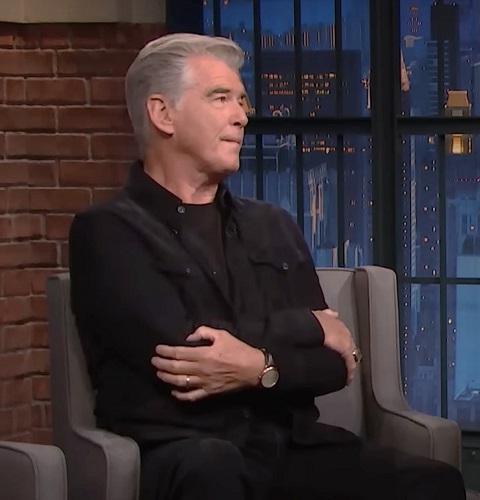 When it comes to the accessories, Bronson sticks with the minimalist theme of the rest of his look. The flashiest piece is that heavy gold signet ring on his right hand. But other than that, he keeps things simple: his plain gold wedding band and that beautiful Blancpain Villeret watch. Both are personal items and (interesting fact) he wore both as his character Dr. Fate in Black Adam in honor of his wife Keely.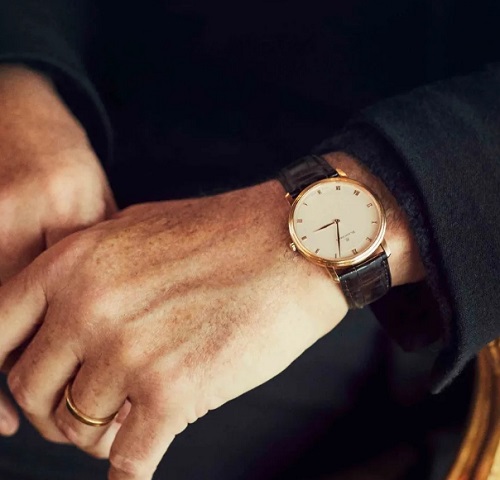 As with the overshirt and the shoes, Brosnan's choice of watch plays a part in elevating the overall look. Many of us might be tempted to go with something like a field watch, chronograph or diver to match the rugged vibe of the clothing. But the clean design of the Blancpain adds another touch of elegance that perfectly suits an elder statesman like Brosnan.
Our Take on Pierce Brosnan Style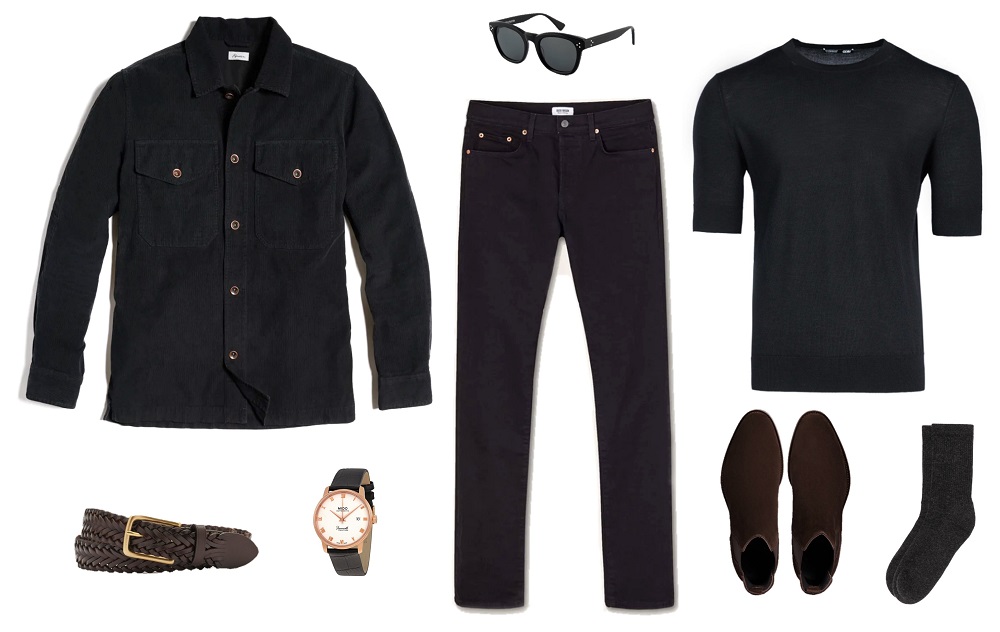 Options
Notes:
You'll probably notice right away that I made two key changes from Brosnan's look, mainly for the sake of our wallets. First, I went with a corduroy overshirt rather than suede. Simply put, good quality suede is expensive. And while corduroy isn't nearly as luxurious as high quality leather, in a finer wale it does have some sheen and a softer texture. Those characteristics will add some visual interest and help balance out the rugged workwear style of the shirt. I also went with some dressier Chelsea boots instead of the slip-ons Brosnan wears. As I mentioned above, I don't think this choice really takes anything away from the overall look. And most of us will probably find boots more useful in our day-to-day wardrobes. But I've still added some slip-on alternatives below just in case anyone wants a pair.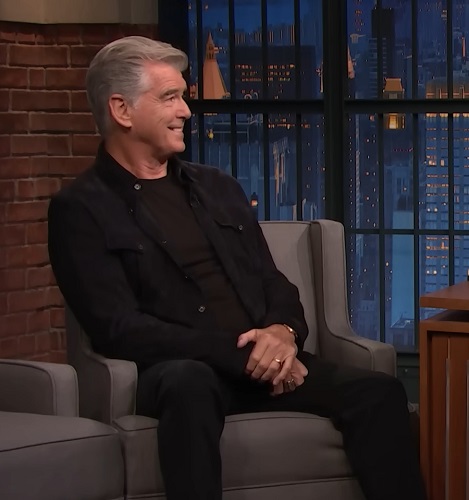 As for the rest of the items, jeans and a t-shirt are about as basic as it gets. For the jeans, all I can say is find a pair that fit you well. Brosnan's aren't skinny. But they're hardly baggy "dad" jeans either. A classic straight fit with a bit of a break is always a safe bet. And if you were still looking for an excuse to invest in a high quality t-shirt, here's your chance. I went with one that definitely leans dressier. If that option just ain't your thing, a good heavyweight tee like this one from Taylor Stitch or this one from Buck Mason will also work great with this look.
The last thing I'd like to point out is how important attitude is to our personal style. If I'm being honest, Brosnan's black-on-black-on-black fit is almost too cool for me to wear. "Trying to be edgy and failing" is not a vibe any of us wants to put out there. Brosnan, on the other hand, pulls off the look with ease. And it all comes down to his attitude.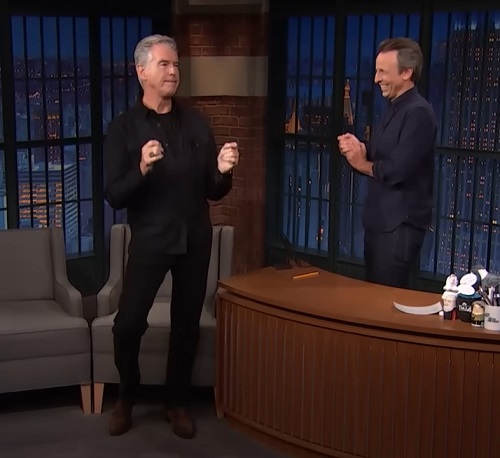 The man is gracious, self-depracating, humble, funny and, yes, a little goofy (check out his dance moves!). But all that comes from a place of quiet confidence earned through experience. Brosnan is clearly comfortable in his own skin and isn't trying to be anything other than himself. In other words, he's a perfect example of the charming modern gentleman. And it's that presence that really elevates this all black look and gives it its air of elegance. A great reminder to always make sure that you're wearing the clothes and the clothes aren't wearing you.
Check out Pierce Brosnan on Late Night with Seth Meyers
Other Options to Try
The Overshirt
The Shoes
The Watch
Have some ideas for alternatives you'd use to capture some Pierce Brosnan style? Let us know about them in the comments. And please share suggestions for another modern style icon look you think we should tackle. Also remember you can find more style inspiration on Iconic Alternatives' Facebook Page, our Instagram Account and Pinterest Boards!