Daniel Craig Style: The Vodafone Commercial 2017
With the holiday season fast approaching, I decided to focus this Modern Style Icon post on a look that's all about relaxing at home. And the comfortable combination of cardigan, sweater and jeans that Daniel Craig wore for the 2017 Vodafone commerical was a great example of how to kick back on the couch without letting your style slip too much.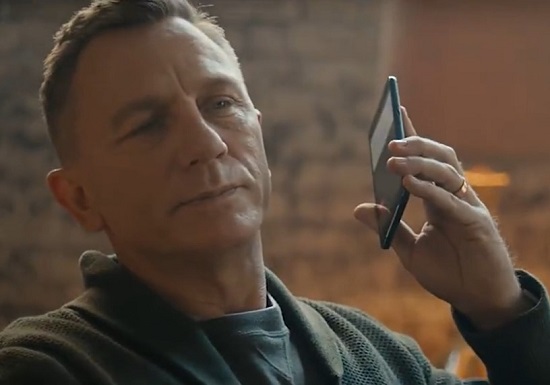 Thanks to some great detective work by Instagram accounts What's Daniel Wearing and LegallyBond, we know that Craig's cardigan was the Rag & Bone Standard Issue 'Avery' model in Army Green (which is now long gone). And his sweater was the Brunello Cucinelli Contrast Tipped Cotton Sweater, also in Army Green (and also lost to the sands of time).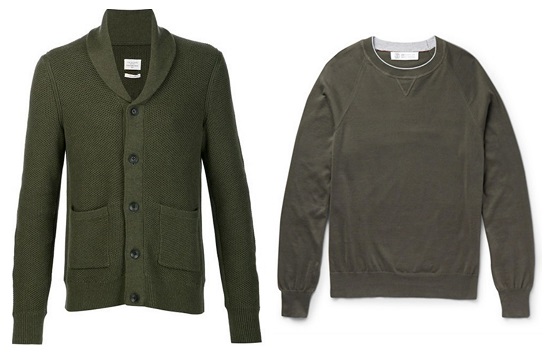 You can read more about the knitwear and get a summary of the plot of the commercial over at James Bond Lifestyle.
Daniel Craig's Vodafone Commercial Style
There are a few of things I really like about Daniel Craig's look in this campaign. First, it's simple and extremely casual, but still looks put together. That's thanks to the pairing of the cardigan and the sweater in similar (but not too matchy-matchy) shades of olive green and the unfaded medium-dark rinse jeans. It looks like some thought was put into the fit. But no one overthought it.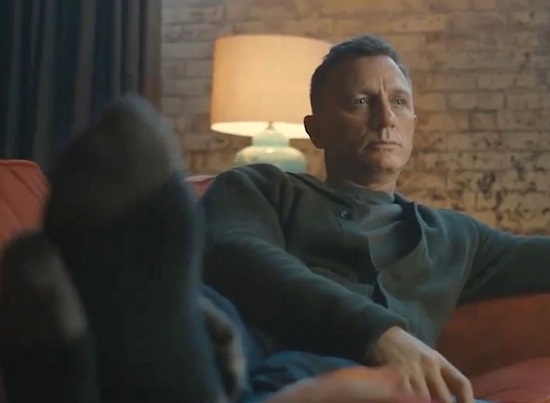 The second thing is the fact that this is a combination that can work with all sorts of colors. Not a fan of olive green? Try it with a blue cardigan (inspired by Steve McQueen for example) and medium blue sweater. You could also try a dark grey cardigan and a lighter grey sweater. Or a black cardigan (hello Quantum of Solace knitwear!) and a charcoal sweater. Or a … you get the idea. The trick is making sure the colors of the cardigan and the sweater compliment each other but still offer some contrast.
Daniel Craig Style for Vodafone: Alternatives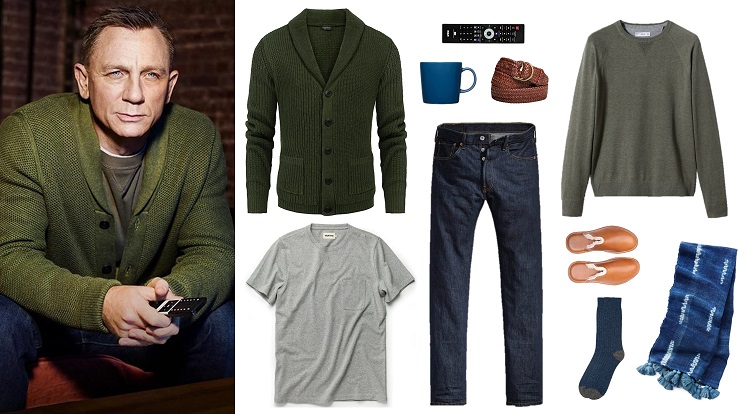 Options
Notes
This is such a simple look, there's not really much to discuss. Except how difficult it is to find a cardigan with the same birdseye knit pattern as the Rag & Bone Avery. Most of our other alternatives below are a shaker or ribbed stitch (like the Coofandy I used in the flatlay above). However there is one option that comes very close to what we want in both color and knit pattern: the Liverpool Los Angeles Birdseye Stitch Shawl Collar Cardigan in Dark Olive for $119.00.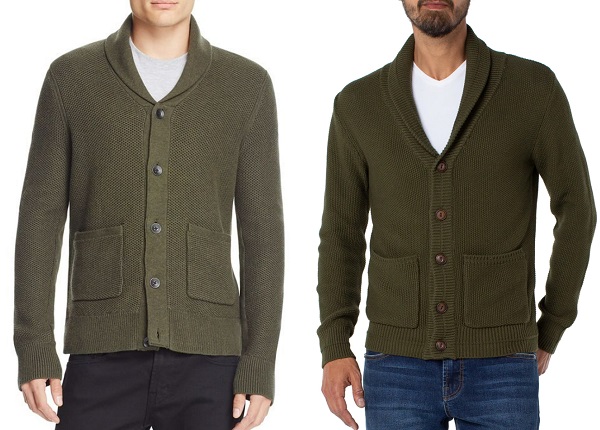 Although the color of the Liverpool Cardigan is a shade or two darker than Craig's Rag & Bone and has some extra knit details around the collar and placket, it still delivers the style we're looking for. And in the second Vodafone  commerical that Craig filmed (yep, there's another one; see below!), the lighting is different and the cardigan appears quite a bit darker.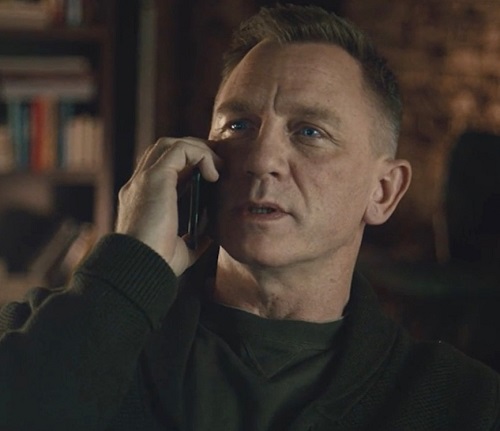 The Other Stuff
Other than that, the "affordable alternatives" outfit is pretty staightforward. The original Brunello Cucinelli sweater had tipping around the collar. I couldn't find any options with that detail in the right color. But I do think the Mango sweater I did use really nails the style. Wearing a light grey t-shirt underneath adds a band of contrasting color around the neck.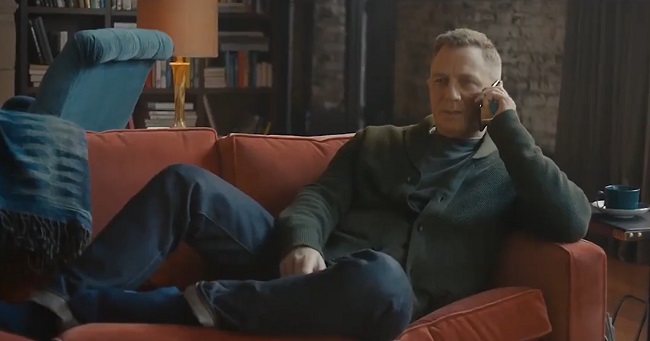 As for the little extras I included, the blanket and cup are inspired by the ones in the commercial. I also added some nice slippers because you'll have to leave the couch at some point; we're not barbarians who walk around our homes in blue socks all day! And although we don't see Craig wearing a belt in the commerical, I'll never pass up an opportunity to share a good alternative for his favorite R.M. Williams plaited leather belt.
If you'd like to see Craig chilling out in his cardigan, sweater and jeans fit, here are the two Vodafone commericals. The first is sourced from the James Bond Television Facebook page.
And the second commerical was sourced from Sarah Lynn on Vimeo.
Cardigan Options
Crewneck Sweater Options
Have some ideas for alternatives you'd use for Daniel Craig style from the Vodafone commercials? Let us know about them in the comments. And please share suggestions for another modern style icon look you think we should tackle. Also remember you can find more style inspiration on Iconic Alternatives' Facebook Page, our Instagram Account and Pinterest Boards!
Iconic Alternatives uses affiliate links to generate revenue. If you choose to purchase a product after clicking a link, I may receive a commission from the merchant at no extra cost to you. You can learn more about our use of affiliate links here.