The James Bond SPECTRE Knit Tie
We've mentioned before how 007's outfit in Morocco quickly became a fan favorite. And the James Bond SPECTRE knit tie was definitely a key part of that look. He wore it with his Brunello Cucinelli linen jacket, chinos and belt and the J.Crew Kenton boots. Check out The Suits of James Bond for more information on the complete outfit (including some sartorial suggestions on the length of the tie). Or you can check out AJB007 member Skippy's purchase of the original Tom Ford tie on this thread.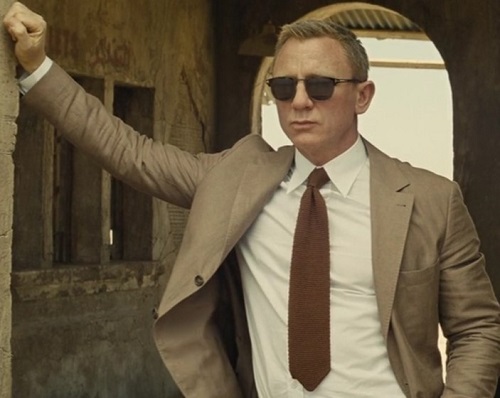 AJB007 member  Skippy has (very nicely!) set me straight on some details concerning the original. The front of the 3″ screen used version was actually the rust brown color and the back was the dark brown. For filming it appears they removed the Tom Ford branded keeper loop/tag. It retailed for $220.00. Skippy also shared some photos:
Thanks again for the help!
Features wanted for the Tom Ford SPECTRE Morocco Knit Tie  
100% silk knit tie with pointed end
Rust color (reddish-orange brown)
3″ at the widest point
Before we start, I just want to say that we're going to cheat a little to keep options under the target price. Silk knit ties with the pointed end in a suitable color are not exactly common, so I've included options in grenadine silk (and a few other styles). While not exactly knit, at least grenadine offers more texture than a regular silk tie. And it is a classic Bond tie material (see Connery). As for the color, I've played a little "fast and loose" with "rust" to provide more alternatives.
The Replica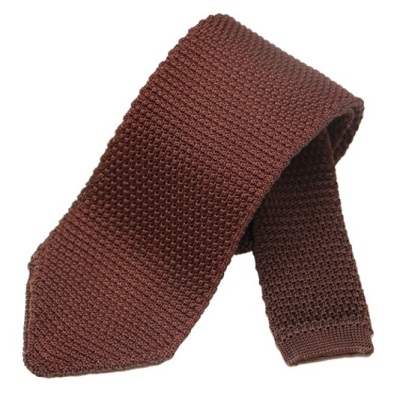 First released back in September 2019, this replica from Magnoli Clothier's is about as close as you're going to get to screen accurate unless you can find an original Tom Ford. Made from 100% knitted silk, it's features a 3″ tip and the lighter "rust" front and darker brown back color combination. And $60 is a pretty fair asking price. Not many reviews up about it. But if it's anything like Indy's other pieces, you can expect the quality to be pretty solid for the money.
Best Option for the James Bond SPECTRE Knit Tie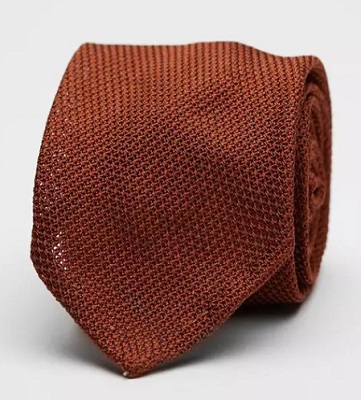 If I didn't already have my SPECTRE tie alternative, this is the one I'd grab. It's a 100% silk grenadine rather than a knit. But they've left the blade untipped to keep it light and really show off the weave (the fact that you can see through it is a positive in this case). It's also a decent 7cm (2.75″) wide. For me that's still a little on the thin side, but it should work with most jacket lapels. We get lots of texture, a classic design, a great color match and a very reasonable price for an untipped gren tie. That easily makes it the Best Option this season.
Under $50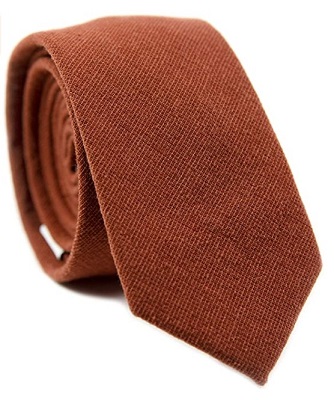 In the last year or so, a ton of cheap, pointed-tip knitted ties have flooded Amazon. Most of those are made from polyester and tend to come in brighter hues of burgundy, red or orange. In other words, they're not something that Bond would wear. But this one from Dazi stood out for me. As you can clearly see, it's not a knit or even a faux-gren. Instead they've used 100% cotton in a more textured weave. Also note that at 2.5″ wide at the blade, it's on the thinner side. That may not make it an exact match for the SPECTRE tie. But the "Rust" color definitely looks like it would work to help us get the look we want. And the $28 price tag is also a plus!
This alternative from Tie Bar has a lot of the features we want. It's a knit silk with a pointed tip and the blade is a "thin but not too skinny" 2.5″. And the price is a very reasonable twenty-five bucks. But that brown color keeps it from the top spot this season. If there was even a hint more red to the tone it would've been a great "Best Option". However, if you prefer something in a more muted color, I still think it would be worth a shot.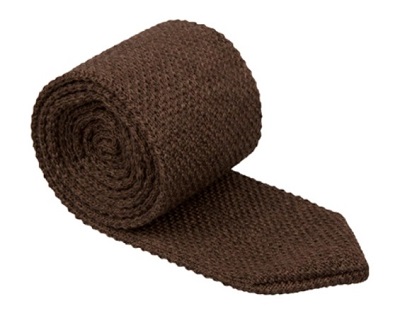 Similar to the Tie Bar option above, but with some notable differences. First, the blade measures 8cm (3 and 1/8 inches), which comes closer to the width of the SPECTRE tie. Second, Tieroom has used 100% wool and a unique moss knit to give the tie it's distinctive texture. The color may not be ideal. But I still think this would look really sharp as part of the Morocco outfit. And if you prefer your ties on the thinner side, they also make the Hamstra in a skinny 6cm version for the same price.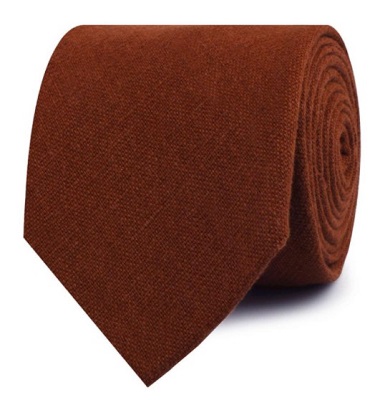 This alternative is more like the Dazi option above. But Otaa has used a 100% linen in a more textured weave. Again, not screen accurate. But the slightly brighter color will add a bit of pop to your Morocco outfit. And the 3.3″ wide blade should work well for you bigger guys.
Under $100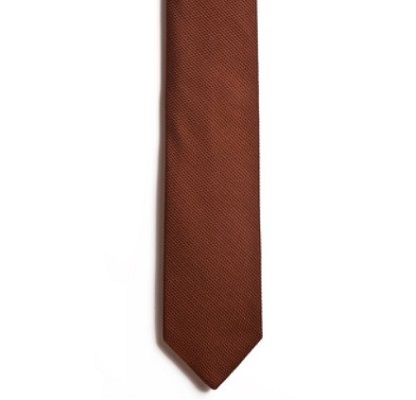 A nice grenadine alternative from respected neckwear maker Chipp. Aside from the texture, the best thing about the tie is the the color, which comes extremely close to Tom Ford. The tie is handmade in New York City from Italian silk. Thanks to AJB007 forum member Obi Sean Kenobi for suggesting this one!
The Investment Piece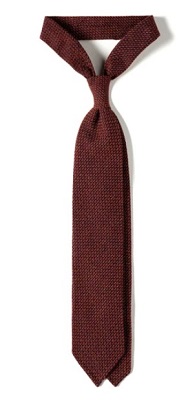 It's a jump up in price. But I'm really liking this tie. Brunati has used a 3-fold construction and minimal interlining. These give the tie a bit of weight and (in my experience) help create a nice knot and dimple. But they've left it untipped with hand rolled edges, so it's not going to hang lifeless from your collar. Then there's the weave. When you look at the close-up of the fabric on the product page, you'll see they've used an orange yarn with small flecks of yellow mixed with a navy blue yarn. That combination gives the tie a subtle depth that really emphasizes the texture of the gren while still coming close to a "screen accurate" color. Grenadine is already an interesting fabric. I think the small details Brunati has used really play to it's strengths. And the overall effect makes it look like something special.
As always, we'll be adding more options for the James Bond SPECTRE knit tie as they turn up. And you can always share your alternatives in the comments below. Also remember to check out our Facebook page, Instagram account and Pinterest Boards for more James Bond style advice, inspiration and info on where to find the latest deals!