Best Budget Style Finds April 17th
Welcome to our Best Budget Style Finds for April 17th! This is where we share some of the great alternatives for Bond (or Craig or McQueen) style that either slipped through the cracks when I was writing the original dedicated posts or deserve a special mention. Sometimes the posts will be short. Sometimes there'll be a ton of new options. A lot will depend on what we, as a community, find and share. So if you have any suggestions, let us know in the comments. On to the alternatives!
More McQueen Spring Style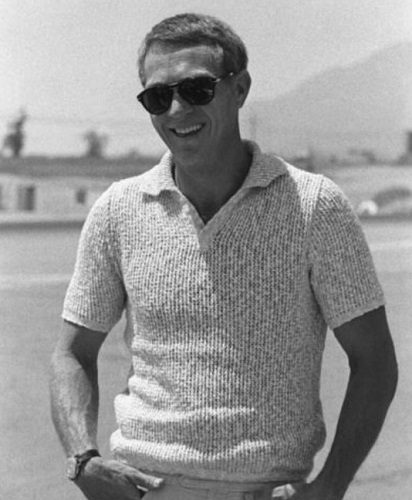 As I mentioned in last month's Steve McQueen Spring Style post, I got a little obsessed with finding an alternative for this polo. Can't say why exactly. It just has a very cool vibe that's retro and contemporary at the same time. And it would work with almost everything, from faded jeans to linen trousers to a pair of Thunderball style swim shorts. Well, another option has turned up. And it looks like a good one!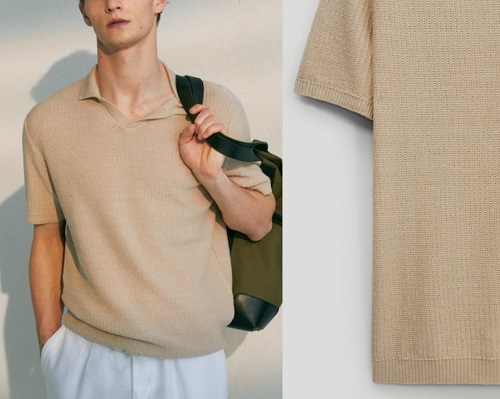 We get the sweater style hem, the Johnny collar with the wide ribbing, and a color that will good on most of us. But most importantly, we get an airy 100% cotton knit with a great nubby texture. And it's made in Italy. I've a feeling this one has been a hit for Massimo Dutti. They're down to sizes medium, large and XL at the time of posting. If you want one, I'd act fast!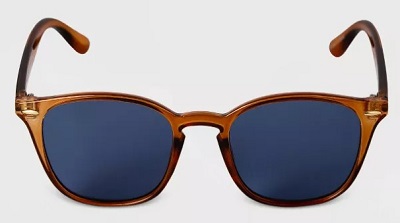 The folding Persol PO 0714s with the blue lenses are still on sale for $200.24 at Overstock. They've gone up a bit in price since March, but that's still a heck of a good deal. However, if that's still overbudget for you, these sunglasses from Target house brand Goodfellow and Co have a similar look and the price won't blow a hole in your wallet. Since I'm a big believer in investing to protect your eyes, I'm not a fan of cheap lenses. So, for me, these are more of a style accessory than serious UV blockers. But they could look cool if you just need a pair of shades for some outdoor drinks with friends. Hats off to Dappered.com for sharing these first.
Something new from No Time To Die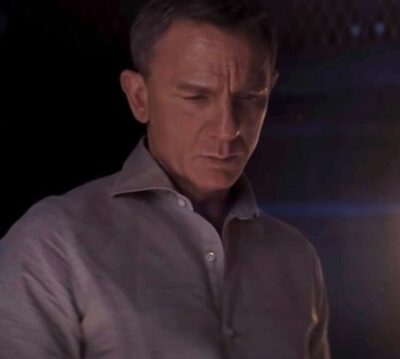 This cotton-linen shirt may be one of my favorite pieces from the new film. Created through a collaboration between Connolly in England (the makers of Bond's blue Matera jacket) and Finamore in Italy, it's a great summer color and features an unstructured cutaway collar that sets it apart from so many other linen shirts out there. Check out this video review from The Bond Experience to learn more about the screen used shirt.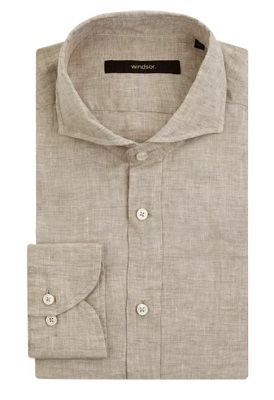 A great alternative recommended by Oliver, one of our readers. This one is a 100% linen shirting, rather than the 70% cotton, 30% linen blend of the Connolly-Finamore. So the fabric has more of slubby textured look. But the color is an excellent match. And that cutaway collar really nails the style. At €120, it ain't cheap. But since the second run of the Connolly-Finamore shirt was limited to 50 units at a price of £295.00, the Windsor shirt actually starts looking like a pretty good deal! And Peek & Cloppenburg is also offering an additional 20% discount off that sale price at the time of posting. We'll have more alternatives for the No Time To Die shirt in our upcoming look at Bond's summer shirts.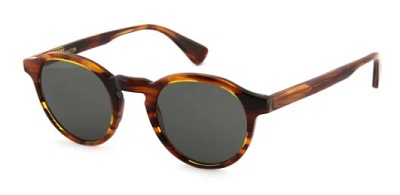 When it comes to alternatives for Bond's Barton Perreira Nortons, I'm really liking this suggestion from AJB007 forum member James Boldman. They're from the Curry & Paxton line revived by the great Mason & Sons. And unlike the Target sunglasses above, these are serious eyewear. In terms of style details, I wouldn't say they're the best match for the Nortons. But they have a lot of the same character. And it's always nice to buy from a company that loves Bond as much as we do!
A Little Something for the Home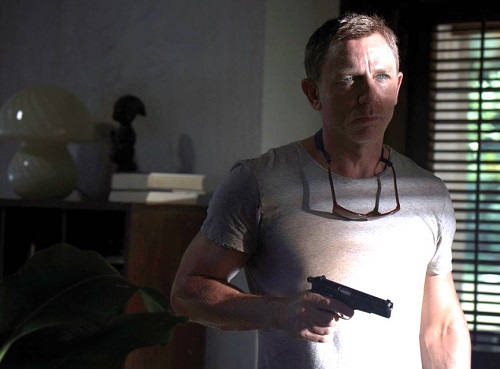 After I posted about James Bond's Jamaica House, Instagrammer @legallybond DM'd me about something I'd missed: that glass mushroom shaped lamp standing on the dresser on the left side of the photo above. Turns out it's a vintage 1970s Vetri Murano piece and it's kind of a famous design. You can still find an original out there for anywhere between $350 and $700 depending on the condition (and sometimes less if you hunt around). But there is a great alternative if you're on a budget.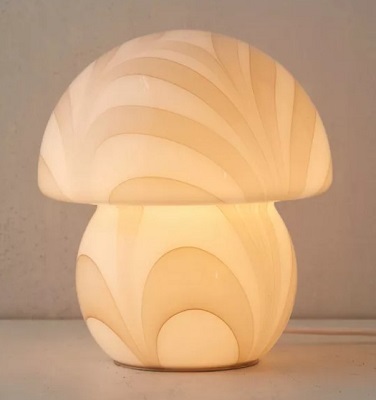 I read about this lamp from Urban Outfitters in an article on the website WhoWhatWear. And, as author Erin Fitzpatrick notes, it's a great match for the Vetri Murano lamp. I'm not saying every guy should be using a piece of mushroom shaped glass to light up his home. But it's something fun to have around, a humorous nod to your love of Bond style.
Speaking of Warm Weather Style …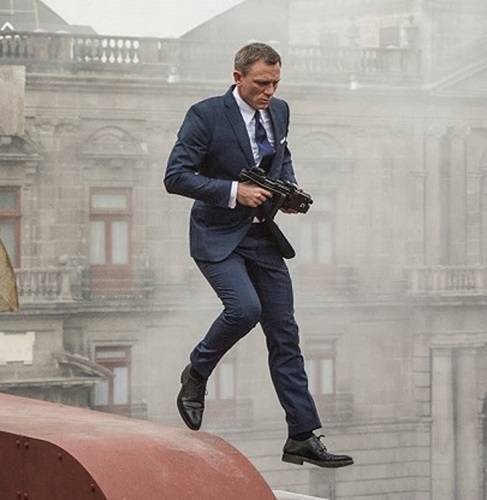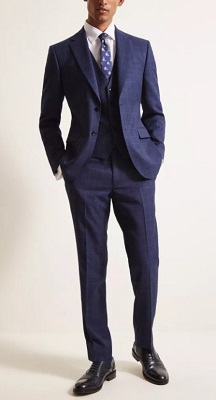 This alternative for Bond's SPECTRE Mexico City suit was suggested by Harry Lewis in the comments for our last Best Budget Style Finds post. And it's a pretty nice find! One thing to note right away is that the suiting is a 71% polyester, 29% viscose blend. But the polyester is actually re-cycled from 45 plastic bottles. Hence the name "Eco-Suit". The pattern is a Prince of Wales style check with the lighter blue overcheck, which comes very close to the look we want. But this is definitely a slim-fit. Moss Bros. recommends sizing up if you want more "movement" while you're wearing it. Luckily they have plenty of sizes left in short, regular and long lengths. And the jacket and trousers are sold as separates. So you can get the fit that's right for you.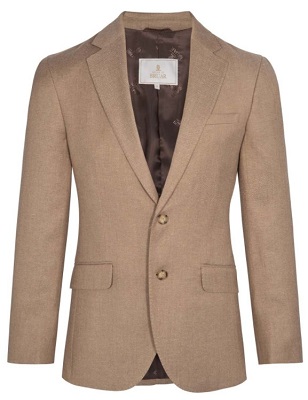 Next up, a couple of great alternatives for Bond's SPECTRE Morocco look sent to us by reader Adam. First up, this option for Bond's SPECTRE blazer. It's fully lined and a more structured jacket than what Bond wears, so it won't wear as cool on those hot, humid days ahead. The suiting itself is a 50% cotton, 25% wool, 15% silk blend with a very subtle herringbone weave. It's fairly lightweight and has some texture. And that Oatmeal color would work great combined with some lighter colored chinos. Plenty of sizes in stock on the House of Bruar website. You can find more blazer alternatives in this post.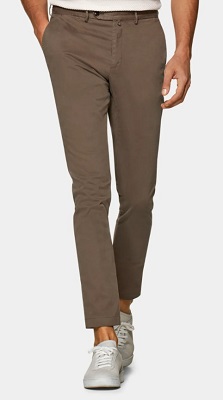 Adams also suggested these Suit Supply Chinos as alternatives for the taupe Brunello Cucinelli trousers Bond wore. And they look like a pretty good match! The color seems to be a shade or two darker than the SPECTRE chinos. But that could work well with one of the darker blazer options, like the one from Reiss or H&M. The fabric is a 98% cotton, 2% elastane blend with a decent amount of stretch. Which, knowing Suit Supply trousers, you'll probably need. They have a tendency to run slim with a low rise. Great for those of you who are taller and thinner. But many of us are going to appreciate the extra give around the seat area. Sizes 26 to 40 are available on their website. And thanks again for the suggestions, Adam! You can find more alternatives for the chinos in this post.
The SPECTRE Morocco Belt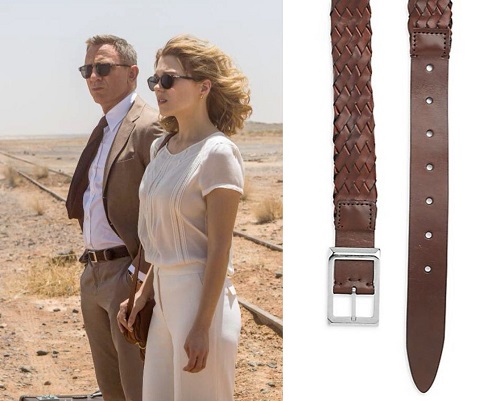 There are a couple of features about the SPECTRE belt that make finding a good alternative tricky. First is the center bar box frame buckle. In five years, I can't remember a single off-the-rack belt with that buckle style (I'll address this issue in more detail below). Second is the solid leather tongue (the part with the holes in it). Most plaited belts have the weave running right to the end. So finding a quality alternative with that feature is a bit of treat. And lucky for us, we have two this spring!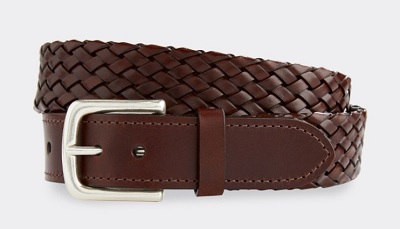 First up is this higher quality (and more expensive) alternative from preppy favorite Vineyard Vines. They've used genuine leather for the strips and tongue. So don't expect much stretch (they recommend ordering one size up from your waist size). But it'll last much longer than a cheaper bonded leather belt. They have sizes 30 to 44 in stock.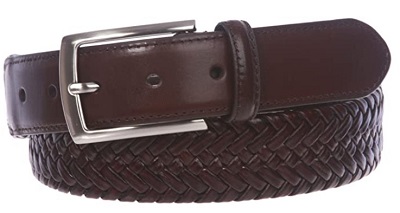 It's about a third of the price of the Vineyard Vines belt. But it's also made from bonded leather. Which means you can expect the surface leather layer to crack, peel and flake off with some wear and tear. On the plus side, it does have some stretch to it. So it'll be comfortable after a big lunch. The makers recommend ordering 2 sizes larger than your waist size (if you're a 32″ waist, order a 36″ belt). This model also comes in a tan color, which is a little lighter than the Cucinelli belt. But some of you may feel it's a better match.
And I could be wrong about this, but the BeltIsCool belt looks a lot like this $10.95 belt from a Strait City Trading. I can't promise they're exactly the same. But if you want to roll the dice and it turns out I'm right, then you could save yourself $21.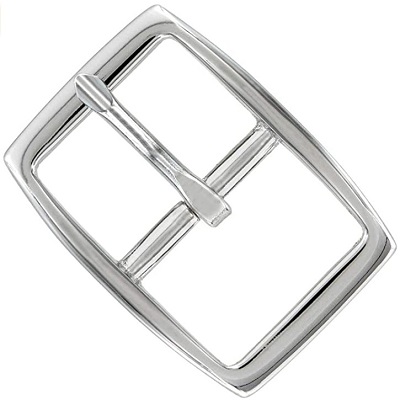 So what to do about that center bar buckle? Well, my solution was to buy a 3rd party buckle and take it to a shoe repair place to swap it in. Cost me about $15 to get the new buckle attached. It probably won't be worth doing this if you pick up one of the cheaper alternatives (the price of the buckle plus installation may end up costing more than the belt itself!). But if you go for something higher quality like the Vineyard Vines, it might be a worthwhile investment to get closer to the screen accurate look. The link for the buckle above goes to Amazon. But you can also find plenty on Ebay, like this one for $7.99.
Behold the Cream Linen Suit!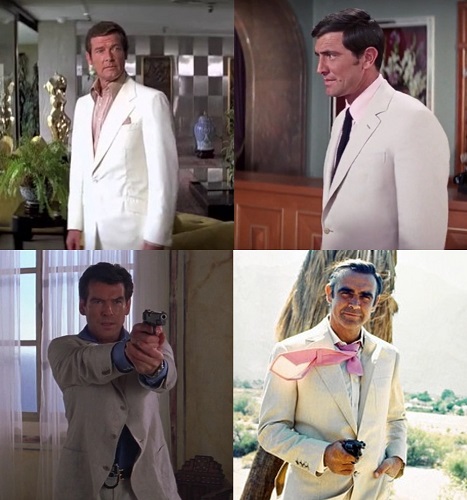 As you can clearly see from the photo collage above, an off-white or cream suit has been a been a Bond staple since On Her Majesty's Secret Service. To learn more about each of the 007 looks, check out these Bond Suits articles on Lazenby (here), Connery (here), Moore (here) and Brosnan (here). I'm the first to admit an off-white suit can be a little difficult to wear. It's a color that does tend to draw attention and if you don't feel comfortable with that, it'll feel like the suit is wearing you rather than the other way around.
But in the right context, the cream linen suit can be both stylish and practical. For more formal day events during the summer, it's really hard to beat. The light color and the airy fabric help keep you cool and comfortable. And since linen is an inherently more casual fabric than wool, the jacket and trousers are easier to wear as separates. It's not for everyone. But I definitely think it's worthy of consideration if you're looking to add something new to your warm weather wardrobe.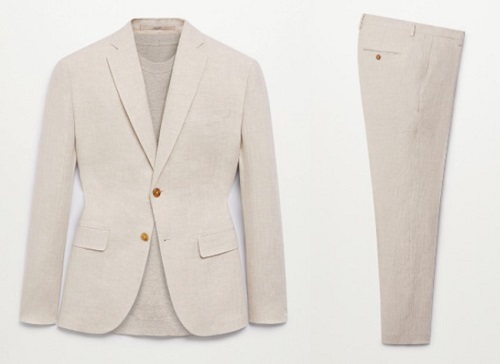 I doubt Mango's more contemporary take on the cream linen suit would be something Connery or Lazenby would wear. But it does do a nice job of bridging the gap between "traditional" and "fashionable" to create something most guys today would feel comfortable wearing. Both the jacket and the trousers are 100% linen in a more muted pale beige. I think the jacket is fully lined. And the lapels are a nice width, unlike the super skinny ones we see from so many other fashion brands. Those details, combined with the more formal flap pockets, give the jacket a more formal feel that helps balance it's trendier shorter cut and unstructured design. The trousers are flat front with a tapered but not overly slim fit. You can buy the jacket and trousers as separates so you get the best fit in both pieces. All in all, it's a suit I'd feel comfortable wearing for a summer day-time wedding.
Add a little flash at the cuff …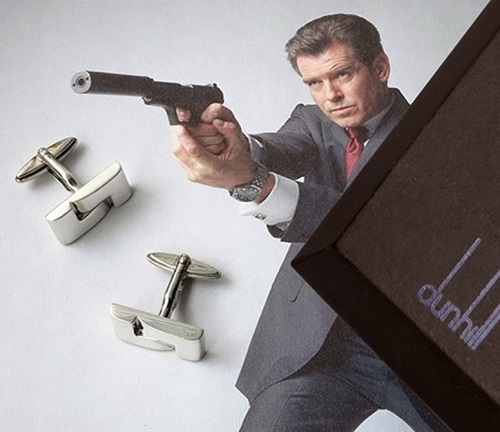 I know this will come as a MASSIVE shock to many of you. But we are quickly moving to a more casual, dressed down world. To which I say: all the more reason to wear a pair of cufflinks! And the angular, geometric ones from Dunhill that Brosnan wore in Die Another Day are as good an inspiration as any. James Bond Lifestyle has a nice write-up on them if you'd like to learn more. That's where I sourced the image above.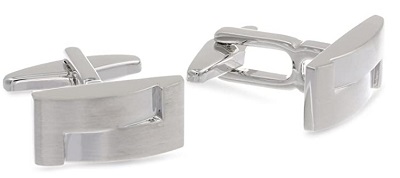 Shout out to AJB007 member Timeyswirls for finding these great affordable alternatives for the Die Another Day Dunhill cufflinks. These are a matte brushed nickel rather than the shinier polished silver of the originals. But in terms of size and design, they really nail the look. They're available on Amazon.
Next on the Reading List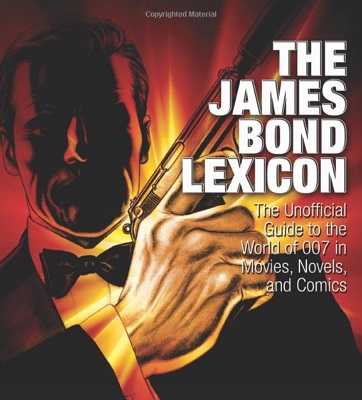 And a big CONGRATULATIONS to Alan and Gillian Porter on the publication of their book! They run the very informative James Bond Lexicon website and Instagram account. Their new book is basically a dictionary on all things Bond, with over 5,000 entries covering everything from the weapons to the women to the cars from the novels, films, comics and video games. I haven't gotten my hands on a copy yet. But so far all reports indicate it will be an invaluable resource for fans of 007!
Know of any alternatives we should feature in our next Best Budget Style Finds post? Or do you have another option for this post? Tell us about it in the comments! If you'd like to see our previous Best Budget Style Finds posts, you just need to click here. And you can always visit our Facebook page, Instagram account and Pinterest Boards for more Bond, Craig and McQueen style advice and inspiration.