4 Favorite Bond Looks with Jake Gerba
Welcome to our latest edition of 4 Favorite Bond Looks! In this series we ask one of our favorite members of the Bond community to share the outfits he or she loves most from the films. Then we try to recreate them using affordable alternatives. Are we up to the challenge? Let's find out!
Our Guest: Jake Gerba
If you asked me to define "cool" (not movie "cool", but real life "cool"), I'd direct you to Jake Gerba's Instagram account. Not only is he an incredibly talented bass player, he's also one of the nicest, most genuine people I've ever met online. He's earned his more than 42 thousand followers by mixing his love of music with sick funk riffs and an incredible sense of humor to create videos that always entertain (and often have me laughing out loud). And whether it's Bond, Steve McQueen, the Stay-Puft Marshmallow Man or Mortal Kombat's Scorpion (yes, you read that correctly), the man definitely knows his movie style!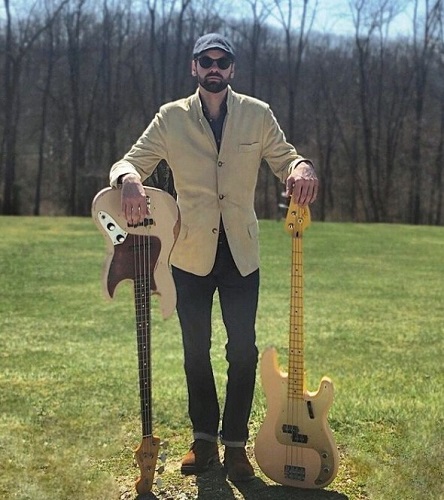 Two examples of what Jake does and how good he is at doing it. First, he jams with fellow bass enthusiast and Aquaman/Conan/Game of Thrones actor Jason Momoa. Second is this video Jake created especially for this post.
Now that Jake's given us the appropriate soundtrack, let's take a look at his 4 Favorite Bond looks!
The Quantum of Solace Bolivian Desert Look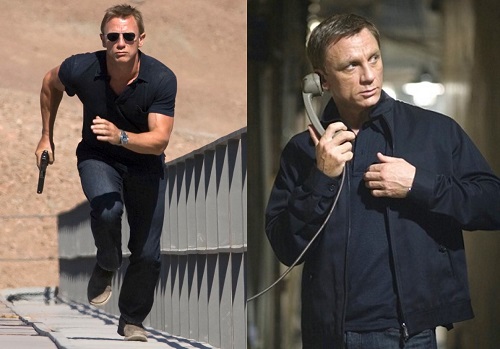 Jake's Notes:
Is a Harrington jacket the most practical thing to wear in a hot Chile desert? No, not exactly. Does it still look completely badass? You're damn right it does. This is without a doubt one of the most popular looks for Craig's Bond and rightfully so because it looks absolutely stellar in the film. It's casual, yet classy and refined. The dark midnight blue Tom Ford Harrington is based off of the famous Baracuta G4 jacket, and if there was ever one definitive casual jacket for an international spy, I'd say the Harrington would be it.
Drawing inspiration from Steve McQueen, who was photographed wearing the original Baracuta Harrington quite often, it's paired with dark denim and a pair of suede chukka boots – a timeless look that fits Craig's Bond perfectly. The Tom Ford jacket is still one of the most sought after pieces by Bond collectors, and it's definitely one of my absolute favorite looks within the entire franchise.
Create the Look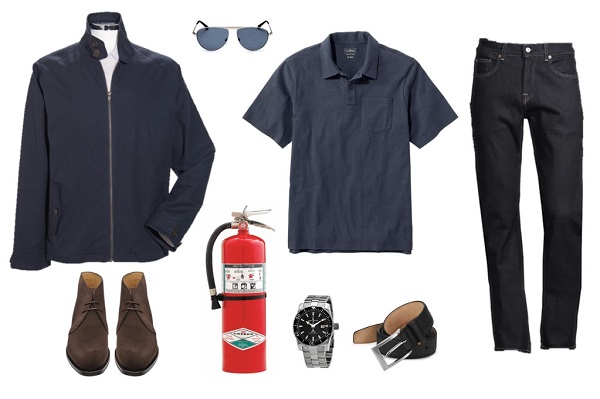 The Alternatives
John's Notes:
Ask Jake notes, this is a fan favorite look we've covered many times here on IA. Unfortunately, the Samuel Windsor Harrington is all but sold out (they're down to size small now). But we'll be updating our post on alternatives for the jacket later in August, so don't worry too much if you miss this one. Ditto with the watch. I've made no secret of the fact that the Quantum of Solace Omega is my favorite Bond timepiece. And we'll have all new affordable options for it coming in a dedicated post in a couple of weeks.
The Skyfall Scotland Lodge Look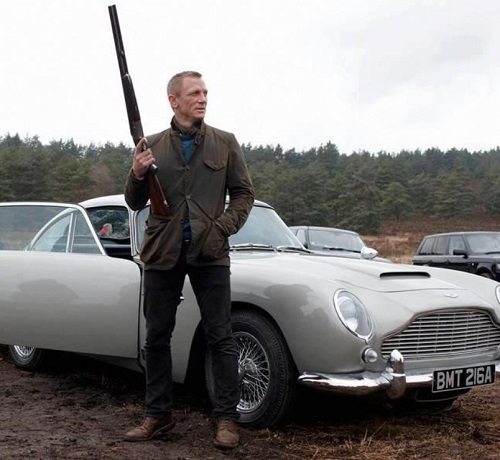 Jake's Notes:
The lodge outfit in Skyfall may be the pinnacle of Craig's casual Bond attire. It's really the perfect outfit for taking a stroll through the English countryside or in this case, taking out a few bad guys that are coming to kill you while you're hiding out in the Scottish countryside. I love everything about this outfit. The waxed olive green Barbour jacket is a perfect fit for the setting, and when paired with a pair of cords and brogue boots, you have classic British country style at it's finest.
The teal blue N. Peal sweater adds a nice pop of color, and the scarf ties it all together. It looks rugged and classic, which is the look you need when you're forced to defend yourself with an old hunting rifle in a Scottish Lodge. It remains as one of the most popular outfits from Craig's tenure as Bond, and thankfully the jacket is still available from Barbour.
Create the Look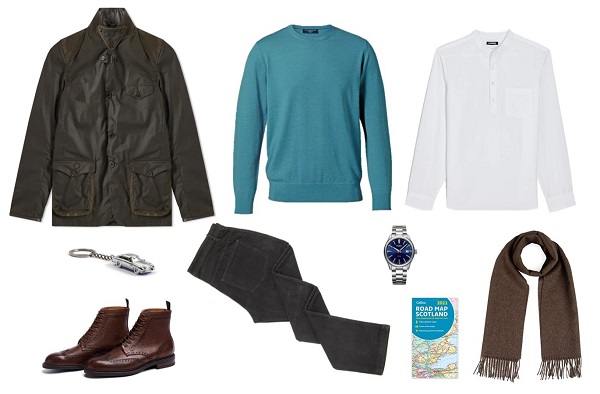 The Alternatives
John's Notes:
Another iconic look from the Craig era that's gets lots of love around here. The Barbour Beacon Sport Coat might seem like an easy choice. But at that sale price, we may as well get as close to the original as possible. As for the watch and the boots, we'll have updated posts with more options for those coming soon!
Ironically, the piece that's hardest to match is the one we barely see in the film: that All Saints Burnett Henley. The original is actually a very specific design. You can see the screen used shirt (signed by Craig) in this Daily Mail article promoting an auction in which it was sold for charity. It isn't easy finding an alternative that has all the features: the long 5 button placket, the bib front, the chest pocket, the button cuffs. That Express shirt is linen, which isn't ideal for your typical cold and damp Scottish weather. But the design comes closer than almost anything else I could find. Of course, you could use almost any white Henley under that sweater and it would give us the look we want.
The Goldfinger 3 Piece Suit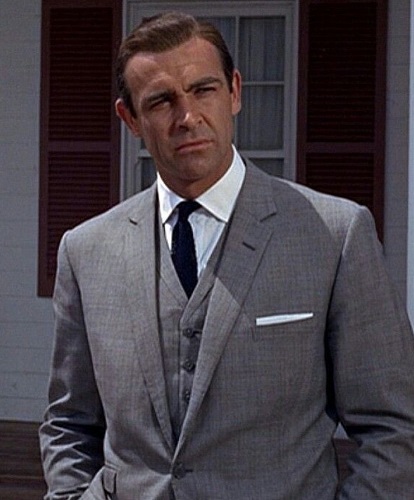 Jake's Notes:
When you think of Sean Connery as James Bond, the 3 piece glen plaid suit he wore in Goldfinger no doubt comes to mind. This suit is simply perfection in every way. It looks elegant and classy in every shot, and although Goldfinger came out in 1964, this is a look that could easily be pulled off today. The suit was tailored and made specifically for Sean Connery by Anthony Sinclair, and it fits perfectly. There is just something special about the suits of the 60s, especially this one.
What else can I say? When it comes to Bond and suits, it just doesn't get any better than this.
Create the Look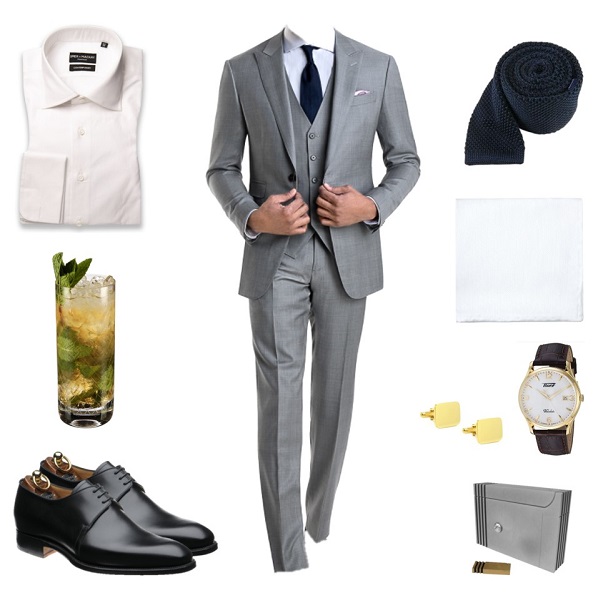 The Alternatives
John's Notes:
Let's start with the suit. As most fans of Bond style already know, if you want the most the screen accurate version your best bet is to contact Mason & Sons and go made-to-measure. Bond Lifestyle has an in-depth article about the process of getting one if you'd like to learn more. However I decided to go a slightly different route for this post with the Black Lapel option. The color of the glen plaid suiting may be a touch darker than ideal. But you can customize almost ever feature of the suit, from lapel width to lining color to side adjusters on the trousers, to design exactly the suit you want. And those features that aren't stock (for example the vest reveres) can probably be added for an additional cost.
As for the shoes: the 2 eyelet derby style is kind of a rarity today (unless you're willing to go bespoke). Most off-the-shelf models have three or more eyelets. And the Carrolls from Herring are one of the nicer reasonably priced options out there. Last is the watch. Did Bond wear a Gruen? As far as I can tell the exact brand still hasn't been established 100%. But he did wear a dressier gold watch on a black band. That Tissot comes with a brown leather band, so you'll need to swap that out if you want the screen accurate look. However, the case and dial design certainly has the right retro styling.
The SPECTRE Morocco Train Look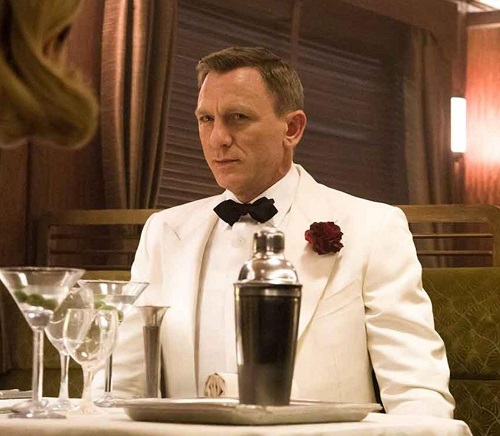 Jake's Notes:
Craig's Bond has great casual attire, but he also cleans up quite nicely. The ivory dinner jacket worn in SPECTRE is a classic look and no doubt draws inspiration from Humphrey Bogart's dinner jacket that he famously wore in Casablanca. While it's not exactly a traditional dinner jacket in terms of construction, it certainly looks the part and it was nice to see Bond back in an ivory jacket. The peak lapels and red carnation are an elegant touch and also nice homage to Sean Connery's dinner jacket in Goldfinger.
It's a classy look and one that will never go out of style, although I wouldn't recommend wearing it if you plan on getting in any scuffles with a 6'5", 278 pound assassin.
Create the Look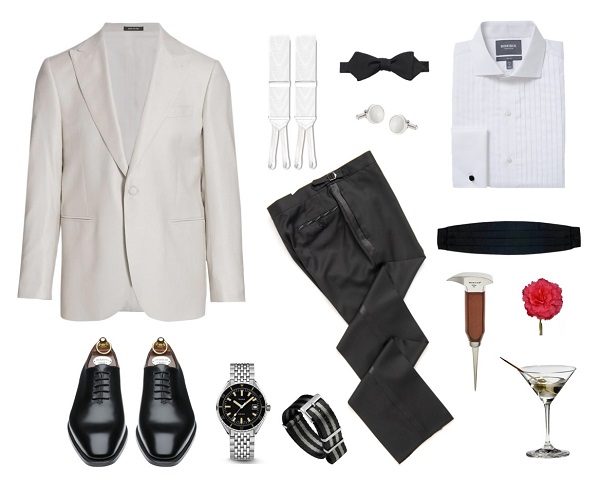 The Alternatives
John's Notes:
Whelp, this ain't a cheap look! On the other hand, we can get this whole "alternatives" outfit for under three grand (including the ice pick and martini glass). Which is about a third of the price of the original Omega watch all on its own. Sometimes affordable is relative …
No, the jacket isn't screen accurate. But in this instance, I decided to pay attention to the critiques offered by Matt Spaiser in his Bond Suits article on the film used jacket, and go with something more classic. I know that might not be a popular choice. However, when we're looking for something as timeless as an ivory dinner jacket and our choices are a lower quality knockoff from some repro company and high quality, traditional design, I'd be strongly inclined to go with the second option. For the watch, we'll have more alternatives to share in an upcoming post on the Craig era Omegas. And maybe it's just me, but that ice pick is now pretty high up on my "WANT!" list. I went with a lower cost option from Amazon. However the original Yamachu is on sale for $39.80 if you don't mind spending the extra twenty bucks.
A very special thanks to Jake Gerba for sharing his 4 Favorite Bond looks and participating in this article! You can find Jake on Instagram at @jakegerba. And also a big thank you to Bond Suits and BAMF Style for helping me identify some of the finer details of the screen used outfits. You can always find more style inspiration from Bond, McQueen and other style icons on our Facebook Page, Instagram Account and Pinterest Boards.