Best Budget Style Finds July 13th
Welcome to our Best Budget Style Finds for July 13th! This is where we share some of the great alternatives for Bond (or Craig or McQueen) style that either slipped through the cracks when I was writing the original dedicated posts or deserve a special mention. Sometimes the posts will be short. Sometimes there'll be a ton of new options. A lot will depend on what we, as a community, find and share. So if you have any suggestions, let us know in the comments. On to the alternatives!
Steve McQueen Inspired Summer Shirts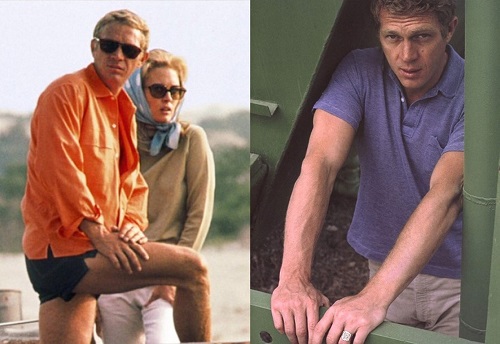 McQueen may have been best known for his G9s, shawl collar cardigans, tweed jackets and rollnecks. But the man also had some great warm weather looks, as we saw in our post on McQueen inspired spring style. Now that we're at the start of the dog days of summer, it's worth taking another look at a couple of his classic linen shirts and polos.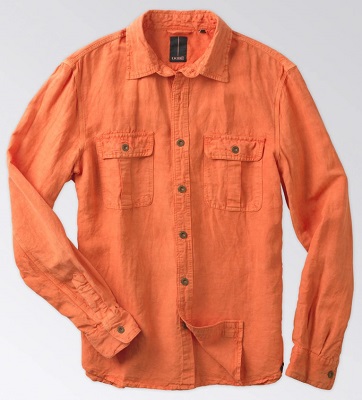 The King of Cool's orange linen shirt from The Thomas Crown Affair is a classic (riding the dunes in a Meyers Manx!). And it's a great example of how not all utility shirts need to be blue chambray. This alternative from Oobe Brand leans a little more workwear in the styling. But the silk and linen fabric gives it the right touch of billionaire playboy luxury. Sizes small, medium and large are available on their website.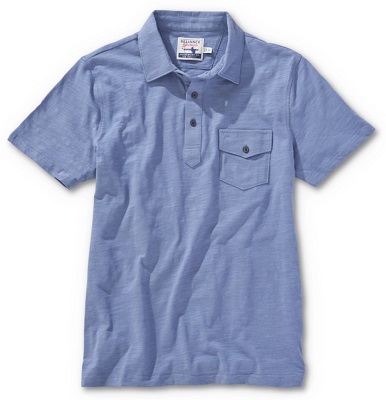 We've already shared some solid options for McQueen's iconic pale blue polo in our post on his Spring Style. And while this alternative from Guideboat Co. may not be the perfect match, I'm actually liking the differences. Especially that button-flap chest pocket, which is pure 60s cool. You'll find sizes small to XL on their website.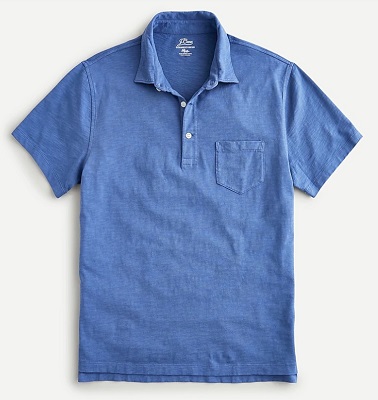 Another one from our McQueen Spring Style post that's gone on sale, dropping down ten bucks from the original $39.50. In terms of matching McQueen's polo, it comes closer in both style details and color. And it's available in Classic, Slim, Tall and Slim Untucked fits in plenty of sizes.
Bond in Blue for Summer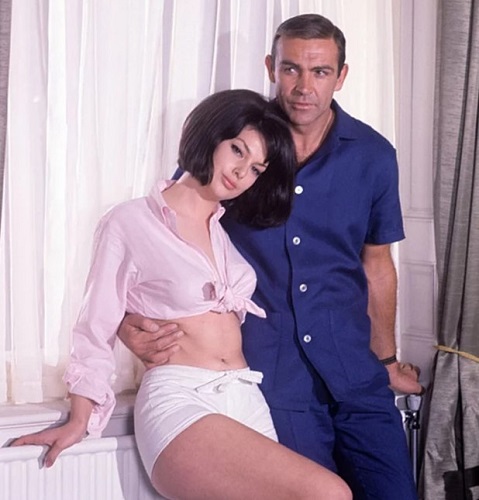 Lots of fans love the style of this Thunderball camp collar shirt. Although most of us probably wouldn't be inclined to pair it with matching pants. That deep royal blue is a versatile color that will work with almost any bottom, from off-white chinos to khaki linen shorts to faded denim. And the patch pockets and four button placket set it apart from the other iconic Thunderball shirts. You can find more options for the various shirts from the film in this post and this post.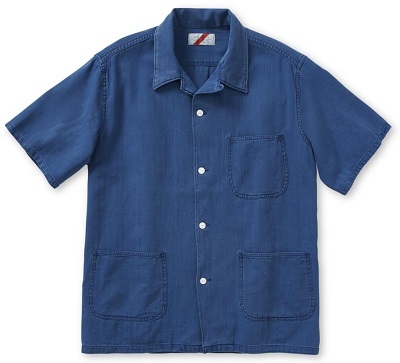 A more workwear leaning interpretation of Bond's Thunderball shirt. Which is emphasized by the 100% cotton fabric with its subtle herringbone pattern. But the patch hip pockets and four button placket (with genuine shell buttons) give it the right vibe. And that shade of indigo also looks like a good color match. Sizes XS to XXL are in stock on the Best Made website. Just note that they do recommend going up a size if you want a boxier, more relaxed fit. So check the size chart.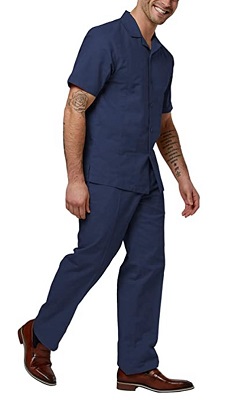 If you're a bigger guy and want to fully embrace Bond's shirt plus pants look, here's a solid option. The top is missing the patch pockets. But we do get the camp collar and four button placket. They've used a cotton-linen blend fabric, so even with the longer pants it should wear pretty light and airy. It's a good deal even if you just plan on wearing the shirt. Now the bad news. Amazon is down to sizes large to 3XL. Like I said, this is one for you larger gentlemen.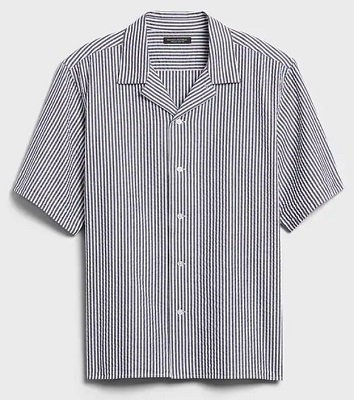 Adding an alternative for the striped Thunderball camp collar shirt has almost become obligatory in these posts. However, this new one from Banana Republic is actually really good. I had the chance to try it on in store and the 100% organic cotton is light but still has some substance to it. As the single review on the product page states, the fit is boxier and the sleeves are longer than you'll see from many other brands. But I'm usually a size medium in almost everything and the size medium in this shirt fit me well in the shoulders while being loose (but not oversized) through the body. Personally, I really liked the cut and if I didn't already have an alternative or two in my closet I'd definitely be giving this one a serious look.
Casino Royale Inspired Summer Style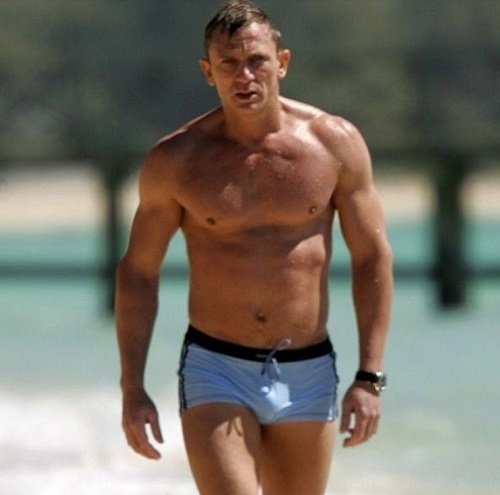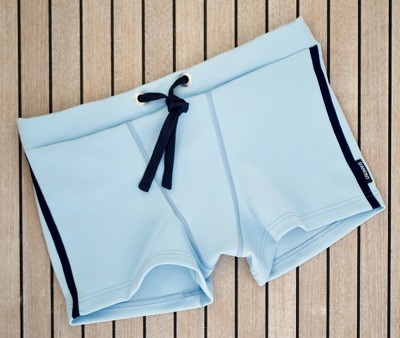 We had some solid (and inexpensive) alternatives for Bond's Casino Royale La Perlas in our post on Bond swimwear. But it's always nice to have more options. And every once and while an alternative comes along that offers more than just the "right look". Like this pair from D'Amont Apparel. Made in the Northwestern United States from a premium 1mm stretch scuba knit fabric and nautical grade stainless steel hardware, they're designed to handle almost anything life in the water can throw at them. If you're a fan of the retro-styling, it's definitely worth investing in some swimwear that's going to last. You'll find sizes small to XL in the pale blue above, a dark navy and stealth black at the D'Amont website.
I'm also happy to share that D'Amont is offering 20% off on their dive suit for the IA gang! Just enter the code ICONIC at checkout to get the discount. The code expires on July 31st.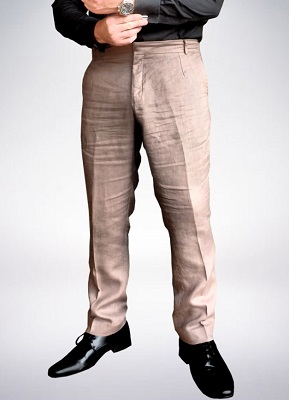 Bond-style fan favorite ROYALE Filmwear does it again! Owner Daniel Love got his hands on an original pair of Ted Baker Larked Mink trousers like the ones used in Casino Royale in 2006 to make his latest creation as screen accurate as possible. Right down to the trim color on the waist band. If you're looking to add a slightly dressier touch to your 007 inspired summer wardrobe, look no further! Sizes 28 to 38 are in stock. Note that all sizes come with a relatively long inseam. So you'll probably need to add hemming costs to the price.
Pro Tip: Summer is a great time to buy knitwear!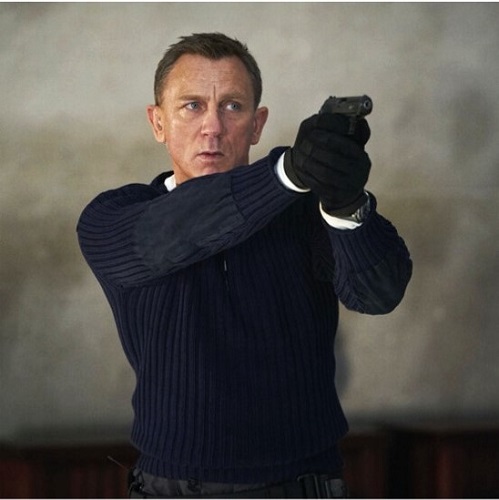 Many of us are smack dab in the middle of summer. But colder weather will inevitably come and it never hurts to plan ahead. And this is a great time to buy some quality sweaters at discounted prices. Most of what's out there right now is from these past winter and spring seasons. However if you stick with classic and timeless styles, you can't really go wrong.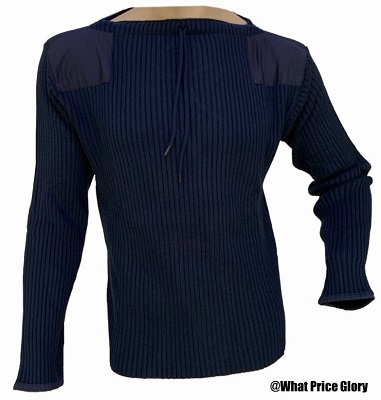 When AJB007 forum member RonBerry found What Price Glory's original commando sweater, he was pretty excited. The big problem was they only offered it in Olive. Undeterred, Ron reached out to the company to convince them to make the sweater in a more No Time To Die screen accurate navy. And voila! We have another great alternative at a very reasonable price! Unlike the N.Peal interpretation worn by Bond, with it's touch of cashmere, the What Price Glory sweater is a wool/polyester blend. Which should make caring for it a little easier. We also get the drawstring boat-neck collar and the shoulder and elbow patches. Thanks for making the effort, Ron! And thanks to What Price Glory for listening to the fans!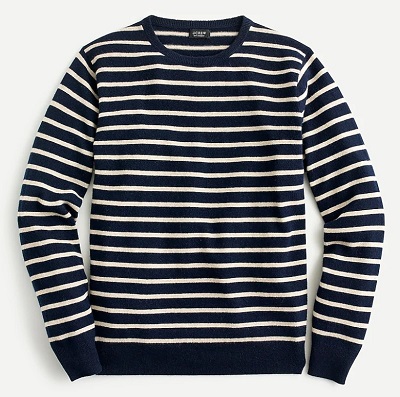 If you read our post on Style Icons from the Golden Age of Hollywood, you'll know that a Breton stripe sweater is the ideal piece for adding some of that retro/vintage cool to your personal style. And this lightweight 100% cashmere number from J.Crew will do the job admirably. It's also a great example of how shopping for sweaters in summer is great way to score some deals. Originally priced at $138.00, the final cost (before taxes and shipping) drops to forty bucks with the code SALETIME. Still plenty of sizes in stock.
For that vacation in Italy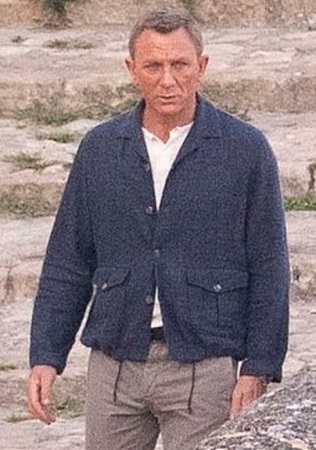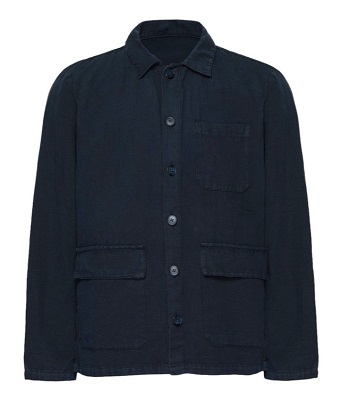 This made-in-Italy jacket was already discounted when we shared it in our post on alternatives for Bond's Matera jacket. And now the price has dropped even further from the original $194. With its darker color, slightly longer length and chest pocket, it's not exactly the most screen accurate option. But it's in the same style family as the Connolly. Plus that 53% linen, 47% cotton fabric and the unlined construction would make it perfect for those cooler evenings in the late summer. Yoox is down to sizes XS to medium.
Reading Material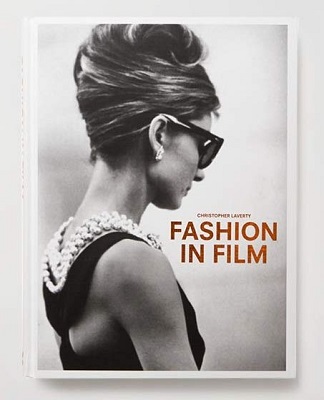 A couple of weeks ago the world of cinema style appreciation lost one of its best voices with the passing of Christopher Laverty. For over ten years, his website Clothes on Film offered fans deeper insights into the costuming worn by our favorite movie characters and was always an invaluable resource. If you don't already have a copy, do yourself a favor and pick up Christopher's book Fashion on Film. Not only is filled with great images from some of the most stylish films of all time, it also explores, analyses and celebrates the art of costume design in a way few other books do.
Know of any alternatives we should feature in our next Best Budget Style Finds post? Or do you have another option for this post? Tell us about it in the comments! If you'd like to see our previous Best Budget Style Finds posts, you just need to click here. And you can always visit our Facebook page, Instagram account and Pinterest Boards for more Bond, Craig and McQueen style advice and inspiration.