Gerry Nelson Profile in Style
The idea behind our "Gerry Nelson Profile in Style" is pretty simple. Like many men, I want to dress better. James Bond and few other style icons have definitely been the gateway for my interest in developing my personal style. But now I'm focused on learning how I can take it up a few notches. So I decided to start interviewing the men whose taste in clothes I admire to find out how they do it. And one of the first men I wanted to speak with was Gerry.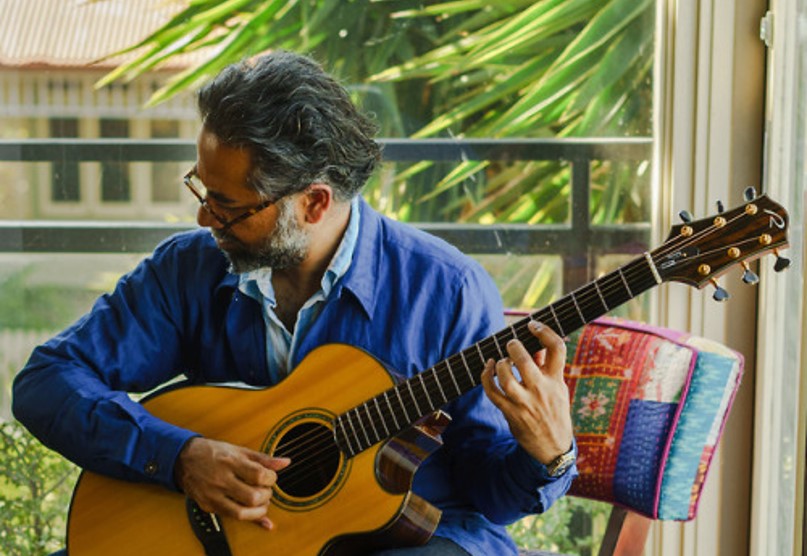 Based in Melbourne, Australia, Gerry already has a loyal following on Instagram (@gezzaseyes) and Tumblr (gezzasmenswear). I first saw his photos on StyleForum a couple of years ago. On a website populated almost exclusively by sharply dressed men, his style really stood out. The expert combining of colors and textures and the great fits and cuts were part of it. But more importantly, he just looked so damn comfortable in what he was wearing! It's a style with character, one that shows intention and an understanding of the finer points of menswear. But it also looks lived-in and genuine. And that really impressed me.
I sent Gerry a message asking if he'd like to share some of the lessons he learned on the road to developing his personal style. Lucky for us he said yes!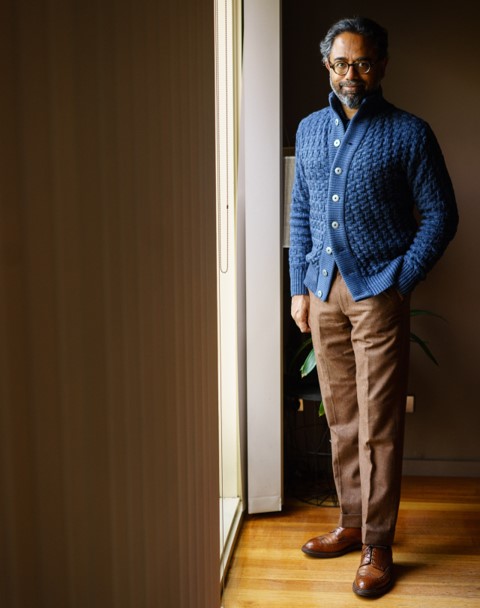 When did your interest in men's style begin?
For me, it started in university in England. I'm originally from Malaysia, but in England at that time the focus was really on designer labels. That highly stylized, 1990s "GQ" look. So that's what I tried to imitate. My first two big clothing purchases were a red and green, two-tone Kenzo shirt and a biscuit coloured Armani suit.
Once I left university, my interest in style sort of faded. I also put on some weight during that period. The turning point came when I had to renew my passport. I took a look at the photo I was going to send in and I really wasn't happy with what I saw. Luckily, I still had a few months before my old passport expired. So I made the decision to lose the extra weight so that my new passport photo would be something I could live with!
As part of this lifestyle change, I entered a "Body Transformation" contest. And I won! The big prize was $1000. Since I was feeling more confident about myself, I decided to invest that money in some new clothes. That was really the start of my current interest in how I dress.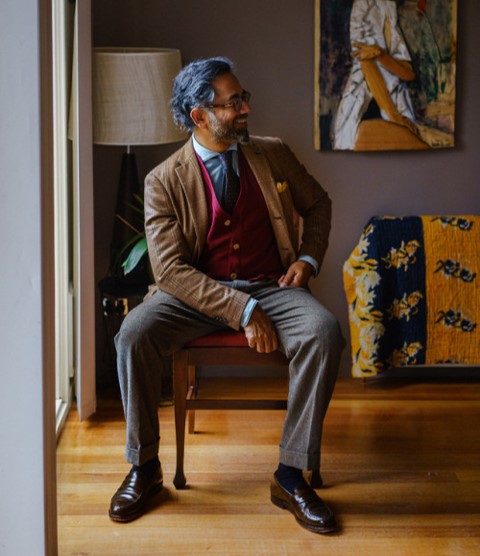 I'm assuming the Kenzo shirt didn't make a return. So how did you know where to start?
I started in the same place most guys do. I read articles on how to build a standard wardrobe. You know, navy suit, blue and white dress shirts, staple ties, four types of shoes you need, that sort of thing. But I also knew I wanted to buy quality pieces. Budget was a bit of an issue. So I began hunting for good deals on ebay and some forums to build my new wardrobe. I found some $50 Borelli shirts and got some others from e-Haberdasher. I also really liked Australian designer Christian Kimber and decided to pick up a couple of pieces from his store, even though they were more expensive.
Footwear was especially important for me. I always remember the old saying about "investing in a good mattress and good shoes". And that's what I did. I knew Crockett & Jones was a great shoemaker with classic designs. So I felt okay about spending a bit more to get those.
My style during this time was really rooted in the Classic Menswear tradition. Suits, ties, dress shoes. It all became sort of a uniform for me. Not much risk or creativity, but it worked for my profession and where I was personally at that point.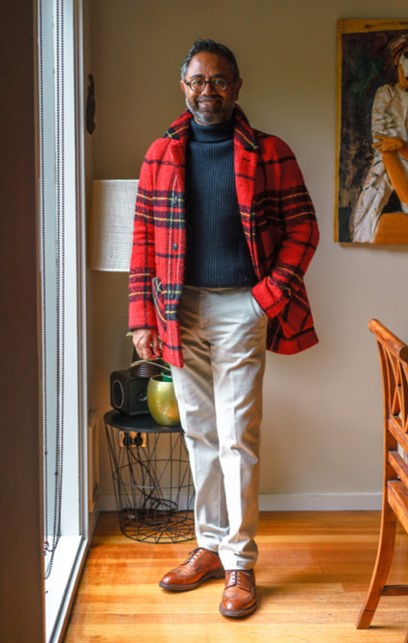 To be honest, I actually find the idea of you in a conservative suit and tie to be a little weird! Because one of things I admire most about your personal style now is your skill at combining bolder colors and textures. When did you begin experimenting with that?
Okay, so I was feeling pretty set up with my weekday wardrobe. But I quickly realized that I didn't have much to wear during the weekend or on my down time. I did try to use some of my work clothing in more casual ways. Wearing suits without ties to social events or pairing a suit jacket with more casual pants. But it just wasn't working for me. If I was always "dressed up" I felt like I was wearing a costume and it wasn't "authentic", if that makes sense.
I started to understand that I needed to build a casual wardrobe that I would feel comfortable wearing. But I still wanted to look put together and like I'd made an effort. Really, my goal was to simply be a better version of myself, no matter what I was wearing.
So the next step was to find inspiration. This is when I began searching Instagram, StyleForum, brand look books. I did that in kind of a specific way, basing my searches on the clothing I already had. For example, I owned a denim trucker jacket. So I'd look for photos of outfits where the person was also wearing a trucker jacket to see how they were combining it with different pieces.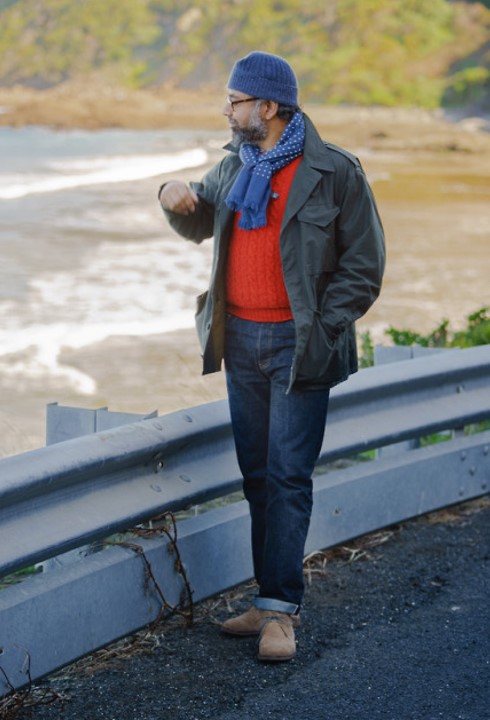 And what were you learning from these sources of inspiration?
Well, at the start it was more about copying the looks I really liked. I'd see how they were combining things and then look in my closet to see if I had what I needed to replicate the outfit. If I was missing something, say a pair of corduroy trousers or a sweater in a certain colour, I'd search for affordable alternatives to fill in the gaps.
I was still very aware that I was experimenting with styles, trying new things. So initially I stayed focused on acquiring the more staple pieces: sweaters, a grey herringbone sport coat, good boots. Nothing too "out there" fashion-wise. I wanted to make sure that I could wear whatever I bought day-to-day. And it had to work with the other clothes I already owned. It had to be versatile. That's one of the things I paid attention to in the inspiration photos. If I was seeing the same style of sweater or trousers or shoes being used in multiple outfits I liked, then it was probably worthwhile buying that particular item.
I also became aware of different brands through their lookbooks. That was very important for me. A good brand will have a vision of how it's designs can be worn. So when you find a brand with a style you like, it becomes a sort of template you can work from. Ring Jacket and The Armory were like that for me. Daiki Suzuki and Engineered Garments is another good example. You can also start to spot those little details that can really elevate your style. I call them "the points of difference". What socks they're wearing, how they're cuffing their jeans, how they're pairing the ties and pocket squares, how they're layering different pieces. It's these points of difference that help give an outfit it's character.
For me, all of these lessons I was learning came together when I discovered the Drake's Lookbooks in 2015.
Now I have to ask, "Why Drake's?"
Drake's has a way of styling their clothing that really speaks to me. It's the way they combine colours, textures, patterns. They're also great at using classic menswear pieces in interesting ways. Pairing denim and chambray with tweed and shell cordovan longwings. Their style is creative and has personality. But it's all still very wearable, very approachable and it looks comfortable. When I saw Jason Jules (one of Drake's main models), everything just sort of clicked for me.
The point is that each of us has to take the time to search for that inspiration. You'll know it in your gut when you find it. Along the way, you'll also get better at understanding what works and what doesn't work for you. Your tastes will develop and become more refined.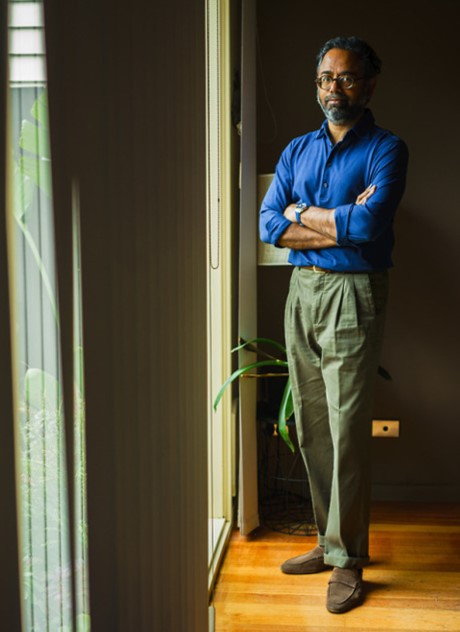 But your style, while inspired by Drake's, certainly isn't a direct copy. It's very easy to see your personality in what you wear. How did you move beyond the "copying" phase and find your own voice?
Personally, I see all of this as a process and it keeps evolving. I think it's very similar to learning to play a musical instrument. There are certain steps you need to take if you want to progress. You start with the intention: I want to learn to play my instrument better or dress better. This is when you need to invest the time and energy learning the basics and building the foundation. You also need to start exploring different styles to find what you like. Do you want to play classical music or jazz? Are you more a classic menswear person or a streetwear person?
I do believe imitating your "style influences" is an important part of this. If you want to be a great jazz player, start by imitating the style of the jazz masters. That's how you develop technique beyond the basics. For me, the same is true of the way we dress. As you gain proficiency, you'll begin to see not only how your influences are combining colors or textures, but also how they're balancing the fit of the top and bottom halves of their outfits. Or how they're bringing together different fabrics to create a cohesive look. The practice is what gives you experience.
Experience is what gives you the confidence to experiment. With a musical instrument you begin to improvise. With your style, you start interpreting looks your own way. It's the difference between wearing a specific jacket and pants because you saw them in a photo and understanding why that jacket and those pants work together on that person's body. And then knowing what you need to change so the style works for your body and personality.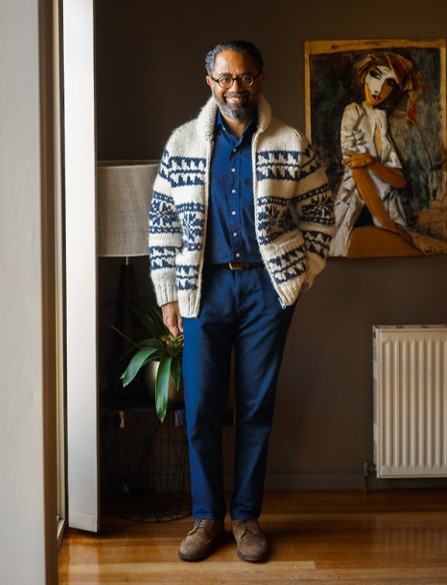 "Confident" is a good way to describe your approach to clothes. Your use of colors and textures certainly shows that. But you're also adept at combining pieces that have roots in very different cultural traditions. For example, pairing Japanese workwear with Scottish sweaters and classic longwings. What guides you when you're experimenting with your style like that?
Combining pieces from different cultures is fun! But it can be a little challenging. I usually look at three things.
First, I think about the weights and textures of the pieces. We know that a tweed jacket can look good with jeans. So something like a denim chore coat should work with trousers in a heavier weight fabric like flannel or corduroy. And footwear with some weight and texture, like pebble grain chukkas. The idea is to find a balance in the fabrics you're using from top to bottom so the combination looks intentional.
Second, I look for common elements between the pieces. Work wear is made for tough jobs, no matter what culture it comes from. So there should be similarities in the pieces that compliment each other. They'll probably all have more practical designs, maybe boxier or looser cuts, or courser fabrics.
Third, if I'm going to wear something that's bolder or more colourful, I'll try and tone down the other elements in the outfit. My Sashiko indigo patchwork jacket is an example of that. When I wear it, the other pieces are usually solid, more neutral or earthy colors. It allows the bolder piece to stand out, but the whole look doesn't get overwhelming.
Gerry, thank you so much for sharing your experience with us. Any parting words of wisdom for men starting to develop their personal style?
Two suggestions. Don't be afraid to make mistakes. If a particular outfit doesn't work out the way you want it to, there's always tomorrow to try again. And wear clothes that make you happy. For me, a successful look is the one that makes me smile.
Gerry's 3 Hits and a Miss
Gerry explains three looks he thinks were a success. And the one that needed a redo.
Look 1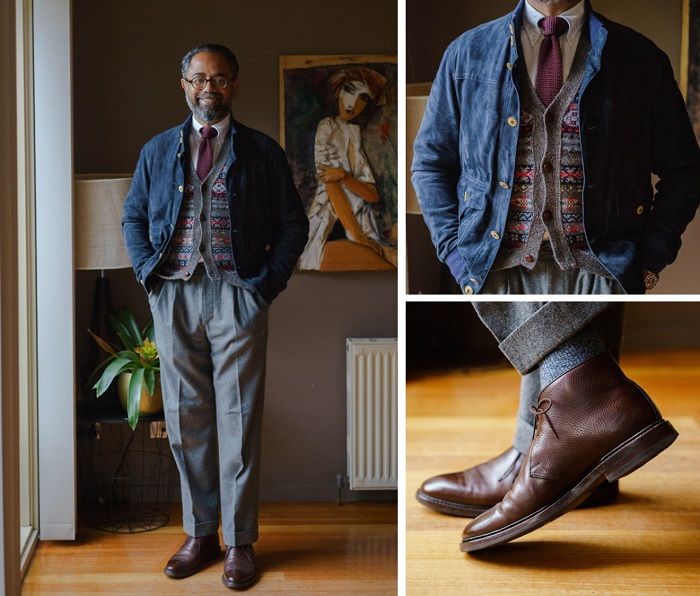 I really liked this because of the textures. The colours are quite muted but the pieces are unusual. For example, going with the blue suede bomber rather than the usual brown, the Fair Isle vest and the chukka boots in grain leather rather than smooth calf. The whole combination is unusual but I think the textures of the different pieces compliment each other. That ties everything together and gives the outfit some coherence. And even though it's made up of darker tones, there are still these little pops of colour from the Fair Isle pattern on the waistcoat.
Look 2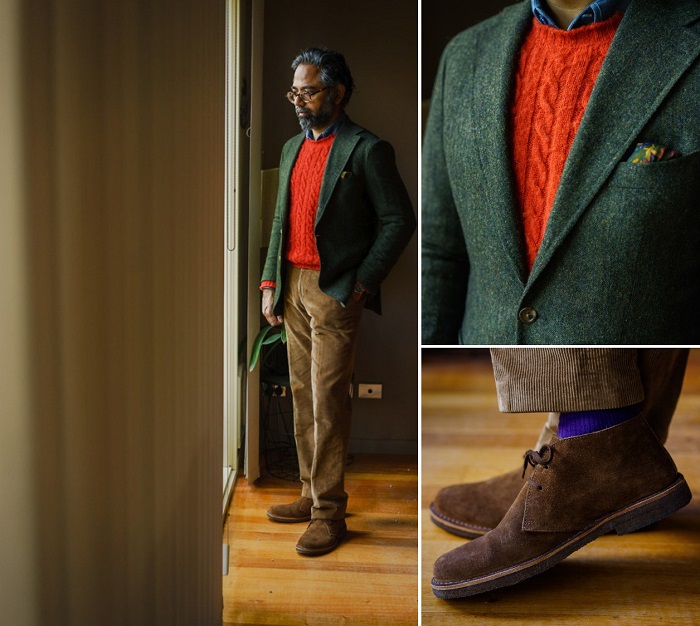 There are certain colour combinations that appeal to me in a big way. One such combo is green and orange. I took inspiration from the Drake's look book with this one and used pieces that I already had. The colours are in the ballpark of the Drake's photo without it being an exact copy of that look. But Drake's had already done the hard work in setting the template. Aside from the colors, it's the textures that really make this work for me. Tweed jackets, Shetland jumpers, corduroy trousers and suede shoes/boots are practically a foolproof combo. Also, the trousers are not slim fit so they work well with sportcoats and help create balance between the top and bottom halves.
Look 3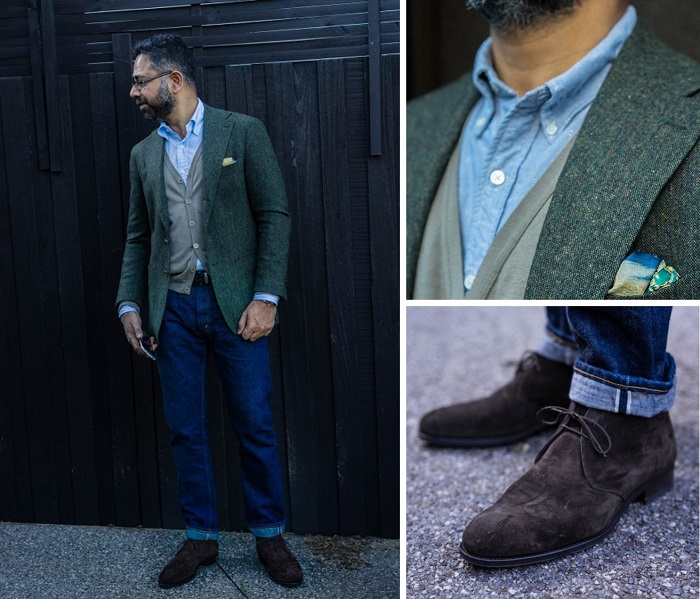 Another appearance of my green tweed jacket, this time with denim. For me, this works because the jacket is casual – tweed, very little structure and patch pockets. It doesn't look like an orphaned suit jacket. I've balanced the texture at the top with some dark brown suede chukkas. The individual pieces are casual but I still look dressed up and like I've made some effort.
The Miss …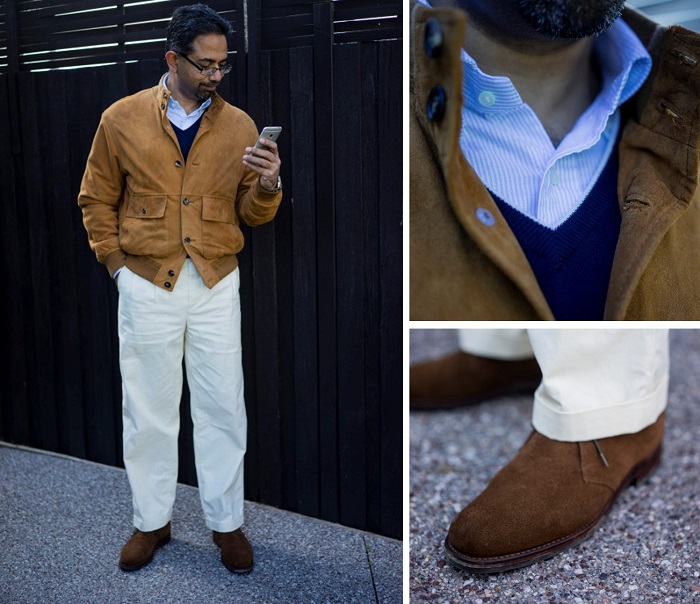 An older outfit from a few years ago. This didn't work because of the fit of the pieces themselves. The suede jacket is too big and the trousers are cut too wide. Also, I don't know that I would pair these boots with that jacket anymore. These days, I'm leaning towards shoes that complement the jacket rather than matching it. I would size down on the jacket and perhaps wear white jeans or slimmer casual trousers. I would also replace the v-neck knit with either a roundneck or perhaps a light turtleneck. For the shoes, I would use a different shade or suede, perhaps mushroom, taupe or sand to create some contrast.
You can see more of Gerry's photos on Instagram (@gezzaseyes) and Tumblr (gezzasmenswear). If you'd like to read more Profiles in Style, you'll find them here. And remember you can catch Iconic Alternatives on Facebook, Instagram and Pinterest if you're looking for some Bond-style inspiration!