Daniel Craig Bags and Luggage
UPDATE: We have a new version of this post with the latest alternatives! You can VIEW IT HERE!
With the holiday seasons on its way, many of us will be doing some kind of travelling in the months ahead. And whether you're going by plane, train or automobile (love that movie!), stuffing your stuff into some stylish luggage also helps make the trip more bearable. In the past, we've looked at affordable alternatives for Bond's Brunello Cucinelli Leather Travel Bag from SPECTRE (I'll be updating that post very soon). This time we've enlisted the help of popular Instagrammer What's Daniel Wearing (@whatsdanielwearing) to identify some key Daniel Craig bags and luggage to help us on our way to wherever we're going!
The Vintage Messenger Bag
The Belstaff 554 Colonial Messenger Bag
We've done a whole post dedicated to this bag (you can read it here). But unfortunately the budget option I suggested is not longer available. So it's about time for a quick revisit. We've known the 554 is a favorite of Mr. Craig's for a while now and originally retailed for about $500. Sadly, this exact model is no longer available. But Belstaff have released a new version …
The Alternatives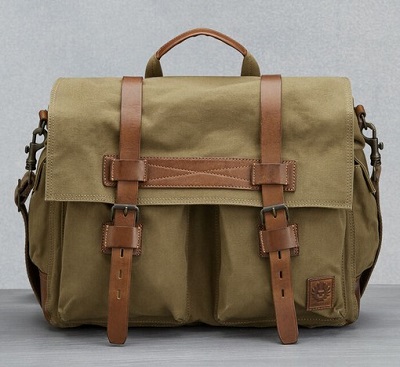 It's a darker color now. And it has the leather top handle and leather patch anchoring the strap retainers. But it is a Belstaff. As for the price … well, "affordable" isn't really a word I'd associate with this bag. Which brings us to ….
That's more our pace around here! In the other post on the Belstaff 554, I was pretty upfront about my conclusion that there is absolutely no difference between 99% of these budget bags you find on Ebay or Amazon, aside from the name on the pocket. Some will cost you $35. Some will cost you $80. But they're all pretty identical. So why the GEARONIC? Because the color comes close to Craig's 554, it's under $30, it ships with Amazon Prime, and it has 4.4 stars after almost eight hundred reviews.
The Modern Messenger Bag
Another of Mr. Craig's favorite messenger bags, but a very different style to the 554. Manhattan Portage is a pretty cool company. Started in 1983, their designs are clean and practical, focusing on quality materials and construction over flash. They also fully embrace their New York City roots. So, what about the bag itself?
First the details. The bag measures 11.5″ at the bottom to 15″ at the top by 11.5″ high by 7″ deep. It's made from Martexin Original Waxed canvas and comes with a two year limited warranty.  The navy color is also completely sold out on their U.S. website. However, Amazon U.S. still has a couple left in stock.
The Alternative
Might as well get one from the original brand! The NY Messenger Bag is made from 1000D Cordura nylon instead of waxed cotton. But the designs are very similar. Amazon U.S. has them for $95.00. In Manhattan Portage's current line-up, the Hudson River model for $109.00 probably comes closest. Unfortunately, I couldn't find anything on Amazon or the Manhattan Portage website in that blue for those of you in the UK. But I'll keep looking!
The Rugged Duffle Bag

I'll come right out and say it: I like Frost River. I like that they make their products by hand in Duluth, Minnesota. I like their commitment to the environment. And, yes: I like their slightly over-earnest, "this is the way our forefathers made 'em" attitude. Because all those things combined help to create some truly beautiful, practical and bombproof pieces of luggage. From my personal experience with one of their products (a canoe pack), I can tell you that their products definitely walk the company's talk. I don't often say, "just buy the original" on this site. But honestly, $200 is not that much for something that will last a lifetime. It's worth saving up for.
The Alternatives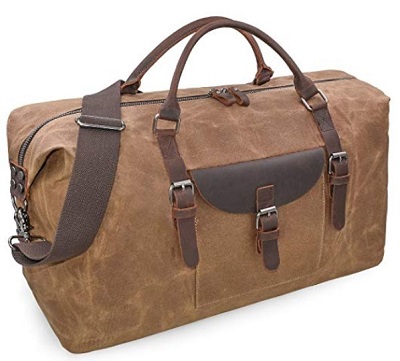 But lets say you're not in the market for an heirloom duffle bag. Check out this one from Newhey. I'm hesitant to call it an "alternative" for the Frost River, simply because it's not built to serve the same function. In fact, like the budget options for the Belstaff 554, there are many brands on Amazon and Ebay selling this exact same bag. Which means it's probably mass produced in Asia and FBA companies just stick their own tag on it. It's made from heavier weight canvas with genuine leather accents. So that sounds good. It's also a bigun, measuring 24″ long X 12″ wide X 12″ deep. So maybe not so great for use as a carry-on. Long story short: if you're on a budget, want that rustic look, and don't plan on abusing it, this one should do the job.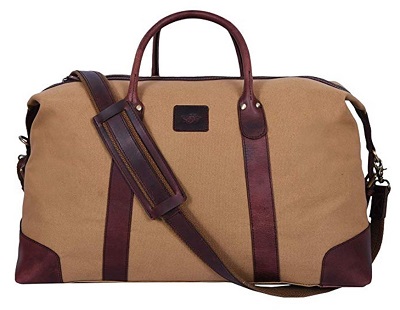 A similar design to the Newhey above. Just without the front pocket. The Addey Duffle is made from 17oz canvas with genuine leather trim and measures 21.5″ X 11″ X 13″. It also has a full cotton lining with a couple of interior pockets for storing your small stuff. Again, I wouldn't be expecting this one to last a lifetime. But it should work well for the infrequent traveler that wants a bit of style for his odd weekend getaways.
The Vintage Suitcase
WOW! There are suitcases. Then there are QE2/Orient Express worthy suitcases. Globe-Trotter's Centenary Trolley Case is handcrafted in Hertfordshire, England from "Vulcan Fibre" using 113 year Victorian-era machinery. Add in the leather corner protectors and brass hardware and you have a piece of luggage that essentially defines "iconic" and should just get better with age. Craig's model was the 21″ Centanary. However, it seems like Globe-Trotter has reduced the size slightly down to 20″ for their most recent collection.
The Alternatives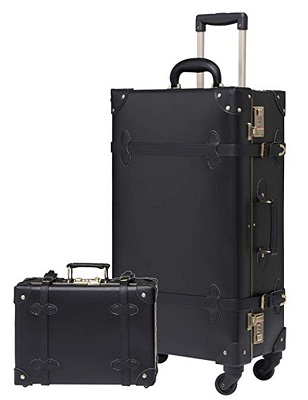 This set definitely has the look we want. But I'm very hesitant to recommend it for any of you frequent flyers. The outer shell is PU (snythetic) covered fiberboard. Which means the chances of it getting beaten up in the overhead compartment are pretty high. I should also note that this particular set has no reviews on Amazon. However, that carry-on piece alone (in a different colorway) actually has 5 stars after 23 reviews. And the same set from a different company (again in a different colorway) has 4.4 stars after 151 ratings. So maybe it's tougher than I think. The suitcase comes in various sizes, starting with the 20″ version I've linked to here. That smaller case is only 12″, so I'm not really sure what I would use it for. If you want a cool looking carry-on for your one or two trips a year, this is worth checking out.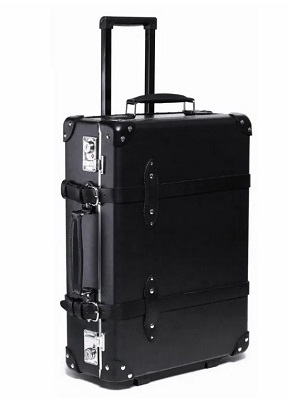 I have to say, this one really caught my attention. The suitcase body is made in Japan from PASCO, a vulcanized recycled paper (similar to the construction of the Globe-Trotter) that's coated for extra water-resistance. The straps are all genuine Italian leather and the case is finished with chrome hardware, including TSA approved locks, and silent glide wheels. Measuring 22″ X 15″ X 9″, the interior has lots of space and plenty of pockets for stowing odds and ends. And the whole thing only weights 8 pounds. Currently, the black version is only available on the JetSet website. But if you don't mind going with a dark grey exterior, Amazon has the case on sale for $147.00 with free shipping. This might be the best value-for-money option on the list.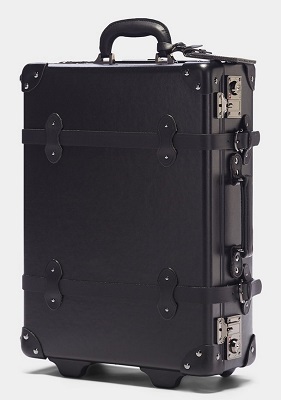 I already gave Steamline a shout-out in my May "5 Things I Want" post. Sadly, that Pioneer model is no longer available. But this black case looks just as nice! Designed by company founder Sara Banks, it's really a modern piece of luggage (TSA approved locks, aluminum telescopic handle, silent-glide wheels) in a vintage-style wrapper. Like the JetSet above, the shell is a Japanese fiberboard, trimmed with genuine leather and chrome hardware. The interior is also beautifully finished in a deep navy and purple paisley fabric with plenty of pockets and storage. The Industrialist comes with a detachable door-hanger washbag and a ripstop nylon cover to protect the case when things get wet outside. $850 certainly isn't cheap. But it's still almost half the price of the Globe-Trotter.
Have some affordable suggestions for Daniel Craig inspired luggage? Share them in the comments below! And a special "Thank You" to @whatsdanielwearing for identifying the pieces and letting us raid his Instagram account for pics!
Iconic Alternatives uses affiliate links on our site. So clicking on one of the links above may result in us receiving a commission from the vendor. You can learn more about our use of affiliate links on this page.
Other images in this post were sourced from Just Jared, AJB007 and Huf Magazine.