The James Bond Dress Watches
Updated September 15th, 2021 – We've already looked at options for the James Bond Rolex, the Pierce Brosnan Omegas, and the Daniel Craig Omegas. While those are all beautiful timepieces, almost all of them are also dive style watches. Sure, 007 frequently wore his divers with a dinner jacket. But there are occasions that call for even Bond to strap something a little more formal on his wrist. And that's why we're now going to look at some of the most well known James Bond dress watches.
The Connery Era Gold Watch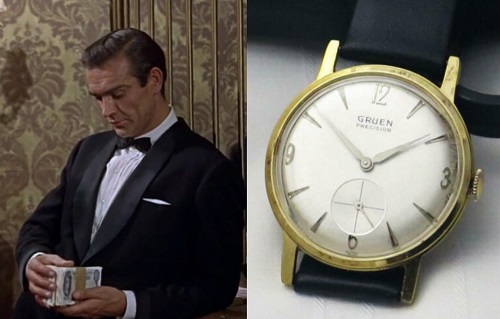 Some people believe the first watch James Bond wore onscreen in Dr. No was a Gruen Precision 510. And some people don't. Personally, I don't have a clue. But we need some kind of reference if we're going to look for alternatives. Since there's never really a clear shot of the watch, we may as well use the Gruen as our model.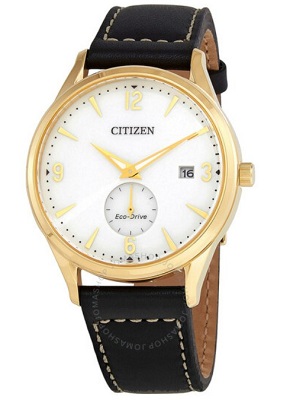 A simple and elegant design, powered by Citizen's well respected Eco-Drive movement. The 40mm case is going to work on most wrists. And the price isn't going empty our wallets.
We've shared Orient dive watches in past posts. But they also make some really nice dress watches. And their Bambino line is considered by many to be a solid "office timepiece" at a great price. This version has a 40.5mm case with a doomed mineral crystal and exhibition case back. The movement is Orient's Japanese F6222 Automatic with a 40 hour power reserve. I've linked to Amazon above, where you can also find a very similar model in Rose Gold for $187.52. And the Bambino is also on sale on the Orient website for $195.00. But I'm not sure how long that will last.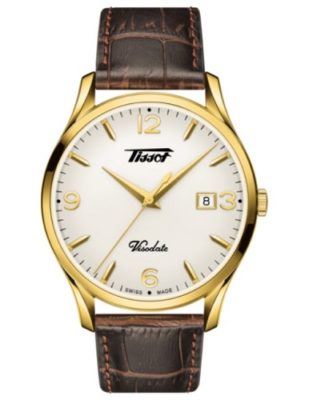 The Tissot is missing the seconds sub-dial seen on the Gruen. And it has the extra minute markers around the outer dial, plus the date window. But it's still a very classically styled gold watch that would look right at home next to the Gruen. The 40mm gold plated stainless steel case now houses a Swiss quartz movement. And we've moved up to a domed sapphire crystal instead of the mineral one on the Orient. The best price I could find is on Amazon. But you can also buy on Amazon for $251.98. If you have your heart set on getting a version with a sub-dial, you can also check out the Tissot Ref. T063.428.36.038.00 for $429.99 or the Ref. T036173603700  chronograph for $325.00.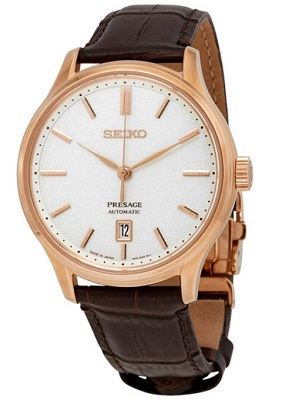 At 41.7mm, it's a little big for a "dress" watch. But it should work well for you larger gentlemen. We're also missing some of the key design features of the Gruen (the seconds sub-dial and Arabic numerals). However, there's still a lot to like here. Powered by Seiko's in-house 4R35 automatic movement, it features a sapphire crystal, exhibition case back and a higher quality leather strap complete with deployment buckle. And I may be alone in this, but I actually prefer the warmer tone of the rose gold.
The On Her Majesty's Secret Service Rolex Ref. 6238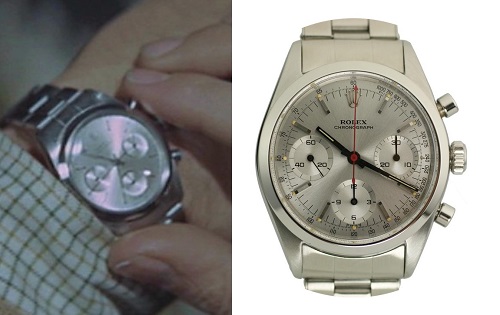 The Rolex Submariners and Omegas get a lot of fan love. But for me, the nicest watch Bond has worn is the Rolex Chronograph Ref. 6238 from On Her Majesty's Secret Service.  The tone-on-tone silver face and sub-dials give the watch a clean, understated look. The black hour, minute and sub-dial hands and red seconds hand add contrast for ease of reading. And the simple stick style hands and silver indices help keep the dial uncluttered and organized. In short, to my eyes, it's a perfect blend of elegance and functionality.
What I'm about to say next may upset the purists. But here it goes: from a purely looks standpoint, Roger Moore's Seiko Ref. SPR007 from A View to A Kill is very close to the OHMSS Rolex.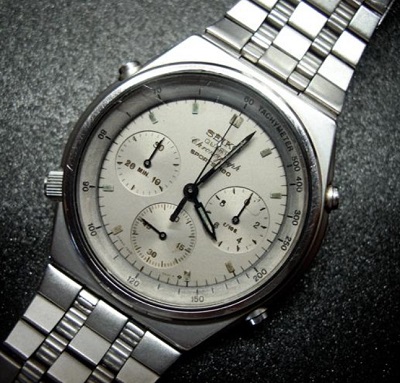 All I'm saying is if we can find a good alternative for the Rolex Ref. 6238, it could also work as an alternative for this particular Seiko. And who doesn't like two for the price of one?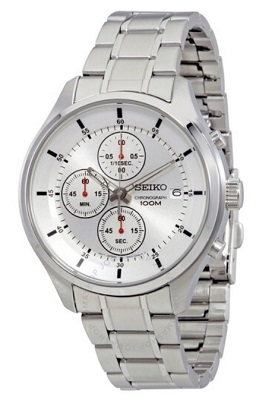 Very affordable. But at 43mm, it's a big one. And, obviously, Seiko has gotten a little creative with the placement of the sub-dials. However, it's the color scheme that really draws me to this one. The combination of the silver dial with the black indices and red sub-dial hands has the spirit of the Rolex without being a direct copy. In terms of technical specs, there's not much to write about: basic Seiko quartz movement, Hardlex crystal, 100M water resistance rating. Overall, a solid choice for those of us on a very tight budget.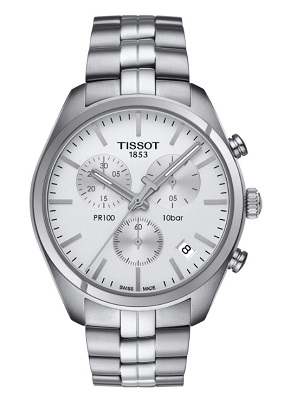 Even with the date window and the sub-dials at a less screen-accurate 2 and 10 o'clock, the Tissot PR 100 would still be my personal choice for an alternative. This 41mm Swiss made model uses Tissot's in-house quartz movement and a sapphire crystal. The case shape is a great match for the Rolex. And the silver tone sub-dials on the white face add some visual interest while still keeping the overall look clean and sophisticated. That sale price from Jomashop also makes it a heck of deal.
The A View to a Kill Seiko Ref. 6923-80080 SPD094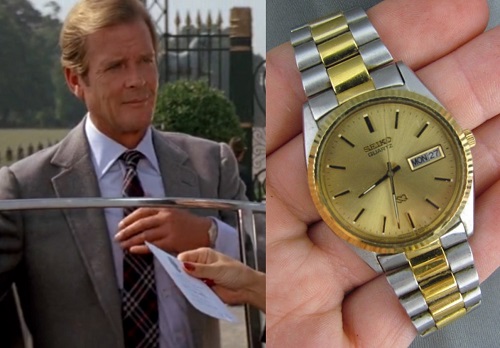 I guess technically this is Sir St. John Smythe's watch, since Moore's Bond wears it while undercover as the wealthy English stable owner. With its two-tone gold and silver case and bracelet, the flashier style obviously won't be to everyone's tastes. But it is a dress watch and we want to be thorough!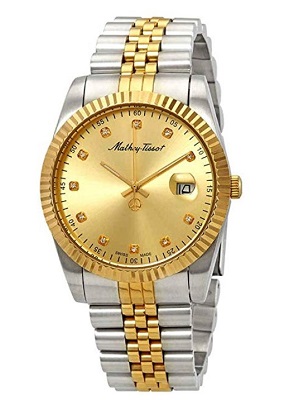 A very affordable option that has the looks to match the Seiko. And it's actually not a bad watch from a technical perspective. The case and bracelet are a combination of silver-tone and gold-plated stainless steel. The 40mm case holds a Ronda Caliber 515 quartz movement and is capped with a mineral crystal. And apparently it's Swiss made. If you like this watch style but still want to keep the budget under control, the Mathey-Tissot could be good way to go.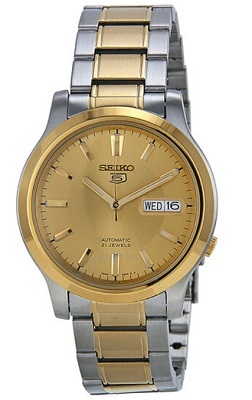 Not quite as accurate in the looks department. But personally, I'd sacrifice that and spend the extra forty bucks to buy a watch from a name I can trust. Especially since we're now getting an automatic movement (Seiko's 7S26) with an exhibition case-back. The 37mm size may be smaller than most of us are used to. However, it's appropriate for a dress watch. And the 11mm thickness will easily slip under your sharpest French cuffs.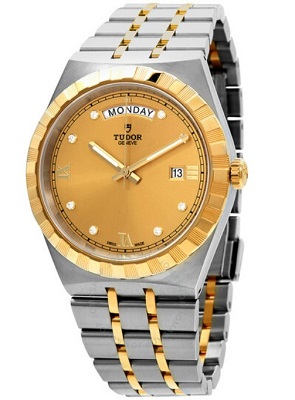 Just in case you have an extra three grand kicking around and really love this style.
The SPECTRE Vintage Omega Chronograph Caliber 321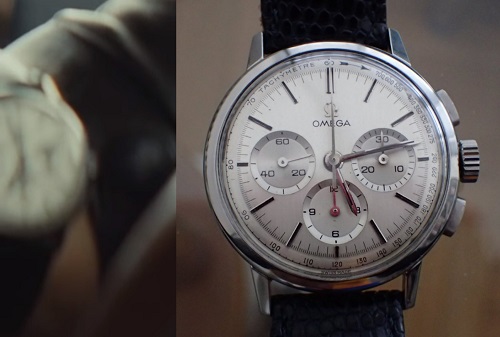 The bulk of the credit for this find has to go to AJB007 forum member Stefan. Using only those quick, blurry shots of Bond turning the key of his DB5, he managed to identify the final watch in SPECTRE as the vintage Omega Caliber 321 on a black band. He posted his conclusions in this thread back in January 2016. James Bond Lifestyle later confirmed the make, model and year of the watch (Omega caliber 321 Ref. ST 101.010 from 1965) from a SPECTRE wardrobe sheet in this article. The image above is a similar watch (a Ref. 101.010-63) from the Omega Forums.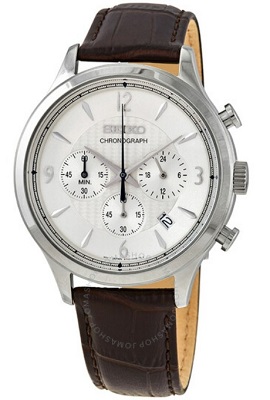 Three things to note from the start: the pushers are the wrong style, it has Arabic numerals, and the 43mm case size is significantly larger than the Omega's 36mm. On the plus side, it has a very similar vintage DeVille vibe. And the price tag won't break the bank.
Down in the comments for this post, Chris recommended the Seiko SSB095. It's a slightly more modern interpretation of vintage chronograph. But it's definitely worth checking out. And the $119.00 sale price makes it very attractive. I think if you put a steel bracelet on it, it could also work as a solid alternative for the Rolex Ref. 6238 above.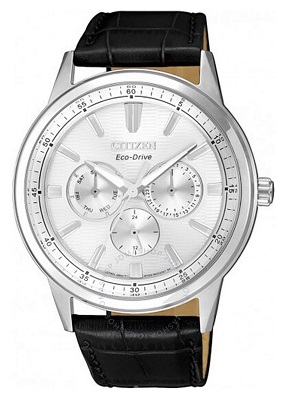 Even though it's missing the pushers (the sub-dials are for day, date and 24 hour notation), I am liking the styling of this one. But at 44mm, it's also big watch. Once again, we get Citizen's Eco-Drive movement. And the textured face adds some visual interest without making things look too busy.
A Swiss made chronograph with a dressier, vintage feel. The Tradition has a 42mm case with a sapphire crystal. But the movement is a higher end quartz ETA Caliber G10.211. And although the sub-dials at 2 and 10 and the cap style pushers aren't the same, the face design captures the clean looks and more open lay-out of the Omega.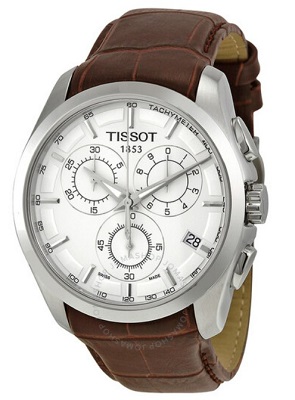 Another option from Tissot. And from a looks perspective, it's probably the least screen-accurate alternative. However, it would be my personal choice. I just really like the way it updates the look of the Omega while retaining a touch of the original's vintage charm. It's also a decent watch from a technical perspective. The engine is the Swiss quartz ETA G10.211 and the 41mm 316L stainless steel case is topped with a Sapphire crystal and is an easy size for most of us to wear. Finally, the leather strap comes standard with a deployment clasp, which I prefer over the stand tang buckle. Some of Tissot's designs have been drifting into the overly complicated lately. But this one has a timeless feel that'll fit with casual and dressier looks.
I'd also suggest checking out the Tissot Couturier GMT, which is on sale for $304.97 over at Nordstrom Rack. The design is very similar, with slightly different functionality. I just think the Chronograph above is a little prettier.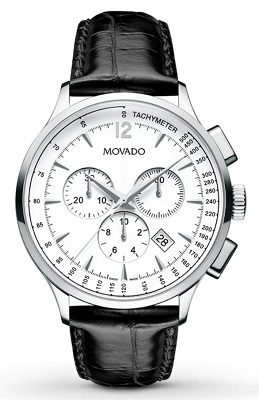 Aside from the larger 42mm size and the Arabic "12", this option probably comes closest to the design of the original Omega. Eight hundred bucks is a lot to pay for a quartz watch. But Movado is generally a well-respected brand. So you can feel pretty confident you're investing in a quality, Swiss-made product.
Have some ideas about affordable alternatives for the James Bond dress watches? Head down to the comments and share away! And remember you can always find more Bond style and inspiration on our Facebook Page, Instagram Account and Pinterest Boards!
Some images used in this post were sourced from Timepiece Chronicle.