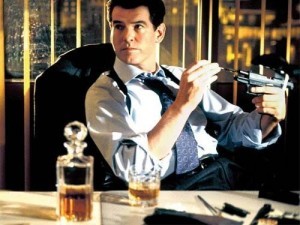 Welcome to our series "Bond Under $50"! Sometimes we have a little extra cash in our pockets and an urge to treat ourselves. And although "retail therapy" is yet to be defined as a legitimate psychological treatment, let's admit that it's perfectly okay to pick up a little something once and while that injects some 007 into our lives …
Bond Under $50 Choices
Bond is universally known for his martinis, but the character has done more than his share of experimenting with other types of alcohol (check out this detailed infographic at Short List if you don't believe me). So, the theme for this post is single malt whisky:
Scary to think about, but it appears that reserves of aged single malt whisky are starting to run out. So now's as a good a time as any to stock up on your favorite bottles. And while you're at it, you could pick a few items to make the drinking experience even more enjoyable. You can check out the bottom of this post for some additional information resources if you're just getting started with single malts.
The Whisky
This may be considered sacrilegious among some Bond fans, but I think the Macallans are way overpriced, especially when there are excellent single malt alternatives to be had for under $50.00. My personal favorite is the Laphroaig 10 Year Old, available for about $38.00/£27.41 at Master of Malt. In terms of flavor, it's about as far from the Macallan as you can get, and many simply won't like the heavy peat, smoke and iodine notes. Me? When I sit down with a Laphroaig, I feel like I'm sipping a little piece of Scotland (sorry … felt poetic for a second there).
Other options from the Islay region include the Ardbeg 10 Year Old for $47.00, the Laphroaig Quarter Cask for $45.00, or the Caol Ila 12 Year Old for $46.50. Prefer a Speyside? You can get the Balvenie DoubleWood 12 Year Old for about $40.00.
If you feel like experimenting with different whiskys, you can try a service like Caskers. For $159.99 every three months, they'll send you three new bottles to try. At an average of $53.33 a bottle, it does exceed our price barrier, but then again coming home to 3 new spirits to try once a quarter also sounds pretty good.
Glassware
The glass Bond used in Casino Royale was the Cumbria Crystal 12oz Double Old Fashioned Tumbler from their Grasmere Collection. A single glass costs £67.00 plus, by most reports, very expensive shipping to the States. But you can pick up a second quality glass for £33.5o/$48.00.
A more affordable option (especially if you want to drink with friends) could be this set of 4 Marquis by Waterford Markham Double Old Fashioned Tumbers available at Waterford for $39.95 or Amazon U.S. for around $29.00.
And if you're feeling really fancy, you could also pick up a cut crystal decanter, like this one from Bormioli Rocco on sale at Amazon U.S. for $8.99. Probably won't end up being a family heirloom, but it should do as a starting point.
If you don't want to shop around and prefer to get everything you need in one shot, there's the Godinger Silver Art Dublin Collection Crystal Whiskey Bourbon Bar Set on Amazon for $59.99. Yes, it breaks the $50.00 ceiling, but the set includes the decanter, 6 glasses, a silver tray, and 12 whisky stones, so I'll give it a pass ….
Reading Materials
If you just want to pour a glass, sit down and enjoy, then more power to you. If you want to dig a little deeper into the world of single malts, you could start with The World Atlas of Whisky by Dave Broom. Available at Amazon for $23.80/£22.75.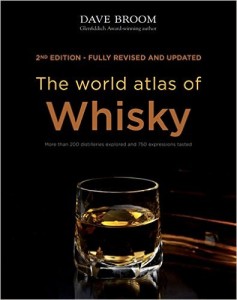 I really have no idea if this will work or not, but it could be a fun novelty gift for beginners and the whisky lover in your life that already has everything: The Essential Scratch & Sniff Guide to Becoming a Whiskey Know-It-All is on sale at Amazon for $14.99.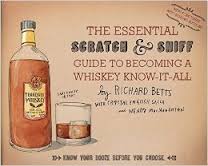 Some other resources ….
The Whisky Regions of Scotland
I've included a basic map of the regions here, but you can also find a great interactive map over at Malt Madness.
Pronouncing Whisky Names
Let Brian Cox help you with this series from Esquire; I've shared him pronouncing my favorite whisky, but you can view the whole series here. Worth watching just to learn how to say "Bruichladdich".
How to Drink Your Whisky
A simple step-by-step guide from Pinfographics:

Reviews and Finding New Options
Like wine tasting, it's almost too easy to drift into pretentiousness when reviewing single malts. That's why I really like Ralfy: he's low key, down to earth, kinda goofy, and he offers solid information with no muss or fuss. And man-o-man, does he know and love his whisky. For a taste, check out the video below or head over to his site for more reviews.
Have a favorite whisky you'd like to share? Found some good deals on glasses or decanters? Tell us all about it in the comments below! And remember to check out our Facebook page and especially this Pinterest Board for more James Bond food and drink advice and inspiration!
The featured image for the post was sourced from Cumbria Crystal.
This page was updated on May 18th, 2016.