Skyfall Zara Enjoying Death Shirt
Updated May 9, 2019 – Finding a decent alternative for the Skyfall Zara Enjoying Death Shirt has been a noble quest for many a fan since the movie premiered in 2012. The shirt used in the film was a Zara Youth model in light blue with a darker navy and royal blue floral motif micro print.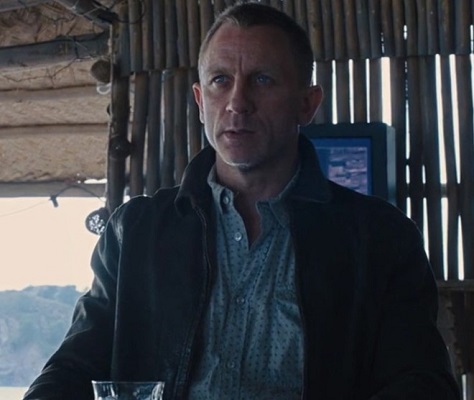 The images below from James Bond Lifestyle give an excellent look at the shirt's details. You can learn more about the complete look at Bond Suits and BAMF Style.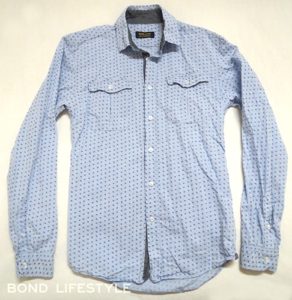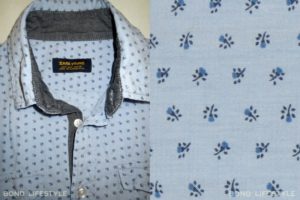 Features Wanted for the Skyfall Zara Enjoying Death Shirt
Light blue soft wash long sleeve cotton shirt with darker blue micro pattern (preferably floral motif)
Spread collar
Two chest pockets with flaps and button closures
White buttons on placket and pocket flaps
You ever have that feeling that the "thing" you want is out there – somewhere – if only you look hard enough? Yeah, well an exact match for the Zara Enjoying Death Shirt is proving to be pretty damn elusive. I found shirts with various combinations of the color, the pattern, the two flap pockets, and/or the spread collar. But all of them together? There's just not that much out there. So expect the alternatives below to be missing one or two features.
Best Option for the Skyfall Zara Enjoying Death Shirt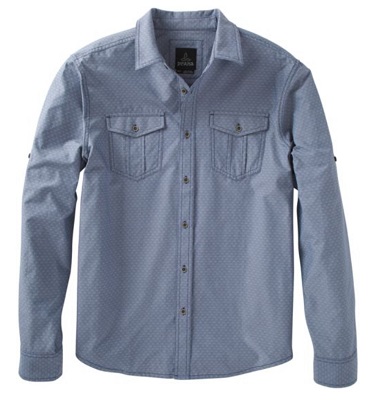 Two words: ACT FAST! This is a shirt from last season. And that means it's pretty much sold out everywhere. I'll get to the details below; just believe me when I say this is the closest match I've found in a looong time. The link above goes to Moosejaw, but they only have sizes small and XXL available. So here's a list of other online stores that have the shirt at various prices and in various sizes.
Camp Saver: on sale for $43.42, size small
Outdoor Gear Exchange: on sale for $54.99, sizes small and medium
Yoga Store: 93,00€ (ouch!), sizes medium to XXL
Randolph Team Tennis: on sale for $40.61, sizes XS to XXXL. Warning! I don't know a thing about this website and I'd definitely proceed with caution when ordering from them!
Okay, about the shirt. First off, it's not cotton. Prana have used a nylon/polyester blend fabric. Not ideal, but it also has its benefits. For example, fewer wrinkles and the shirt has an SPF rating of 50+. The color is a really good match, but the pattern is actually a white dobby print. There's also those darker buttons. All in all, it's not the exact shirt we want. But, like I said, it's as close as I could find off-the-rack.
The Repro Option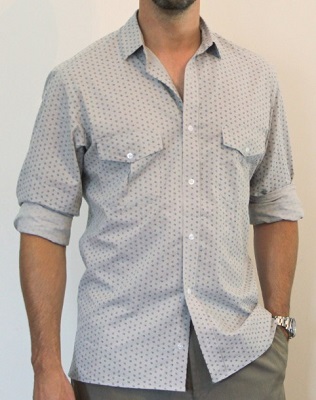 Now, if you're willing to go custom made (and pay for it), then you can get pretty darn close to the perfect shirt. Magnoli Clothiers has a Made-to-Measure program, so you should get a great fit. And they've nailed down the style details, from the printed fabric to the mitre-cut cuffs. Indy's also very well-known in the fan community and has created a lot of great pieces for many fans.
Under $50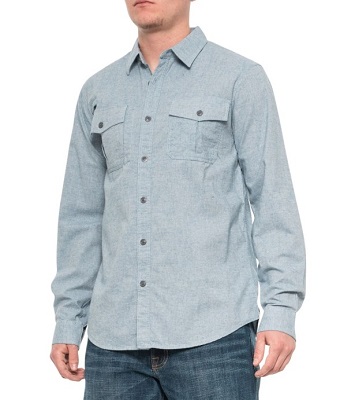 If it only it had a print …, Aside from that, this option available at Sierra Trading Post ticks a lot of the style boxes. The color is great, the pockets have the button flaps and the correct pleats. And it's hard to beat that sale price (down from a MSRP of $70). Plus they have sizes small to XXL in stock. Makes you want to ask yourself just how badly you need that floral micro-pattern.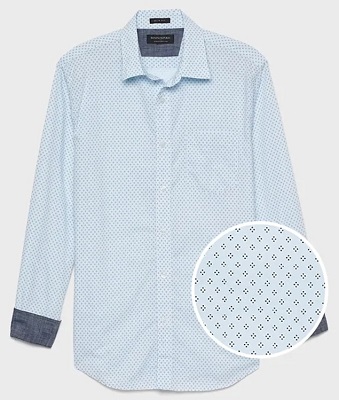 Wow, that's a great color and pattern! Shame nothing else about the shirt really matches up. You know what I'd be tempted to do at the current sale price? I'd buy two shirts and use the fabric from the second one to have a tailor make the correct pockets. Sure, it'll drive the total price north of $80. But isn't screen accuracy worth it? I'm only kinda sorta joking ….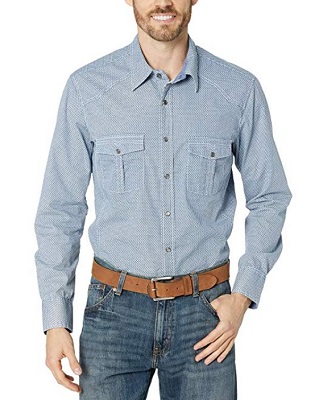 Print and pattern shirts are very much on trend right now. And western style shirts are definitely making a comeback (I've got a few myself). So maybe think of this option as two cool shirts for the price of one? 6pm has this one, but sizes are getting spotty.
Under $100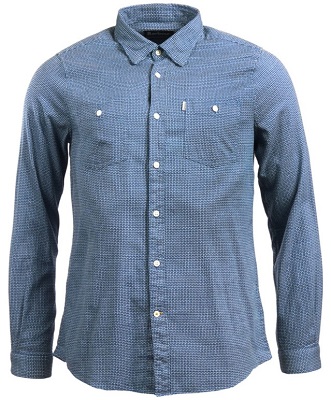 With this option, we're getting a jacquard pattern on a mid-blue fabric instead of a floral print on a lighter blue. There's also the fact that the pockets are missing the flaps. But we all know that Barbour makes some quality clothing, which helps make up for those deficiencies. This particular model is sold out almost everywhere. Fortunately, Outdoor and Country still has good selection of sizes left. Unfortunately, I don't think they ship to the USA.
Have any alternatives for the Skyfall Zara Enjoying Death Shirt? Let us know about them in the comments! And remember to check out our Facebook Page, Instagram Account and Pinterest Boards for more James Bond style advice, inspiration and info!