James Bond Dressing Gowns Part 1
Bond's worn a lot of different styles of dressing gowns and bath robes throughout the films; with summer coming up, I decided to focus on the lighter weight robes like the ones he wears in Goldfinger and Casino Royale for this post. These are just personal preferences, and you can read the various posts about bath robes/dressing gowns at The Suits of James Bond if you're looking for more inspiration. You can also learn more about alternatives for the robe he used in SPECTRE in this post.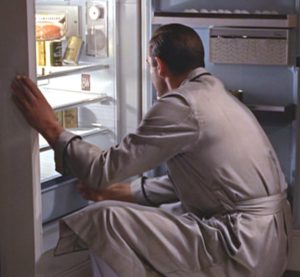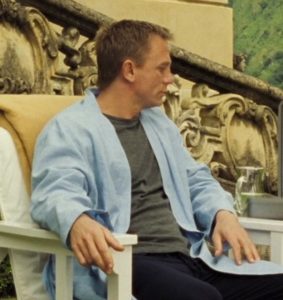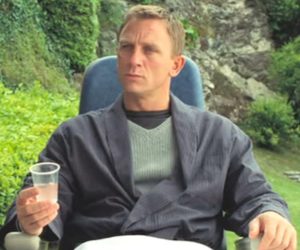 The Goldfinger Robe
After getting to know Jill Masterson a little better in Miami, Sean Connery's Bond puts on a black and white pinhead pattern robe with dark grey or black piping, turned back cuffs and an inset chest pocket. The belt used to close the robe has a funky little embroidered design at the ends. From a distance, the robe reads as light grey to light blue, depending on the lighting.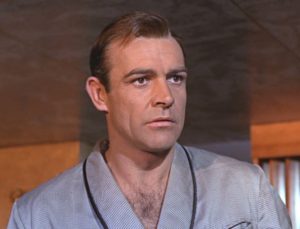 The Marks and Spencer's Pure Egyptian Cotton Belted Dressing Gown is £49.50/$80.00, and it matches a lot of the features of Connery's original. The fabric is a sort of modified nailhead/grid pattern in light blue and grey, rather than the black and white pattern used in Goldfinger, so it definitely reads as more blue than light grey. On the other hand, it could even be used in a pinch as an alternative to Roger Moore's pale blue and pinstriped robe from Octopussy. 
If you're looking for a slightly more budget alternative, then there are other options to check out from the M&S Collection at Marks and Spencer ($45.00/£27.50), Bottoms Out at Amazon U.S. ($24.99), Haigman at Amazon U.S. and Amazon U.K. ($45.99/£18.00), and Majestic International at Amazon U.K. (£25.00). Just be aware that most of these are lacking the exact color match, the chest pocket, and/or the pattern. The good news is that some of these, like the Haigman, could do double duty for the Casino Royale light blue robe if you don't mind the shawl collar and piping.
At the other end of the price spectrum, if you recently "ganó la lotería", you can check the Brooks Brothers Wrinkle Resistant Chambray Robe for $118.00. Solid light blue fabric, but it does have the turned back cuffs and inset chest pocket.
And if you won A LOT of dinero, you could try the Derek Rose Tasseled Belt Silk Dressing Gown for £608.00.
The Casino Royale Light Blue Robe
During his period of recuperation, Craig's Bond wears two robes: a navy blue micro-check one and a light blue one.  The light blue robe, worn while he transfers money and hints at the amazing properties of his little finger, has a kimono style collar and the fabric appears to be linen or a linen/cotton blend.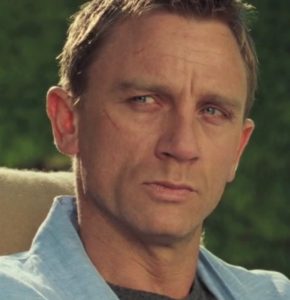 The best option I found was the David Jones Williams Chambray Robe for $79.95 Australian.  Yep, it's an Australian site, so make sure you check the exchange rate and shipping information. But with the color, simple design and kimono collar, it's a great match for the one in Casino Royale!
Unfortunately, I wasn't able to find any affordable options for folks in the U.K., but I'll keep looking. For those of you in the U.S., you can start with the TowelSelections Men's Waffle Bathrobe in Cashmere Blue for $28.95. As the name suggests, this is a waffle knit, but it is the simplest one I could find with the Kimono style collar.  JC Penney also has their Stafford Long Sleeve Kimono Robe for $34.99, but unfortunately it has a subtle plaid pattern.  Also at Amazon U.S., the Van Huesen Jersey Knit Shawl Collar Robe for $29.99 has a (you guessed it) shawl collar, but the fabric is slightly heathered, giving it the more distressed, linen look of the original.
If  you really have your heart set on getting a more screen accurate linen robe, then it may be worth your while to check out the Linen Unisex Long Kimono Style Bathrobe in Icy Blue at the Linenshed for $78.00.  The site doesn't have a picture of the robe in this color (or even a picture of a man wearing the robe), but this one gives you an idea of the very simply styling.
Casino Royale Navy Blue Checked Robe
Finally, while observing the positively shocking treatment of Mathis (puns!!), Bond wears a lightweight cotton, small navy gingham check patterned robe. Again from a distance, the small pattern is less obvious, and the robe reads as an almost bluish grey (no doubt the camera filters used also helped wash it out a little).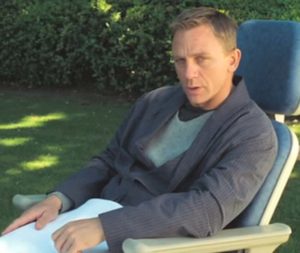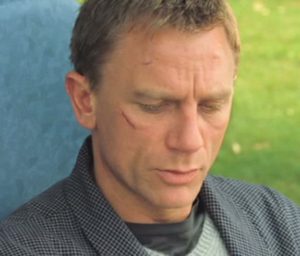 A couple of very solid alternatives from Neiman Marcus for this one. First is the Micro-Check Cotton Robe, on sale for $78.00 (regularly $175.00). This one does have pipping details and it's base is a charcoal grey, but from a distance the color is a pretty close match to what we see onscreen.
Next is their Italian Made Plaid Robe, also on sale for $78.00 (regularly $175.00). This one is also charcoal, and the color reads darker, but no piping which gives it the cleaner look of the screen version.
Another interesting option comes from Caro London: they're Men's Black Windowpane Check Kimono is £55.95. No shawl collar, unfortunately (it is a kimono), but that small black check on the steel blue fabric makes for a close color match from a distance.
If you're looking for something more on the budget side, take a look at the Champion Luxury Checked Poly Cotton Dressing Gown for £17.90 or the Champion Checkered Dressing Gown for £13.73 on Amazon U.K., or the Stafford Long Sleeve Kimono Robe in Wellington Blue Plaid, on sale for $29.99 on JC Penney.
We'll be exploring Bond's other dressing gowns and bathrobes in future posts, and I'll keep updating this post as new options appear. If you have any suggestions for alternatives, feel free to leave them in the comments below!