Skyfall Orlebar Brown Setter Swim Shorts
For taking at dip at his hotel's rooftop pool in Skyfall, Bond wears the Orlebar Brown Setter model in Sky. While the Sky color is no longer available, you can still find the Setters in a close Riveria color on Orlebar Brown's website for £145.00 or on their U.S. website for $240.00.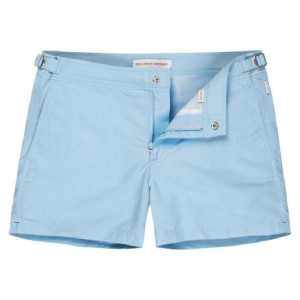 Best Options for the Orlebar Brown Setter: 
Royale Filmwear has a replica version modeled on the Orlebar Browns used in Skyfall. The James Bond SKYFALL Swim Shorts retail for $49.00, with free shipping worldwide. Honestly, you're probably not going to get closer to the originals than these ones for the price.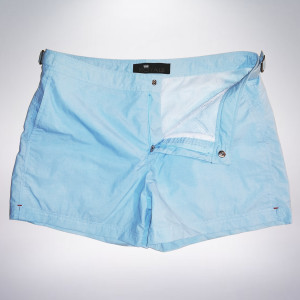 Next best options:
Swim-ology (you can find other sizes from other sellers on Ebay for about $55.00). I actually own these: the quality is excellent but they size small! A large will fit a 33″/34″ waist. You'll need to search Ebay listings for Swim-ology to find other sizes, but they're out there.
Lands End Monterey (from user Skyfell on AJB007; on sale at LE for $16.99). Sizes are getting really spotty in these.
Other Options: 
Parke & Ronen Catalonia in Vintage Chambray priced between $88.00 and $130.00 on Amazon, depending on the size you need. Hate it when they do that.
Bonobos 5″ Surfside Board Shorts in Chambray are $88.00. They have the button waist closure, but are missing the side tabs.
If you think the pale blue of the Setters is a little too boring, you could try the Ted Baker Foshar Swim Shorts in Turquoise for £60.00.
J.Crew's 6.5″ Tab Swim Shorts in a cotton/nylon blend Chambray don't have all the details of the Orlebar Brown Setters, but they still have that retro style. Currently priced at $75.00, J.Crew is constantly running codes for 25% to 30% off so it'll pay to be patient. The also do the same style in 100% nylon in a brighter Adriatic Sea blue if you want swim shorts that will actually dry inside an hour.
A new alternative from David Gandy for Marks and Spencer: the Tailored Fit Short Length Quick Dry Swim Shorts are £29.50 and use button side adjusters rather than the buckle style of the Orlebar Browns. Thanks to Chriscoop for suggesting these in the comments!
I'm pretty sure Bond wouldn't be caught dead wearing a brand called "Psycho Bunny", but their Solid Swim Shorts in Pacific may work for some of us. On sale for $56.98 at Nordstrom and they have an elasticized back. Some may like that if they're looking for a little more comfort. Only size large left in stock now, but they might have more in-store.
Suit Supply recently launched its men's swimwear collection; the creatively named Light Blue Swim Shorts go for $89.00.
If you have any alternatives you want to share, feel free to leave a link in the comments! You can also keep up to date on the latest deals around the net by checking out our Facebook page and Pinterest boards.
This post was updated on June 7th, 2016.