Quantum of Solace Church's Ryder III Chukkas
Updated May 28th, 2019 – For riding dirt bikes in Haiti in a pair of cream Levi's, having a glass of wine with Mathis, and running around the Bolivian desert blowing up eco-hotels in his Tom Ford Harrington, James Bond wears the Church's Ryder III chukkas in brown suede.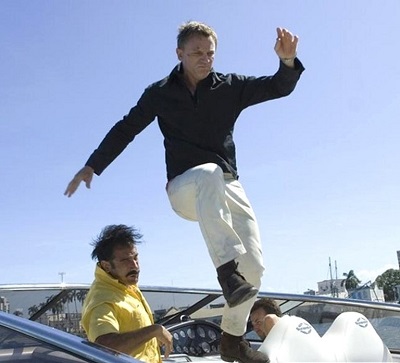 You can still pick up the original Church's Ryder III chukas at Herring Shoes for £380.00/$496.00 with free worldwide delivery. They're getting low in sizes, but a restock in core ones is expected in July. You can also order the boots directly from Church's for the same £380.00 price tag. However, I'm not sure about shipping to the states. In the U.S. Zappos has a smattering of sizes left. But they're asking $600! Personally, I'd go with Herring Shoes. Those guys know their stuff and provide excellent customer service.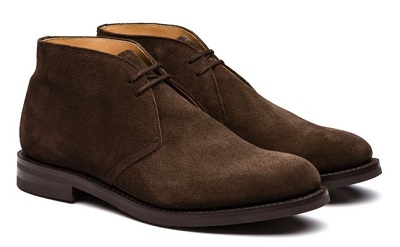 Features Wanted for the Church's Ryder III chukkas  
More of a dress chukka shape (not a "desert boot")
Black, solid sole, preferably with a Dainite® type sole.
2 eyelet lacing
For the second year, affordable alternatives from the big shoe names are thin on the ground. Luckily, we're seeing some great boutique brands making this classic style at reasonable prices. Unfortunately, none of those prices is below a hundred bucks. Unless you're happy with a pair of Clarks Bushacres with the light color sole. If you are, then more power to ya! But for this post, I'm going to stick with screen accuracy. Even if that means we may be paying up.
Best Option for the Church's Ryder III chukkas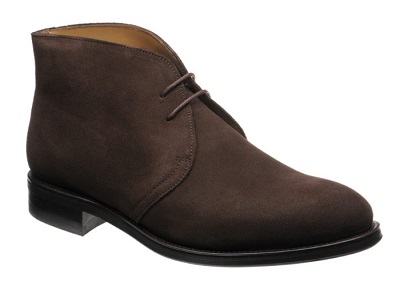 A LOT of boot for the money! Not only does it have the look we want. It's also leather lined and blaked stitched with a Dainite-like rubber studded sole. The Canterburys are made in Portugal, not England. But the reviews are very good and Herring has sizes 6 to 13 in stock. Shipping in the UK is free. However, they charge £20.00 (about $25) to get them to you in the States. I can't deny liking Herring Shoes. As I said above, the owners and staff there know footwear and make customer service a priority. That's something I think we can all appreciate.
Options under $200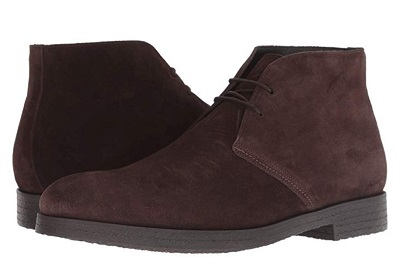 Zappos has this model on sale in sizes 7.5, 9, 11.5 and 13. And if you're not one of those sizes, but really like the boot, then Nordstrom has more options available … for $224.90. As for the boots themselves, they're made in Italy with 100% suede uppers, a full leather lining and rubber crepe-like sole. I've had an earlier model of this To Boot chukka with the crepe sole for almost 5 years now and they've been holding up just fine. Definitely worth $150. $225? I think that's getting pretty steep.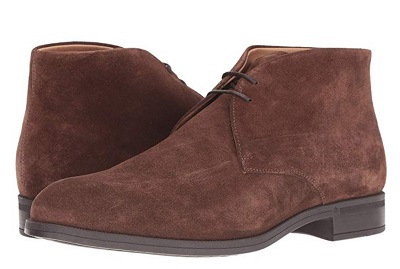 A good, basic chukka once again on sale at Zappos. These also have the leather lining (product description doesn't say if it's heel to toe) and a rubber sole. No word how it's attached. Cement? Blake stitch? They're made in Portugal, so we can hope it's the latter. Zappos has an okay stock of core sizes right now.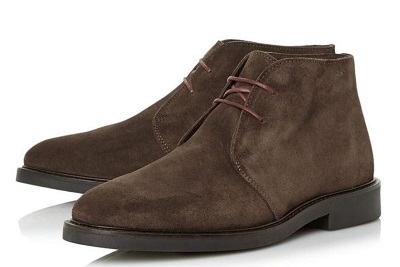 GANT definitely has a winner from a design perspective. The sole even has the Dainite-like studding. And they're also leather-lined, which is a nice touch. House of Fraser currently has the best price for these right now. But they only have sizes 7, 8, 9 in stock. You can also buy them directly from GANT UK. More sizes are available there but the price jumps up to £130.00.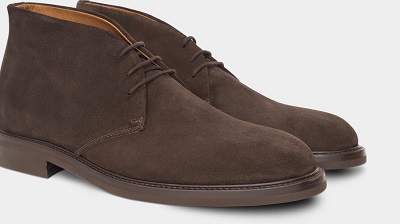 Put aside the three eyelets, and these are a solid alternative for Ryder IIIs. Velasca makes the chukkas in Montegranaro, Italy from "overturned" full grain leather and finishes the interior with a Vacchetta leather lining. The Vibram Eton studded rubber sole is attached using a Blake stitch construction. The boots can be resoled and tend to have a softer flex than Goodyear welted footwear, which some may like since it minimizes break-in time. Two other points in Velasca's favor. First, the Artistas have 4.6 stars after 67 reviews. And shipping and returns are free for customers just about everywhere. I've had a pair of Velasca wing-tip boots for just over a year now and I've been very happy with the quality.  You can read my review of those boots here.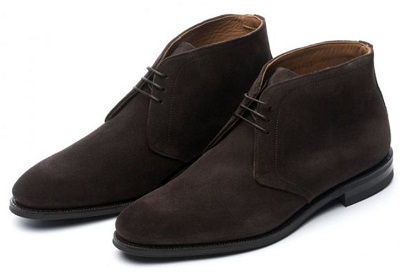 Okay, I'm one dollar over. Don't hate me. In terms of styling and materials, the Meermins are very similar to the Velascas above. So what does that extra five bucks buy you? Well, these ones are Goodyear welted, which adds to the price. But (rumor has it) the uppers are made in China by a crew that was directly trained by Meermin to meet its quality standards. The finished uppers are then sent to Spain where the soles are attached. The fact that they're not exactly transparent about that process may put some people off. But Meermin does have a reputation for making quality shoes at a fair price. Now that they allow returns to their New York location (you used to have to pay to ship them back to Spain), the risk of trying them out has been greatly reduced. Most core sizes are still available on their website.
If you have a favorite alternative for the Church's Ryder III chukkas, feel free to share it in the comments! And head over to our Facebook,  Pinterest, and Instagram pages if you'd like to see more Bond!