Best Budget Style Finds March 2nd
Welcome to our Best Budget Style Finds for March 2nd! And a very Happy Birthday to James Bond himself, Mr. Daniel Craig! This is where we share some of the great alternatives for Bond (or Craig or McQueen) style that either slipped through the cracks when I was writing the original dedicated posts or deserve a special mention. Sometimes the posts will be short. Sometimes there'll be a ton of new options. A lot will depend on what we, as a community, find and share. So if you have any suggestions, let us know in the comments. On to the alternatives!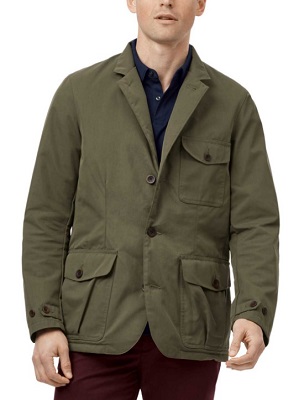 Still probably one of the best non-Barbour alternatives for the Skyfall To Ki To. Now at a much more affordable price than the original $399 they were asking. The shell material is a 60% cotton, 40% polyester blend. So not waxed, but still somewhat water resistant. It's also lightly insulated making it more suited for early spring and fall temperatures. But it's not like Bond's Barbour was made for the hot and steamy days of summer. Charles Tyrwhitt still has sizes small to large available.
Speaking of Summer Weather …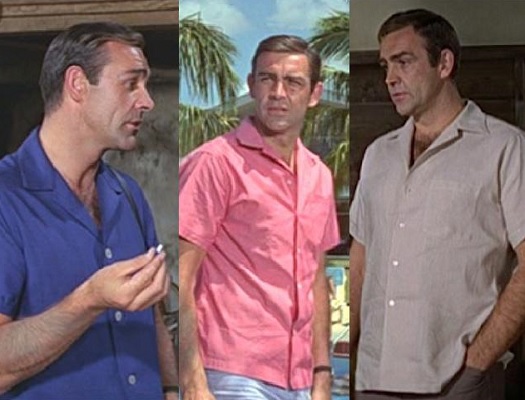 Yep, I'm already thinking about Bond's warm weather shirts! Staring out the window at freezing rain will do that to a fella. Besides, it's never too early to start stocking up for your summer wardrobe. And Bond's short sleeve, Revere and camp collar shirts are a great source of inspiration. If you need a reminder of just how cool he looked in them, give this overview at BAMF Style a read.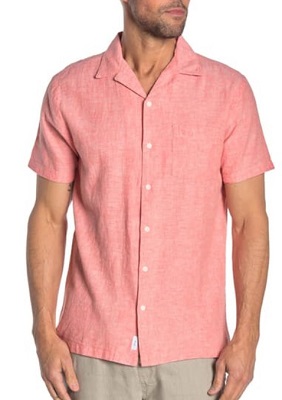 Just to give you a heads up: I'll be including a few Onia products in this post. Mainly because Nordstrom Rack has some great deals going on for their remaining pieces from last season. And I also own a couple of shirts from Onia and can vouch for the fit and quality. To start, this 55% linen, 45% cotton short sleeve shirt works great as an alternative for Bond's pink one from Thunderball. The fact that it's currently discounted 76% is also very much in its favor! Sizes small to XL are in stock. Just FYI: Onia tends to fit slim to begin with. If they're calling this a "Trim Fit" I'd consider sizing up if you want a more relaxed look.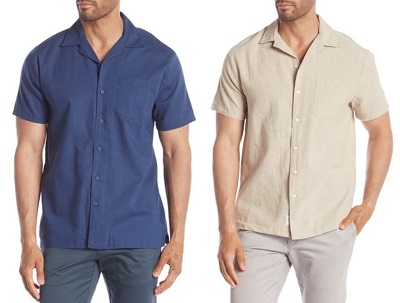 And another option from Onia in two Bond-approved colors. They've used a 60% cotton, 40% modal fabric for this one. A little heavier than the linen alternative above, but still lightweight and breathable. As for the styling details, the blue one is missing the patch pockets we saw on 007's shirt. But not many (if any) alternatives will have those unless you go with some kind of modified guayabera. However the Revere collars are spot on! Nordstrom Rack is down to sizes small and medium in the blue, but they still have small to XL in the Khaki.
An Old-School Bond Inspired Watch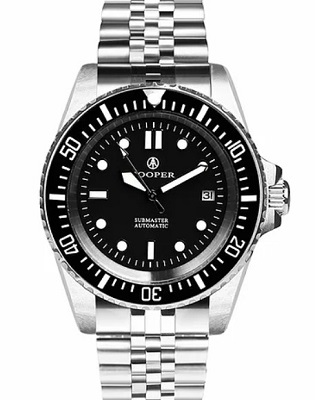 The owner of Cooper Watches reached out to me on Instagram a couple of weeks ago. And it's always fun to meet a fellow fan who's used his love of Bond's style to launch a business. But, to be clear, this is not a paid promotion or anything like that. As much as I enjoy sharing the creations from those in our community, I only do it when those creations offer good value for the money. And, on paper, Cooper Watches looks like it meets that standard.
First, I like that it's inspired by the Rolex Submariner (which can be said of almost any dive watch (said in a Vesper Lynd voice)). But it's not trying to be a knock off and clearly has it's own personality. The specs also sound pretty good for the price. The movement is the tried and true Miyota 8215 automatic. The solid stainless steel case measures 40mm (great for most wrists) and features a screw down case back and screw down crown. Lastly, the watch is water resistant to 200m. This particular model comes with a stainless steel Jubilee style bracelet. But they also offer the watch on a NATO strap for £149.00. So, all in all, it stacks up nicely against many of the other timepieces in this price range. And that 200m water resistance might just give it a bit of an edge.
Cooper Watches has kindly offered readers here a 10% percent discount if you decide to try one of their watches. Just enter the code COOPER at check out. They also offer a 2 year guarantee if their product turns out to be faulty or not as advertised. It always gives me a little more piece of mind when I know a company stands behind their products.
Even more SPECTRE Style!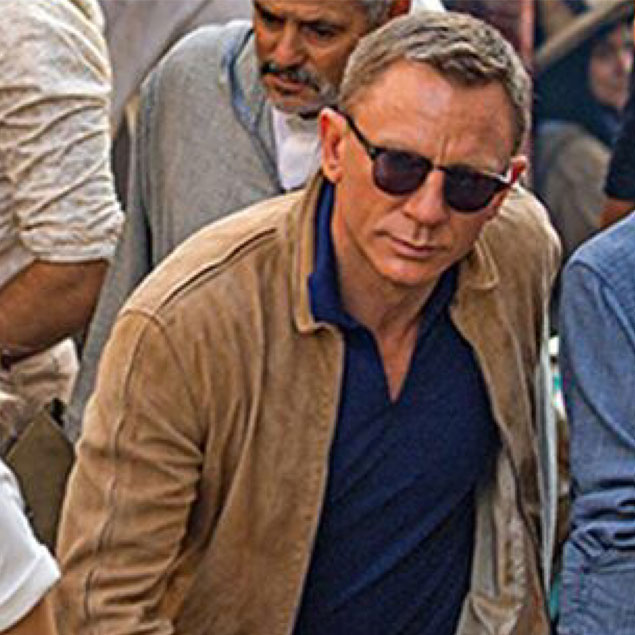 That's three weeks in a row we've had some solid alternatives for key SPECTRE pieces in our Best Budget Style Finds. Not that I'm complaining. Bond had some of his best looks from the series in that film, so I say, "Keep 'em coming!"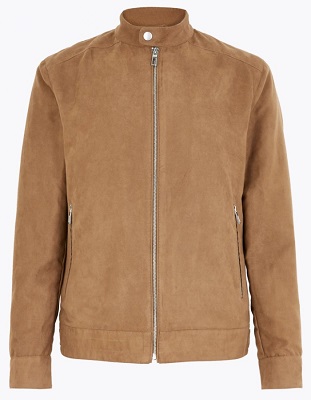 Faux suede. But the color and styling are a pretty good match for the Matchless jacket Bond wore in Morocco. Simple suede cafe racers in that light beige color are surprisingly difficult to find at a reasonable price. So I'm always happy when a decent alternative shows up. I've spoken before about my concerns with faux animal skin: done wrong, it can end up looking like cheap velour. But based on the customer ratings (4.8 stars out of 5 after 12 reviews), M&S nailed it. The comments are also very positive about the fit: not boxy, more slim and contemporary. There are also some nice details (extended hem at the back, snap button waist adjusters) that, while not screen accurate, give the jacket some character. But I have to ask about M&S's pricing strategy. That sale price makes it a solid deal for those of you in the UK. But they seem committed to charging those of you in the U.S. a premium. Doesn't seem quite right. Sizes small to 4XL are in stock.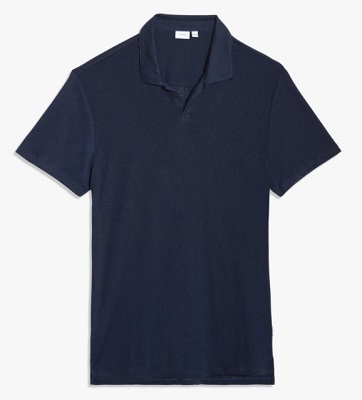 Another alternative for the Tom Ford Johnny collar polo, again from Onia. Since this one is from the current season it's coming to us directly from the company. But it's still a very sharp looking shirt with a suitable Bond vibe. The fabric is a 55% linen, 45% polyester blend that looks to have some nice texture and a bit of slubbing. Definitely not your typical boring pique knit polo. Onia has also pre-washed the fabric for "super softness" to make it even more comfortable. They have sizes small to XL in stock on their website.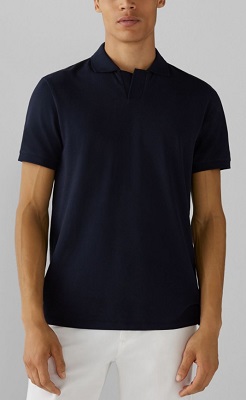 This one was suggested by our friend Michael Fisher in the comments from last week's Best Budget Style Finds post. And it looks to be a good one! Maybe it's just me, but I think the addition of the button-less plackets at the collar give it a slightly more formal look. The fabric is a 97% cotton, 3% elastane blend and the shirt has a slightly fuller cut. So it should be plenty comfortable. You'll find sizes XS to XL available on their website.
I got them No Time To Die blues …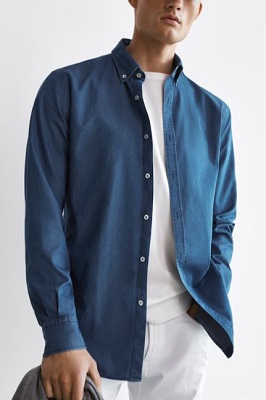 I often think of Massimo Dutti as "Brunello Cucinelli on a Banana Republic budget". It's not that they directly copy the designs of the luxury Italian designer. But you can certainly see where Massimo Dutti's design inspiration originates. So it's no surprise their products have a very similar aesthetic. This denim shirt is a great example. The color may be a little darker than the one Bond wears with his Massimo Alba corduroy suit. But it has a decent a button down collar, a more tailored fit and they've skipped the chest pocket. More importantly, the 100% cotton fabric still has a crispness to it and isn't pre-worn or faded like so many other denim shirts out there. That helps it deliver the  "casual elegance" vibe we want. Sizes small to XXL are on sale on both the UK and U.S. sites.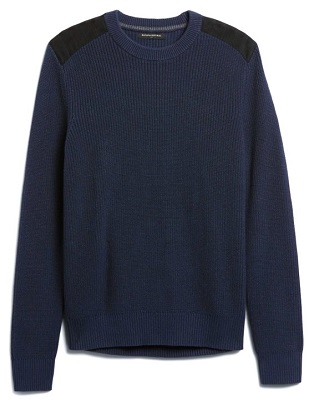 Where the heck was this one hiding? Think of it as the "Civilian's Commando Sweater" alternative for Bond's N.Peal. It's missing the sleeve patches. And the fabric at the shoulders doesn't extend as far as it does on the film-used sweater. So the overall look is decidedly less tactical. But some of you may appreciate that. The price is also hard to beat. At the time of publishing BR Factory was offering an additional 50% off that sale price, bringing the total down to around sixteen bucks! If you're looking for a truly budget alternative (that's not from Amazon), this could do the trick. Sizes XS to large are in stock. Just a quick note: I had to lighten up the product photo slightly to show the sweater's detail. So expect it to be darker IRL.
Hey! I remember those shoes!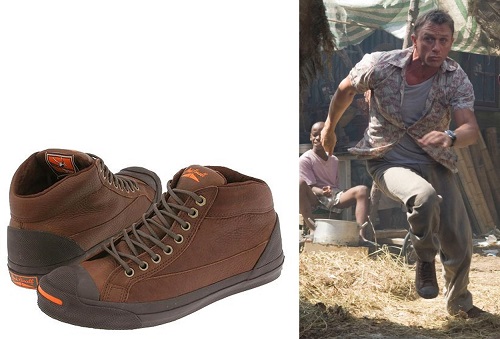 I'll never give up looking for good alternatives for Bond's Jack Purcell OTRs. Not only were they a great looking sneaker. They'll also have their place in 007 history for being part of one the franchise's most epic action sequences. Based on some of the comments I've seen on Instagram, many of you feel the same way (and yes: I would fully support campaigning Converse for a re-issue!). Of course because the OTR is such a unique design, suitable alternatives rarely show up. But every once in a while something comes along that might work ….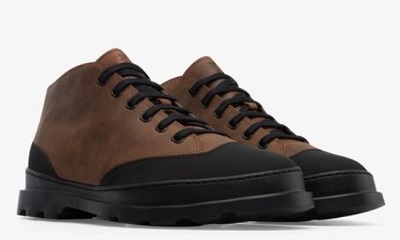 They're the best alternative I've seen since the glory days of the FRYE Ryan Lug Midlace. I completely understand if that crazy heel is throwing you off. But my wife has a pair of Campers with the same style of heel block and it's actually not that noticeable when she's wearing them. The ankle-height uppers are a genuine nubuck leather combined with black synthetic overlays at the toebox and heel cup. And the soles have a shallow tread to give them some traction. The design is clearly a little more fashion forward than the Jack Purcells. But they share a similar spirit and should look good when they're a little beaten up. Sizes 7 to 10 and size 12 are available on the Camper's website. Just note that the one review of them states they run narrow.
Daniel Craig does workwear (again)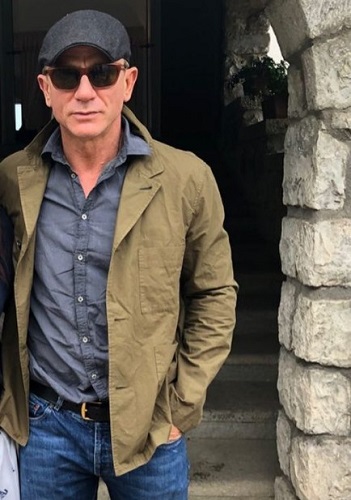 I just posted options for this Paul Smith Chore Blazer in our look at Daniel Craig Casual Style for Spring. And lo and behold, two more options show up. But it's is a cool looking jacket so I don't mind giving it a little extra attention.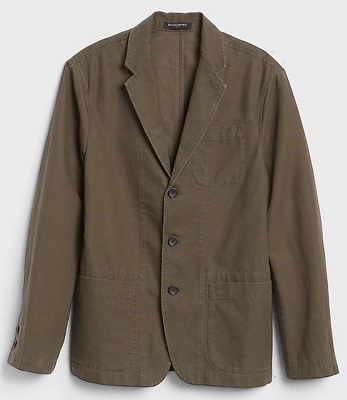 Banana Republic has used a 100% cotton canvas fabric for their interpretation of the chore blazer. And the color looks to be a couple of shades darker than Mr. Craig's. But the patch pockets, three button front and cropped length all look to be spot on. Personally, I really like a good chore blazer. It's sort of a slightly more formal trucker jacket and can be worn in many of the same situations. And olive green works well with the usual blue/grey/brown color palette that dominates most guys wardrobes. They still have sizes 38 to 42 in stock.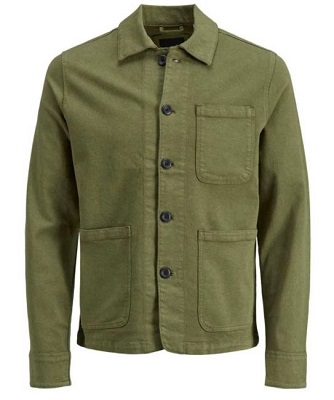 They're calling this an Overshirt. Which, given the fact that it buttons up to the collar, is technically correct. But it still has the same vibe as the Paul Smith blazer and could easily be worn the same way. The fabric is a 98% cotton, 2% elastane blend. Again, a little heavier than the one Craig was wearing. But the relaxed cut, unlined construction and that little bit of stretch should make it plenty comfortable for those cooler summer evenings. ASOS has sizes small to XL available.
Pain don't hurt*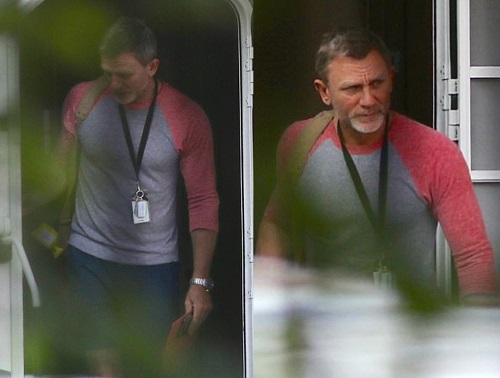 Flashback to May 24th, 2019. Daniel Craig has just returned to Pinewood Studios after injuring his ankle while filming No Time To Die in Jamaica. The ever present paparazzi snap some pics of the actor, wincing slightly, as he leaves his trailer. And he's wearing a faded, broken in baseball jersey. Not exactly high fashion. But it does look comfortable!
*Bonus points for naming the film that quote's from!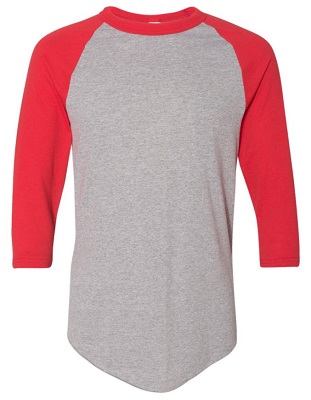 Yeah, I know. This one is a bit of a stretch. But even though we're all about the "affordable" round these parts, I rarely get to share a legitimate alternative that costs only eight bucks! Of course, Craig's shirt was probably some cashmere and silk blend number, hand crafted in a small workshop by an artisanal brand in New York. However, for us mere mortals, a 50/50 tee will work just fine for relaxing on the couch with a beer. Plenty of sizes available at Clothing Shop Online.
To see our previous Best Budget Style Finds posts, you just need to click here. Know of any alternatives we should feature in our next Best Budget Style Finds post? Or do you have another option for this post? Tell us about it in the comments! You can also visit our Facebook page, Instagram account, Twitter account and Pinterest Boards for more Bond, Craig and McQueen style advice and inspiration.