Best Budget Style Finds February 16
Welcome to our Best Budget Style Finds for February 16th! This is where we share some of the great alternatives for Bond (or Craig or McQueen) style that either slipped through the cracks when I was writing the original dedicated posts or deserve a special mention. My goal is publish one of these a week. Sometimes they'll be short. Sometimes there'll be a ton of new options. A lot will depend on what we, as a community, find and share. So if you have any suggestions, let us know in the comments. On to the alternatives!
Goodbye Lockdown Pudge!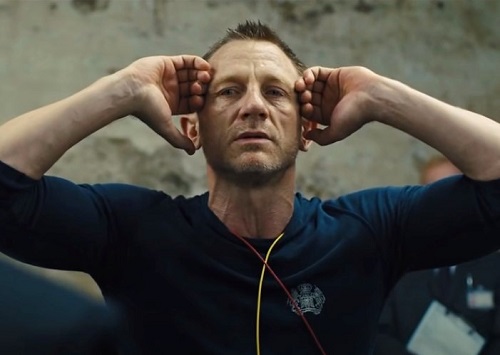 Maybe being in lockdown for a year wasn't especially kind to your mid-section. Or maybe you've been doing the home workout thing but it's starting to feel a little stale. Whatever your challenge, a little Bond-style inspo always helps!
And that brings us to SIS Training Gear. Created by a fellow Bond fan, the collection features pieces adorned with the embroidered logo of the SIS. The shirts, pants and sweatshirts are a high quality 100% cotton or a cotton-blend. So no moisture wicking tech fabrics like you'd find in modern gym gear. But you know what? Beating a pandemic is going take some old school grit! Their Long Sleeve Shirt and the Training Joggers both go for $39.99/£30.00. You should also check out their Spy Collection of t-shirts. They've got some very fun designs (Barrelhead Bar & Grill is my favorite, in case anyone was wondering). Use the code ICONIC at check out to receive 10% off your purchase. Thanks SIS Training Gear!
Speaking of Skyfall …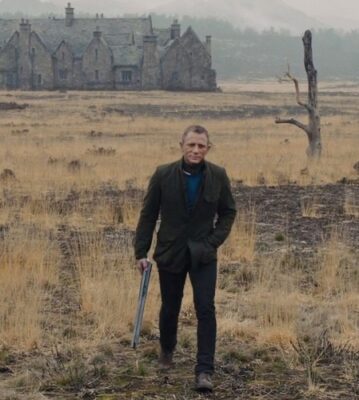 The look we all know and love. We'll be updating our dedicated posts on alternatives for the Barbour and the All Saints cords in a couple of weeks. But here are a couple of options for some of the key pieces from Skyfall to tide you over until then.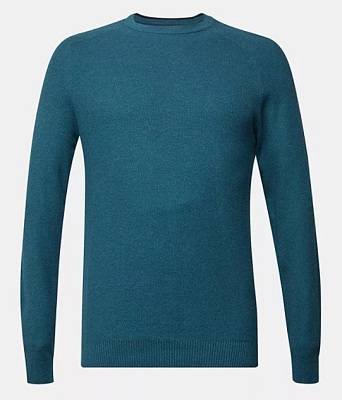 A great color match and the crew neck style will work. Esprit has used a 100% organic cotton yarn instead of the 100% cashmere of the N.Peal original. But it's also about three hundred bucks cheaper. Even better, at the time writing, Esprit was offering an additional 30% discount with the code SNOWFLAKE21 (I'm not sure when that expires). And they have sizes small to XXL in stock on their website. Now the bad news: Esprit doesn't ship to the U.S.A. So this one is basically for you folks in the UK and Europe.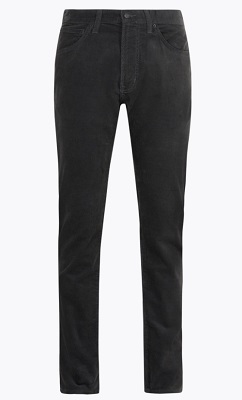 These alternatives for the All Saints Iggy Jeans were recommended by AJB007 forum member Hold Command (and seconded by forum member JB1106340). And when two dedicated fans of Bond-style recommend something, I pay attention. Because the screen-used pants started out as a "Bitter Chocolate" color and were dyed darker for the film, there's still a little back-and-forth on whether dark grey or dark brown comes closer to what we see on screen. Personally, I think the grey of these M&S cords will do a fine job. Still lots of sizes left on the M&S website.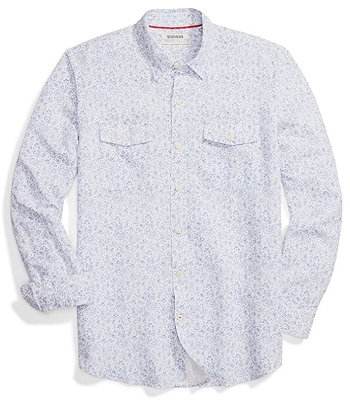 A recommendation from Alex in the comments on our dedicated post for the "Enjoying Death" shirt (which is also due for an update). This one from the Amazon house brand Goodthreads obviously embraces the "floral" element of Bond's shirt design. But the double chest pockets give it a utility shirt vibe that helps balance out the pattern. The 56% linen, 44% cotton blend fabric should also make it nice and airy for those warmer summer days ahead. Amazon has sizes small to XXL on their U.S. website. Unfortunately I couldn't turn it up on the UK site.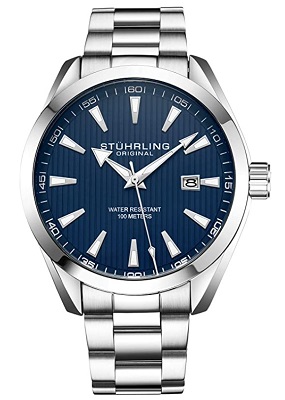 Omega Aqua Terra looks for those of us on a Timex budget. Craig's Bond has worn two versions of the Omega Aqua Terra. The first, the Skyfall 38.5mm Aquaterra 150M Co-axial ref. 231.10.39.21.03.001, was his watch of choice after returning to MI6 from his "enjoying death" vacation. The second model, the 41.5mm Aqua Terra 150M Master Co-axial ref. 231.10.42.21.03.003, was worn twice in SPECTRE: during the Mexico City scenes and during the film's big finale in London. With a 42mm case diameter, this Sturhling will probably work better for 007's SPECTRE version (and for those of you with bigger wrists). The movement is a dependable Japanese Miyota Quartz and it's rated to be water resistant to 100 feet. In stock at Amazon, where it has 4.3 stars out of 5 after more than 300 ratings.
Some SPECTRE Style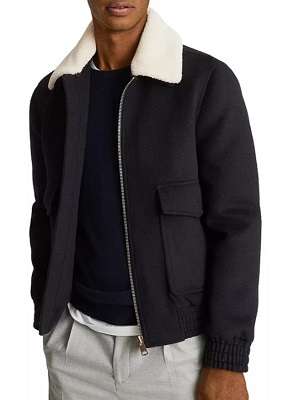 One the better alternatives I've come across for Bond's blue cashmere bomber from Dior. Reiss has used a 60% wool, 40% polyester fabric and the jacket has the large patch pockets (although the flaps are button through closures). Don't worry about that faux fur collar; it's detachable. Yes, there's also the elasticized hem and cuffs to consider. But 007's "Mr. White" jacket is a difficult design to match. And this one still manages to tick a lot of the right boxes to give us the look we want. Bloomingdale's has sizes XS, medium and large available.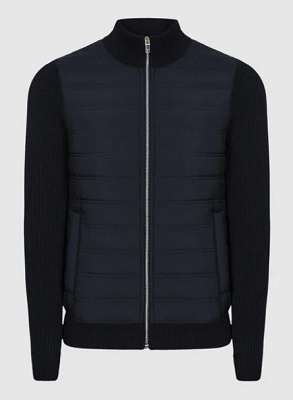 Seems like Reiss is on a bit of a roll in this post! We already shared one alternative for the Tom Ford "Sölden" jacket in the last edition of our Best Budget Finds. As with that Massimo Dutti option, the main fiber in the knit body of this one is cotton. Meaning it won't be great at keeping you warm when you're outside doing activities that may cause you to perspire. However the style details look like a good match and Reiss is known for producing quality products. The UK price is reasonable. But if you're in the U.S. I suggest buying from Threads, where the price is $240. They have sizes XS to large in stock. Need something bigger? You'll have to head to the Reiss main page, but the price jumps up to $320.
Another option for the NTTD Matera Jacket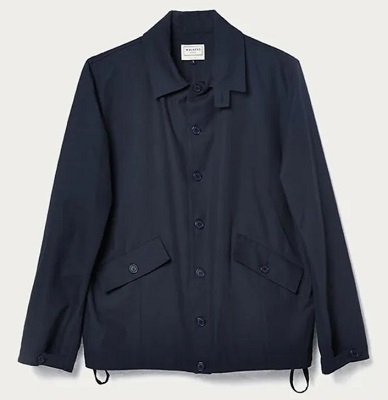 A bit of a price jump compared to the last alternative we suggested. It's also missing those pleated patch pockets we see on the screen used Connolly (although it does have the button through flaps). Still, there's something about the Esteban that I find really, really cool. And Walkers Appeal is a young brand (it was founded in 2016) that takes design and quality very seriously. The jacket is made in a heritage factory in Spain, and their interpretation uses a lightweight cotton that will be perfect for warmer weather. I also think that if you wanted one piece of outerwear that could work as both Bond's Matera jacket and his Cuba jacket, this would be it. You'll find the jacket at Bombinate, where they have sizes small to XL in stock.
Still cold in your neck of the woods?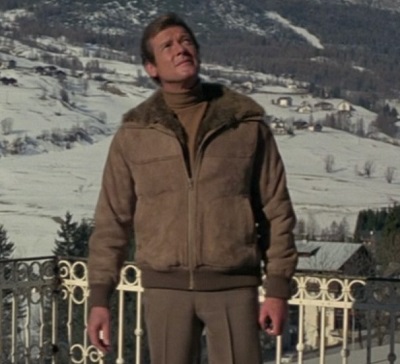 Yes, Bond wore shearling. And you can read more about Sir Roger Moore's look from For Your Eyes Only in this post on The Suits of James Bond (that's where I sourced the image above). The style of his jacket is a little dated. But there's no denying that updated interpretations of the shearling collar suede bomber are a "thing" in men's style right now. And so Sir Roger once again proves himself to be a worthy source of inspiration.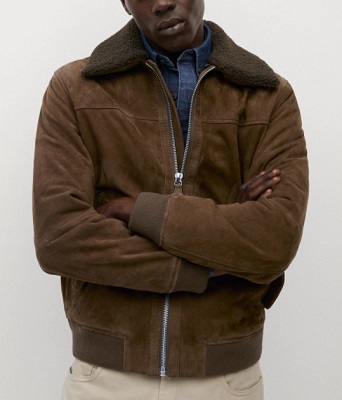 Unlike Moore's jacket, this one isn't full shearling. The lining is actually a cotton flannel. So don't expect it to keep you super warm on your next trip to the chalet. But it is genuine suede which is pretty good at this sale price. And boy, does it ever capture Bond's FYEO style! Mango U.S. has sizes large and XXL in stock. But the jacket's sold out on the UK site unfortunately.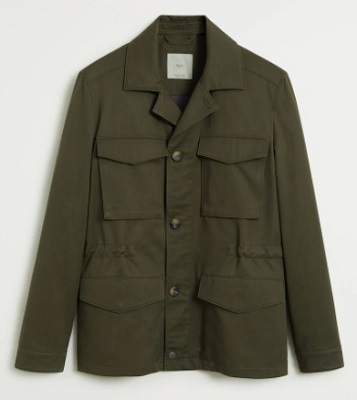 It's never too early to start thinking about a safari jacket for spring! And Mango once again does a solid job of re-interpreting a classic. It's a cleaner design than the one Bond wore in The Man With The Golden Gun. But it still manages to capture some of that retro 70s style. It's also part of Mango's "Committed" collection, which is made from sustainable fabrics manufactured using low environmental impact processes. In this case: 55% sustainably grown cotton and 45% Tencel Lyocell. They're down to sizes large to XXL on the UK site. You'll find medium to XXL on the U.S. site.
Inspired by Mr. Craig's closet …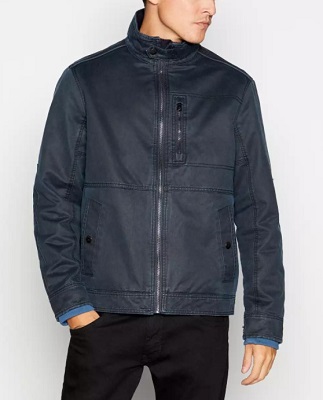 As an affordable alternative for Craig's Belstaff K Racer jacket, this should work nicely. The shell is 72% cotton, 28% polyester and it's treated with a waxed finish. The design obviously isn't an exact match: the Mantaray uses more snap buttons than zippers and buckles and it's missing the quilted padding at the shoulders. But it still has some of that "biker jacket" vibe. And the price is certainly hard to beat. Debenhams has sizes small to XXXL in stock.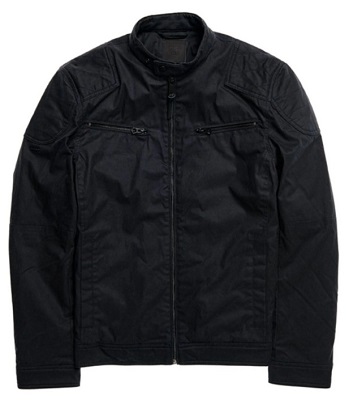 It's about seventy bucks more than the Mantaray. But this one from Superdry comes a LOT closer to K Racer's look. Again, there are obvious design differences. However, that quilted padding on the shoulders and the overall slimmer cut do a solid job of capturing the Belstaff aesthetic. Even better, Superdry have uncharacteristically kept their external branding limited to a small metal badge on the sleeve. Sizes small to XXXL are available on their website.
And a couple of fun things …
So a couple of days ago, this post from @james_bond_gb showed up on my Instagram feed …
And I thought to myself, "You know what I need for those cold winter nights? A nice warm blanket." In case you were wondering: yes, I could've also answered "a Bond girl". But then my wife would have killed me. And then I wouldn't be able to write these posts and share great finds with all you fine folks. Plus, I love my wife. So I'm sticking with the blanket. Anyhoo …,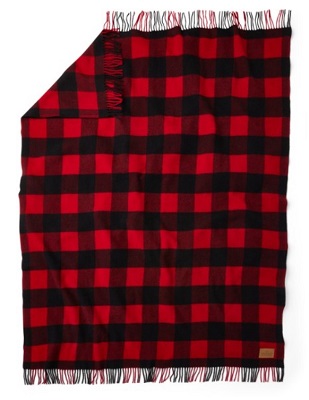 Let's be honest. A big ol' Buffalo Check wool blanket doesn't exactly scream "Bond Style". But when a cold wind is howling outside, getting comfy on the couch takes priority over our obsession with 007's interior decorating skills. And if you really need to defend your purchase, you can always point to the barn blanket Bond and Tracy use to keep warm in OHMSS. Measuring 52″ by 66″, this made in the U.S.A., 100% wool Pendleton blanket is big enough to share. Want something bigger? Check out this 66″ by 96″ one for $149. Or this heavier 60″ by 75″ one for $225 from Woolrich.
And if you're working with a more limited budget, don't despair. This 60″ by 80″ fleece throw blanket from Amazon also has that rustic look and it only costs $15.99.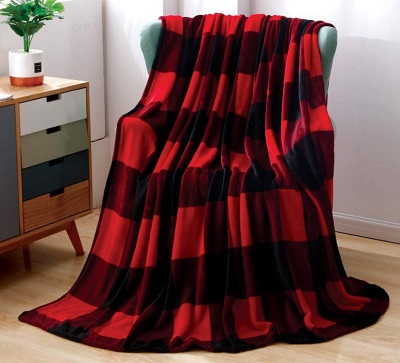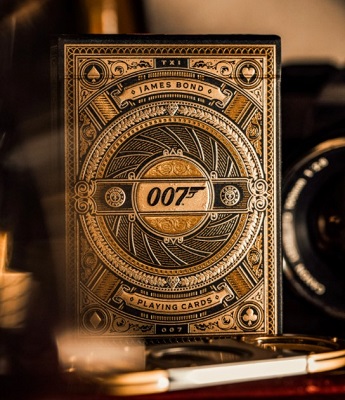 Want! I've spent more hours than I can count playing card games with my 10 year old son over the last year. And I've loved every minute of it (mainly because I almost always win; I am a small and petty man). But a deck of these beauties would have made those games even better. I have no idea if there's such a thing as "playing card porn". But if there is, the product shots on the Theory 11 website would definitely qualify. And they only cost $9.95!
Know of any alternatives we should feature in our next Best Budget Style Finds post? Or do you have another option for this post? Tell us about it in the comments! You can also visit our Facebook page, Instagram account, Twitter account and Pinterest Boards for more Bond, Craig and McQueen style advice and inspiration.