The Iconic Cowichan Style Sweater
We've covered plenty of traditional knitwear designs from around the world on Iconic Alternatives over the years. From Steve McQueen inspired Aran Knits from Ireland to classic Fair Isles from Scotland to that preppy staple the Norwegian Fisherman Sweater, they all have a place in our closets. But there's one knitwear style that's close to my heart and definitely deserves a closer look: the Cowichan Style Sweater.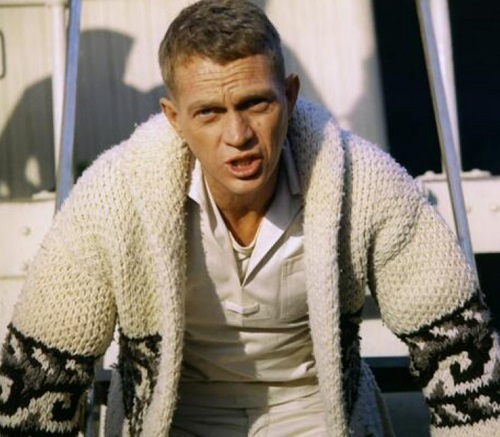 The Cowichan is a uniquely Canadian sweater. Originating on the rugged shores of Vancouver Island, the design tells the story of one group of First Nations people and has become a symbol of their craftmanship, ingenuity and their fight to protect their heritage over the decades. It's also a very cool looking piece of knitwear and extremely warm and practical!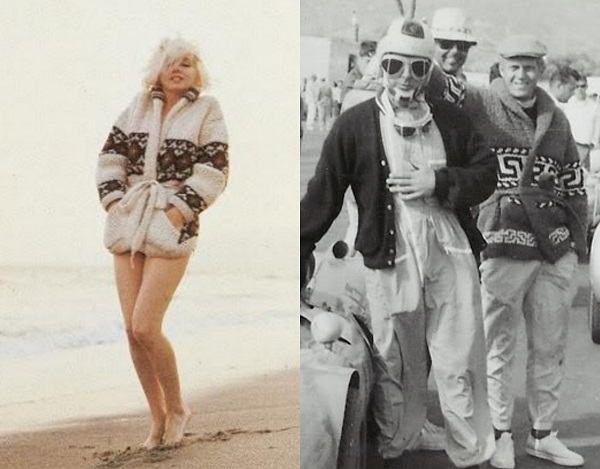 So in this article we'll dig into the background of the Cowichan and ways you can get one for yourself (or at least something that comes respectfully close to the style). Let's get to it!
The Story of the Cowichan Sweater
The Cowichan sweater has a rich history in Canada. It has also often been at the forefront in the struggle to preserve and protect Native Canadian culture. The unique style of knitwear was born when Scottish ex-pat Jeremina Colvin introduced sheep wool to the Coast Salish people living in the Cowichan Valley on southern Vancouver Island, British Columbia in the 1850s.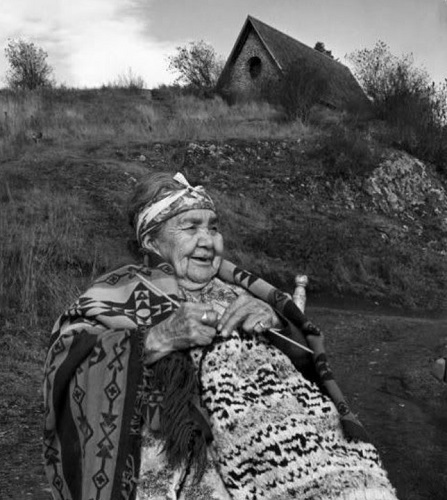 This First Nation people already had a long tradition of weaving with dog hair, goat wool and plant fibers to make blankets. But European knitting techniques and the new material allowed them to expand the range of their work. Soon they were producing rugged sweaters that could stand up to the harsh coastal weather of their homeland. The integration of traditional First Nation motiffs into the patterns soon followed.
What makes a Cowichan Sweater authentic?
There are several tell tale signs that will let you know you if a sweater is a genuine Cowichan, starting with the yarn itself. It was traditionally made from sheep wool bought from local farmers on Vancouver Island, and the knitters often cleaned, hand carded and spun it themselves. The yarn was thick and packed with lanolin, the natural oil that makes the sweater highly water resistant. And they left it undyed, so that the colors of the yarn, typically creams, dark browns, greys and occassionally black, came solely from the color of the sheep from which the wool was sourced.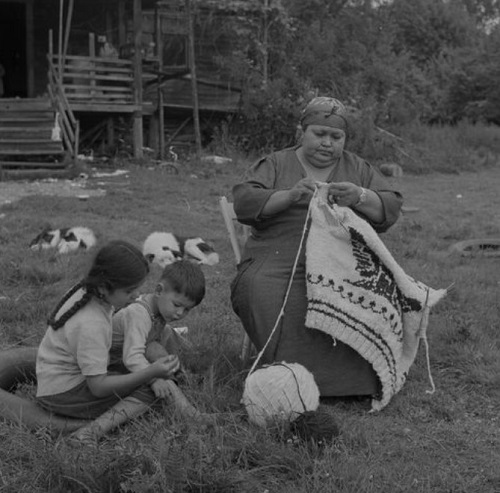 The Coast Salish people also use a distinctive knitting process to make their Cowichans. Each sweater is hand knit 'in the round', a technique that creates a tubular garment with no seams except those at the shoulders. The specific intarsia patterns the different knitters use to decorate their sweaters are often passed down from generation to generation, with the motifs representing an individual family's own life and stories. As result, each authentic Cowichan sweater is unique, a reflection of the knitter's experience and personal history.
The Cowichan and the Coast Salish Culture
The design of the Cowichan sweater is closely tied to the cultural identity of the Coast Salish people. And they've fought to protect both the connection and the Cowichan name. In 2011, the government of Canada designated the Cowichan sweater an event of national historical significance. And the First Nations band has successfully pressured The Hudson Bay Company, Nordstrom and Ralph Lauren to remove the name "Cowichan" from their knitwear that tried to copy the original.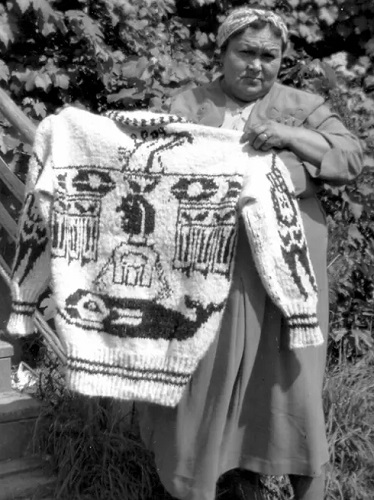 Today, only knitwear handcrafted by the Coast Salish people can be called a genuine "Cowichan" and it will come with a label stating it as such. Everything else out there is "inspired by" or a "Cowichan style" (or, more commonly now, a "Canadian Sweater") and shouldn't use the "Cowichan" name alone. That makes authentic Cowichans something very special, and they've become a favorite gift from Canadian government officials to important visiting dignitaries.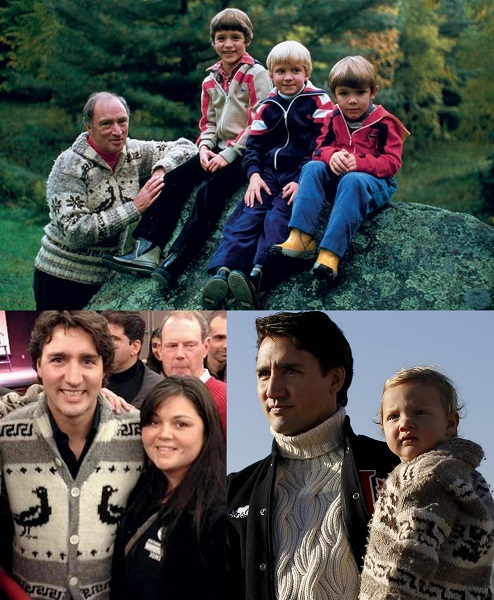 How can you buy a genuine Cowichan sweater today?
If you do want to purchase an authentic Cowichan sweater, the Cowichan Tribes website publishes a list of knitters you can contact directly. Just expect to have to wait a while to get one; they have long waitlists for their work!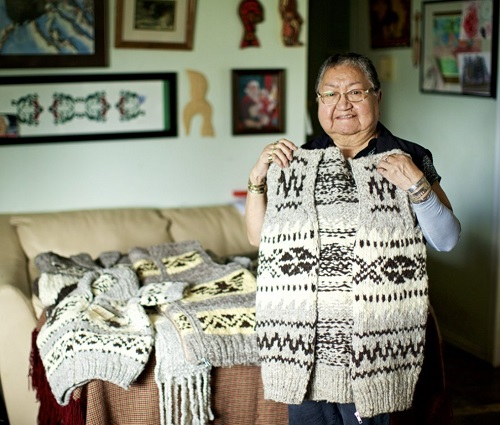 Unfortunately, I couldn't find any major online retailers currently selling genuine Cowichans. But you could try contacting Cowichan Trading in Victoria or Cheryl's Trading Post in Surry to see if they can help you source one. Or reach out to the Face of Native Art Gallery on Facebook. They regularly post about the Cowichan sweaters they've made for clients.
The Contemporary "Canadian Sweater"
While sourcing an authentic Cowichan sweater may be a worthy challenge, we do have more options if we go with a Cowichan inspired "Canadian Sweater". And one of the most popular makers today is Granted. Established in 1978 in Vancouver, British Columbia, this family owned business takes the art of crafting their sweaters and the heritage that inspires them very seriously.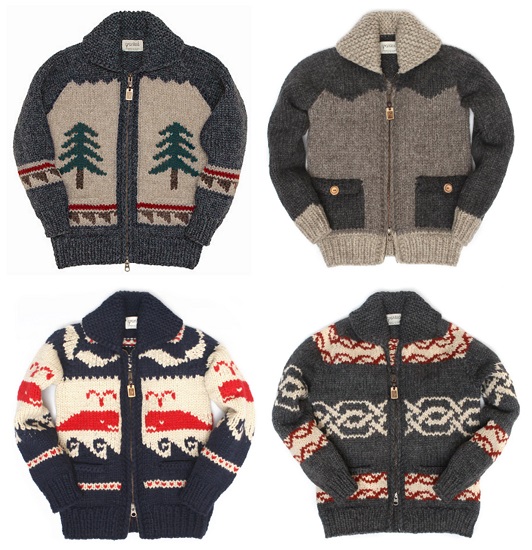 But Granted also enjoys getting creative with their designs. They use motifs based on Sasquatch, the VW Microbus, ballerinas, Hawaiian Hula dancers and skulls and crossbones throughout their collection. And this playfulness has led Granted to some interesting collaborations, with partners as diverse as The Grateful Dead, famous Japanese animation creatives Studio Ghibli, Hockey Night in Canada, Burton Snowboards, The Wu-Tang Clan and the Canadian Wildlife Federation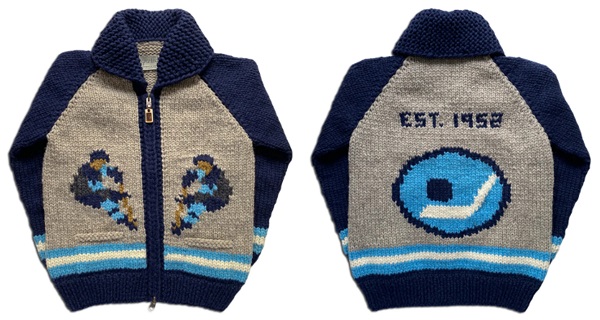 Now, some of you may be wondering why such a simple looking sweater can cost $400 or more. So I reached out to Granted to find out more about what goes into crafting one of their modern Canadian sweaters. And a closer look at their process quickly reveals why they're worth the investment.
The Granted Sweater Process
Granted is justifiably proud of the fact that its sweaters are almost entirely made in Canada from Canadian materials. If I had to sum up their approach to knitwear in one phrase, it would be "ranch to closet" (apologies to any restraunteurs reading this!).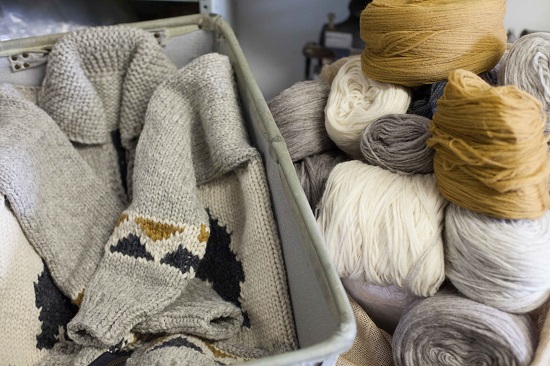 They start by sourcing wool from free roaming sheep on ethical ranches from across the Canada. The wool is then sent to be processed at a mill in New Brunswick, where they sort, wash, spin it into yarn and dye it. The mill sends the finished yarn to Granted's headquarters in Richmond, BC.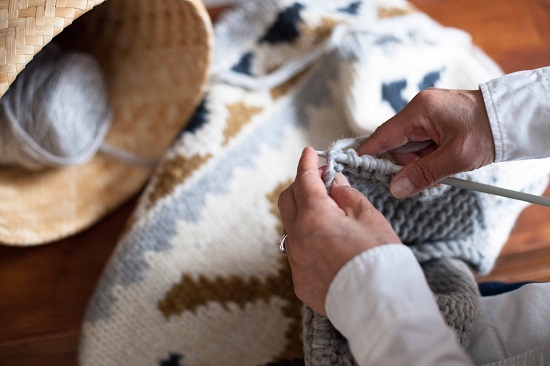 At their HQ, Granted weighs and organizes the yarn for each sweater that needs to be made. A knitter from Granted's carefully selected network then picks up the yarn, takes it home and gets to work. Each sweater is knit by hand by one knitter and can take 20 to 25 hours to complete, depending on the design. Once the knitting is completed, the sweater is finished with a heavy YKK zipper (sourced from Montreal) with a Canadian maple wood pull.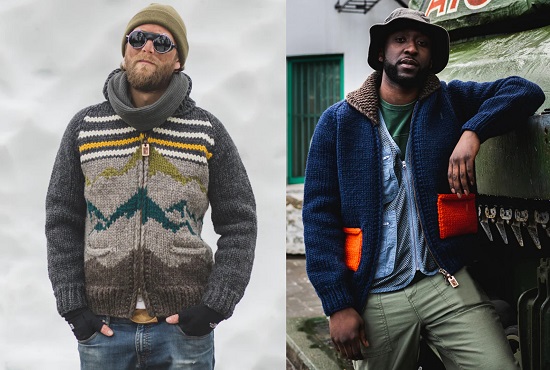 Granted puts a lot of thought and care into every step of crafting their sweaters. Which goes a long way to explaining their price and their popularity. And while they may not carry the authentic Cowichan name, their knitwear does reflect the tradition behind the Canadian Sweater while also giving it a fun spin that can work with a variety of personal styles. The Granted website is definitely worth a visit if you're looking for inspiration.
The Dude Cardigan
Probably the most famous Cowichan inspired sweater is the cardigan worn by Jeff Bridges as The Dude in the 1998 film The Big Lebowski.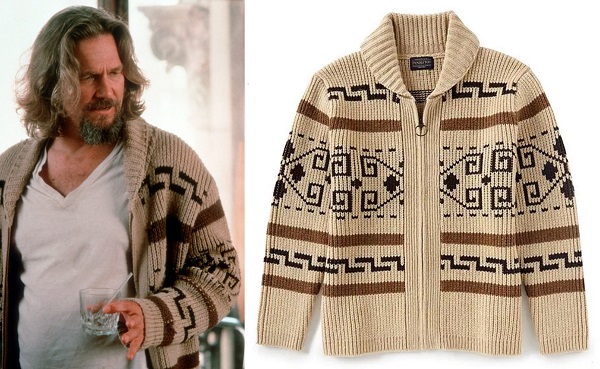 Bridges wore a vintage 1970s Pendleton Westerley Sweater in the movie. BAMF Style has a great article about The Dude's look if you want more details. Or you can check out the Pendleton website to learn about the sweater's history. Pendleton also relaunched the Westerley a few years ago in a 100% lambswool. You can buy the latest version for $249.00, either on Amazon or directly from Pendleton.
However, wearing a beige and brown Westerley in public certainly invites the risk of everyone shouting, "DUDE!" at you everywhere you go. So it might be worth considering going with the Westerley in a different colorway. For example the Grey version is very nice and currently on sale for $124.99 on the Pendleton website. It still delivers the right rugged style. Just without all that The Big Lebowski baggage.
Other Made in Canada Cowichan Style Sweaters
There are a few other companies that, like Granted, handmake their sweaters in Canada using Canadian materials. I won't offer a judgement on whether one is better than the other. Honestly, they all seem to be committed to delivering high quality knitwear. And they clearly try to respect the legacy of the Coast Salish people (none of the companies below call their sweaters Cowichans). So I think it really comes down to the different designs they offer and finding one you like.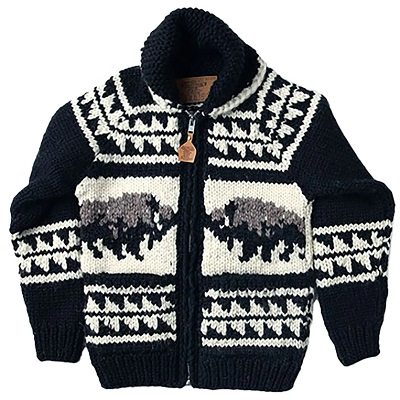 Kanata is one of the better known and respected makers of Cowichan inspired knitwear and works with fashion houses around the world. Their community of craftspeople in Canada handknits each cardigan from thick, pure wool yarn and they incorporate many of the classic motifs into their designs. I've shared their interpretation of the buffalo sweater above, which is currently on sale at Backcountry. But they have plenty of other models to choose from on their website in a variety of colors and patterns that will suit almost any style.
Note that you'll need to wait for most of Kanata's sweaters since they usually make them on a per order basis. However they do have a selection of pre-made inventory available in various patterns, colors and sizes in the "Holiday Stock" section of their website. Most of those are priced at $475.00.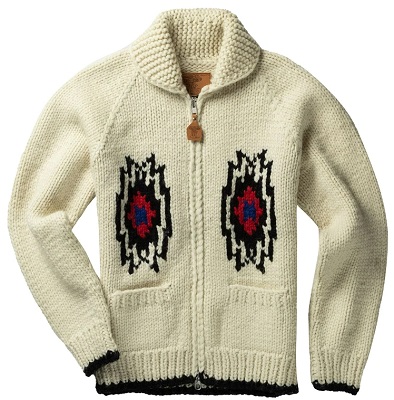 Another Kanata sweater on sale at Backcountry, this time with more of an American Southwest flavor. And you can also get it in red! Sizes 38 to 44 are in stock.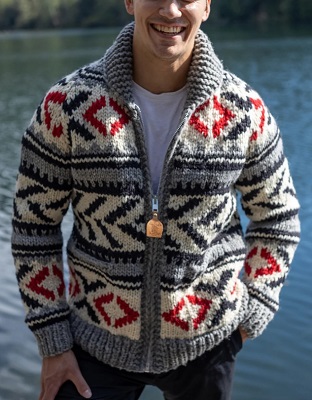 Amos & Andes (also known as the Whistler Sweater Shop) sells a variety of sweater styles from around the world, from Irish Aran knits to Nordric designs from Dale of Norway. But they also have an extension collection of Cowichan inspired knitwear. I've featured their "Lucky Sweater" above, a tribute to Cody James Strass, a guide in the North West Territories and sustainable fishing advocate who passed away in 2021. It's knit in Canada using 100% Canadian wool. It also has an interesting pattern, almost like a large scale Fair Isle, that's a little different from the typical traditional designs. They have sizes 38 and 42 to 50 in stock.
I'd also recommend checking through the Winter Sale section of the Amos & Andes website. There you'll find a range of pre-made sweaters in various designs, colors and sizes at some truly excellent prices!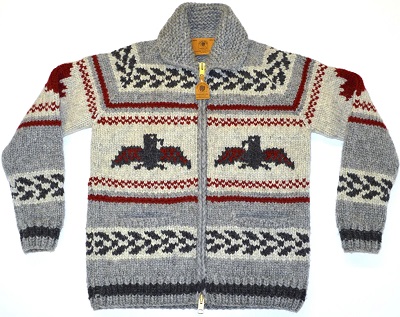 Another well known Canadian maker of Cowichan inspired knitwear. Established in 1977, they still handknit each sweater in Canada using traditional materials and motifs. Above is one of their classic Thunderbird designs, which you can purchase directly from the company. However, the Canadian Sweater Company's knitwear is made-to-order. So you may need to wait a bit for delivery.
If you're in more of a rush, you can also check out Mr. Porter's curated collection of sweaters from the company. They currently have four designs on sale for around $235.00. But sizes are very limited. And a visit to Todd Snyder would also be worth your time. They New York designer has collaborated with the Canadian Sweater Company for a few years now, and this seasons collection features three unique patterns priced at $698.00.
Other Alternatives for the Cowichan Style Sweater
Although many of the alternatives below may have a style that's similar to an authentic Cowichan, there are some key differences. First, most are made in Asia, not Canada (and most definitely not by the Coast Salish people!). Second, many use a wool-blend yarn in a lighter gauge. So you won't get the same chunky look as you would with traditional Cowichan knitwear. That certainly doesn't mean that they're bad sweaters. Think of them more as variations on the original.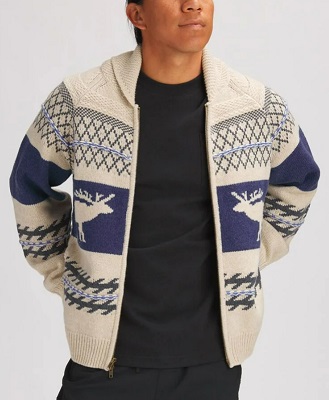 If you like that Cowichan inspired look but want something lighter weight, this option from Backcountry.com's in-house brand should do the trick. They've used a 55% recycled Merino wool and 45% cotton blend yarn and mixed in some different knitting styles to add an extra bit of character. Sizes small to XL are currently in stock at that sale price.
It certainly looks like a Cowichan style sweater. But it's actually knit in Nepal. The yarn is 100% wool and they've lined the inside with fleece for extra warmth. You'll find sizes XS to XXL on the Banff Trading Post website, where they also have a classic Thunderbird-style sweater and a couple of hooded options as well.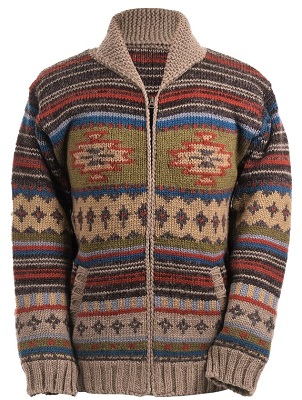 Also knit in Nepal from 100% wool, the design of the Mateo is blend of Cowichan styling and South Western motifs and colors. And I have to say, I'm really liking it! I think you could build a lot of cool looks around this sweater if you get a little creative. Backcountry has sizes medium to XL in stock. You can also visit the Lost Horizons website to see more of their designs.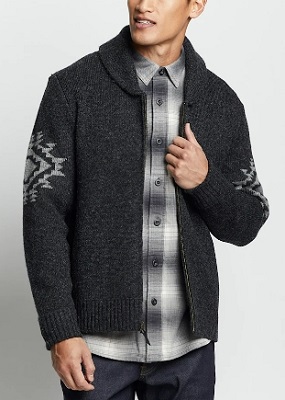 Pendleton does more than just The Dude sweater. And this South Western jacquard patterned cardigan is one of my personal favorites. The dark charcoal/light grey color combination is simple but still pretty striking. I also like the denser knit of the 100% Shetland wool, which gives the sweater a slightly more polished feel. Sizes small to XXL are in stock on the Pendleton website.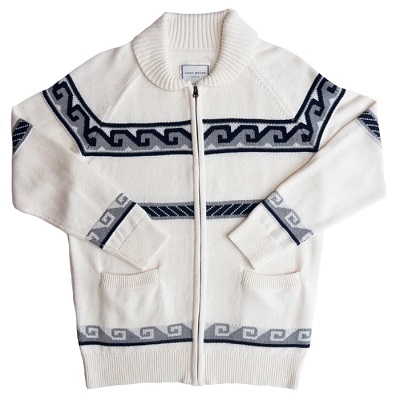 For those of you after a Cowichan style sweater with a more nautical feel, you need check out this option from Long Wharf Supply. Not only is the cream, navy and grey wave pattern a nice call-back to the ocean, there's also an interesting story behind the material. Long Wharf founder Mike Lamagna uses SeaWell™ yarn for his knitwear, which is made from a blend of either wool or cotton and recycled oyster shells and recycled plastic bottles, which helps reduce the amount of waste in our landfills. Long Wharf also uses the proceeds from the sales of their products to fund the reseeding of coastal oyster reefs, which naturally filter millions of gallons of seawater everyday. So the Anacapa is stylish and helps give back to the environment. Not a bad deal! Sizes small to XXL are in stock.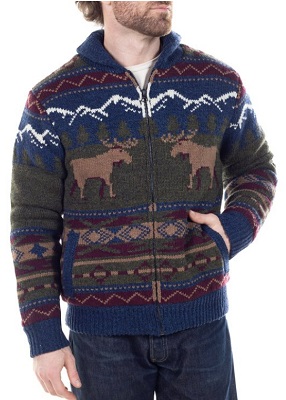 Want an intarsia sweater that delivers a bit of fun? Schott's playful take on the Cowichan inspired cardigan features mountains, forests and moose! And the 80% wool, 20% nylon knitwear is lined with sherpa fleece for extra warmth. It's a surprisingly whimsical design from the godfathers of American-made leather biker jackets. But it's a great choice if you're looking for something a little more lighthearted to add to your winter wardrobe. You'll find sizes small to XXL on the Schott website.
Wrap-Up
The Cowichan sweater has a long and complex history in Canada. Obviously, it's a lot to cover in one article and I did have to skip over some key parts of the story. For example, I didn't get to the impact of the "Mary Maxim" sweater in the 1950s and 60s. Or the controversy surrounding The Hudson Bay Company and the 2010 Winter Olympics in Vancouver. So if you want to learn more about the history of the Cowichan and the Coast Salish people, here are some links you may find useful:
If you would like share your personal experience with the Cowichan or know of a good Cowichan style sweater alternative, tell us about it in the comments! And for more great knitwear ideas, check out this article on 4 Iconic Sweater Styles (and how to wear them).
Iconic Alternatives uses affiliate links to generate revenue. If you choose to purchase a product after clicking a link, I may receive a commission from the merchant at no extra cost to you. You can learn more about our use of affiliate links here.