The James Bond SPECTRE Robe
Updated January 12th, 2023- Way back in December of 2014, AJB007 member kadd introduced a theory on this thread that James Bond's robe in SPECTRE was actually some type of traditional robe from Uzbekistan. After seeing the film, taking a closer look at the publicity shots with Bond wearing the robe, and searching high and low (see below) for suitable alternatives, I'm very much leaning towards kadd's theory.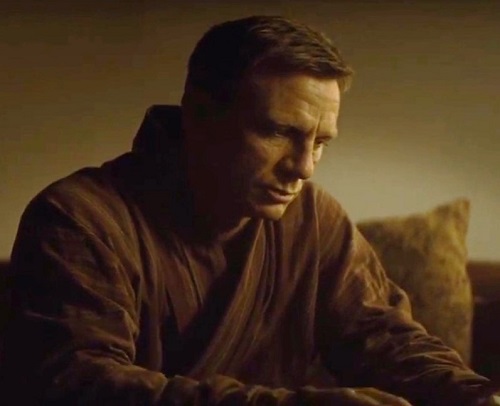 Specifically, the robe is some type of Central Asian chapan made with a bekasab or bekasam fabric. Above is a closer look at Bond's robe; below is a Uzbek Chapan for sale on Etsy for $75.00.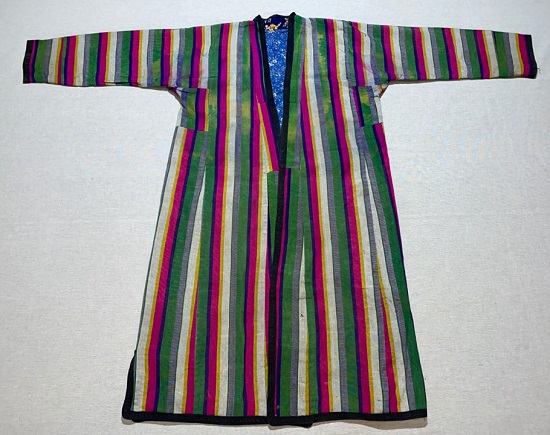 So Why a Chapan?
There are many elements pointing to the robe being a chapan. The fabric, which doesn't seem to be terry cloth or toweling but still has some weight due to the light quilting, is one clue. As is the the lack of a belt and collar. And the longer length of the sleeves with that distinctive "horizontal" striping on the sleeves is very characteristic of the chapan's design.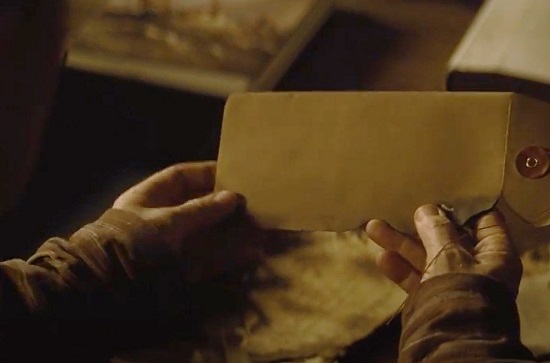 Traditional chapans are definitely more common in brighter colors (greens, yellows, blues, reds). But I did come across some older photos of Uzbek men wearing ones that use the neutral browns and rusts similar to Bond's robe. This photo by Sergey Prokudin-Gorsky from 1911 found at R. John Howe's website, of an Uzbek boy is one example.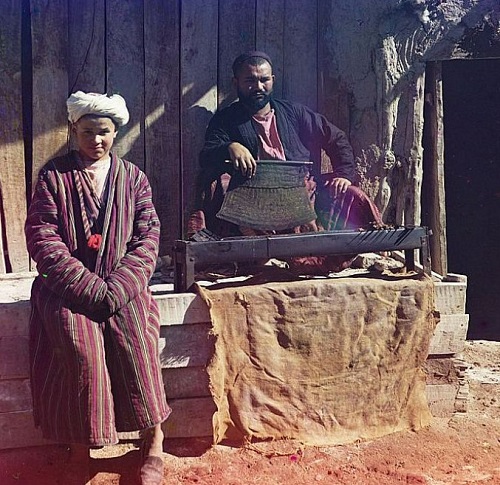 And this more contemporary photo by Frans Sellies from 2014 of a Uzbek man in traditional clothes sitting at the entrance of the Kalon mosque in Bukhara.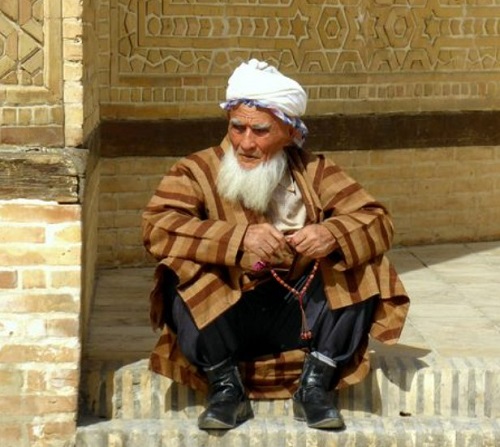 Personally, I'd think it was pretty cool if it is a chapan. It's exactly the kind of thing Craig's Bond could have picked up during his military service in the Middle East and Central Asia in his younger years. And I do like that he has something that feels a little more "personal" to wear around his apartment. Another interesting Bond connection: you can see plenty of chapans when Timothy Dalton's 007 is taken to the Mujahideen camp in The Living Daylights!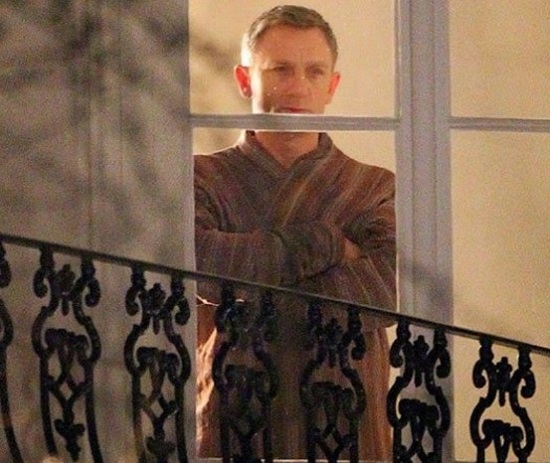 Update – Over at the AJB007,  forum member Meesta Bawnd shared that he had spoken with SPECTRE costume designer Jany Temime. She told him that they had purchased the vintage robe at a Turkish shop in Pimlico. So it's basically a one-of-a-kind. 
"Authentic" Options for the James Bond SPECTRE Robe
Finding a chapan that matches Bond's perfectly may be impossible. But there are lots of options available on Ebay (both U.S. and UK) and Etsy, ranging in price from $15.00 to over $300.00. Just try searching for "chapan", "khalat", "bekasam" and "bekasab". This is a close one I found on Etsy for $155 (now sold, unfortunately).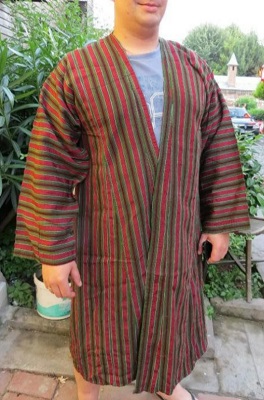 With a little luck and a lot of patience, one will turn up that will meet your needs.
Best Modern Option for the James Bond SPECTRE Robe
Because the screen used robe was vintage and the design was so unique, contemporary alternatives are going to be missing many of the key features. But there are some that come close. And they'll definitely be cozy enough for a night kicking back on the couch reminiscing about your childhood!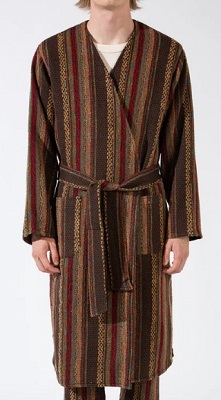 It's the closest alternative I've found after more than 7 years of hunting. Which is why it gets top spot even though it costs more than five hundred bucks on sale. But Needles is a well known and respected Japanese boutique brand, so the price isn't that big a surprise. And the slubby 92% wool, 5% acrylic and 3% nylon fabric sounds like it will keep you cozy. You can find sizes medium and large at Maxfield LA. If you need a small, Nepenthes London has one on sale for $575.00.
Under $100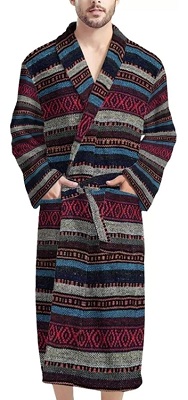 Made from a polyester blend fabric (no mention of what the polyester is blended with), this "one size fits most" option is a little more colorful than Bond's robe. But it does nail the horizontal striping on the sleeves and minimalist design. And while Baja is about as far from Uzbekistan as you can get, the Upetstory's funky pattern does give it a suitable ethnic vibe. There's currently only one left on Amazon. So if this is your pick, I'd act fast!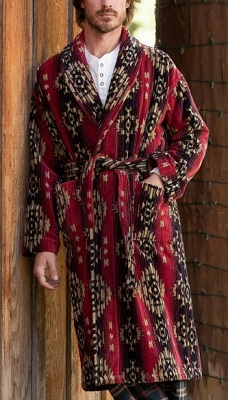 Another South West inspired option made from a 100% cotton terry velour. Even though they've used a pattern in red black and gold rather than shades of brown, I do like that the robe leans darker and more conservative. Sundance Catalog has size small/medium in stock.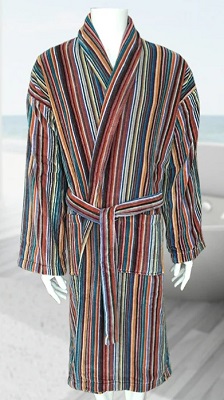 One for you fine folks in the UK! The 17 Stories robe clearly uses a broader mix of colors. But it's not overly bright. And the fabric of this made-in-Turkey option is a thick 100% cotton terry that'll have no problem keeping you warm and dry after you hot/cold shower. It comes in an oversized fit and you can find in on Wayfair UK.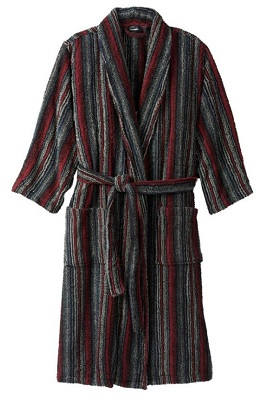 An option specifically for you larger and taller gentlemen. Again, the colors aren't the best match for Bond's robe. But the blend of reds and greys is suitably dark. And Kingsize, which has been servicing big and tall clients since 1920, hasn't skimped on the 100% terry towling fabric. I've linked to Target above, where they have size Medium/Large in both the big and the tall fits. If you need a Big XL/2XL, head over to Amazon, where it's the same price.
Under $200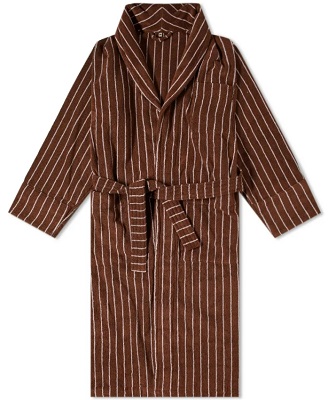 This was our Best Option the last time we updated this post. And it's still a great choice if you don't mind the higher price tage. Made in Portugal from a thick, 100% organic cotton terry cloth, it has an oversized fit and super soft feel that's perfect for a relaxing evening at home. The shawl collar, triple patch pockets and vertical striping on the sleeves aren't screen accurate. But the color isn't a bad match. And it has the longer length we're looking for. SSENSE currently has XS and Medium on sale for $132.00/£142.00. If you need another size, Matches Fashion has XS to Large on sale for $166.00/£170.00. Those of you in need of an XL will need to visit the Tekla Fabrics website, where the price jumps up to $200.00/£155.00.
Odd Bird specializes in unisex robes handmade using artisanal Turkish cotton and linen textiles. Which means they have a few options that could fit our needs. I've featured their Alem model above. But it's also worth checking out their Efe and Balci models, which are also $179.00. I also like that the robes are sized (s/m, m/l, and XL up to 5XL), so you can choose a fit that's as loose or snug as you like.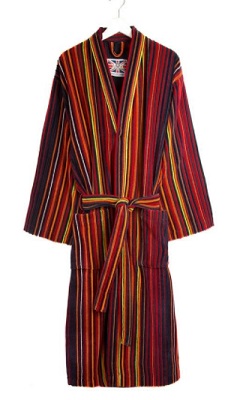 Over the last few years, Bown has made the move to brighter colors. But the deep rich tones of the Regent still deliver a suitable "elegant yet rustic" vibe. And the quality for the price is definitely still there. Made from weighty 11oz per square yard 100% Egyptian cotton towelling, this will keep you all kinds of comfortable when you're lounging around the house. You can find the robes on Amazon, but it may take a bit of searching to find your size. The link above goes to the page for medium and 3XL. The size large is on this page. And size XL is on this page. Of course you can also order it directly from the Bown of London website. However they'll also charge you an extra $15.00 for shipping.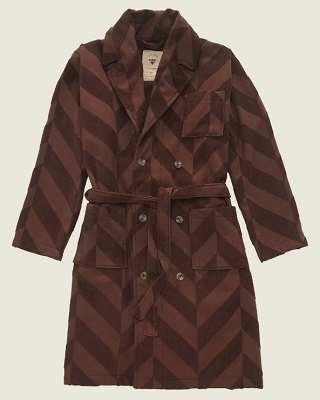 Yeah, I know: the only thing this OAS piece has in common with Bond's robe is the color family. But look at that thing! The double breasted button front and notch lapel design make it look like some kind of fluffy trench coat. And the jacquard woven terry cloth outer is lined with even more terry cloth inside. So I can only imagine how crazy soft  and warm it is. Two hundred bucks is a lot of money. But I think this one is worth it just for the fun factor alone. You'll find sizes s/m and l/XL on the OAS website.
The Investment Piece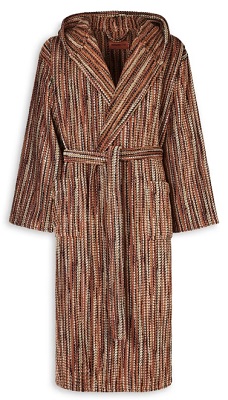 From the product description on the Missoni website, "Atmospheric nuances processed vertically and drawing horizons able to make the mind travel for the colourful print of the Billy terry towel line …." What more can I say? Sizes small, medium and large are available.
I'll keep adding options as I find them. In the meantime, if you have a great alternative for the James Bond SPECTRE robe, let us know in the comments below. And remember to check out our Instagram account, Facebook page and Pinterest Boards for more James Bond style advice, inspiration and info on where to find the latest deals!
Featured image was sourced from the Daily Mail UK. The information regarding chapans comes from Susan Meller's website.