SPECTRE Sanders and Sanders Playboy Chukkas
Updated May 16th, 2019: For the London finale of SPECTRE, Daniel Craig's James Bond grabbed yet another pair of suede boots from his closet. This time they were the Sanders and Sanders Playboy chukkas in Snuff suede. He wore them with his Neil Barrett trousers, N.Peal mock turtleneck sweater and John Varvatos blue suede racer jacket.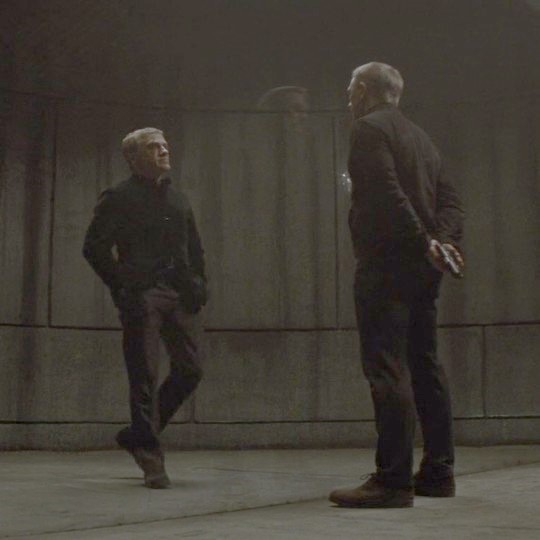 And of course there's the whole Steve McQueen connection to this style of boot. He favored the original Playboys from Hutton of Northampton and wore them in The Blob, The Thomas Crown Affair and, more famously, snuff suede ones in Bullitt. So one pair of boots, two style icons? Sounds like a good deal!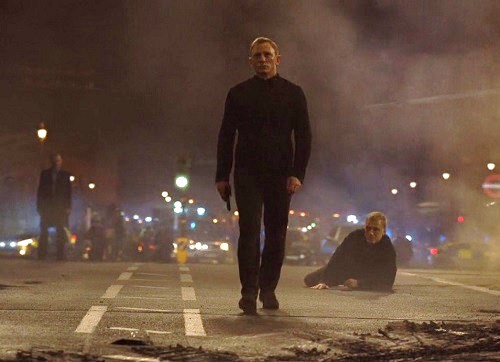 Features Wanted for the SPECTRE Sanders and Sanders Playboy Chukkas
Dark brown suede uppers
Two eyelet lacing
Thick crepe "bumper" sole in dark grey
Obviously, the truly distinguishing characteristic of the Playboys is their sole. The other interesting thing is just how many "Playboys" are out there. Basically, the boot's bumper crepe sole was patented in 1936 by Hutton of Northhampton. They fought off imitators for decades until closing their doors in 1990. Hutton recently made a comeback under new ownership and it looks like they're going to be producing some new styles. But no Playboys.
And why is that? Well, during a period of financial difficulty in the 1970s, Hampton sold the patent for the crepe sole and trademark rights to a Swedish company. Sometime later, another company called "Playboy Footwear" bought the license and brand name from them. Playboy Footwear now has a broad range of shoes and boots. But the Original Playboy Chukkas are still front and center. However, you can't buy them on their website. More on that below.
So who can use the "Playboy" name and the bumper crepe sole in the UK? It looks like almost anyone. Including Sanders and Sanders, who in all fairness, have been producing this style of boot for decades. But also British Walkers and the Gothic Shoe Company. And we haven't even gotten to George Cox Pop Boys yet ….
If this kind of background info interests you, then take a look at this thread on AJB007. For me, I think that's enough history for now. On to the alternatives!
The Screen Accurate Option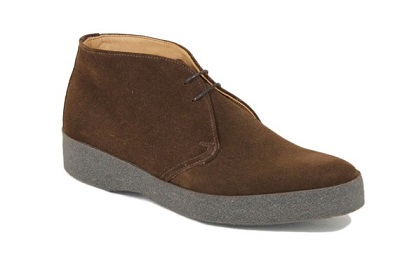 Getting the original brand of chukkas from SPECTRE isn't really that expensive. Especially when you consider the price of some other screen-accurate clothing! Sanders still has plenty of sizes left on their website. Mason & Sons also has some sizes left for £190.00. They're expecting a full re-stock at the end of the May. Next UK has a decent range of sizes in a custom brown color for £180.00/$261.00. They actually look pretty close to the Snuff in the online pics.
Best Option for the SPECTRE Sanders and Sanders Playboy Chukkas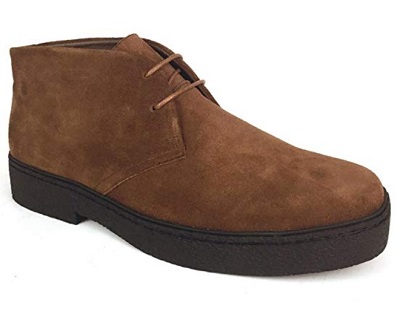 Here's an interesting one. There's not much information about the manufacturer. But the chukkas are genuine suede and they have 5 stars after seven reviews. Plus, the color looks very close to the Snuff shade we want. Almost all sizes are in stock on Amazon USA where the average price for this colorway is $50.00. Which is also great news! But, sadly, they're almost completely sold out on Amazon UK. I'm looking to see if I can find another source for them there.
Under $100
Hmmm. These only have 3.5 stars after two reviews on Amazon. But they claim the uppers are genuine suede. Could be a roll of the dice. Or it could be a decent boot for under seventy bucks. Sizes are getting low. And they do recommend ordering one size down from your normal size.
Another brand using "Original" and "Playboy" in the name. British Walkers seems to be making a real effort to tap into the street-wear crowd, if the photos on their website are anything to go by. Amazon U.S. still has a decent selection of sizes left, with most going for the full $99.99.
Under $200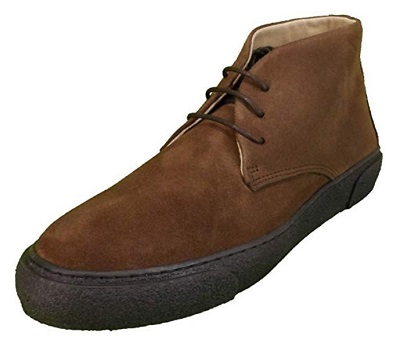 An old popular alternative that seems to have come back. They have a genuine suede upper, synthetic crepe sole and they're made in Spain. Amazon UK has them for the lower price. But you can also get them direct from Delicious Junction for £89.00. Unfortunately, I can't find anywhere in the U.S. that sells them.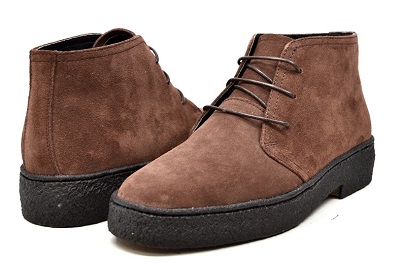 A more expensive alternative from the same British Walkers as above. This pair are closer in color to the Snuff. They have the genuine suede upper, leather lining and (I think? It's hard to tell) real crepe sole. Sizes 7.5 to 14 are in stock on their webpage.
The Investments
Handmade in Northhamptonshire, with a full leather lining and natural crepe sole. And they've almost managed to make a bumper sole look sleek. But the size selection is getting a little thin. If you're looking to invest in this style, and have problems with the fit (or possible durability) of the Sanders and Sanders, this is your best choice. Update: There have been some reports from customers that the Herring Mustang is a re-branded Sanders & Sanders boot. I'm looking into this. Update 2: The Mustang is currently sold out on the Herring website. But they are expecting a restock in May.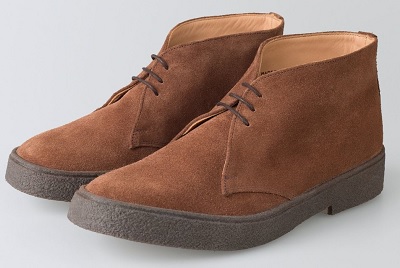 Some shoe makers leverage their heritage, tracing their history back a hundred years or more to establish their credentials. George Cox is also over a hundred years old. But its modern history really started in 1970s London. That's when Cox became the shoe maker for the city's exploding punk rock scene. Today, they boast of collaborations with streetwear brands such as A Bathing Ape, Yohji Yamamoto and Comme des Garçons. So their Pop Boy, while an iconic style, is a relatively sedate model for them. All sizes are available on the George Cox website.
Remember that story in this post's intro about Playboy Footwear? And how you couldn't buy those boots from their website? Well, AJB007 forum member welshboy78 found a dealer that is a little more flexible. However, they are running very low on sizes. And what's so great about these? Playboy Footwear states that the boots suede uppers are hand lasted to natural rubber crepe soles. The jury is still out on whether these are actually a Goodyear welt construction like the original "Originals".
Have some suggestions for alternatives for the Bond's SPECTRE chukkas? Leave them in the comments! I'll continue to update this post as new options appear. Meanwhile, if you're looking for more style inspiration remember to check out Iconic Alternatives on Facebook, Instagram and Pinterest!