All About the James Bond Grenadine Tie
The navy grenadine tie is about as iconic a piece of Bond-style clothing as a man can own. They looked damn cool on Connery. And they still look damn cool today. So to help us understand the mechanics behind creating the grenadine tie and what to look for when adding one to our collection, we turned to David Hober, owner of Sam Hober. Haven't heard the name? Well, head over to just any men's style forum and you'll quickly see that their ties are something of a grail item among style aficionados. When it comes to crafting custom grenadine ties, David knows his stuff. And now he's sharing his expertise with us.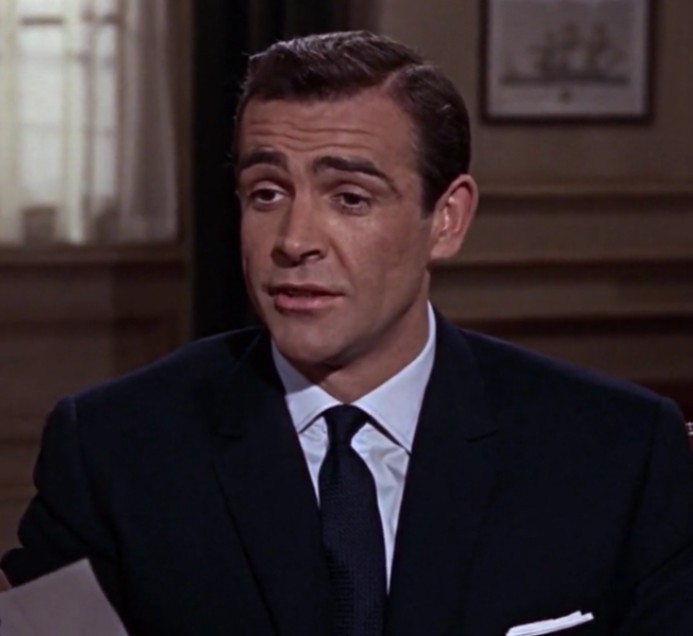 The Grenadine Tie
With their distinctive combination of color and texture, grenadine ties have continued to be a very popular choice for stylish men for decades. Of course their use with iconic movie characters such as James Bond has also helped. The addition of different fabrics such as cashmere and both striped dot designs have also becoming increasingly popular.
Space
Types of Weaves
Grenadines are a classic weave with two main types – the large weave Grossa/Prometeo and smaller Fina/Piccola. Both weaves are equal in quality and formality. When cashmere is blended with silk the fabric is softer but a bit looser.
Grenadine Grossa and Prometo
Grenadine Fina and Piccola
There are only two mills that weave grenadines, both in the north of Italy: Fermo Fossati and Bianchi.
Construction
Unlined 7-fold grenadines are not very popular as they wrinkle and are too light to drape well. However, a 4-fold construction works very well for most people. And a 6-fold is ideal for those who like heavier weight ties. Note that the 4-fold construction has one extra small fold for durability, not extra weight.
Construction of a 4-Fold Grenadine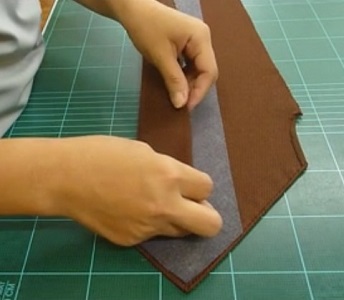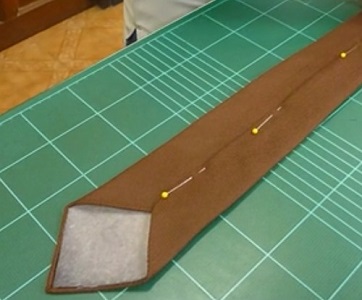 As is true with all ties, a well made grenadine will be made by hand very slowly and carefully. And the best grenadines are custom made/bespoke. This allows for the length, width, shape, weight and other variables of a grenadine tie to be perfectly balanced, as per the customer's preferences. The grenadine fabric quality for all luxury brands will typically be the same. But the time spent on the small details and the quality of the interlining are what separate the best grenadine ties from simply good ones.
Also, the tipping should normally be from the same fabric as the main part of the tie. If the tip is untipped and has hand rolled edges, the edges should be perfect and balanced. Normally you will only see excellent rolled edges made by small companies such as ours and a few in Italy.
The Interlining
The interlining should be a luxury pure Italian interlining wool which will drape well and be wrinkle resistant. The weight of the interlining is somewhat controversial. Normally I suggest going with the interlining that best matches the fabric.  But a number of men prefer a lighter interlining. When a fuller feeling is needed but extra weight is not desired, a layer of pure cotton interlining is added.
Preparing and placing the interlining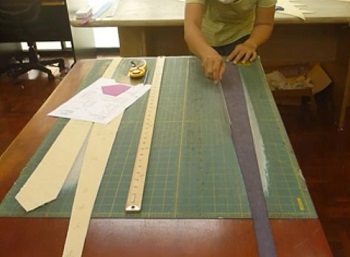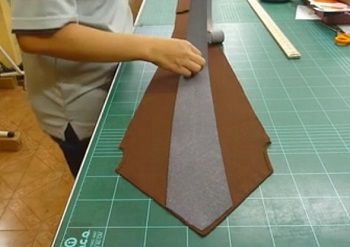 Making the knot bigger is done by increasing the width of the tie in the knot area. Not by adding interlining.
Care of Your Grenadine Tie
Grenadines are very elegant and beautiful but loose weave. So they need to be handled with care to avoid pulls and snags. Here is a video showing how to repair a grenadine pull if you happen to get one:
Sam Hober's grenadine ties start at $85.00 for a 4-fold and go up to $145 for an extra long lined 6-fold. You can see a selection of their Grossa weaves here and their Fina weaves here. But I strongly suggest you start with their Tie Order Guide. 
Neither the author nor Iconic Alternatives was compensated in any way for Sam Hober's participation in this article. We just like sharing fun and interesting information!
Images of Sean Connery were sourced from BAMF Style.