5 Favorite Bond Looks with Nick of BAMFstyle
If you still haven't checked out BAMF Style, you're really missing out. Nick, the site's owner, has done an amazing job of detailing – and I mean "detailing" – popular looks from so many movies and television shows that I've lost count. We asked Nick to share his 5 favorite Bond looks with us. Below each of his choices we've provided some affordable alternatives to help you capture the style. 
Sean Connery's Glen check business suit in From Russia With Love
A gray business suit reflecting elements of classic English tailoring. A pale blue dress shirt with turnback cuffs and a navy grenadine tie. Ian Fleming had provided a basic template for James Bond's suits in his novels, but director Terence Young used the clean slate to create a new template for 007's attire in Dr. No. The look was clearly solidified for the next outing, From Russia With Love, which more than doubled the number of suits tailored for Sean Connery to wear on screen.
Of Bond's seven business suits in From Russia With Love, five are in various shades of gray and almost all are worn with a navy grenadine tie and the classic pale blue Turnbull & Asser dress shirt with its spread collar, front placket, and distinctive 2-button turnback cuffs or "cocktail cuffs." The secret to keeping such a simple look interesting can be found in the subtle patterns of 007's suiting whether its varying scales of Glen check, slubbed dupioni silk, or the pick-and-pick wool worn on the Orient Express.
The elegance of the outfits are found in their simplicity; the suits are perfectly tailored by Anthony Sinclair to emphasize Connery's athleticism with a strong, full chest and shaped waist. Subtle details like the "Daks top" button-tab side adjusters on the trousers and the shirt's turnback cuffs – aptly nicknamed the "James Bond cuff" by some shirtmakers – set Connery's Bond apart as a man who knows what he likes to wear and has earned the privilege to wear it.
The black and gray Glen plaid lightweight suit worn in Istanbul always stood out to me as a sartorial highlight of the Bond series for its appearance, significance, and appropriate context. Bond tops it off with an olive-colored trilby, a pair of wayfarer-style sunglasses, black derby shoes, and trusty Rolex Submariner on a black leather strap.
Create the Look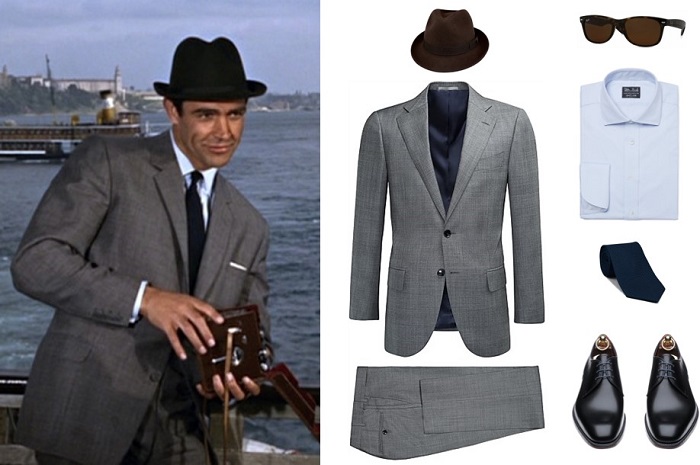 Read more about the look on BAMFstyle. 
Sean Connery's ivory dinner jacket in Goldfinger
Under the direction of Guy Hamilton, Goldfinger found Connery's Bond breaking some of his own sartorial traditions and doing so to great effect with spectacular outfits like the iconic glen check three-piece suit worn in Kentucky and the brown barleycorn tweed hacking jacket worn while behind the wheel of his DB5 in Austria.
One of the greatest fashion-focused moments of the entire Bond series begins with a duck splashing around at night. As the duck emerges from the water, we see the familiar face of Sean Connery below it. Connery himself steps out of the water, clad in a shiny black diving suit for covert ops, with his faithful Rolex Submariner secured to his wrist on a striped NATO-style strap. Once he's carried out his mission, 007 prepares for a party by zipping out of the diving suit to reveal an immaculate off-white dinner jacket and black satin bow tie. He nonchalantly adds the finishing touch – a bold red carnation in his left lapel – and goes to meet his contact with the leather heels of his black leather elastic-gusset slip-ons snapping on the concrete.
This is the first appearance of James Bond wearing warm-weather formalwear and he pulls it off with signature aplomb, sporting an ivory tropical wool dinner jacket with self-faced peak lapels rolling down to a single mother-of-pearl button. A closer look at the shirt reveals a white satin self-stripe that adds a luxurious and distinctive shine. His midnight blue formal trousers have the same "Daks top" three-button side tab adjusters as his suits, best seen in a shocking scene involving a beautiful woman and a bathtub… though not in the context most would expect from the suave secret agent.
Create the Look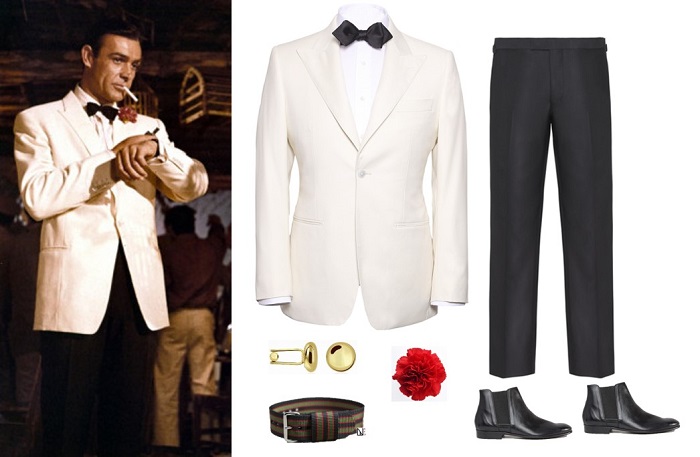 Read more about the look on BAMFstyle.
Roger Moore's blue mohair suit in The Man with the Golden Gun
Roger Moore has received a lot of unfair criticism for some of his clothing choices as James Bond, but it should be kept in mind that he was our Bond for the '70s; some disco collars and safari suits are inevitable! Unfortunately, this criticism often outweighs the praise that Moore's luxurious suits deserve for their flattering and sharp tailoring.
In his sophomore Bond adventure, The Man with the Golden Gun, Moore's Bond visits a belly dancer in Beirut while wearing a refreshingly bold suit in marine blue with just enough subtle touches of '70s style. The suit, tailored by Cyril Castle, distinguishes itself with its mohair sheen and subtle touches of '70s flare such as the shaped jacket's long double vents, slanted pockets, boldly printed lining, and flared link-button cuffs and the slightly flared bottoms of his trousers.
My favorite outfit that Roger Moore's Bond wears on screen, the suit is matched with a light blue dress shirt with a large spread collar and "cocktail cuffs" and a red silk tie. He matches the stylish Italian black leather of his Ferragamo belt to his black calf horsebit loafers. The Man with the Golden Gun includes the last appearance of Bond's Rolex – in this case, a stainless Submariner – until Timothy Dalton would wear one fifteen years later in Licence to Kill.
Create the Look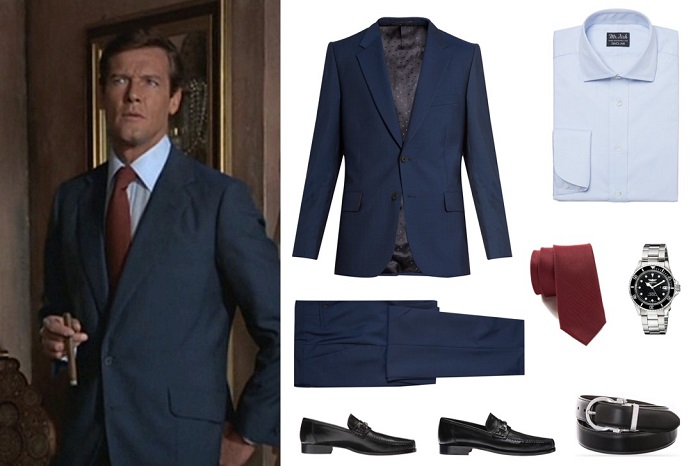 Read more about the look on BAMFstyle.
Daniel Craig's layered blue long-sleeve polo shirt in Casino Royale
Daniel Craig reinvented casual wear for James Bond, emphasizing a ruggedly stylish sense of timeless style that found many men filling their closets with dark polos, shawl-collared cardigans, cream-colored jeans, and Harrington jackets. Prior to Casino Royale, Bond's attempts at casualwear often fell too far into the camp of being too influenced by contemporary fashions and thus prone to being dated within a few years. The Craig era also marked a new phenomenon in the already product placement-driven Bond series with widely publicized associations of his clothing brands from head to toe.
Sunspel provided several casual shirts for Daniel Craig to wear in his first Bond film, Casino Royale, with the classically-inspired "Riviera" short-sleeve polo and fitted t-shirts flying off of shelves to meet customer demand. Unfortunately for fans, Sunspel never created a consumer version of one of Craig's most popular garments, the blue long-sleeve polo shirt worn in Venice. Bond layers nicely for an action-packed summer day in Venice, sporting his custom blue long-sleeve polo over a gray mélange crew neck t-shirt with dark blue chinos and dark gray Nike Air Articulate II sneakers.
Create the Look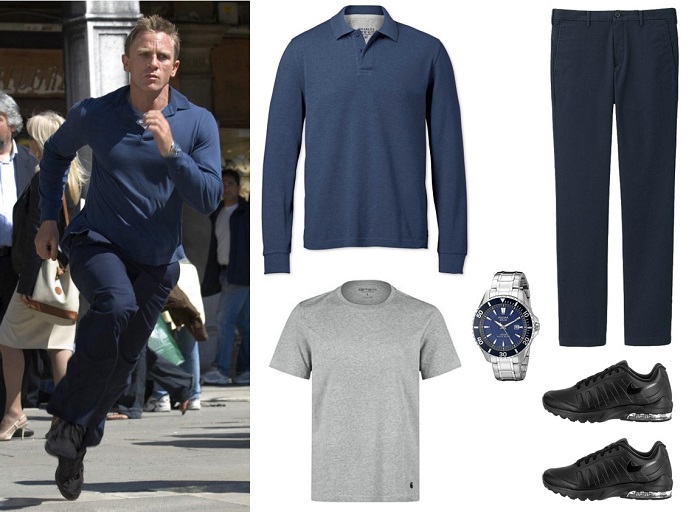 Read more about the look on BAMFstyle.
Daniel Craig's dark pea coat, jumper, and tie in Skyfall
Casualwear and formal attire intersected in Skyfall when Daniel Craig's James Bond donned a deadly efficient look for a mission in Shanghai. This quickly became one of the most popular outfits of the Bond series and one of my favorites to channel for a chilly day that requires looking cool and classy.
Bond's mission required an outfit that could easily shift from a chauffeur's disguise to a utilitarian assassin's wardrobe. The base layer is a white dress shirt with a spread collar, button cuffs, and slim fit to be worn comfortably and attractively under the black merino wool John Smedley jumper. The jumper's v-neck exposes a small portion of the shirt and the slim black silk tie. His "shark gray" wool trousers from Acne Studios continue the sleek look of the outfit with a slim fit, flat front, plain-hemmed bottoms, and adjustable side tabs rather than belt loops. He wears black wax calf Crockett & Jones "Tetbury" chukka boots with black socks, and he accessorizes – despite the nighttime setting – with a pair of Tom Ford Marko TF144 aviator-style sunglasses with silver rhodium frames and blue lenses.
The centerpiece of the outfit is the much-demanded short navy pea coat designed for the film by Billy Reid. With at least 300 years of naval connotations to its history, the pea coat – or "reefer jacket" – is a perfect outerwear option for Commander Bond. Reid's model, appropriately called the "Bond," sets itself apart from the standard military coat that has existed for more than a century with fashionable yet subtle details like natural horn buttons and dark brown leather accents under the collar and pocket flaps. (Daniel Craig reportedly enjoyed wearing it so much that he ordered one for himself.)
Skyfall makes much ado about how "sometimes the old ways are the best". And an outfit that updates a tested-and-true outerwear staple like the navy wool pea coat is a perfect sartorial example of the film's central message.
Create the Look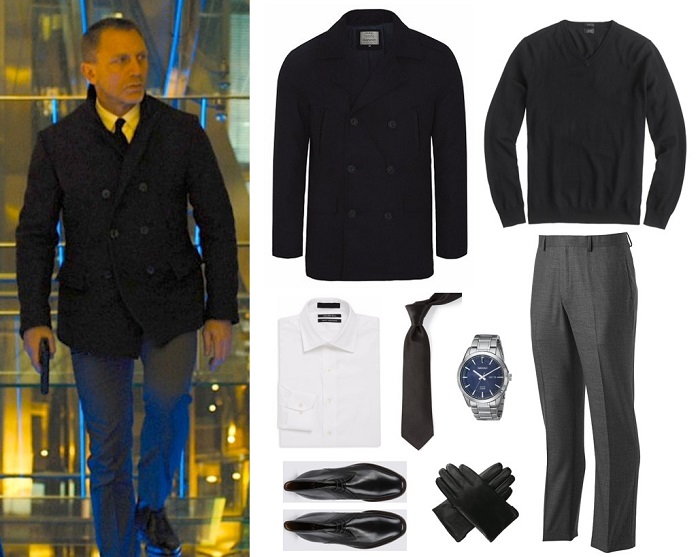 Read more about the look on BAMFstyle.
A special thanks to Nick for sharing his favorites! Have some favorites of your own? Leave them in the comments below! And you can also visit our Facebook page, Instagram feed and Pinterest Boards for more James Bond style inspiration!