James Bond's Brown Suede Derby Shoes
James Bond has worn brown suede derby shoes in three movies: Goldfinger, Thunderball and Casino Royale. And it's easy to understand why he likes them. Classic and simple in design, they work well with a variety of looks, from casual chinos or jeans to flannel pants and a sport coat.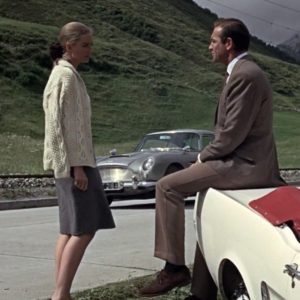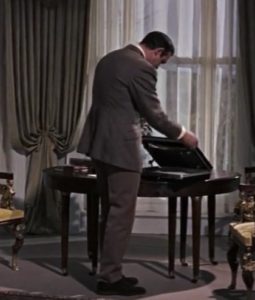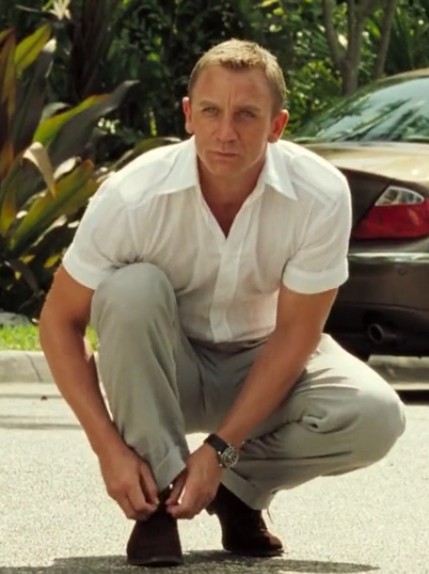 The Suits of James Bond goes into more detail about 007's derby shoes from Goldfinger and Thunderball, while BAMF style discusses the look in Casino Royale.
Features Wanted for the James Bond Brown Suede Derby Shoes
Two-eyelet Derby style shoe
Dark brown suede uppers
Slightly round plain toe
Black rubber sole or black outsole
So, hey! You guys wanna know who's making two-eyelet, plain toe, brown suede derby shoes these days?
ALMOST NO ONE! At least Crockett & Jones, John Lobb, Church's, Loake, Herring, Edward Green, Grenson, Tricker's, Tod's, Cheaney, Barker, Foster and Son, Alfred Sargent, Paul Smith, Thom Browne, Carmina, Tom Ford, Cole Haan, Ralph Lauren, Ted Baker, Allen Edmonds, Alden, and Meermin aren't!
Nope, all their models have three, four or five eyelets. Or they have cap toes. Or they have broguing or natural colored leather soles.  If you don't believe me, there are links above to the closest models I could find from each maker (some of them didn't even have a "close enough" option!).
Sorry for the rant. But I actually thought this would be an easy one …. Anyway, please allow me some leeway on the number of eyelets in the options below. I tried to keep them to four max.
Best option for the James Bond Brown Suede Derby Shoes
Thank you, Clarks! They may be a little lighter brown than we want. But the Amieson is a true two-eyelet derby with a rubber sole. And now that the price at Amazon UK has dropped from £80.00 to £32.00, with all sizes in stock, it looks to be a good value. Unfortunately, Amazon U.S. doesn't stock them, and I haven't been able to find them from any other dealer on this side of the pond.
Under $100
I used the overhead shot for these so folks could see that they're … well … slightly pointy. They do have three eyelets, but they're also 100% suede and all sizes are in stock. Those of you in the U.S. can see them here.
Alright, so before anyone gets started: no, these are not oxfords. But Sierra Trading Post calls them that, so that's what I wrote in the title. Okay? The Dainite-like sole lets me feel a little better about them having four eyelets. Almost all sizes are available, but only in wide widths (which may make some of you very happy!).
Under $200
Another one with four eyelets. The Rostov has a slightly chiseled toe, but overall it's still a classic looking shoe. And there's no problem with your screen; the laces are two-toned. May want to think about swapping those out.
And this time the "oxford" in the title is Michael Kors' fault. Three eyelets, a nice round toe shape, and a rubber sole. But that heel has a bevel to it that makes the sole look almost flat in profile. They're on sale for 50% off and all sizes are in stock.
A handsome looking pair of shoes, even if they do have four eyelets. The Grosvenor's come with a real leather/rubber sole and they're made in Portugal.
Under $600
"What the WHAT? Six hundred bucks! I thought this was supposed to be a site for affordable alternatives!" Yeah, well, I just wanted to let you know how high the price had to jump before I could find another pair of two-eyelet derbies.  And here they are …
Of course, if you've found a suitable alternative during your search, please leave it the comments below! Meanwhile, I'll keep looking!