Casino Royale Black Alfani Shirt
Dressing up a little to play some poker and (Spoiler Alert!) win himself a DB5 in Casino Royale, Daniel Craig's James Bond wears a black (some say dark navy blue) polyester shirt from Macy's house brand Alfani. To be honest, this probably not the most practical shirt to wearing in the context of the One and Only Ocean Club. But more on that below. To be quite honest, if 007 had just decided to play using one of the many phone casinos from home, like Mobile Wins, he could have even worn his pyjamas if he'd have wanted to.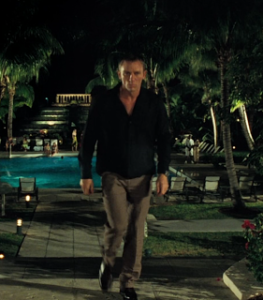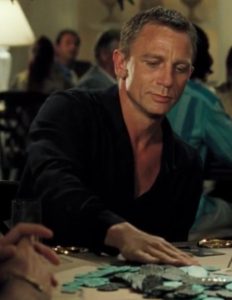 Features wanted for the Casino Royale Black Alfani Shirt
Black long sleeve shirt with camp style collar and open breast pocket.
Brushed polyester twill fabric.
Black buttons
Straight hem
We know from interviews with Casino Royale costume designer Lindy Hemming that the Alfani shirt was heavily customized for the movie. These articles at The Suits of James Bond and BAMF Style go into more detail about the changes they made. For a good alternative, the main focus is the fabric and the collar. The brushed polyester twill has an almost suede-like feel and a bit of sheen. The collar is soft and casual, unlike one you'd find on a dress shirt.
Best Option for the Casino Royale Black Alfani Shirt
Before you turn up your nose at the Van Huesen brand, it's worth remembering that Alfani isn't exactly haute couture. The look and feel of the Van Huesen's faux suede fabric probably comes very close to the screen used shirt's brushed polyester. And the styling details are also close match. You'll need to get the hem tailored, but Alfani needed that work as well. Available at Amazon U.S. and sizes medium to XXL are in stock.
Other Options for the Casino Royale Black Alfani Shirt
Another option from Amazon. The fabric is 100% combed cotton twill with a slight texture to it. It has a stiffer collar and lacks the chest pocket. But it's going to breath better than the Alfani's polyester.
The Murano from Dillard's is also 100% cotton, but has an "Innovative stretch fiber that is woven invisibly into the fabric". I'm not exactly sure what that means. The material does have a slight texture (zooming in, it looks like twill) and again the shirt is has a more formal collar and is missing the chest pocket.
Wow, that's a price jump. This option from Zagiri is made from a heavily brushed Italian cotton which gives it an almost felt-like appearance. Few other things: the collar is definitely more structured than the Alfani's, it's missing the chest pocket, and it uses snap buttons. But it already has the straight hem so it looks good untucked.
What Bond should have worn …
I know. Who the hell am I to tell Bond how to dress? But this isn't about style. It's about practicality. As I mentioned above, a black, long sleeve, sueded polyester twill shirt is about the worst thing you could wear for playing poker on a hot, humid night in the Bahamas. Linen or a linen/cotton blend are the obvious choices. And I wouldn't worry too much that the shirt fabric is the same as the Ted Baker trousers. The colors contrast enough to balance that out. The best deal in black linen shirts that match the styling details of the Alfani is the …
We've mentioned Uniqlo's linen shirts before, simply because they're decent value for the money. In this case, we get a shirt with screen accurate details (black buttons, chest pocket, unstructured collar) in a fabric that will actually keep you comfortable in hot weather.
These outfits may inspire you to dress up like Bond and test your luck in a casino. Even if you're more of a stay at home guy, you can still participate in the fun and games by using sites like https://www.bcasino.co.uk/. Do you have some suggestions for alternatives for the Casino Royale black Alfani shirt? Share them in the comments! And if you want more Bond you can find us on Facebook, Pinterest and Instagram.