The Aklasu Limited Edition "Orbis" Grenadine Tie
I've been on the hunt for the "perfect" garza grossa grenadine tie since forever. The quintessential classic James Bond neckwear, it's a timeless style that I knew would see a lot of wear once I found it. So when Canadian tie-makers Aklasu offered to collaborate with me on designing a Bond-inspired tie, I jumped at the chance and knew exactly what I would choose. Seriously, how often do we get the chance to create our dream tie?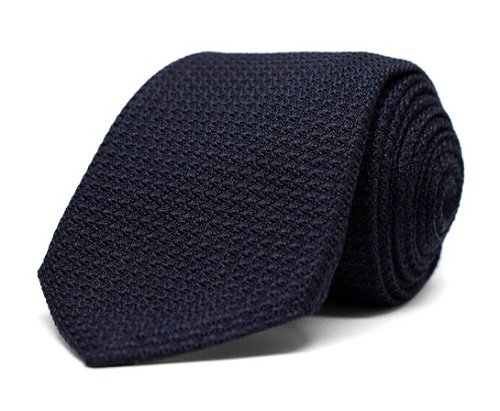 The Starting Point
I wanted the design to be based on the Turnbull & Asser navy grenadine ties Sean Connery wore in Dr. No and From Russia With Love. So the following baseline characteristics were mandatory:
The material needed to be grenadine garza grossa. We used the reverse side of the fabric to give the tie even more texture.
A darker navy color.
It had to create the perfect (to me) Four-in-Hand knot; one that wasn't too bulky, but would work well under a medium spread shirt collar. And the dimple had to come almost naturally.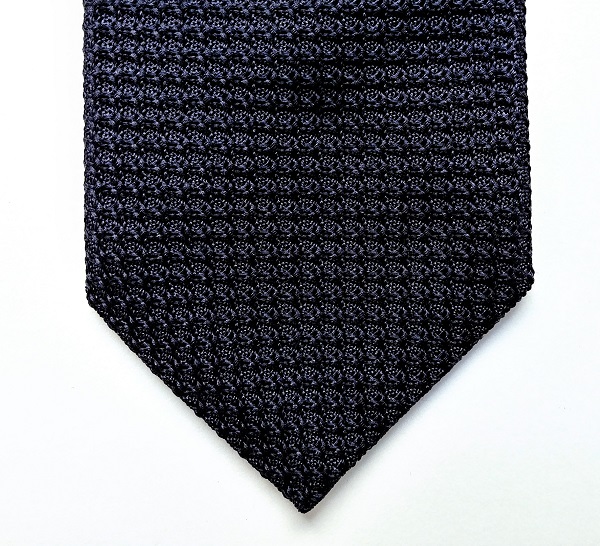 Next came the fun part: tweaking the design to create something unique. This raised a few questions. How many folds? Tipped? Untipped? Width? What I learned from this experience is that designing a tie is much more complex than I originally thought it would be!
Aklasu's expertise was invaluable. I already own four other ties from them (two grenadine garza finas, a 6-fold silk navy pindot and a classic black bow tie) and they're among my favorites. So it was easy to trust their judgement.
The Construction
To start, it was important to understand that grenadine garza grossa is a loosely woven, relatively bulky fabric and, when new, can be a little stiff. Those factors needed to be taken into consideration when deciding on the construction methods to use.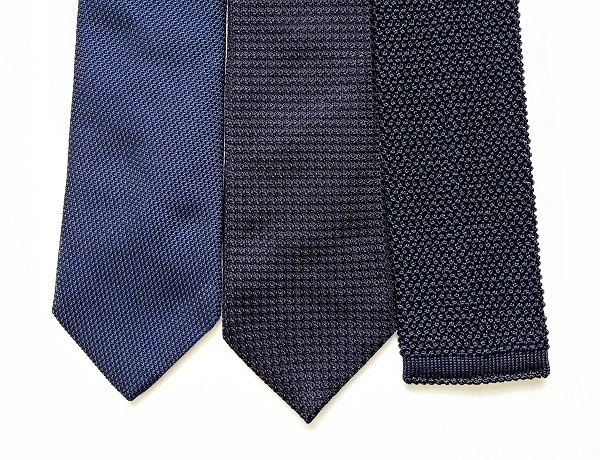 Like all of Aklasu's ties, these would be hand-made in Italy using Italian fabric. Aklasu listened to my suggestion of going with a 6-fold, untipped construction, but quickly pointed out that this would result in a tie that would likely be bulkier than what I wanted.
Instead, they suggested going with a traditional 3-fold, tipped construction. This would reduce the bulk of the knot while helping the blade retain it's shape. There was another added bonus going with a tipped tie, but more about that later.
The next decision will probably be the most controversial among Bond fans: tie width. Connery's tie was obviously very slim and he used a tight Four-in-Hand knot. This worked well with the narrower lapels of his suit jacket and lower profile shirt collars. But I personally use jackets with slightly wider lapels and shirts with a higher collar. So I wanted a slightly wider tie that would work with those proportions.
I think the 3.25″/8.26 cm width we went with strikes a happy balance. It's definitely not a fat tie! But I feel it's a more timeless width that will work well with a variety of jackets and shirts.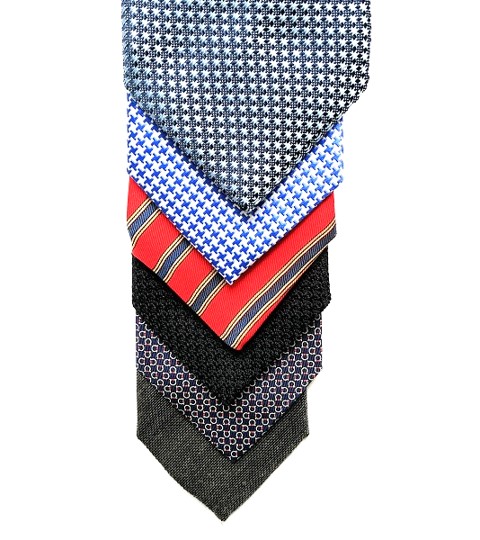 The Bond Touch
Okay, back to the tipping. For this limited edition run of the grenadine tie, we wanted to add something that said "Bond". But in a classy, understated way. Like many fans, I don't find the over-branding used on many 007-related products to be particularly appealing. That's something we really wanted to avoid. Not to mention the potential legal headaches that could come with using EON owned imagery!
At this point, I'll fully confess to being inspired by the great lapel pins created by AJB007 forum member Chriscoop. They were based on the Bond family coat of arms that was seen on the first edition cover of the novel "On Her Majesty's Secret Service" and were beautifully executed. It was an idea well-worth stealing!
So to give the tie that special "Bond touch", we embroidered a simple silver shield based on the Bond family escutcheon on the tie tipping.  The name of the tie comes from the Bond family motto "Orbis Non Sufficit" (The World is not Enough).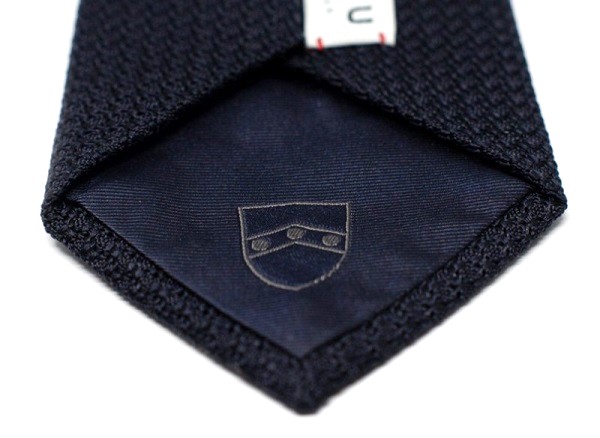 Each tie also comes with an insert card with information about the tie and your limited edition tie number on one side and our own take on the Bond family coat of arms on the other.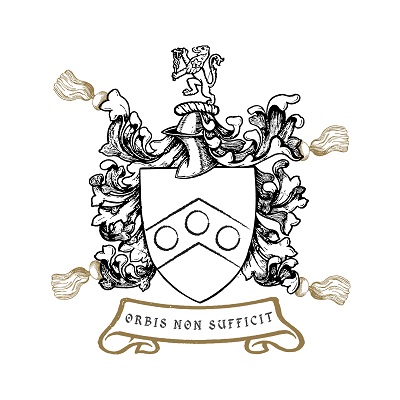 How to Get the Aklasu Orbis Grenadine Tie
I'll sum all this up by saying that I am extremely happy with the final result from Aklasu. And I'm a little proud that I got to have a hand in helping this project to come to life. Aklasu has only produced 45 Orbis Ties for this one time, limited edition run. And once they're gone, they're gone! The price is $119 U.S. and Aklasu offers free shipping to Canada and the USA. To order your tie, visit the Aklasu website here!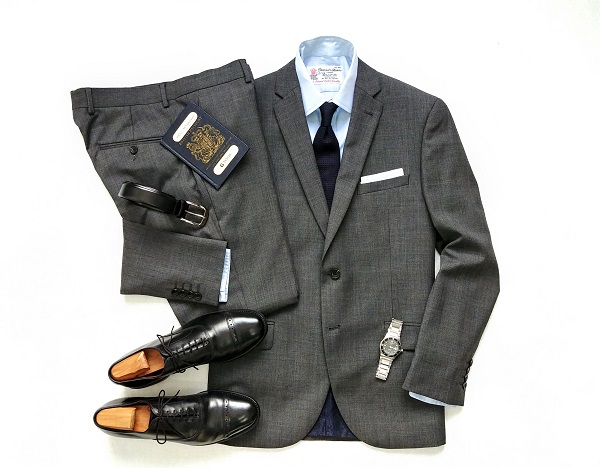 Iconic Alternatives was provided with a tie at no cost for it's participation in this project. However, neither Iconic Alternatives nor the author will receive any financial compensation from the future sales of any tie. I was just happy to finally get the tie I've always wanted!