The James Bond Casino Royale Black Cardigan
To the best of my knowledge, the maker of the black cardigan worn by James Bond in the pre-title sequence of Casino Royale still hasn't been 100% confirmed. What we do know is that Bond wore the cardigan under his peacoat and the scenes were in black and white. So the knitwear's details are next to impossible to discern from the film alone. Luckily, some color set photos give us a better idea of what to look for.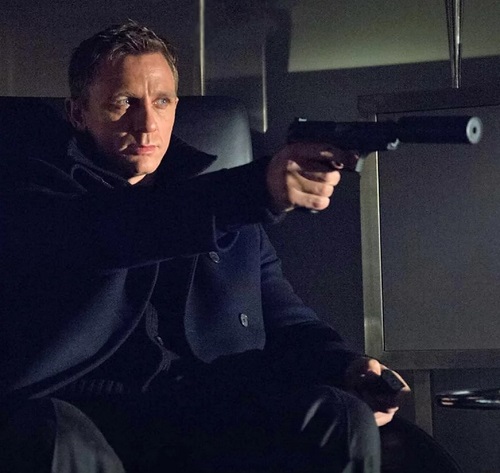 Daniel Craig's Personal Black Cardigan
Some sharped eyes fans have speculated that the cardigan Daniel Craig wears in the photo below from the Infamous premiere is the same one used in Casino Royale, based on the collar's height and ribbing, the buttons and some of the stitchwork along the placket. According to the great Instagram account @whatsdanielwearing, the cardigan is from Brioni, which would make sense since the famous Italian design house also provided the suits for Craig's first Bond film.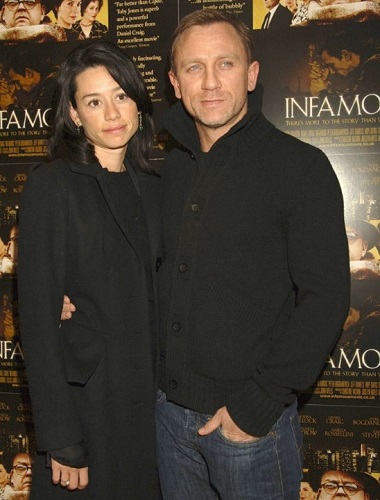 Craig also wore the cardigan in some of the publicity photos for Casino Royale with co-star Eva Green (see the featured image at the top of the post). Unfortunately, those don't provide us with much more detail about the design. Perhaps the best look we get at it are from the shots of Craig out on the street or when he wore it for the Broadway Cares/Equity Fights AIDS event in New York in 2013.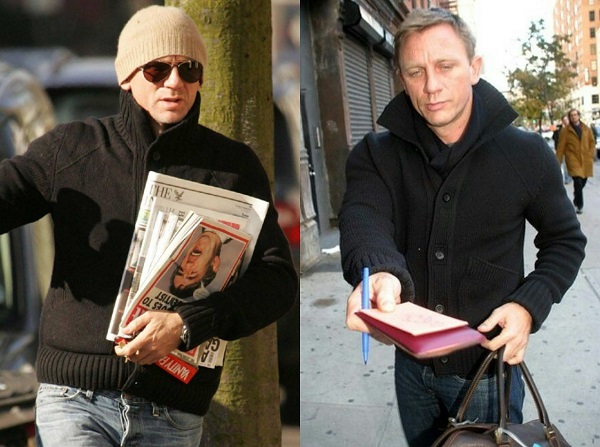 Anyway, the black cardigan Craig's been seen wearing in his personal life and the one from Casino Royale seem to be "close enough for horseshoes and hand grenades" as they say! So I'll be using both of them as the basis for our alternatives below.
Features wanted for the Casino Royale PTS Black Cardigan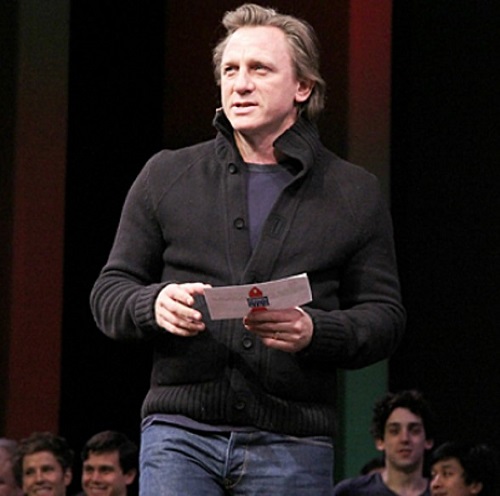 Black wool or wool blend knit with very subtle ribbed texture
High collar … like, reeaally high
Heavy gauge ribbing on hem, cuffs and collar
Raglan sleeve effect stitching across the shoulders
5 button closure with a ribbed placket with box stitch detailing around the button holes
Big patch pockets with ribbed trimmed diagonal openings
Obviously, finding an alternative that delivers all of the features we want is next to impossible. In fact, the first challenge is that super high collar. Brands just don't seem to make 'em like that anymore. For our alternatives, I've looked for cardigans with stand collars (and some variations). Just don't expect many to have a collar design that's anywhere near as dramatic as what we saw in Casino Royale. Also an oddity this year: while there are some good options at both the lower and higher ends of the price range, there just isn't much in that $100 to $200 sweet spot many of us look for.
I'll also mention that there are some cardigans with a very similar style, but they come in navy blue. If you're willing to compromise on the color, then check out the Woolovers Everyday Cardigan ($89.00), the Charles Tyrwhitt Funnel Neck Jacket ($219), the Filippo de Laurentiis Funnel Neck Cardigan (on sale for $257.67) and the Oobe Brand Harbour Cardigan ($598.00; it's also an Aran knit but it has an awesome collar).
Lastly, if the cardigan is from Brioni, as @whatsdanielwearing suggests, then the closest I could find was this one for sale at Grailed.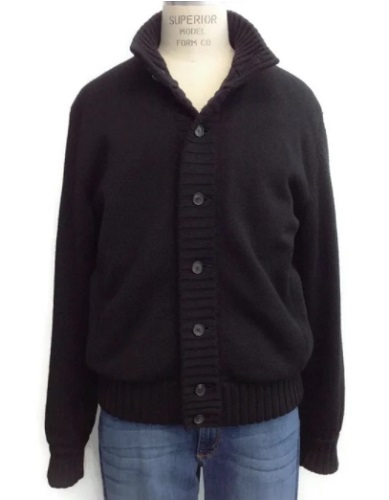 It's not exactly the same model (this one is mink lined and has a different placket and pocket designs). But that thick gauge ribbed knitting at the collar, cuffs and hem is very close to the style of Craig's cardigan. The similarities would seem to support the theory that Brioni was the maker of the Casino Royale cardigan.
Best Option for the James Bond Casino Royale Black Cardigan
I rarely do this, but I'm going to suggest two Best Options for this post. Both are great alternatives in their own ways, although both are also missing some of the key details we want. This way you can decide what features matter to you the most and choose accordingly.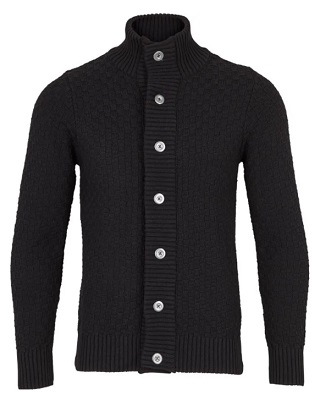 What features does it deliver? The high ribbed collar (although it's not that high) and the thick gauge ribbing on the cuffs and hem. Plus relatively affordable price. What's it missing? The pockets and the placket design. The 100% cotton knit is also a very interesting basket weave which, honestly, I think is pretty cool. You can find most sizes available at Thread. But unfortunately they are sold out of size large. If you're a bigger guy, Zalando also has sizes XL to 3XL on sale for £32.50.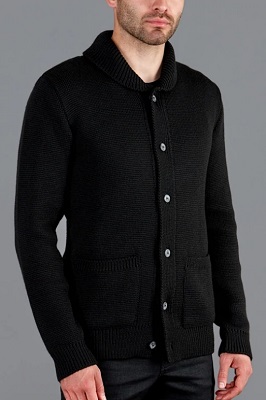 If this one had a high stand collar, it would easily be our Best Option. The Paul James cardigan is made with a 100% Merino wool and has the smoother knit through the body and the thicker ribbing at the cuffs, hem and along the top of the patch pockets. The mini-shawl collar will provide plenty of height at the back of the neck when it's turned up. But the front of rounded colllar will come up a little short. Paul James offers great value for the money and the Merino yarn they use is very soft (you can read my review of their Submariner Sweater here). They still have a good selection of sizes left in stock for the Cardigan Coat.
Under $100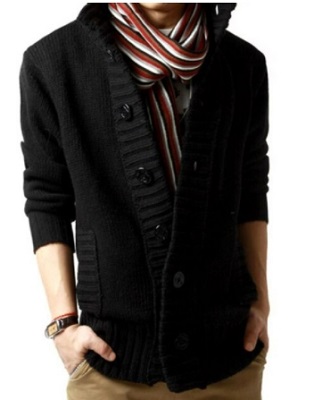 There are dozens of these types of cardigans for sale on Amazon, Ebay and Aliexpress. And there are definitely some pros to going with one of them as your alternative. It's one of the few designs that has the big, dramatic collar we want. The mix of smoother knitting through the body and thick ribbing at the cuffs, hem and pockets captures the look we want. And boy are the inexpensive! But there are also cons: nailing down your size can be tricky (since these are mass produced in an Asian factory, sizing will definitely be on the small side). And the 100% acrylic yarn ain't exactly what any of us would call "luxurious". I've linked to Aliexpress above; you can also find on Ebay for $34.91 with a faster shipping time.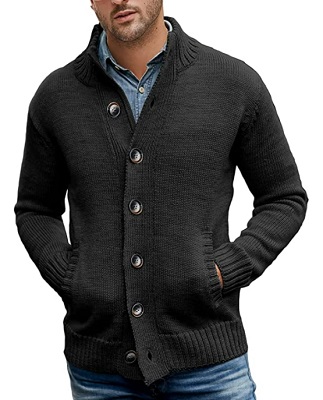 A similar story to our Aliexpress special above, but with a slightly more refined design (and a shorter collar). Here the yarn is a 95% acrylic and 5% spandex blend, so you can expect some stretch. However, the "Black" looks more dark gray, at least on my monitor. The link above goes to Amazon (U.S and UK). But you can also find it on Aliexpress for $23.90/£18.00 if you don't mind a slightly longer shipping time.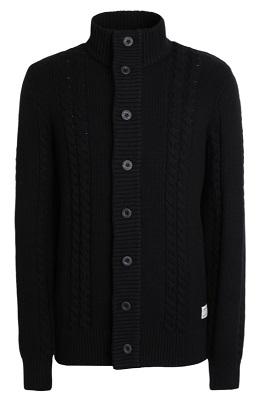 The design is very similar to our first two options (although this one has some cable knitting running down the body). However for the extra money we are now getting a 100% cotton yarn. You can find it at Yoox, where they have sizes small, large and XXL. If you're in the UK, you can also get it on Amazon for the significantly lower price of £31.50. And they have all sizes in stock!
Under $500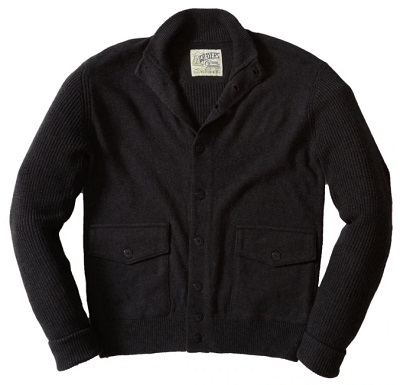 In terms of the features, it's not the best match for the Casino Royale cardigan. But personally, I think it's a pretty cool looking piece of knitwear in its own right. Especially those flapped pockets (which give it a nice retro vibe) and the very useful two button combo at the hem. They've used a 60% cotton, 30% nylon and 10% Merino wool blend yarn, which should be nice and soft while still offering plenty of warmth. Sizes medium, large and XXL are available on the Grayers website.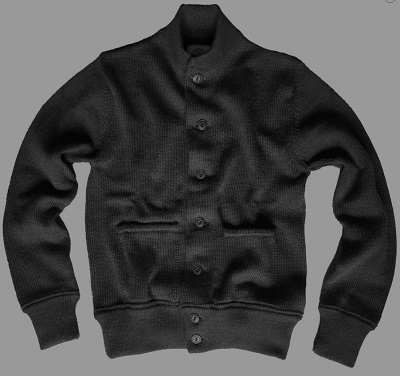 You want a heavyweight cardigan for those frigid winter days? Here it is. Made with 100% British wool, North Sea Clothing has recently updated the design with a higher collar to give you even more protection around the neck and chin. The cardigan uses a hand linked and fully fashioned construction and is finished with natural Corozo buttons. There are also strips of nylon ribbon down the back of the placket to provide reinforcement for the buttons and button holes. So you're getting a very high level of quality for that sale price. They are currently sold out of size medium. But otherwise sizes XS to XXXXL are in stock. This one is definitely worth check out!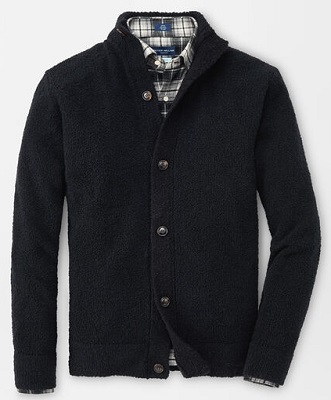 A cleaner and much more refined option that what we've seen so far. Made in England from an 87% extrafine Merino wool, 8% polyamide and 5% cashmere blend yarn and finished with genuine horn buttons, it looks like the knit has an almost bouclé texture to it. It doesn't have the rough and tumble look of the Casino Royale cardigan. But for those of you who want something that will easier to dress up, it's a solid choice, especially at that 50% off sale price.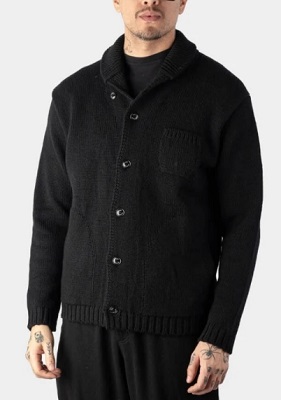 The short shawl collar and chest pocket aren't screen accurate. But I think this option does a great job capturing the spirit of the original. RATS is based in Tokyo and their cardigan is made in Japan using a heavy and warm Scottish Shetland wool. Sonder Supplies has sizes small to XL in stock.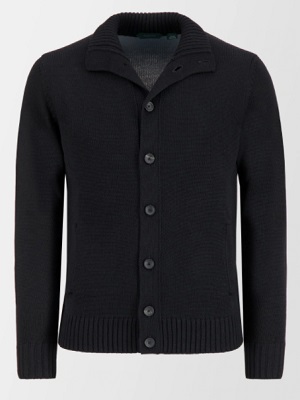 A great luxury suggestion from Clive Parry on Instagram. The Zanone is a cleaner design made in Italy from a lighter weight 100% wool yarn. Which should make it perfect for layering under your favorite peacoat. The black is sold out almost everywhere. But I did manage to find a decent selection of sizes on the Original Lúxury website.
The Investment Piece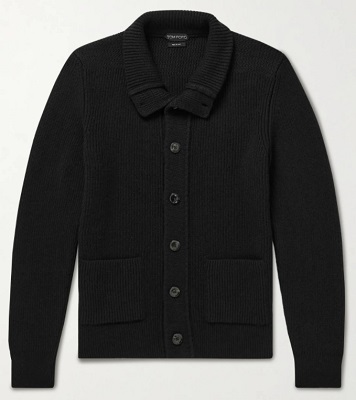 It's probably the best match for the original Casino Royale cardigan on this list. So of course it's from Tom Ford and insanely expensive. Made from 100% cashmere and finished with genuine horn buttons, it delivers almost all the details we want. Including a higher than average stand collar. Mr. Porter has Italian sizes 46 to 56 in stock. My friends, it's time to ask yourself how badly you want that Casino Royale PTS look!
Did we miss a great alternative for the James Bond Casino Royale black cardigan? Tell us about it in the comments! And if you're interested in finishing off the look, check out our article on the iconic Navy Peacoat. You can also visit our Facebook page, our NEW Instagram account and Pinterest Boards for more James Bond, Daniel Craig and Steve McQueen style advice and inspiration!