Summer Style Icons: Riviera Summer Style
Welcome to the second post in our Summer Style Icons series! In the first article, we looked at some of the best warm weather menswear from the Golden Age of Hollywood, covering the 1930s to the 1950s. In this post we'll be heading to the French and Italian Mediterranean coast to explore the Riviera summer style of the 1960s and 70s!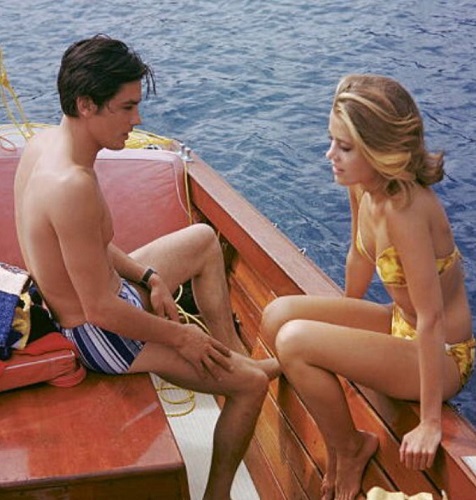 Riviera Summer Style Inspiration
Let's start with a little geography. The Riviera region basically extends along the Mediterranean coastline from Saint-Tropez in France to La Spezia in Italy, and includes Cannes, Antibes, Nice, Monte-Carlo (in the principality of Monaco) and Genoa. The French stretch is also known as the Côte d'Azur, while the Italian section is called the Riviera di Ponente to the west of Genoa and the Riviera di Levante to the east.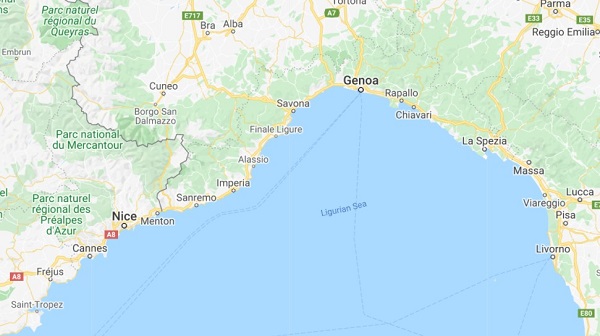 When it comes to men's style inspiration, we're going to be mainly looking at three sources. First up is the iconic French actor Alain Delon. His films from the 1960s, especially Plein soleil and La Piscine, and his personal style off-screen set a standard for summer casual style that few have ever matched.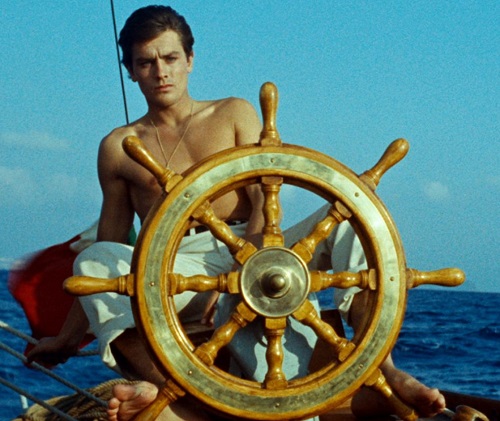 Next are the photos by the famous photographer Slim Aarons, who once described his job as, "Photographing attractive people doing attractive things in attractive places." Today his work serves as a reminder of the glamorous jetsetter lifestyle of the 1960s and 70s. I'd also suggest checking out Stuart Cantor, a current photographer whose focus on the Amalfi Coast and Riviera captures the spirit of Aaron's best images.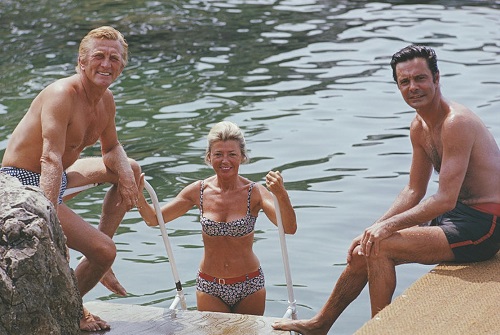 And last is the 1999 film The Talented Mr. Ripley. Although the story is set in the summer of 1959, the clothing worn by Jude Law's character Dickie Greenleaf serves as a great template for the Riviera style from from the 1960s. BAMF Style has already covered most of the best looks from the film and those articles are must reads if you're a fan of this style.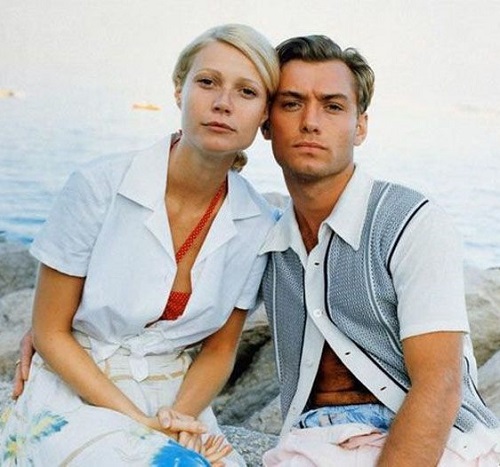 If you're looking for even more inspiration, I would point you in the direction of The Rake, Gentleman's Gazette and Vintage Dancer. They are all excellent resources for further explorations of Riviera summer style.
Getting that Riviera Summer Style Look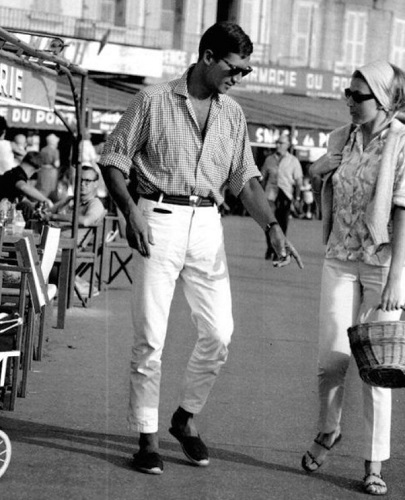 When it comes to Riviera summer style, the design of the clothes obviously matters. But it's really the attitude the plays the most important role. It's not about looking relaxed. It's about actually feeling relaxed. Nothing is urgent. It doesn't matter if the shoes and the belt match. And things are going to wrinkle and shirts are coming to come untucked. You just have to let go. And in today's fast paced world that might be the most difficult aspect of this style to adopt.
But because the attitude matters so much, this might actually be the best style for our mental health. To wear it well, we need to slow down and not take things so seriously. Put down our phones, enjoy the company of our friends, engage once more in the art of conversation and let lunch last a few hours. Appreciate the view while we sip a glass of wine, a Negroni or Campari and soda and watch the sunset.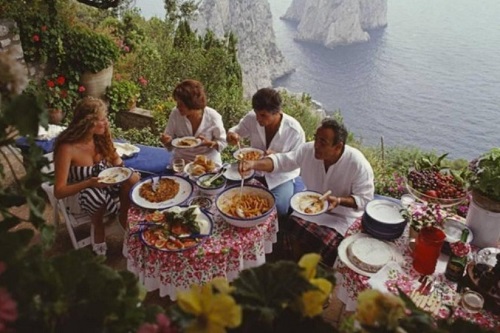 I don't know about you, but it's a style and state of mind I definitely need to embrace more often.
Riviera Summer Style Clothing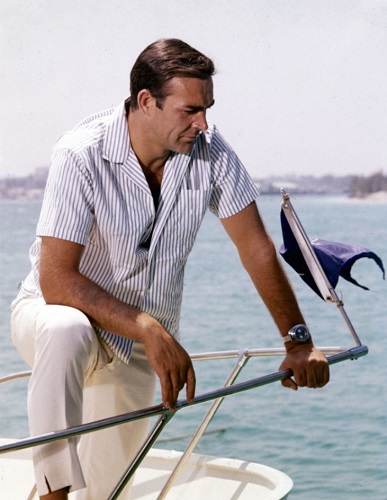 We'll be getting to the specific pieces down below. But first it's worth sharing some good news. Just as we saw in our look at the style icons from the Golden Age of Hollywood, if you're a fan of Bond style, you probably already have some clothing in your closet to help capture that Riviera summer vibe. Here's a short list of key pieces you can use to get the look (links go to the different Iconic Alternatives posts with options for each):
Alright, let's get started exploring what we need to fill in the gaps in our wardrobes!
The Short Sleeve Knit Shirt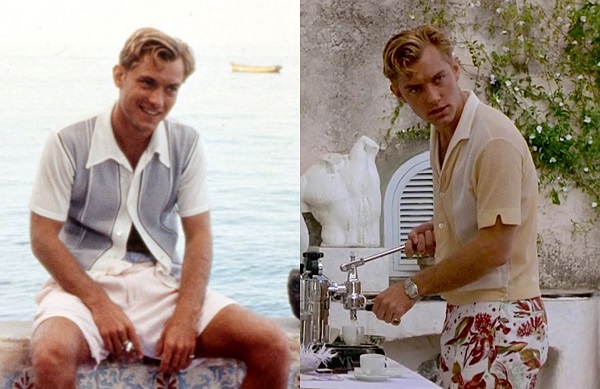 Jude Law's character in The Talented Mr. Ripley may have made the short sleeve knit shirt look cool. But his wardrobe for the film was definitely inspired by the time period, as this 1965 Sears catalog demonstrates: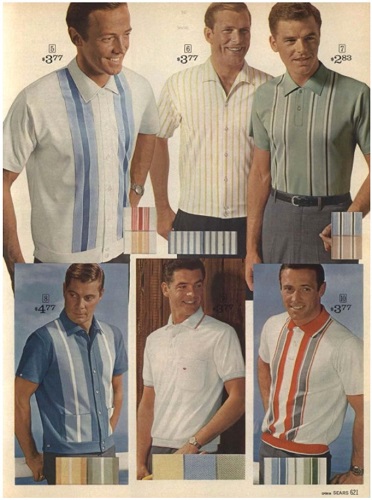 The good news is short sleeve knit shirts are definitely back. And the designs offered today are remarkably true to their roots. Most are lightweight cotton or cotton-blends with open weaves to help keep you comfortable out in the sun. But they'll also work great as layering pieces for cooler evenings down by the water.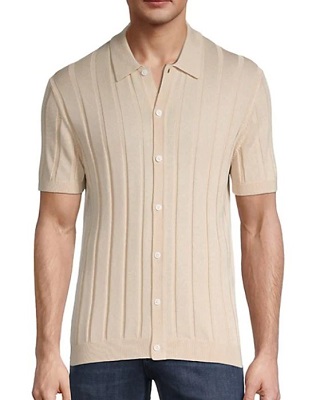 A inexpensive and understated design that lets you play around with the look without blowing a hole in your wallet. The cotton-modal knit should be comfortable on all but the hottest evenings. Plenty of sizes left in stock and it also comes in a pale blue.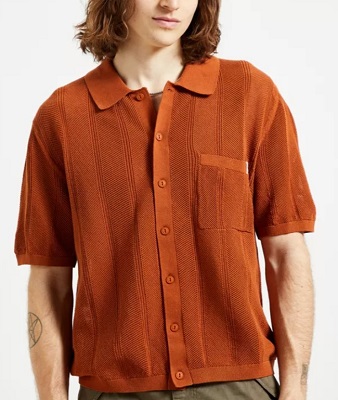 The shorter, boxier fit plays into the retro styling of this option from Urban Outfitters. And the open weave of the 100% cotton knit should wear light and airy. I've gone with the brighter Brass color here. But you can also get it in a more subdued Grey or Ivory. They have sizes small to XL available.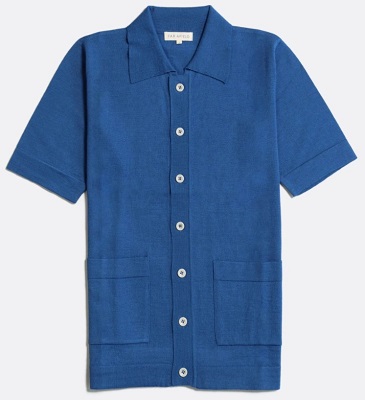 We've shared this Far Afield shirt a few times as an alternative for Bond's blue Thunderball camp collar shirt. But it also does a great job capturing that cool retro-60s vibe. The fabric is a 50% Merino wool and 50% acrylic blend, so expect it to wear a little warmer than the other options here. Thread has sizes small to large available at that sale price. But you can find other colors (yellow, brown and ivory) at Bombinate for $94.00.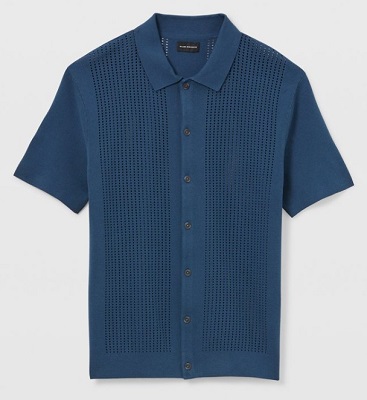 Fair warning for any of you more hirsute gentlemen out there (such as myself). That mesh knit may be pure 60s cool. But you can definitely expect your chest hair to come poking through as soon as you put it on. Personally, I'd layer it over a plain white tee or tank top and just do up one or two buttons. Club Monaco has plenty of sizes in stock.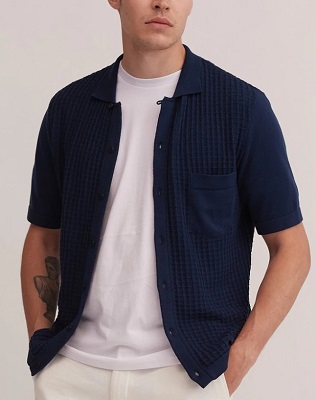 Percival is an expensive brand. But boy do they nail the retro vibe! I've gone with their 100% cotton, made-in-Portugal Surrey shirt for this post. It's a more classic and conservative design that most of us should feel comfortable wearing. However, if you're feeling adventurous there are plenty of bolder pieces in their collection that would give us the look we want.
Slim Fit White Trousers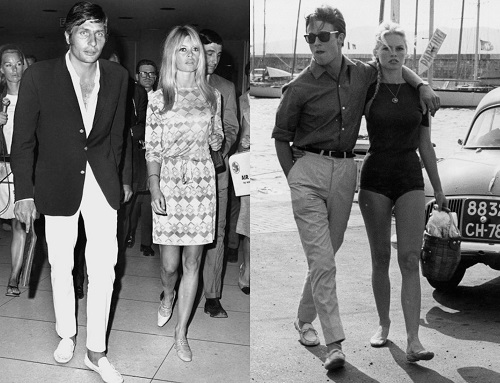 Much as the wide, pleated trousers established the preferred silhouette of the 1930s and 40s, the slim fit, flat front, tapered trousers were the era-defining look of the 1960s. And if you were anywhere near the Riviera, the color of choice was white.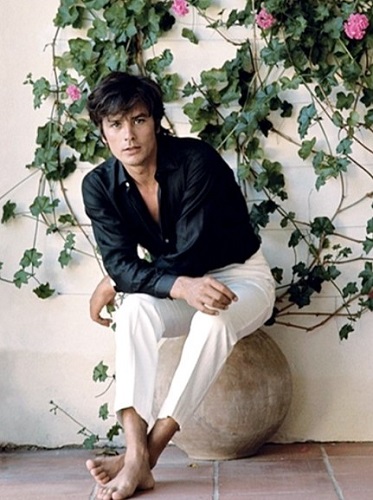 However, I've made some slight adjustments with the options below. Look, some guys can wear bright white trousers with absolute confidence. I, however, am not one of them. I'm not sure why exactly. All I can tell you is that when it comes to pale colored pants, light beige or cream as about as far as I can go. Cotton chino also seemed to be the preferred fabric among the 1960s fashion elite. But if there was ever a time to break out the linen trousers it seems to me that summer on the Riviera would be it.
So the options here are variations on the original. I've tried to find pants that give us the right fit. But the colors lean more to the off-white. And the materials are linens or linen blends for an added degree of comfort in the heat.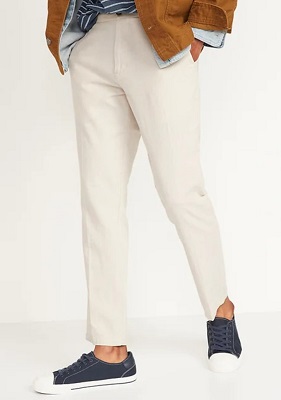 A true budget option using a 54% linen, 44% cotton and 2% spandex blend fabric. These come in small, medium, large sizing rather than numerical waist sizes. However the elasticized waist band at the back and the drawstring should make them pretty forgiving. Old Navy already has these on-sale. But always be on the look-out for additional discount codes to drop the price even lower!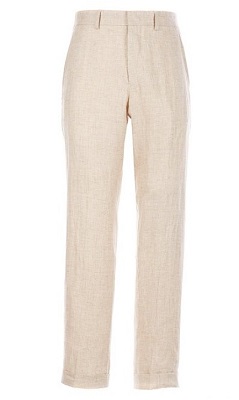 A more formal style from the Dillard's house brand. They've used a higher quality 100% linen fabric from the heritage Irish mill Baird McNutt and gone with a higher waisted design. That slightly darker khaki color should also work nicely for those of you that want to try the lighter trouser look but don't want to commit to pure white. Plenty of sizes in stock.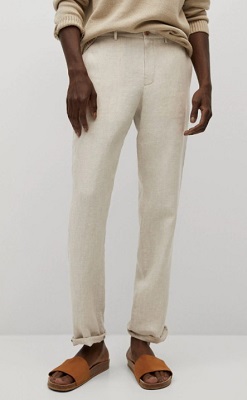 The design is simple. But the slight heathering and coarser texture of the 100% linen fabric adds some visual interest and keep the look casual. And since these are coming from a European brand, I'd expect them to be a true tailored slim fit. Sizes 28 to 38 are available on the Mango website.
The Really Bold Short Sleeve Shirt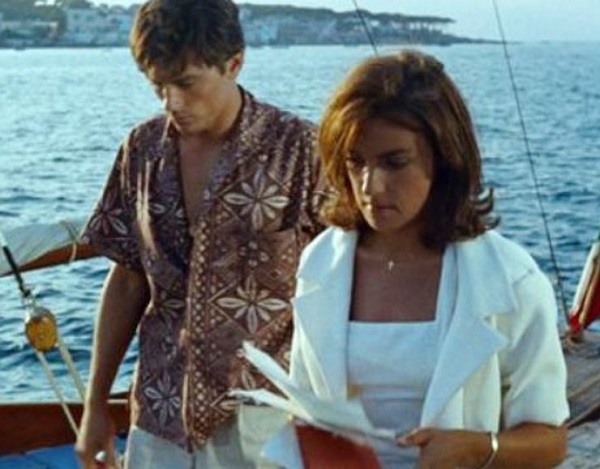 It's the Batik toweling shirt everyone wanted. BAMF Style has already done a great in-depth write-up on Delon's look from Plein Soleil. So I'll just add a few things about how the style helps define the Riviera look. As we saw in our previous Summer Style Icons post, the period from 1930 to the late 1950s certainly had it's share of bold shirts. However, while the colors could get loud, the patterns tended to be more familiar plaids and stripes. But by the early 1960s abstract and geometric patterns were becoming increasingly popular.
Another interesting thing to note is the way something as exotic as Batik (a traditional Indonesian dying technique) could make an appearance on the Riviera. It's a reminder that this was the heyday of the jet-setters, a time when the wealthy and famous would travel from one fashionable hotspot to the next, following the sun and the fun. So it's not really surprising to see clothing discovered in other countries making an appearance in southern France and Italy. After all, pieces that are comfortable to wear in the heat of Acapulco or Bali should be equally comfortably in the heat of Saint-Tropez.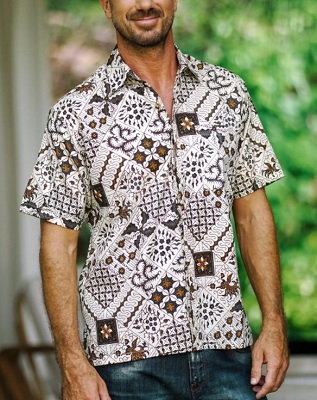 If you're ready to embrace the loud shirt, you may as well go as authentic as possible. This particular one is made by Hari and Arthur, a design company based in Bali and Java. The cotton shirt features traditional Balinese motifs, hand-printed on each shirt, and is finished with coconut shell buttons. You'll find sizes small to XXL in stock on Novica (which, by the way, is a very cool website to browse for unique clothing crafted by artisans around the world).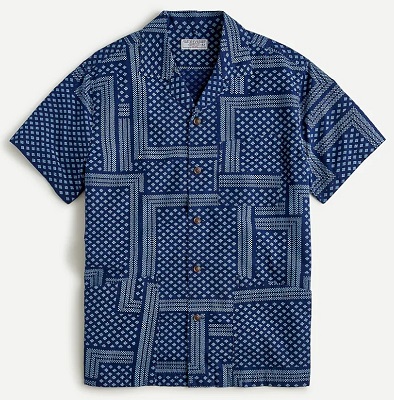 One of the few short-sleeved shirts J.Crew makes without a button-down collar. Made from 100% cotton, the print is based on traditional bandana patterns. It's a design that could also integrate well into more workwear inspired looks and should combine easily with faded jeans, chino shorts and Chucks. J.Crew has sizes medium to XL available. And remember to check for additional discount codes. As I'm writing this, they're offering an extra 50% off, which brings the price down to $32.50!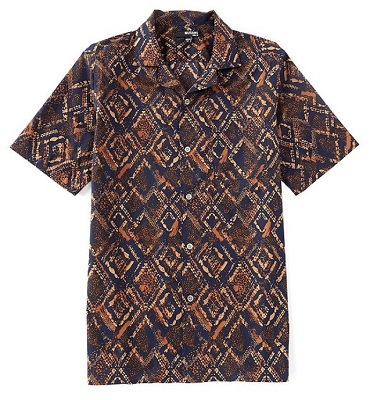 The pattern is bold. But the darker and more muted shades of caramel, rust and deep navy should make this an easy shirt to combine with a variety of casual pants. Have to say, I'm really liking this one. Sizes small to XL are in stock.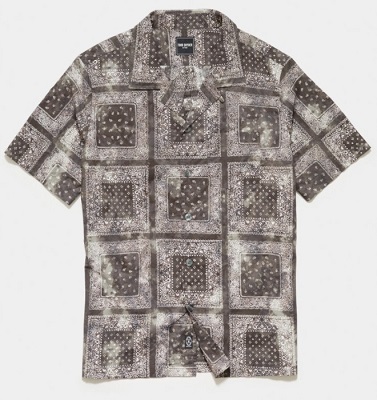 Another bandana inspired design, this time from New York designer Todd Snyder. He's used a Japanese cotton fabric from Three Looms, one of the leading experts in unique textiles. And the subtle tie-dye affect on the washed black material is a great example of what they do. I'd also recommend checking out the Italian Camp Collar Shirt in Brown Geoprint if you want something a little more subtle.
The Navy Blazer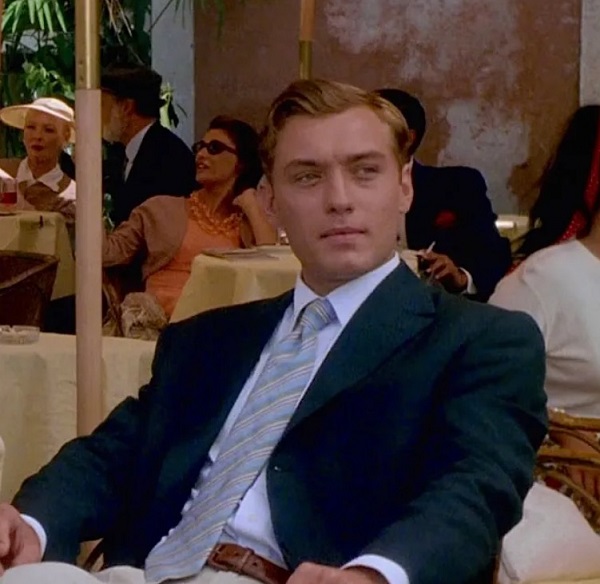 Life on the Riviera wasn't all just swim trunks and sandals. Some occasions called for a slightly more formal dress code. But the fully lined, highly structured wool sport coats popular with the Ivy League and Savile Row crowds weren't suited for the temperatures found along the Mediterranean coast. Luckily, by the 1960s, the tailors of Naples, Italy already had nearly 30 years of experience designing jackets meant to be worn comfortably in the heat and humidity.
Neapolitan style jackets are among the most popular designs today. They tend to be unstructured and unlined, with soft, natural shoulders and a trimmer fit. Patch pockets and a relaxed 3-roll-2 also help give them a more casual look. For the options below, I've selected jackets that also have slimmer (but not ridiculously skinny) lapels as a concession to 1960s fashion. I've also stuck with navy, since it's a classic and versatile color. But your alternative for Bond's Brunello Cucinelli jacket from SPECTRE would work just as well for your Riviera inspired looks.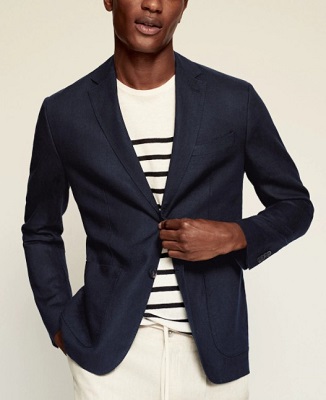 The short length and thinner lapels give this option a more contemporary look. But the patch hip pockets and softer shoulders are traditional Neapolitan details. And the 100% linen fabric and unlined construction make it a great choice for dressier summer evening events. Sizes 36 to 46 are available. Just remember this is a slim fit from Mango. So you may want to consider sizing up.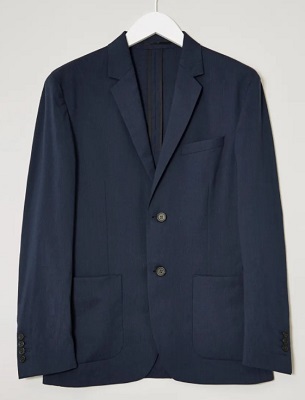 Another option with a modern cut with more traditional styling details. This one has a single vent at the back if that's your preference. And the fabric is a 54% linen, 44% wool, 2% elastane blend. So expect it to wear a little warmer, while the stretch makes the fit a touch more forgiving. Sizes 36 to 44 are in stock at Thread.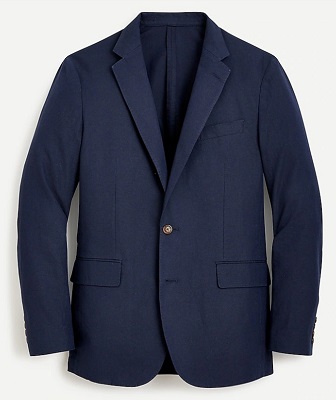 It's a little crazy to think that J.Crew's Ludlow suit has now been around for 13 years. This unstructured variation is a relatively new design that keeps the style of the original (slim fit and slim lapels) but omits the lining and and padding to give it a more relaxed feel. The fabric is a cotton and linen blend from Baird McNutt that will allow some air circulation to keep you from overheating.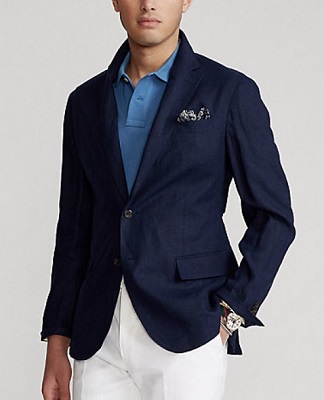 Ralph's take on the linen blazer goes with slightly more formal flapped hip pockets. But the unlined and unstructured design helps keep things casual while the wider lapels add some Neapolitan style. Sizes XS to large and XXL are available on their website.
The Lightweight Sweater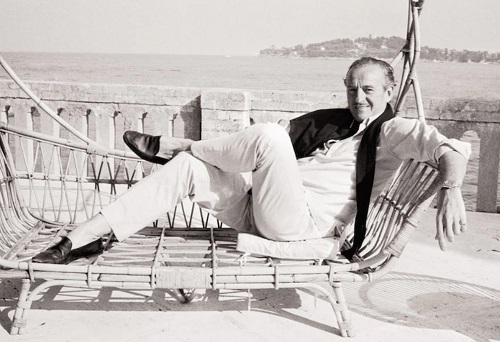 And now a relatively straight forward entry for this post. Believe it or not, late August evenings in the south of France can get a little cool. So having a lightweight sweater on hand isn't a bad idea. The key to the Riviera look is to go with softer pastel shades inspired by the colors of the environment. Extra style points if you can also wear the sweater draped over your shoulders (as David Niven does above) without looking like an evil Preppy frat boy from a 1980s teen comedy.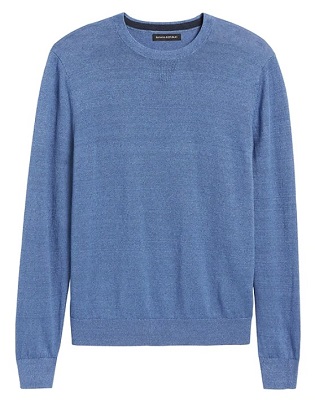 Banana Republic has used a 90% linen, 10% nylon knit from Italy's Millefili mill and added a notch at the collar to give the sweater a sportier look. And that Indigo Fog is a bright yet versalitle color that would look right at home in a Mediterranean sea-side town. Sizes small to XL are in stock.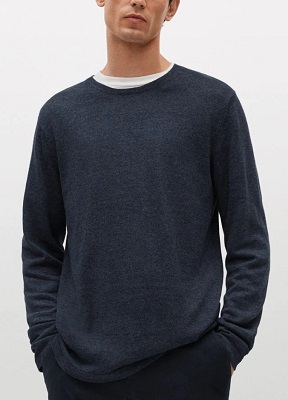 The 39% viscose, 35% linen, 26% cotton knit is a darker shade of blue that will work for higher contrast looks. But this sweater is all about the design. It has a looser overall fit and an open hem, giving it the relaxed feel of a slightly heavier, more sophisticated long sleeve t-shirt. Mango has sizes small to XXL available.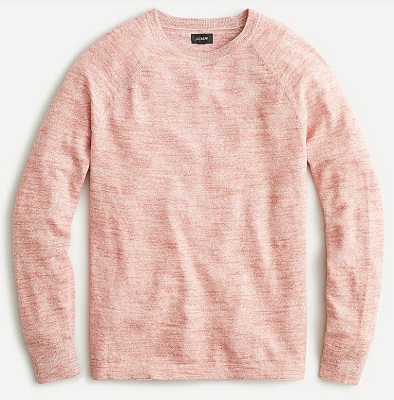 If you're just starting to play around with knitwear colors other than blue, brown and grey this is a fine place to start. It's a pink sweater. But not an obnoxious, "FU!" pink sweater. And the marling effect also helps tone things down. And the linen and cotton blend knit is nice and light without feeling flimsy. Plenty of sizes in stock on the J.Crew website. Once again, remember to check for additional discount codes. At the time of writing, they're offering an extra 50% off the sale price, so the sweater comes in at a very reasonable thirty-six bucks!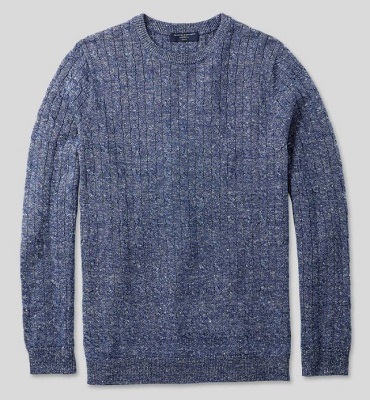 If you're looking for a more substantial 3 season type of sweater, definitely give this one from Charles Tyrwhitt a look. They've used a 55% Merino wool, 45% linen blend yarn to give it some weight. But the washed blue color and the small-scale cable pattern have a nice nautical feel that will work great for late summer nights by the water. You'll find sizes XS to XXXL on their website.
Leather Sandals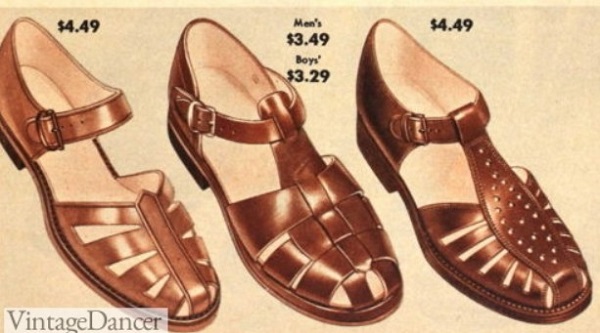 As David Zaritsky pointed out in a recent The Bond Experience video, James Bond did in fact wear sandals. And while David is confident any of us can pull off the open toe look, I've decided to play it a little safe and go with closed toed options below.
The leather sandal, especially the Huarache, is another example of how the 1960s jet set adopted articles of clothing found in different locales for use on all their travels. Again we see styles that originated in Mexico or the Middle East worn in Monte Carlo and Portofino. Soft leather slip-ons, like the Gucci Bit Loafer, may have been more popular when one was out on the town. And espadrilles definitely had their place. But for hot and lazy days on the beach, the sandal ruled.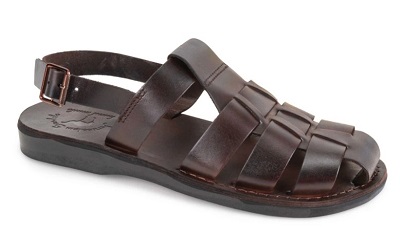 A chunkier traditional design for more casual looks. Each pair is handcrafted in East Jerusalem using vegetable tanned leather. The insole will mold to your foot with wear to give you a custom fit, while the more modern polyurethane outsole provides plenty of cushion. And they offer free shipping worldwide!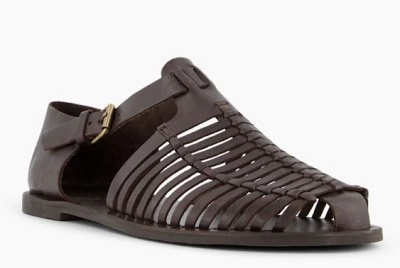 Given how thin the sole is, I probably wouldn't recommend the Illinois for long days spent walking. But they'd be a great choice for drinks with friends in a water-front bar. They're still a pretty traditional Huarache style design. But the thinner leather lattice construction gives them a slightly more streamlined and sophisticated look.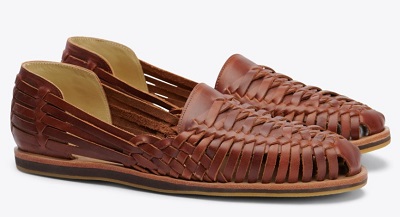 The Huarache is a traditional Mexican sandal design that's literally hundreds of years old. More modern interpretations, like these ones from Nisolo, keep the classic styling but also incorporate modern features like cushioned footbeds and rubber outsoles. And while the shoes may be most at home along the Mayan Riviera or in Acapulco, they'll also work great with your French and Italian Riviera inspired looks.
The Sunglasses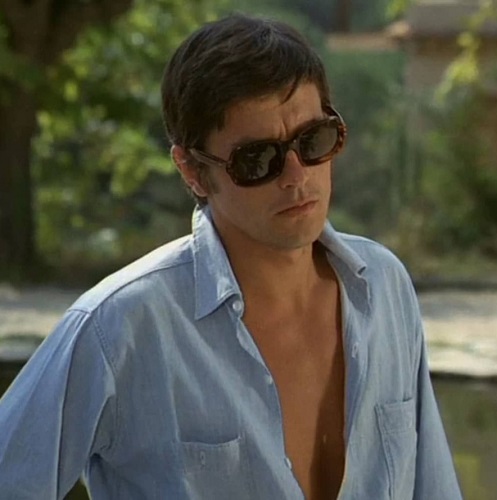 By the 1960s, the smaller framed sunglasses of the 40s and 50s had given way to bolder and bigger designs that definitely made a statement. Bond's sunglasses in From Russia with Love and Thunderball are great examples of the style. Or you could search for "Alain Delon sunglasses" to find plenty of inspiration.
Another master of the thick-framed look was Michael Caine. His Curry & Paxton sunglasses from The Italian Job and The Ipcress File were trend setting. And, thanks to Mason & Sons, you can still get those exact styles.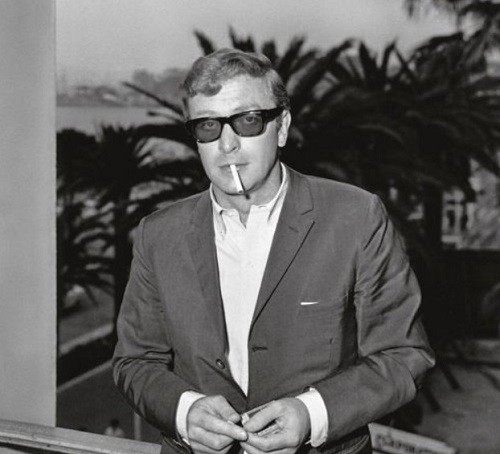 For our options below, I've tried to go with the desired thicker frames in a variety of shapes to accommodate our different faces.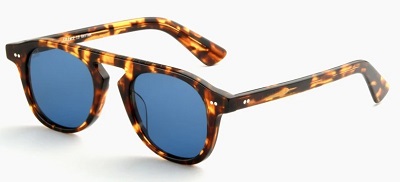 Thick acetate frames in a bolder tortoise brown with blue lenses to match the waters of the Mediterranean. The modified aviator design gives them the right 1960s vibe. And the scratch-resistant nylon lenses provide UVA/UVB protection and keep the weight down so they're comfortable for all day wear. The 52-21-145 size should work well for most small to medium sized faces.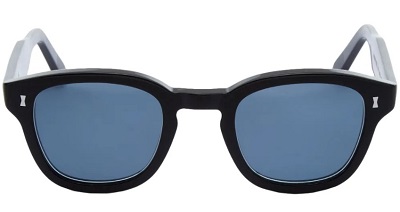 Going to add a black pair into the mix for those of you after a more sophisticated look. The style is softer than the Akilas above, but they still have the thick acetate frame and geometric shape we want.  Just note that these are on the smaller size, with the largest frame measuring 46-23-145. I've linked to Thread above. But you can find other sizes on the Cubitts website.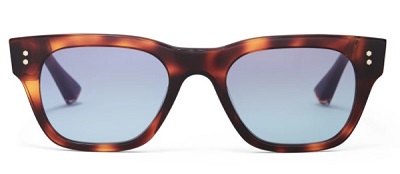 The James sunglasses are not only perfect for our Riviera inspired style. They also make pretty good alternatives for Bond's SPECTRE sunglasses from the Rome scenes. Or, if you choose the black frames, for Connery-Bond's Thunderball shades. The classic design is going to work well with a variety of face shapes. And the 52-21-145 size should fit most medium sized heads.
The Headwear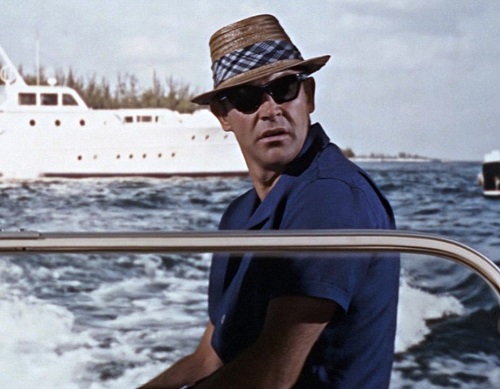 I'm going to borrow some Bond style for this one. While 007's adventures in Thunderball were concentrated in the Bahamas, his straw hat was a men's summer wardrobe staple in the 1960s. And the best straw hats were undoubtedly variations on the classic Panama design. Sorry, Bond!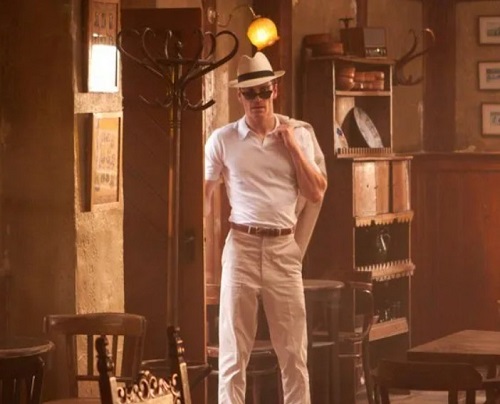 There are, of course, levels of quality when it comes to Panama hats. Ones made from paper straw can be found at almost any retailer, often for under twenty dollars. But the highest quality hats come from Ecuador and feature a tight weave made from fine strips of straw from the Toquilla palm. Gentleman's Gazette has a great article on the history and manufacturing of Panama hats if you'd like more details.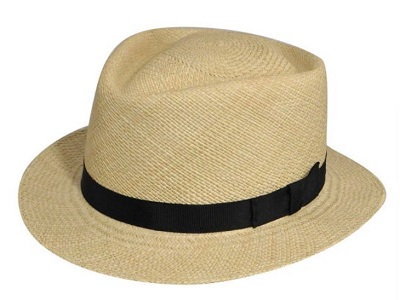 As far as hats go, this one's actually a pretty great deal. Pantropic weaves the fedora in Ecuador (where many great Panama hats are made) from genuine Toquilla Palm strands. They then finish the hat in the U.S., adding a classic grosgrain band. Even though it may not be the tightest weave, the original $122.00 price tag was certainly fair. Now that it's under fifty bucks, it's a steal. The tricky part: you can get size XL in the Linen color shown above. Sizes small and medium are available in Dark Natural, which is still a lighter color but comes with a dark brown grosgrain band.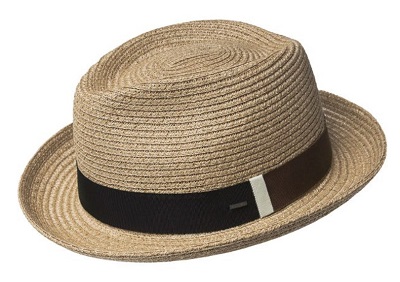 A classic narrow brim design, made with a more durable and modern material. Bailey of Hollywood has used 40% polypropylene, 37% paper straw and 23% polyester strands to weave the hat. While not traditional, that make-up should allow the hat to spring back should someone accidentally sit on it.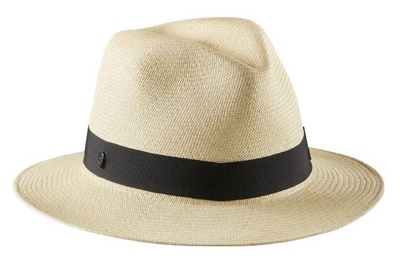 Yep! Three hundred bucks. That's around the average price for a higher quality Panama hat. Made in Ecuador from genuine Toquilla Palm strands, the difference here is in the weave. By using thinner strands of hand split straw and a tighter Brisa style weave, you get a hat that's lightweight and breathable but also strong and durable. It's an investment. But with proper care, it should last for years and develop a character that makes it uniquely yours.
The Luggage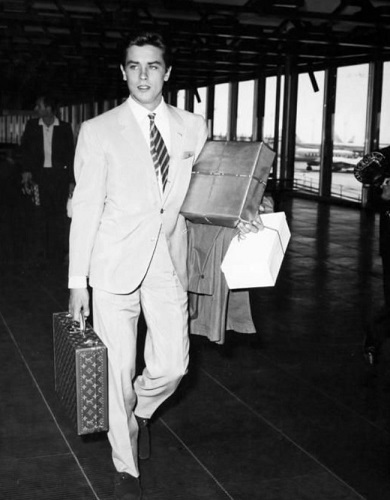 For many, the French and Italian Riviera was a glamorous destination, not a home base. Which meant travel. And the attention to detail one paid to one's wardrobe extended to the luggage used to carry it. To really capture the full Riviera experience, it's worth doing the same and investing in a vintage style case that stands out and adds a feel of romance to our journeys. Even if it's just a weekend road trip.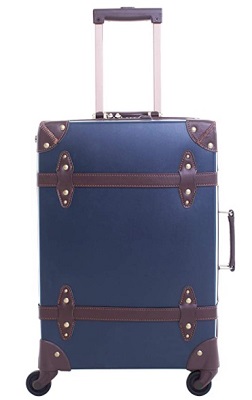 A nice blend of vintage and modern in a relatively affordable package. The actual shell is a durable PVC material that should be able to stand up to some abuse. The faux leather straps and riveted corner pieces definitely won't age like real leather. But they certainly add some character. Finally, the four spinner wheels and TSA approved locks help make it a practical design for air travel. It's not "lifetime" luggage. But if you just need something fun for the odd getaway, it'll do the trick.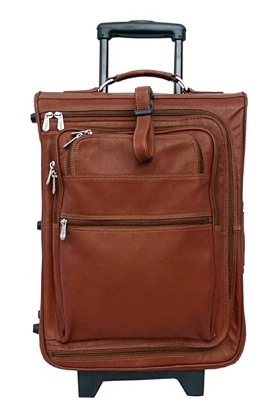 The interior is pretty bare bones. But the full grain leather should develop a nice patina over time and miles. And I think most of us would agree leather looks better when it's a little beaten up. It also has 4.3 stars out of 5 on Amazon after thirteen reviews, with the single 2 star complaint being about the wheels. Otherwise, almost everyone seems darn happy with the quality for the price.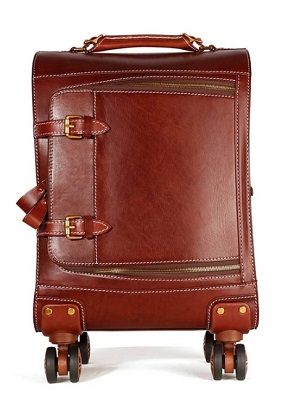 Definitely a step up in looks (those straps and brass buckles are a nice touch). But pay attention to the size. Measuring 18.11″ high X 13.78″ wide X 8.66″ deep, it's a case best suited for light packers or quick over night trips. On the other hand, if you're heading to the Riviera what else do you need besides some swim trucks, polos and linen pants?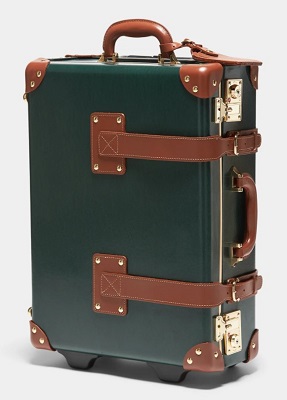 Beautiful vintage styling meets modern design. The hunter green hard shell body is finished with genuine full grain leather straps, corner pieces and handles with gold hardware. And the thoughtfully laid out interior allows to pack more into this standard sized carryon than you'd think. It's expensive. But it's luggage that will last for years and will just look better with age.
Do you have some suggestions for what we should add to our Summer Style Icons: 1960s Riviera Style? Let us know in the comments! Our next post in the series is going to explore inspiration from Hollywood's cowboys and rebels from the 60s and 70s. And make sure you check out the first post in our Style Icons series on the Golden Age of Hollywood. You can always find more Bond and McQueen on our Instagram profile, Facebook page and Pinterest boards.